Abstract
Vegetated treatment systems have the ability to reduce the risk of adverse effects of nonpoint source pesticide pollution in agricultural surface waters, however, flow-through systems have rarely been evaluated. Peak concentrations of a mixture of two insecticides and two fungicides (Indoxacarb, Tebuconazole, Thiacloprid and Trifloxystrobin) were reduced by more than 90 % in 45 m experimental stream mesocosms. Plant density and solubility had the highest explanatory power for the response variable reduction of peak concentration (R² = 0.70, p < 0.001). Optimized vegetated streams can be highly effective in reduction of runoff related pesticide peak concentrations.
This is a preview of subscription content, log in to check access.
Access options
Buy single article
Instant access to the full article PDF.
US$ 39.95
Price includes VAT for USA
Subscribe to journal
Immediate online access to all issues from 2019. Subscription will auto renew annually.
US$ 199
This is the net price. Taxes to be calculated in checkout.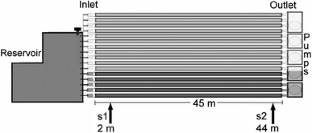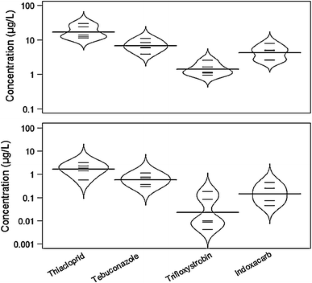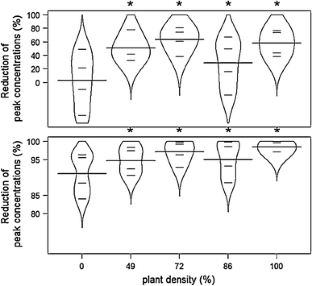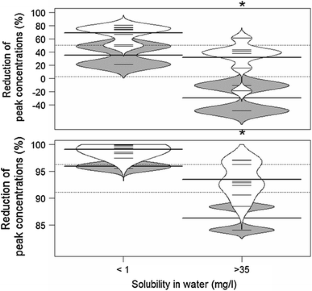 References
Akaike H (1974) A new look at the statistical model identification. IEEE Trans Autom Control 19(6):716–723

Beketov MA, Liess M (2008) Variability of pesticide exposure in a stream mesocosm system: macrophyte-dominated vs. non-vegetated sections. Environ Pollut 156(3):1364–1367

Berenzen N, Kumke T, Schulz H, Schulz R (2005a) Macroinvertebrate community structure in agricultural streams: impact of runoff-related pesticide contamination. Ecotoxicol Environ Saf 60(1):37–46

Berenzen N, Lentzen-Godding A, Probst M, Schulz H, Schulz R, Liess M (2005b) A comparison of predicted and measured levels of runoff-related pesticide concentrations in small lowland streams on a landscape level. Chemosphere 58(5):683–691

Brock TCM, Crum SJH, Wijngaarden R, Budde BJ, Tijink J, Zuppelli A, Leeuwangh P (1992) Fate and effects of the insecticide Dursban® 4E in indoor Elodea-dominated and macrophyte-free freshwater model ecosystems: I. Fate and primary effects of the active ingredient chlorpyrifos. Arch Environ Contam Toxicol 23:69–84

Budd R, O'Geen A, Goh KS, Bondarenko S, Gan J (2009) Efficacy of constructed wetlands in pesticide removal from tailwaters in the Central Valley, California. Environ Sci Technol 43(8):2925–2930

Chevan A, Sutherland M (1991) Hierarchical partitioning. Am Stat 45(2):90–96

Cooper CM, Moore MT, Bennett ER, Smith S, Farris JL, Milam CD, Shields FD (2004) Innovative uses of vegetated drainage ditches for reducing agricultural runoff. Water Sci Technol 49(3):117–123

Dabrowski JM, Bennett ER, Bollen A, Schulz R (2006) Mitigation of azinphos-methyl in a vegetated stream: comparison of runoff- and spray-drift. Chemosphere 62(2):204–212

Duarte C, Kalff J (1990) Biomass density and the relationship between submerged macrophyte biomass and plant growth form. Hydrobiologia 196:17–23

Elsaesser D, Blankenberg A-GB, Geist A, Mæhlum T, Schulz R (2011) Assessing the influence of vegetation on reduction of pesticide concentration in experimental surface flow constructed wetlands: application of the toxic units approach. Ecol Eng 37(6):955–962

European-Commission (2009) Directive 2009/128/EC of the European Parliament and of the Council of 21 October 2009 establishing a framework for community action to achieve the sustainable use of pesticides. Off J Eur Community L309:71–86

FOCUS (2001) FOCUS surface water scenarios in the EU evaluation process under 91/414/EEC. Report of the FOCUS working group on surface water scenarios, EC Document Reference SANCO/4802/2001-rev. 2

Gill SL, Spurlock FC, Goh KS, Ganapathy C (2008) Vegetated ditches as a management practice in irrigated alfalfa. Environ Monit Assess 144(1–3):261–267

Gregoire C, Elsaesser D, Huguenot D, Lange J, Lebeau T, Merli A, Mose R, Passeport E, Payraudeau S, Schuetz T, Schulz R, Tapia-Padilla G, Tournebize J, Trevisan M, Wanko A (2009) Mitigation of agricultural nonpoint-source pesticide pollution in artificial wetland ecosystems. Environ Chem Lett 7(3):205–231

Gregoire C, Payraudeau S, Domange N (2010) Use and fate of 17 pesticides applied on a vineyard catchment. Int J Environ Anal Chem 90(3–6):406–420

Imfeld G, Braeckevelt M, Kuschk P, Richnow HH (2009) Monitoring and assessing processes of organic chemicals removal in constructed wetlands. Chemosphere 74(3):349–362

Kampstra P (2008) Beanplot: a boxplot alternative for visual comparison of distributions. J Stat Softw Code Snippets 28(1):1–9

Karen DJ, Joab BM, Wallin JM, Johnson KA (1998) Partitioning of chlorpyrifos between water and an aquatic macrophyte (Elodea densa). Chemosphere 37(8):1579–1586

Lange J, Schuetz T, Gregoire C, Elsaesser D, Schulz R, Passeport E, Tournebize J (2011) Multi-tracer experiments to characterise contaminant mitigation capacities for different types of artificial wetlands. Int J Environ Anal Chem 91(7–8):768–785

Moore MT, Bennett ER, Cooper CM, Smith S, Shields F, Milam C, Farris J (2001) Transport and fate of atrazine and lambda-cyhalothrin in an agricultural drainage ditch in the Mississippi Delta, USA. Agric Ecosyst Environ 87(3):309–314

Moore MT, Schulz R, Cooper CM, Smith S, Rodgers JH (2002) Mitigation of chlorpyrifos runoff using constructed wetlands. Chemosphere 46(6):827–835

Nichols S, Shaw B (1986) Ecological life histories of the three aquatic nuisance plants, Myriophyllum spicatum, Potamogeton crispus and Elodea canadensis. Hydrobiologia 131:3–21

PPDB (2013) The Pesticide Properties Database (PPDB) developed by the Agriculture & Environment Research Unit (AERU), University of Hertfordshire, funded by UK national sources and the EU-funded FOOTPRINT project (FP6-SSP-022704). Technical report, Agriculture and Environment Research Unit. Science & Technology Research Institute University of Hertfordshire

Rabiet M, Margoum C, Gouy V, Carluer N, Coquery M (2010) Assessing pesticide concentrations and fluxes in the stream of a small vineyard catchment–effect of sampling frequency. Environ Pollut 158(3):737–748

Reichenberger S, Bach M, Skitschak A, Frede H-G (2007) Mitigation strategies to reduce pesticide inputs into ground- and surface water and their effectiveness; a review. Sci Total Environ 384(1–3):1–35

Schulz R (2004) Field studies on exposure, effects, and risk mitigation of aquatic nonpoint-source insecticide pollution: a review. J Environ Qual 33(2):419–448

Schulz R, Hahn C, Bennett ER, Dabrowski JM, Thiere G, Peall SK (2003a) Fate and effects of azinphos-methyl in a flow through wetland in South Africa. Environ Sci Technol 37(10):2139–2144

Schulz R, Moore MT, Bennett ER, Farris JL, Smith S, Cooper CM (2003b) Methyl parathion toxicity in vegetated and nonvegetated wetland mesocosms. Environ Toxicol Chem 22(6):1262–1268

Stehle S, Elsaesser D, Gregoire C, Imfeld G, Niehaus E, Passeport E, Payraudeau S, Schäfer RB, Tournebize J, Schulz R (2011) Pesticide risk mitigation by vegetated treatment systems: a meta-analysis. J Environ Qual 40(4):1068–1080

Thomas KV, Hurst MR, Matthiessen P, Sheahan D, Williams RJ (2001) Toxicity characterisation of organic contaminants in stormwaters from an agricultural headwater stream in south east England. Water Res 35(10):2411–2416

Zhang X, Liu X, Zhang M, Dahlgren RA, Eitzel M (2010) A review of vegetated buffers and a meta-analysis of their mitigation efficacy in reducing nonpoint source pollution. J Environ Qual 39(1):76–84
Acknowledgments
The authors are grateful to anonymous reviewers for valuable comments to the manuscript. This study is part of the European LIFE ENVIRONMENT Project ArtWET (LIFE 06 ENV/F/000133). We acknowledge additional funding by the University Koblenz-Landau and the Verband der Chemischen Industrie, Frankfurt (VCI) in the setup of the Landau Stream Mesocosm Facility.
About this article
Cite this article
Elsaesser, D., Stang, C., Bakanov, N. et al. The Landau Stream Mesocosm Facility: Pesticide Mitigation in Vegetated Flow-Through Streams. Bull Environ Contam Toxicol 90, 640–645 (2013). https://doi.org/10.1007/s00128-013-0968-9
Received:

Accepted:

Published:

Issue Date:
Keywords
Risk mitigation

Pollution

Experimental ditch mesocosm

Aquatic plants

FOCUS