Abstract
The objective of the present work was to determine the bioaccumulation of arsenic (As), cadmium (Cd), copper (Cu), lead (Pb), mercury (Hg), uranium (U) and selenium (Se) in gill, liver, and muscle tissues of the fresh water fish Salmo trutta macrostigma (Duméril, 1858) in Munzur Stream, Tunceli, Turkey. The highest concentrations of U (1.83 μg kg−1), Pb (119.84 μg kg−1) and Se (1.31 μg kg−1) were recorded in the gills of S. t. macrostigma. Concentrations of As (46.27 μg kg−1), Cd (109.19 μg kg−1), Hg (16.40 μg kg−1), Cu (18.19 μg kg−1) were recorded at highest levels in the liver. The results showed that there were significant differences in concentrations of As, Cd, Cu, Pb, Se, U and Hg in gill, liver and muscle tissue (p < 0.05). Heavy metals were within the edible parts of the investigated fish were in the permissible safety levels for human uses.
This is a preview of subscription content, log in to check access.
Access options
Buy single article
Instant access to the full article PDF.
US$ 39.95
Price includes VAT for USA
Subscribe to journal
Immediate online access to all issues from 2019. Subscription will auto renew annually.
US$ 199
This is the net price. Taxes to be calculated in checkout.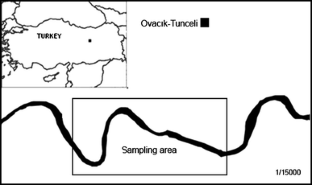 References
Allen-Gill SM, Martynov VG (1995) Heavy metals burdens in nine species of freshwater and anadromous fish from the Pechora River, Northern Russia. Sci Total Environ 160–161:653–659

Burger J, Dixon C, Shukla T, Tsipoura N, Jensen H, Fitzgerald M, Ramos R, Gochfeld M (2003) Metals in horseshoe crabs from Delaware Bay. Arch Environ Contam Toxicol 44:36–42

Canli M, Kalay M (1998) Levels of heavy metals (Cd, Pb, Cu, Cr and Ni) in tissue of Cyprinus carpio, Barbus capito and Chondrostoma regium from the Seyhan River, Turkey. Turkish J Zool 22:149–157

Colle C, Garnier-Laplace J, Roussel-Debet S, Adam C, Baudin JP (2001) Comportement de l'uranium dans l'environnement. In: Metivier H (ed) L'uranium de l'environnement `a l'homme. EDP Sci, Les Ulis, pp 187–211

Conacher HB, Page BD, Ryan JJ (1993) Industrial chemical contamination of foods [Review]. Food Addit Contam 10(1):129–143

Cooley HM, Evans RE, Klaverklamp JF (2000) Accumulationand distribution of dietary uranium in lake white fish (Coregonus clupeaformis). Aquat Toxicol 48:477–494

Dural M, Goksu MZL, Ozak AA (2007) Investigation of heavy metal levels in economically important fish species captured from the Tuzla Lagoon. Food Chem 102:415–421

Erdoğrul Ö, Erbili F (2006) Heavy metal and trace elements in various fish samples from Sır Dam Lake, Kahramanmaraş, Turkey. Environ Monit Assess 130:373–379

Farombi EO, Adelowo OA, Ajimoko YR (2007) Biomarkers of oxidative stress and heavy metal levels as indicators of environmental pollution in African Catfish (Clarias gariepinus) from Nigeria Ogun river. Int J Environ Res Public Health 4(2):158–165

Karadede-Akin H, Unlu E (2007) Heavy metal concentrations in water, sediments, fish and some benthic organisms from Tigris River, Turkey. Environ Monit Assess 131:323–337

Khune WW, Caldwell CA, Gould WR, Fresquez PR, Finger S (2002) Effects of depleted uranium an the health and survival of Ceriodaphnia dubia and Hyalella azteca. Environ Toxicol Chem 21:2198–2203

Kocabas M, Kayım M, Can E, Kutluyer F, Aksu Ö (2011) The reproduction traits of native brown trout (Salmo trutta macrostigma T., 1954) in Turkey. J Anim Vet Adv 10(13):1632–1637

Olowu RA, Ayejuyo OO, Adewuyi GO, Adejoro IA, Denloye AAB, Babatunde AO, Ogundajo A (2010) Determination of heavy metals in fish tissues, water and sediment from Epe and Badagry Lagoons, Lagos, Nigeria. J Chem 7(1):215–221

Ploetz DM, Fitts BE, Rice TM (2007) Differential accumulation of heavy metals in muscles and liver of a marine fish (King Mackerel, Scomberomorus cavalla, Cuvier) from the Northern Gulf of Mexico, USA. Bull Environ Contam Toxicol 78:134–137

Prudente M, Tanabe S, Watanbe M, Subramanian A, Miyazki N, Suarez P, Tatsukawa R (1997) Organochlorine contamination in some odontoceti species from the North Pacific and Indian Ocean. Mar Environ Res 44(4):415–427

Puel D, Zsuerger N, Breittmayer JP (1987) Statistical assessment of a sampling pattern for evalution of changes in Hg and Zn concentration in Patella coerulea. Bull Environ Contam Toxicol 38:700–706

Rauf A, Javed M, Ubaıdullah M (2009) Heavy metal levels in three major carps (Catla catla, Labeo rohıta and Cirrhina mrıgala) from the River Ravi, Pakıstan. Pakistan Vet J 29(1):24–26

Raja P, Veerasingam S, Suresh G, Marichamy G, Venkatachalapathy R (2009) Heavy metals concentration in four commercially valuable marine edible fish species from Parangipettai Coast, South East Coast of India. Int J Anim Vet Adv 1(1):10–14

Rayman MP (2000) The importance of selenium to human health. The Lancet 356:233–241

Simon O, Garnier-Laplace J (2005) Laboratory and field assessment of uranium trophic transfer efficiency in the crayfish Orconectes limosus fed the bivalve C. fluminea. Aquat Toxicol 74:372–383

Steel RGD, Torrie JH, Dinkey DA (1996) Principles and procedures of statistics, 2nd edn. McGraw Hill Book Co., Singapore

Suhaimi F, Wong SP, Lee VLL, Low LK (2005) Heavy metals in fish and shellfish found in local wet markets. Singapore J Primary Ind 32:1–18

Turkish Food Codex (2002) Official gazette, Addition 7, Number 24936. Ankara, Turkey

Unlü E, Akba O, Sevim S, Gümgüm B (1996) Heavy metal levels in mullet, Liza abu (Heckel, 1843) (Mugilidae) from the Tigris River, Turkey. Fresen Environ Bull 5:107–112

Ural M, Yildirim N, Danabas D, Kaplan O, Cikcikoglu Yildirim N, Ozcelik M, Kurekci EF (2011) Some heavy metals accumulation in tissues in Capoeta umbla (Heckel, 1843) from Uzuncayir Dam lake (Tunceli, Turkey). Bull Environ Contam Toxicol. doi:10.1007/s00128-011-0474-x

URL-1, (2012) Interior Health Dept, information sheet. http://www.interiorhealth.ca/uploadedFiles/Health_and_Safety/Drinking_Water/Uranium_InfoSheet.pdf

Velez D, Montoro R (1998) Arsenic speciation in manufactured seafood products: a review. J Food Protect 61(9):1240–1245

Vinodhini R, Narayanan M (2008) Bioaccumulation of heavy metals in organs of fresh water fish Cyprinus carpio (Common carp). Int J Environ Sci Tech 5(2):179–182

Vosyliene MZ, Jankaite A (2006) Effect of heavy metal model mixture on rainbow trout biological parameters. Ekologija 4:12–17

Watanabe T, Kiron V, Satoh S (1997) Trace minerals in fish nutrition. Aquaculture 151:185–207

WHO (1996) Trace elements in human nutrition and health. Chapter 6. Selenium. WHO, Geneva

Yılmaz AB, Yılmaz L (2007) Influences of sex and seasons on levels of heavy metals in tissues of green tiger shrimp (Penaeus semisulcatus de Hann, 1844). Food Chem 101:1664–1669

Yilmaz F, Ozdemir N, Demirak A, Tuna AL (2007) Heavy metal levels in two fish species Leuciscus cephalus and Lepomis gibbosus. Food Chem 100:830–835

Zhang JL, Liu JG, Li C, Nie YF, Jin YY (2007) Comparison of the fixation of heavy metals in raw material, clinker and mortar using a BCR sequential extraction procedure and NEN7341 test. Cement and Concrete Research. doi:10.1016/j.cemconres.2007.09.004

Zhong X, Zhou S, Li J (2007) Spatial variability of soil heavy metals contamination in the Yangtze river Delta—A case study of Taicang City in Jiangsu Province. Acta Pedologica Sinica 44(1):33–40
About this article
Cite this article
Can, E., Yabanli, M., Kehayias, G. et al. Determination of Bioaccumulation of Heavy Metals and Selenium in Tissues of Brown Trout Salmo trutta macrostigma (Duméril, 1858) from Munzur Stream, Tunceli, Turkey. Bull Environ Contam Toxicol 89, 1186–1189 (2012). https://doi.org/10.1007/s00128-012-0824-3
Received:

Accepted:

Published:

Issue Date:
Keywords
Salmo trutta macrostigma

Bioaccumulation

Brown trout

Heavy metals

Munzur Stream