Abstract
Metals, organic carbon contents were determined in surficial and core sediment samples from Lake Bafa, Western Anatolia in 2010. The ranges of Fe, Mn, Pb, Cu, Ni, Cr, Zn and Hg contents of sediments from the Bafa Lake were 9.4–35 gkg−1, 250–780, 2.3–20, 5.8–55, 1.2–480, 63–278, 26.6–79.9 and 0.013–0.273 mg kg−1, respectively. The mean metal concentrations in surficial sediments obtained in this study decreased in the following order; Fe > Mn > Ni > Cr > Zn > Cu > Pb > Hg for Bafa lake. Total organic carbon concentrations of the bottom sediments from the Bafa Lake varied between 0.35 % and 3.58 %. The mean concentrations of metal were lower than the background levels in earth crust except Cr and Ni in the core sediments. The metal levels were evaluated according to the New Geo-accumulation Index, enrichment and contamination factors. The results confirmed that the Bafa Lake is not facing serious environmental pollution risk due to metal contamination except Hg. The levels of Cr, Ni, Cu, Fe, Zn and Mn generally appear to be uniformly distributed with depth except Hg and Pb due to anthropogenic sources in the core sediments.
This is a preview of subscription content, log in to check access.
Access options
Buy single article
Instant access to the full article PDF.
US$ 39.95
Price includes VAT for USA
Subscribe to journal
Immediate online access to all issues from 2019. Subscription will auto renew annually.
US$ 199
This is the net price. Taxes to be calculated in checkout.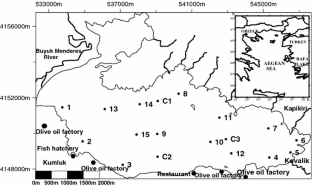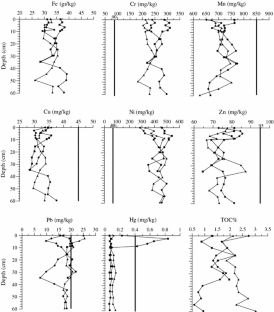 References
Akcay H, Oguz A, Karapire C (2003) Study of heavy metal pollution and speciation in Buyuk Menderes and Gediz River sediments. Water Res 37:813–822

Altindag A, Yigit S (2005) Assessment of heavy metal concentrations in the food web of lake Beyşehir, Turkey. Chemosphere 60:552–556

Bardarudeen T, Damodaran KT, Sajan K et al (1996) Texture and geochemistry of the sediments of a tropical mangrove ecosystem, Southwest coast of India. Environ Geol 27:164–169

Caeiro S, Costa MH, Ramos TB, Fernandes F, Silveira N, Coimbra A, Medeiros G, Painho M (2005) Assessing heavy metal contamination in Sado Estuary sediment: An index analysis approach. Ecol Indic 5(2):151–169

Carvalho S, Moura A, Gaspar MB, Pereira P, Cancela da Fonseca L, Falcao M, Drago T, Leitao F, Regala J (2005) Spatial and inter-annual variability of the macrobenthic communities within a coastal lagoon (Obidos lagoon) and its relationship with environmental parameters. Oceanol Acta 27:143–159

Ergin M, Bodur MN, Ediger V, Yemenicioglu S, Okyar M, Kubilay NN (1993) Sources and dispersal of heavy metals in surface sediments along the eastern Aegean shelf. Boll Oceanologia Teor Appl XI(1):27–44

Esen E, Kucuksezgin F, Uluturhan E (2008) Assessment of trace metal pollution in surface sediments of Nemrut Bay. Aegean Sea. Environ Monit Assess 160(1–4):257–266

HACH (1988) Procedure water and waste water analysis. Publication 3061

Hakanson L (1980) Ecological risk index for aquatic pollution control, a sedimentological approach. Water Res 14:975–1001

Hakanson L, Jansson M (1983) Principles of Lake Sedimentology. Springer, Berlin

Hu X, Wang C, Zou L (2011) Characteristics of heavy metals and Pb isotopic signatures in sediment cores collected from typical urban shallow lakes in Nanjing, China. J Environ Manage 92:742–748

Karadede H, Unlu E (2000) Concentrations of some heavy metals in water, sediment and fish species from the Atatürk Dam Lake (Euphrates), Turkey. Chemosphere 41:1371–1376

Müllenhoff M, Handl M, Knipping M, Brückner H (2004) The evolution of Lake Bafa (Western Turkey)–Sedimentological, microfaunal and palynological results. Coastline Rep 1:55–66

Naidu S, Blanchard A, Kelley JJ, Goering JJ, Hameedi MJ, Baskaran M (1997) Heavy metals in Chukchi Sea sediments as compared to selected circum-Arcticshelves. Mar Pollut Bull 35:260–269

Nguyena HL, Leermakersa M, Osánc J, Tfrfkc S, Baeyensa W (2005) Heavy metals in Lake Balaton: water column, suspended matter, sediment and biota. Sci Tot Environ 340:213–230

Nriagu JO (1988) A silent epidemic of environmental metal poisoning. Environ Pollut 50:139–161

Ozmen H, Kulahci F, Cukurovali A, Dogru M (2004) Concentrations of heavy metal and radioactivity in surface water and sediment of Hazar Lake (Elazığ, Turkey). Chemosphere 55:401–408

Ruiz F (2001) Trace metals in estuarine sediments from the South-western Spanish Coast. Mar Pollut Bull 42:482–490

Salomons W, Fostner V (1984) Metals in the hydrocycle, pp 63–93

Turekian KK, Wedepohl KH (1961) Distribution of the elements in some major units of the earth crust. Geol Soc Am Bull 72:175–192

Yener G, Yıldız N (2010) Van Gölü'nde Sediment Birikim Hızı, Radyoaktif ve Ağır Metal Kirliliğinin Tarihlemesi. Ekoloji 19:80–87 (In Turkish)

Yilgor A (2009) Heavy metal pollution in the Büyük Menderes River sediments and the effects to the delta. PhD Thesis, Institute of Marine Sciences and Technology (In Turkish)

Yilgor S (2011) Investigation of heavy metal pollution in the sediments from Lake Bafa (Western Anatolia). PhD Thesis, Institute of Marine Sciences and Technology (In Turkish)

Zhang L, Ye X, Feng H, Jing Y, Ouyang T, Yu X (2007) Heavy metal contamination in western Xiamen Bay sediments and its vicinity, China. Mar Pollut Bull 54:974–982

Zheng YM, Liu YR, Hu HQ, He JZ (2008) Mercury in soils of three agricultural experimental stations with long-term fertilization in China. Chemosphere 72:1274–1278
Acknowledgments
Financial support by the Turkish Scientific and Technical Research Council (TUBITAK) (Grant No: 110Y002) for this work is gratefully appreciated. We would like to thank Res. Assist. Can EYTEMIZ and Suheda EDREMIT for bathymetric survey and also to thank Gamze KORDACI for assistance during the sediment sampling.
About this article
Cite this article
Yilgor, S., Kucuksezgin, F. & Ozel, E. Assessment of Metal Concentrations in Sediments from Lake Bafa (Western Anatolia): An Index Analysis Approach. Bull Environ Contam Toxicol 89, 512–518 (2012). https://doi.org/10.1007/s00128-012-0699-3
Received:

Accepted:

Published:

Issue Date:
Keywords
Metals

Lake sediment

Enrichment factor

Contamination factor

New Geo-accumulation Index

Bafa Lake (Western Anatolia)