Abstract
Degradation of imidacloprid in chrysanthemi flos and cultivated soil was studied. The half-lives of imidacloprid were 3.55–5.17 days (soil), 2.10–3.98 days (fresh buds and flowers), 22.14 days (dry flowers, 5°C) and 13.08 days (dry flower, 20°C), separately. The temperature can affect imidacloprid degradation in soil and dry chrysanthemum buds and flowers. Imidacloprid residues in chrysanthemum flowers were more stable during store stage than growing one. Few imidacloprid residues would be dissolved into chrysanthemum tea liquor when the residue in dry buds or dry flowers was below 0.8 mg/kg.
This is a preview of subscription content, log in to check access.
Access options
Buy single article
Instant access to the full article PDF.
US$ 39.95
Price includes VAT for USA
Subscribe to journal
Immediate online access to all issues from 2019. Subscription will auto renew annually.
US$ 199
This is the net price. Taxes to be calculated in checkout.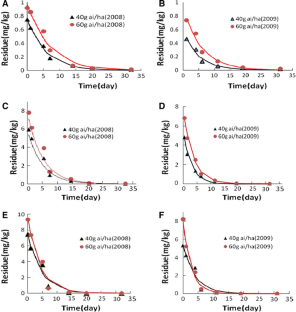 References
Ayman D, Shraim A, Abulhaj S, Sansour R, Ng JC (2007) Imidacloprid residues in fruits, vegetables and water samples from Palestine. Environ Geochem Health 29:45–50

Baskaran S, Kookana RS, Naidu R (1999) Degradation of bifenthrin, chlorpyrifos and imidacloprid in soil and bedding materials at termiticidal application rates. Pest Sci 55:1222–1228

Collins RA, Collins RA, Ng TB, Fong WP, Wan CC, Yeung HW (1997) A comparison of human immunodeficiency virus type 1 inhibition by partially purified aqueous extracts of Chinese medicinal herbs. Life Sci 60:345–351

Guan H, Chi D, Yu T, Li H (2010) Dynamics of residues from a novel nano-imidacloprid formulation in soybean fields. Chin J Crop Prot 29:942–946

Hu CQ, Chen K, Shi Q, Kilkuskie RE, Cheng YC, Lee KH (1994) Anti-AIDS agents, 10. Acacetin-7-O-beta-D-galactopyranoside, an anti-HIV principle from chrysanthemum morifolium and a structure-activity correlation with some related flavonoids. J Nat Prod 57:42–51

Ju XQ, Deng XP, Luo GS, He HZ, Xue J (2006) Degradation dynamics of imidacloprid in tea leaves and tea garden soil. Chin J Southwest Agric Univ (natural science) 28:471–474

Kousik Mandal GS, Chahil SK, Sahoo RS, Battu BS (2010) Dissipation kinetics of ß-Cyfluthrin and imidacloprid in brinjaland soil under subtropical conditions of Punjab, India. Bull Environ Contam Toxicol 84:225–229

Lou J, Chen J, Zhu G (2004) Residues of imidacloprid in cabbage and soil. Chin J Pesticides 43:40–42

Marongiu B, Piras A, Porcedda S, Tuveri E, Laconi S, Deidda D, Maxia A (2009) Chemical and biological comparisons on supercritical extracts of Tanacetum cinerariifolium (Trevir) Sch. Bip. with three related species of chrysanthemums of Sardinia (Italy). Nat Prod Res 23:190–199

Miles Inc. (1993) Imidacloprid: Pesticide leaching potential model. Report No. 105008

Parshotam KA, Gagan J, Baljeet S, Raminderjit SB, Balwinder S, Pushpinder SA (2009) Persistence of imdacloprid on grape leaves, grape berries and soil. Bull Environ Contam Toxicol 82:239–242

Rouchaud J, Gustin F, Wauters A (1994) Soil biodegradation and leaf transfer of insecticide imidacloprid applied in seed dressing in sugar beet crops. Bull Environ Contam Toxicol 53:344–350

Sanyal N, Hazra D, Pal R, Somchaudhury AK, Chowdhury A (2006) Imidacloprid in processed tea and tea liquor. J Zhejiang Univ Sci B 7:619–622

Sassi AB, Harzallah-Skhiri F, Bourgougnon N, Aouni M (2008) Antimicrobial activities of four Tunisian chrysanthemum species. Indian J Med Res 127:183–192

Scholz K, Spiteller M (1992) Influence of groundcover on the degradation of 14C-imidacloprid in soil. Brighton crop protection conference, pests and diseases, pp 883–888

Sherif E-H, Kubiak R, Derbaiah AS (2008) Fate of imidacloprid in soil and plant after application to cotton seeds. Chemosphere 71:2173–2179

Thai KP, Dang TTN, Takashi M, Dang QT, Hirozumi W (2009) Fate and transport of nursery-box-applied tricyclazole and imidacloprid in paddy fields. Water Air Soil Pollut 202:3–12
Acknowledgment
We express our gratitude to Mr. Liming Zhu and Agricultural Extending Center of Tongxiang City, Zhejiang Province, China for providing help during field test stage. National S&T Major Special Project on Major New Drug Innovation. Item Number: 2009ZX09502-027.
About this article
Cite this article
Wu, J., Wei, H. & Xue, J. Degradation of Imidacloprid in Chrysanthemi Flos and Soil. Bull Environ Contam Toxicol 88, 776–780 (2012). https://doi.org/10.1007/s00128-012-0547-5
Received:

Accepted:

Published:

Issue Date:
Keywords
Pesticide degradation

Imidacloprid

Chrysanthemi flos