Abstract
The concentrations of Cr and Pb were determined in bryophytes and pteridophytes sampled in a stream near a tannery in Guarapuava, southern Brazil. The concentrations of Cr and Pb were measured by cathodic and anodic voltammetry, respectively. These plants were used to evaluate the spatial distribution of elements in the examined stream, and contained elevated levels of Cr (0.71–24.07 μg/g) and Pb (4.33–24.20 μg/g). Chromium levels in plants near the tannery greatly exceeded background levels, indicating a severe to extreme degree of contamination with this metal. Lead levels were elevated to a lesser degree, indicating slight to moderate contamination for most plants collected near the tannery.
This is a preview of subscription content, log in to check access.
Access options
Buy single article
Instant access to the full article PDF.
US$ 39.95
Price includes VAT for USA
Subscribe to journal
Immediate online access to all issues from 2019. Subscription will auto renew annually.
US$ 199
This is the net price. Taxes to be calculated in checkout.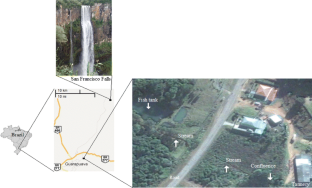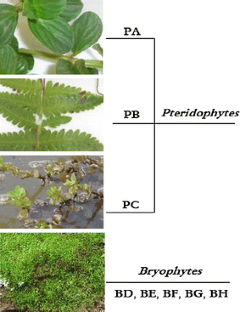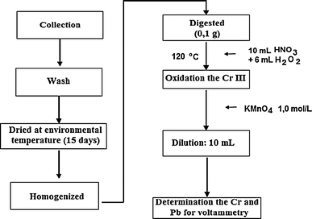 References
CCME. Canadian Council of Ministers of the Environment (1999). Protocol for derivation of Canadian sediment quality guidelines for the protection of aquatic life. In Canadian environmental quality guidelines. Winnipeg: Canadian Council of Ministers of the Environment. In: http://www.ccme.ca/assets/pdf/sedqg_summary_table.pdf. Accessed 15 may 2010

Google Earth: http://earth.google.com/intl/pt/. Accessed 20 September 2010

Davis DD, McClenahen JR, Hutnik RJ (2001) Use of an epiphytic moss to biomonitor pollutant levels in Southwestern Pennsylvania. Northeast Nat 8:379–392

Esser HO (1986) A review of the correlation between physicochemical properties and bioaccumulation. Pestic Sci 17:265–276

Fernandez JA, Carballeira A (2001) Evaluation of the contamination by different elements in terrestrial mosses. Arch Environ Contam Toxicol 40:461–468

Gerdol R, Bragazza L, Marchesini R, Alber R, Bonetti L, Lorenzoni G, Achilli M, Buoni A, De Marco N, Franchi M, Pison S, Giaquinta S, Palmieri F, Spezzano P (2000) Monitoring of heavy metal deposition in northern Italy by moss analysis. Environ Pollut 108:201–208

Ghatge MM, Shaikh SD, Dongare M (2011) Study on the metal absorption by two bryophytes from Koyana wildlife sanctuary (India). J Exp Sci 3:49–50

Gonçalves EPR, Soares HMVM, Boaventura RAR, Machado AASC (1994) Seasonal variations of heavy metals in sediments and aquatic mosses from the Cávado river basin (Portugal). Sci Total Environ 142:143–156

Harmens H, Norris DA, Steinnes E, Kubin E, Piispanen J, Alber R, Aleksiayenak Y, Blum O, Coskun M, Dam M, De Temmerman L, Fernández JA, Frolova M, Frontasyeva M, GonzálezMiqueo L, Grodzinska K, Jeran Z, Korzekwa S, Krmar M, Kvietkus K, Leblond S, Liiv S, Magnússon SH, Mankovská B, Pesch R, Rühling A, Santamaria JM, Schröder W, Spiric Z, Suchara I, Thöni L, Urumov V, Yurukova L, Zechmeister HG (2010) Mosses as biomonitors of atmospheric heavy metal deposition: spatial patterns and temporal trends in Europe. Environ Pollut 158:3144–3156

Kaur S, Rao A, Kumar SS (2010) Studies on the effect of heavy metals on the growth of some bryophytes-I (mosses). Int J Pharm Pharm Sci 5:102–107

Li Y, Xue H (2001) Determination of Cr(III) and Cr(VI) species in natural waters by catalytic cathodic stripping voltammetry. Anal Chim Acta 448:121–134

Liu X, Gao Y, Khan S, Duan G, Chen A, Ling L, Zhao L, Liu Z, Wu X (2008) Accumulation of Pb, Cu, and Zn in native plants growing on contaminated sites and their potential accumulation capacity in Heqing, Yunnan. J Environ Sci 20:1469–1474

Nimis PL, Fumagalli F, Bizzotto A, Codogno M, Skert N (2002) Bryophytes as indicators of trace metal pollution in the River Brenta (NE Italy). Sci Total Environ 286:233–242

Otvos E, Pazmandi T, Tuba Z (2003) First national survey of atmospheric heavy metal deposition in Hungary by the analysis of mosses. Sci Total Environ 309:151–160

Palmieri RM, La Pera L, Di Bella G, Dugo G (2005) Simultaneous determination of Cd(II), Cu(II), Pb(II) and Zn(II) by derivative stripping chronopotentiometry in Pittosporum tobira leaves: a measurement of local atmospheric pollution in Messina (Sicily, Italy). Chemosphere 59:1161–1168

Pereira CD (2008) Especiação de Cr(III) e Cr(VI) usando sistema de pré-concentração em fluxo, minicoluna de C18 com detecção por FAAS (Masters dissertation). Universidade Estadual do Centro-Oeste, Guarapuava, Brasil

Quináia SP, Cavagnoli AR, Martins VJ (2009) Evaluation of distribution of Cr, Pb and Cu in surface sediments. RECEN 11:49–66

Seaward MRD (1995) Use and abuse of heavy metal bioassays in environmental monitoring. Sci Total Environ 176:129–134

U.S. EPA (1996) Method 1669, Sampling ambient water for determination of trace metals at EPA water quality criteria levels. U.S. Environmental Protection Agency, Office of Water, Washington
About this article
Cite this article
Repula, C.M.M., Quináia, S.P., de Campos, B.K. et al. Accumulation of Chromium and Lead in Bryophytes and Pteridophytes in a Stream Affected by Tannery Wastewater. Bull Environ Contam Toxicol 88, 84–88 (2012). https://doi.org/10.1007/s00128-011-0443-4
Received:

Accepted:

Published:

Issue Date:
Keywords
Trace elements

Bioindicator

Plants

Water pollution