Abstract
Portovelo is one of the oldest gold mining towns in Ecuador. Artisanal gold mining still uses mercury in the process of gold recovery. In this study, mercury concentrations in the air of Portovelo were evaluated. High mercury levels in the ambient were found in El Pache sector, where most gold mining processing plants are located. These varied between 2,356.7 ± 1,807.6 and 3,699.5 ± 1,225.3 ng/m3 during the rainy and dry seasons, respectively. Lower levels were detected in the urban (central) area of Portovelo, with 214.6 ± 43.7 ng/m3 in the rainy season and 574.2 ± 72.8 ng/m3 in the dry season, exceeding the Agency for Toxic Substances and Disease Registry minimum risk level of 200 ng/m3. Average mercury concentrations in exhaled air from miners, measured before and after amalgam burning ranged between 179–1,352 and 2,007–3,389 ng/m3, respectively. These data suggest Portovelo air is polluted with mercury and humans are being dangerously exposed. Therefore, strong actions must be undertaken to protect human and environmental health, including changing gold recovery systems.
This is a preview of subscription content, log in to check access.
Access options
Buy single article
Instant access to the full article PDF.
US$ 39.95
Price includes VAT for USA
Subscribe to journal
Immediate online access to all issues from 2019. Subscription will auto renew annually.
US$ 199
This is the net price. Taxes to be calculated in checkout.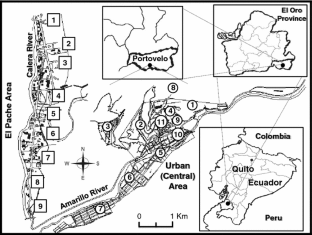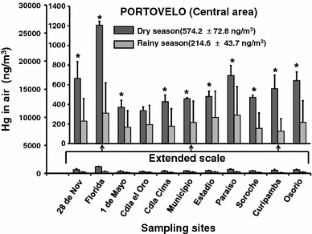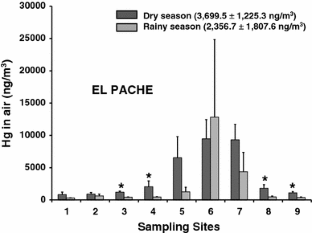 References
Appleton JD, Williams TM, Orbea H, Carrasco M (2001) Fluvial contamination associated with artisanal gold mining in the Ponce Enriquez, Portovelo-Zaruma and Nambija areas, Ecuador. Water Air Soil Pollut 131:19–39

ATSDR—Agency for Toxic Substances and Disease Registry (2010) Minimal Risk Levels (MRLs) for Hazardous Substances. Available http://www.atsdr.cdc.gov/mrls/mrllist.asp. Accessed 02 Sep 2010

Beate L, Stephan BO, Gustav D (2010) Proposal for a revised reference concentration (RfC) for mercury vapour in adults. Sci Total Environ 408:3530–3535

Bose-O'Reilly S, McCarty KM, Steckling N, Lettmeier B (2010) Mercury exposure and children's health. Curr Probl Pediatr Adolesc Health Care 40:186–215

Counter SA, Buchanan LH, Ortega F, Laurell G (2002) Elevated blood mercury and neuro-otological observations in children of the Ecuadorian gold mines. J Toxicol Environ Health A 65(2):149–163

Counter SA, Buchanan LH, Ortega F (2006) Neurocognitive screening of mercury-exposed children of Andean gold miners. Int J Occup Environ Health 12:209–214

Eckley CS, Gustin M, Marsik F, Miller MB (2011) Measurement of surface mercury fluxes at active industrial gold mines in Nevada (USA). Sci Total Environ 409:514–522

Eisler R (2004) Mercury hazards from gold mining to humans, plants, and animals. Rev Environ Contam Toxicol 181:139–198

Gibicar D, Horvat M, Logar M, Fajon V, Falnoga I, Ferrara R, Lanzillotta E, Ceccarini C, Mazzolai B, Denby B, Pacyna J (2009) Human exposure to mercury in the vicinity of chlor-alkali plant. Environ Res 109:355–367

Li P, Feng XB, Qiu GL, Shang LH, Li ZG (2009) Mercury pollution in Asia: a review of the contaminated sites. J Hazard Mater 168:591–601

Olivero-Verbel J, Ropero-Vega J, Ortiz-Rivera W, Vera-Ospina P, Torres-Fuentes N, Montoya-Rodriguez N (2006) Air mercury levels in a pharmaceutical and chemical sciences school building. Bull Environ Contam Toxicol 76:1038–1043

Pantoja F (2001) Tecnologías apropiadas para disminuir la contaminación ocasionada por mercurio en la minería del oro. Available via: Jornada internacional sobre el impacto ambiental del mercurio utilizado por la minería aurífera artesanal en Iberoamérica. www.gama-peru.org/jornada-hg/pantoja.pdf. Accessed 10 Jul 2010

Paruchuri Y, Siuniak A, Johnson N, Levin E, Mitchell K, Goodrich JM, Renne EP, Basu N (2010) Occupational and environmental mercury exposure among small-scale gold miners in the Talensi-Nabdam District of Ghana's Upper East region. Sci Total Environ 408:6079–6085

Sandborgh-Englund G, Elinder CG, Johanson G, Lind B, Skare I, Ekstrand J (1998) The absorption, blood levels, and excretion of mercury after a single dose of mercury vapor in humans. Toxicol Appl Pharmacol 150:146–153

Spiegel S, Veiga M (2010) International guidelines on mercury management in small-scale gold mining. J Clean Prod 18:375–385

Tarras-Wahlberg N (2002) Environmental management of small-scale and artisanal mining: the Portovelo-Zaruma gold mining area, southern Ecuador. J Environ Manage 65:165–179

Tarras-Wahlberg N, Flachier A, Lane S, Sangfors O (2001) Environmental impacts and metal exposure of aquatic ecosystems in rivers contaminated by small scale gold mining: the Puyango River basin, southern Ecuador. Sci Total Environ 278:239–261

Velásquez P, Veiga M, Hall K (2010) Mercury balance in amalgamation in artisanal and small-scale gold mining: identifying strategies for reducing environmental pollution in Portovelo-Zaruma, Ecuador. J Clean Prod 18:226–232

Wan Q, Feng X, Lu J, Zheng W, Song X, Li P, Han S, Xu H (2009) Atmospheric mercury in Changbai Mountain area, northeastern China II. The distribution of reactive gaseous mercury and particulate mercury and mercury deposition fluxes. Environ Res 109:721–727

Yang Y, Chen H, Wang D (2009) Spatial and temporal distribution of gaseous elemental mercury in Chongqing, China. Environ Monit Assess 156:479–489
About this article
Cite this article
González-Carrasco, V., Velasquez-Lopez, P.C., Olivero-Verbel, J. et al. Air Mercury Contamination in the Gold Mining Town of Portovelo, Ecuador. Bull Environ Contam Toxicol 87, 250 (2011). https://doi.org/10.1007/s00128-011-0345-5
Received:

Accepted:

Published:
Keywords
Mercury

Artisanal-small-scale gold mining

Amalgamation

Southern Ecuador