Abstract
The aim of this research was to study the effects on streams water quality of non-point contamination as agriculture and cattle farming activities at a basin with pampean characteristics located at the upper Reconquista River Basin. Eight reaches with different uses in their neighboring zones were selected with the proposed to detect differences at the water quality among them. SRP range was 0–0.60 mgP.PO 4 −3 /L, ammonia 1–137.3 μgN-NH4+/L and nitrate 0–4.15 mgN-NO3 −/L. There was high similitude and homogeneous physicochemical characteristics at the different reaches of the streams. The high levels of dissolved nutrients showed similar eutrophication conditions at the streams.
This is a preview of subscription content, log in to check access.
Access options
Buy single article
Instant access to the full article PDF.
US$ 39.95
Price includes VAT for USA
Subscribe to journal
Immediate online access to all issues from 2019. Subscription will auto renew annually.
US$ 199
This is the net price. Taxes to be calculated in checkout.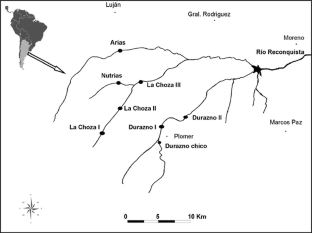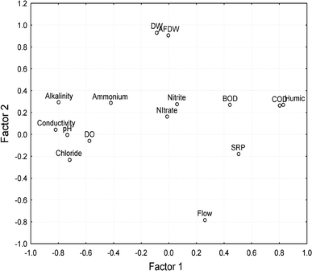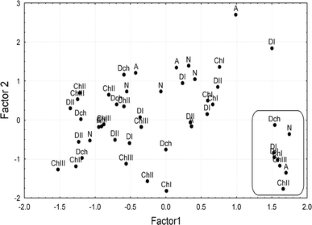 References
APHA (American Public Health Association) (2005) Standard methods for the examination of water and wastewater. APHA, Washington DC

Arreghini S, de Cabo L, Seoane R, Tomazin N, Serafíni R, de Iorio A (2005) Influence of rainfall on the discharge, nutrient concentrations and loads of a stream of the "Pampa Ondulada" (Argentina). Limnetica 24:225–236

Chagas CI, Irurtia C, Thisted J, Santanatoglia OJ, Massobrio MJ, Castiglioni MG, Bujan A (2004) Horizontal and vertical movement of water and particles in a no-till argiudol. Ciencia del Suelo 22:117–122

Gordon BN, Mc Mahon TA, Finlayson BL (1992) Stream hydrology: an introduction and for ecologists. John Wiley & Sons, New York

Haygarth PM, Condron LM, Heathwaite AL, Turner BC, Harris JP (2005) The Phosphorous transfer continuum: linking source to impact with and interdisciplinary and multiscaled approach. Sci Total Environ 344:5–14

Jarvie H, Neal C, Withers P (2006) Sewage-effluent phosphorus: a greater risk to river eutrophication than agricultural phosphorus? Sci Total Environ 360:246–253

Jarvie H, Withers P, Hodgkinson R, Bates A, Neal M, Wickham H, Harman S, Armstrong L (2008) Influence of rural land use on stream water nutrients and their ecological significance. J Hydrol 350:166–186

Lavado R, Duymovich O, Jiménez J, Alvarez L (1982) Loss of nitric soil humic substances through Samborombón River. Rev. Mus. de la Plata IX, Geología. 76:97–103

Mainstone CP, Parr W (2002) Phosphorus in rivers: ecology and management. Sci Total Environ 282–283:31–36

Margalef R (1994) The global river. Tankay 1:3–12

Mugni H, Jergentz S, Schulz R, Maine A, Bonetto C (2005) Phosphate and nitrogen compounds in sreams of Pampean Plain areas under intensive cultivation (Buenos Aires, Argentine). In: Serrano L, Golterman HL (ed) Proceeding of 4th International Symposium of Phosphates in Sediments, The Netherlands

Pionke HB, Gburek WJ, Schnabel RR, Sharpley AN, Elwinger GF (1999) Seasonal flow, nutrient concentrations and loading patterns in stream flow draining an agricultural hill-land watershed. J Hydrol 220:62–73

Withers P, Hodgkinson R, Adamson H, Green G (2007) The impact of pasture improvement on phosphorus concentrations in soils and streams in an upland catchment in Northern England. Agric Ecosyst Environ 122:220–232
Acknowledgments
This study was supported by PICT No: 26-165/04 and Universidad Nacional de Luján. We thank P. Castañé, F. de la Torre, P. Scarcia, and N. Ossana for their collaboration in the field surveys.
About this article
Cite this article
Vilches, C., Giorgi, A., Mastrángelo, M. et al. Non-point Contamination Homogenizes the Water Quality of Pampean Streams. Bull Environ Contam Toxicol 87, 147–151 (2011). https://doi.org/10.1007/s00128-011-0312-1
Received:

Accepted:

Published:

Issue Date:
Keywords
Pampean streams

Non-point contamination

Water quality

Agriculture and cattle farming