Abstract
Data on the occurrence of T-2 and HT-2 toxins in commodities and feed in Croatia and in Europe are very limited. In the present study, 50 feed and commodity samples tested for the presence of these mycotoxins yielded highest concentrations in cattle feed (67.68 ng/g) and oat samples (32.94 ng/g). In the future, screening should include greater numbers of feed and commodity samples to shed more light on the presence of T-2 and HT-2 toxins.
This is a preview of subscription content, log in to check access.
Access options
Buy single article
Instant access to the full article PDF.
US$ 39.95
Price includes VAT for USA
Subscribe to journal
Immediate online access to all issues from 2019. Subscription will auto renew annually.
US$ 199
This is the net price. Taxes to be calculated in checkout.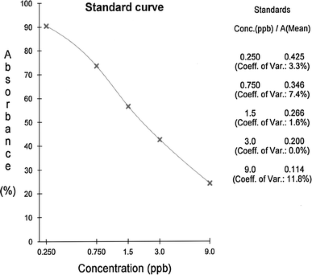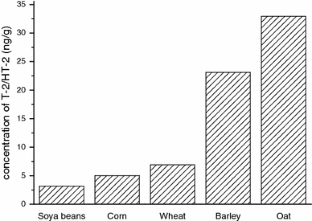 References
Bennett JW, Klich M (2003) Mycotoxins. Clin Microbiol Rev 16:497–516

Binder EM, Tan LM, Chin LJ, Handl J, Richard J (2007) Worldwide occurrence of mycotoxins in commodities, feeds and feed ingredients. Anim Feed Sci Technol 137:265–282

Boermansn HJ, Leung MCK (2007) Mycotoxins and the pet food industry: toxicological evidence and risk assessment. Int J Food Microbiol 119:95–102

Commission Recommendation 2006/576/EC of 17 August 2006 on the presence of deoxynivalenol, zearalenone, ochratoxin A, T-2 and HT-2 and fumonisins in products intented for animal feeding. Official Journal of the European Union L 229/7

Creppy EE (2002) Update of survey, regulation and toxic effects of mycotoxins in Europe. Toxicol Lett 127:19–28

Fuchs E, Binder EM, Heidler D, Krska R (2002) Structural characterization of metabolites after the microbial degradation of type A trichothecenes by the bacterial strain BBSH 797. Food Addit Contam 19:379–386

Glenn AE (2007) Mycotoxigenic Fusarium species in animal feed. Anim Feed Sci Technol 137:213–240

Labuda R, Parich A, Berthiller F, Tančinova D (2005) Incidence of trichothecenes and zearalenone in poultry feed mixtures from Slovakia. Int J Food Microbiol 105:19–25

Langseth W, Rundberget T (1999) The occurrence of HT-2 and other trichothecenes in Norwegian cereals. Mycopathologia 147:157–165

Lincy SV, Latha R, Chandrashekar A, Manonnami HK (2008) Detection of toxigenic fungi and quantification of type A trichothecene levels in some food and feed materials from India. Food Control 19:962–966

Mankevičiene A, Butkutė B, Dabkevičius Z, Supronienė S (2007) Fusarium mycotoxins in Lithuanian cereals from the 2004–2005 harvests. Ann Agric Environ Med 14:103–107

Meister U (2008) Analysis of T-2 and HT-2 toxins in oat and other cereals by means of HPLC with fluorescence detection. Mycotoxin Res 24:31–39

Milanez TV, Valente-Soares LM, Baptista GG (2006) Occurrence of trichothecene mycotoxins in Brazilian corn-based food products. Food Control 17:293–298

Morgavi DP, Riley RT (2007) An historical overview of field disease outbreaks known or suspected to be caused by consumption of feeds contaminated with Fusarium toxins. Anim Feed Sci Technol 137:201–212

Official Gazzete of the Republic of Croatia 118/2007

Peraica M, Radić B, Lucić A, Pavlović M (1999) Toxic effects of mycotoxin in humans. Int J Public Health 77:754–767

Richard JL (2007) Some major mycotoxins and their mycotoxicoses–an overview. Int J Food Microbiol 119:3–10

Schollenberger M, Müller HM, Rüfle M, Suchy S, Plank S, Drochner W (2005) Survey of Fusarium toxins in foodstuffs of plant origin marketed in Germany. Int J Food Microbiol 97:317–326

Scientific Committee on Food (2002). Opinion of the Scientific Commitee on Food on Fusarium toxins. Part 6: Group evaluation on T-2 and HT-2 toxin, nivalenol and deoxynivalenol

Sokolović M, Šimpraga B (2006) Survey of trichothecene mycotoxins in grains and animal feed in Croatia by thin layer chromatography. Food Control 17:733–740

Ueno Y, Nakayama K, Ishii K, Tashiro F, Minoda Y, Omori T, Komagata K (1983) Metabolism of T-2 toxin in Curtobacterium sp. Strain 114–2. Appl Envion Microbiol 46:120–127

Van Egmond HP (2004) Natural toxins: risks, regulations and the analytical situation in Europe. Anal Bioanal Chem 378:1152–1160

Young JC, Zhou T, Yu H, Zhu H, Gong J (2007) Degradation of trichothecene mycotoxins by chicken intestinal microbes. Food Chem Toxicol 45:136–143

Zhou T, He J, Gong J (2008) Microbial transformation of trichothecene mycotoxins. World Mycotoxin J 1:23–30
About this article
Cite this article
Vulić, A., Pleadin, J. & Perši, N. Determination of T-2 and HT-2 Toxins in Commodities and Feed in Croatia. Bull Environ Contam Toxicol 86, 294–297 (2011). https://doi.org/10.1007/s00128-011-0219-x
Received:

Accepted:

Published:

Issue Date:
Keywords