Abstract
The pyrometallurgical process of mining for obtaining ferronickel involves a stage of calcinations. At this stage a residue is generated described as a calcination dust of fine black grains. Analysis of this material revealed a significant presence of Fe, around 53,000 ppm and Ni, around 14,000, beyond of other metals as Al, Mn, and Cr. Adults and larvae of Oreochromis niloticus were used to evaluate acute toxicity, cytotoxicity and genotoxicity, and histopathological effects. The data obtained show absence of toxicity in concentrations of 5, 10 and 50% but a considerable potential for bioaccumulation in the fish's body.
This is a preview of subscription content, log in to check access.
Access options
Buy single article
Instant access to the full article PDF.
US$ 39.95
Price includes VAT for USA
Subscribe to journal
Immediate online access to all issues from 2019. Subscription will auto renew annually.
US$ 199
This is the net price. Taxes to be calculated in checkout.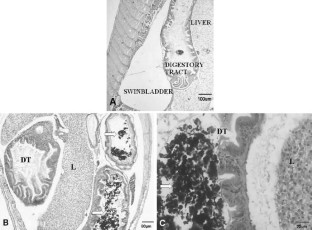 References
BNDES (2008) BNDES aprova financiamento de R$ 1,4 bilhão para produção de níquel. Available from http://www.bndes.gov.br/noticias/2008/not205_08.asp. Acessed 15 Jun 2009

Brix KV, Keithly J, DeForest DK, Laughlin J (2004) Acute and chronic toxicity of nickel to rainbow trout (Oncorhynchus mykiss). Environ Toxicol Chem 23:2221–2228

Caillat A (2008) Etude de la stabilité physico-chimique de résidus pyrometallurgiques nickélifèries (Niquelância, Brésil). Report de TER presented to master I hydrologie, hydrogéologie et sols in Université Paris-Sud XI

Evans DH (1987) The fish gill: site of action and model for toxic effects of environmental pollutants. Environ Health Perspect 71:47–58

Evans DH, Piermarini PM, Choe KP (2005) Multifunctional fish gill: dominant site gas exchange, osmoregulation, acid-base regulation, and excretion of nitrogenous waste. Physiol Rev 85:97–177

Goyer RA (1986) Toxic effects of metals. In: Klaassen CD, Amdur MO, Doull J (eds) Toxicology – the basic science of poisons. Macmillan Publish Co, New York, p 582

Grisolia CK, Oliveira-Filho EC, Ramos FR, Lopes MC, Muniz DHF, Monnerat RG (2009) Acute toxicity and cytotoxicity of Bacillus thuringiensis and Bacillus sphaericus on fish and mouse bone marrow. Ecotoxicology 18:22–26

Gupta CK (2002) Chemical metallurgy: principles and practice. Wiley-VCH Verlag, Weinhein

Hooftman NR, Raat WK (1982) Induction of nuclear abnormalities (micronuclei) in the peripheral blood erythrocytes of the eastern mudminnow Umbra pygmaea by ethyl methanesulphonate. Mutat Res 104:147–152

Lottermoser BG (2007) Mine wastes: characterization, treatment and environmental impacts. Springer, Berlin

Mallatt J (2007) Fish gill structural changes induced by toxicants and other irritants: a statistical review. Can J Fish Aquat Sci 42:630–648

McKinnon E (2002) The environmental effects of mining waste disposal at Lihir gold mine, Papua New Guinea. J Rural Remote Environ Health 1:40–50

Ojo AA, Wood CM (2007) In vitro analysis of the bioavailability of six metals via the gastro-intestinal tract of the rainbow trout (Oncorhynchus mykiss). Aquat Toxicol 83:10–23

Oliveira-Filho EC, Lopes RM, Paumgartten FJR (2004) Comparative study on the susceptibility of freshwater species to copper based pesticides. Chemosphere 56:369–374

Palhares D, Grisolia CK (2002) Comparison between the micronucleus frequencies of kidney and gill erythrocytes in tilapia fish, following mitomycin treatment. Genet Mol Biol 25:281–284

Pandey S, Parvez S, Ansari R, Ali M, Kaur M, Hayat F, Ahmad F, Raisuddin S (2008) Effects of exposure to multiple trace metals on biochemical, histological and ultrastructural features of gills of a freshwater fish, Channa punctata Bloch. Chem Biol Interact 174:183–192

Pane EF, Haque A, Wood CM (2004) Mechanistic analysis of acute, Ni-induced respiratory toxicity in the rainbow trout (Oncorhynchus mykiss): an exclusively branchial phenomenon. Aquat Toxicol 69:11–24

Ptashynski MD, Pedlar RM, Evans RE, Baron CL, Klaverkamp JF (2002) Toxicology of dietary nickel in lake whitefish (Coregonus clupeaformis). Aquat Toxicol 58:229–247

Shukla NP, Pandey GN (1985) Effect of heavy metals on fish—a review. Rev Environ Health 5:87–99
Acknowledgments
The team is grateful to CT – Mineral CNPq of the Brazilian Ministry of Science and Technology (Contract no 409997/2006–4) and SEG-Embrapa for financial support.
About this article
Cite this article
Oliveira-Filho, E.C., de Freitas Muniz, D.H., Ferreira, M.F.N. et al. Evaluation of Acute Toxicity, Cytotoxicity and Genotoxicity of a Nickel Mining Waste to Oreochromis niloticus . Bull Environ Contam Toxicol 85, 467–471 (2010). https://doi.org/10.1007/s00128-010-0118-6
Received:

Accepted:

Published:

Issue Date:
Keywords
Nickel mining

Ecotoxicity

Fish

Industrial waste

Aquatic toxicity