Abstract
Four bacterial strains designated as SNTP-1, NS-2 to NS-4 were isolated from selenium contaminated soils of Nawanshahr-Hoshiarpur region of Punjab, India, by enrichment technique and a consortium was developed using these isolates. The isolates were observed to be belonging to Bacillus sp. In soil microcosm, complete removal was observed by the consortium in selenite augmented soils while the rate of removal with consortia in selenate treatment was 72% after 120 days. Population survival of isolates showed stability at lower treatments and decline at higher levels of Se enrichment. The consortium can, thus, be used for removal of Se contaminated sites.
This is a preview of subscription content, log in to check access.
Access options
Buy single article
Instant access to the full article PDF.
US$ 39.95
Price includes VAT for USA
Subscribe to journal
Immediate online access to all issues from 2019. Subscription will auto renew annually.
US$ 199
This is the net price. Taxes to be calculated in checkout.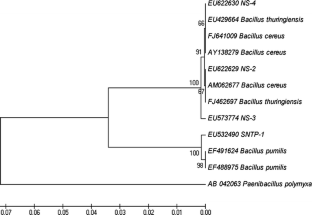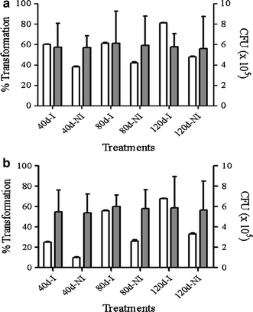 References
Bull AT, Goodfellow M, Slater JH (1992) Biodiversity as a source of innovation in biotechnology. Annu Rev Microbiol 46:219–252

De Souza MP, Amini A, Dojka MA, Pickering LJ, Dawson SC, Pace NR, Terry N (2001) Identification and characterization of bacteria in a selenium-contaminated hypersaline evaporation pond. Appl Environ Microbiol 67:3785–3794

Dungan RS, Frankenberger WT (2001) Bioremoval of selenium by Enterobacter cloacae SLD1a–1: formation of dimethlselenide. Biogeochemistry 55:73–86

Foldes T, Banhegyi I, Herpai Z, Varga L, Szigeti J (2001) Isolation of Bacillus strains from the rhizosphere of cereals and in vitro screening for antagonism against phytopathogenic, food-borne pathogenic and spoilage microorganisms. J Appl Microbiol 89:840–846

Gadd GM (2004) Microbial influence on metal mobility and application to bioremediation. Geoderma 122:109–119

Ghosh A, Mohod AM, Paknikar KM, Jain RK (2008) Isolation and characterization of selenite and selenate tolerant microorganisms from selenium contaminated sites. World J Microbiol Biotechnol 24:1607–1611

Iranzo M, Sainz-Pardo I, Boluda R, Sanchez J, Mormeneo S (2001) The use of microorganisms in environmental remediation. Ann Microbiol 51:135–143

Kaneda T (1977) Fatty acids of the genus Bacillus: an example of branched-chain preference. Bacteriol Rev 41:391–418

Krieg NR, Holt JG, Murray RGE (1984) Bergey's manual of systematic bacteriology, vol 1-2. Williams and Wilkins, Baltimore

Lawrence JG (2000) Clustering of antibiotic resistance genes: Beyond the selfish operon. ASM News 66:281–286

Lin X, Baumgartner F, Li X (1997) The program "MULTINAA" for various standardization methods in neutron activation analysis. J Radioanal Nucl Chem 215:179–191

Pandey KK, Mayilraj S, Chakrabarti T (2002) Pseudomonas indica sp. Nov., a novel butane-utilizing species. Int J Syst Evol Microbiol 52:1559–1567

Sambrook J, Fritsch EF, Maniatis T (1989) Molecular cloning: a laboratory manual. Cold Spring Harbor, New York

Sharma N, Prakash R, Srivastava A, Sadana US, Acharya R, Prakash NT, Reddy AVR (2009) Profile of selenium in soil and crops in seleniferous area of Punjab, India by neutron activation analysis. J Radioanal Nucl Chem 281:59–62

Stolz JF, Basu P, Oremland RS (2002) Microbial removal of elements in the case of arsenic and selenium. Int Microbiol 5:201–207

Tamura K, Dudley J, Nei M, Kumar S (2007) MEGA 4: molecular evolutionary genetics analysis (MEGA) software version 4.0. Mol Biol Evol 24:1596–1599

Weisberg WA, Barns SM, Pelletier DA, Lane DJ (1991) 16S rRNA amplification for phylogenetic study. J Bacteriol 173:697–703

Wilber CG (1980) Toxicology of selenium: a review. Clin Toxicol 17:171–230

Zaidi S, Musarrat J (2004) Characterisation and nickel sorption kinetics of a new metal hyper-accumulator, Bacillus sp. J Environ Sci Health 39:681–691
Acknowledgments
The authors acknowledge the funding provided by Board of Research in Nuclear Sciences (BRNS), Govt. of India reactor facilities provided by Scientific Officers, Research Reactors, BARC, Mumbai.
About this article
Cite this article
Prakash, N.T., Sharma, N., Prakash, R. et al. Removal of Selenium from Se Enriched Natural Soils by a Consortium of Bacillus Isolates. Bull Environ Contam Toxicol 85, 214–218 (2010). https://doi.org/10.1007/s00128-010-0061-6
Received:

Accepted:

Published:

Issue Date:
Keywords
Bacillus

Selenium

Tolerance

Removal

Soil