Abstract
We quantified imposex in file dogwinkles (Nucella lima) and tributyltin (TBT) contamination in bay mussels (Mytilus trossulus) from a number of sites in Auke Bay, Alaska, previously studied in the late 1980s. Imposex occurence and TBT contamination have generally declined in spatial extent and severity over time. However, high levels of TBT contamination (0.069 μg TBT/g wet tissue wt.) and imposex (100% of females affected) are still present near a large boat docking facility in the bay and deserve continued attention because of the importance of this bay to the local economy and fisheries.
This is a preview of subscription content, log in to check access.
Access options
Buy single article
Instant access to the full article PDF.
US$ 39.95
Price includes VAT for USA
Subscribe to journal
Immediate online access to all issues from 2019. Subscription will auto renew annually.
US$ 199
This is the net price. Taxes to be calculated in checkout.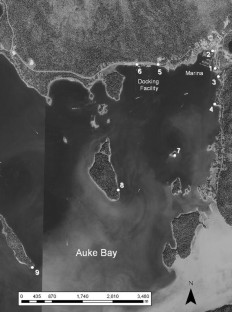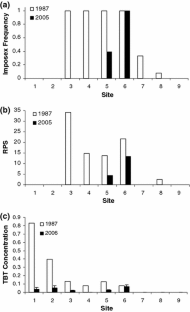 References
Alzieu C, Sanjuan J, Deltriel JP, Borel M (1986) Tin contamination in Arcachon bay: effects on oyster shell anomalies. Mar Pollut Bull 17:494–498. doi:10.1016/0025-326X(86)90636-3

Bryan GW, Gibbs PE, Hummerstone LG, Burt GR (1986) The decline of the gastropod Nucella lapillus around south-west England: evidence for the effect of tributylin from antifouling paints. J Mar Biol Assoc UK 66:611–640

Evans SM, Evans PM, Leksono T (1996) Widespread recovery of dogwhelks, Nucella lappilus (L.), from tributyltin contamination in the North Sea and Clyde Sea. Mar Pollut Bull 32:263–269. doi:10.1016/0025-326X(95)00127-9

Gibbs PE, Bryan GW, Pascoe PL, Burt GR (1987) The use of the dog-whelk, Nucella lapillus, as an indicator of tributyltin (TBT) contamination. J Mar Biol Assoc UK 67:507–523

Gibson CP, Wilson SP (2003) Imposex still evident in eastern Australia 10 years after tributyltin restrictions. Mar Environ Res 55:101–112. doi:10.1016/S0141-1136(02)00097-1

Miller KL, Fernandes TF, Read PA (1999) The recovery of populations of dogwhelks suffering from imposex in the Firth of Forth 1987–1997/98. Environ Pollut 106:183–192. doi:10.1016/S0269-7491(99)00076-7

Morton B, Blackmore G (2001) South China Sea. Mar Pollut Bull 42:1236–1263. doi:10.1016/S0025-326X(01)00240-5

Reitsema TJ, Thompson JAJ, Scholtens P, Spickett JT (2002) Further recovery of northeast Pacific neograstropods from imposex related to tributyltin contamination. Mar Pollut Bull 44:257–261. doi:10.1016/S0025-326X(01)00277-6

Short JW, Sharp JL (1989) Tributyltin in bay mussels (Mytilus edulis) of the Pacific coast of the US. Environ Sci Technol 23:740–743. doi:10.1021/es00064a014

Short JW, Rice SD, Brodersen CC, Stickle WB (1989) Occurrence of tri-n-butyltin-caused imposex in the North Pacific marine snail Nucella lima in Auke Bay, Alaska. Mar Biol 102:291–297. doi:10.1007/BF00428480

Smith PJ (1996) Selective decline in imposex levels in the dogwhelk Lepsiella scobina following a ban on the use of TBT antifoulants in New Zealand. Mar Pollut Bull 32:362–365. doi:10.1016/0025-326X(96)84830-2

Sousa A, Mendo S, Barroso C (2003) Imposex and organotin contamination in Nassarius reticulatus (L.) along the Portuguese coast. Appl Organomet Chem 19:315–323. doi:10.1002/aoc.856

Stickle WB, Zhang Z (2003) Long-term trends in imposex in six populations of Stramonita haemastoma. Bull Mar Sci 72:685–694

Stickle WB, Sharp-Dahl JL, Rice SD, Short JW (1990) Imposex induction in Nucella lima (Gmelin) via mode of exposure to tributyltin. J Exp Mar Biol Ecol 143:165–180. doi:10.1016/0022-0981(90)90068-N
Acknowledgments
We thank B. Hansen, T. Ward, D. Stoops, A. Badilla, J. Saulus, and T. Ralston for help with sample collections and analyses. Thanks to A. Whiteley and S. Tamone for helpful comments on the manuscript, and to E. Knuth for help with Fig. 2. These authors were partially supported by North Pacific Research Board project #727.
About this article
Cite this article
Tallmon, D.A., Hoferkamp, L. Long-Term Changes in Imposex Frequency in File Dogwinkles, Nucella lima G., and Tributyltin Concentrations in Bay Mussels, Mytilus trossulus G.. Bull Environ Contam Toxicol 83, 235 (2009). https://doi.org/10.1007/s00128-009-9735-3
Received:

Accepted:

Published:
Keywords
Nucella lima
Mytilus trossulus

Imposex

Tributyltin