Abstract
Fluoxetine, a commonly prescribed antidepressant (Prozac), has been detected in sewage effluent. Its active metabolite norfluoxetine is more potent and has been detected in sewage influent and in fish tissues. We tested the effects of norfluoxetine on spawning and parturition in bivalves. Norfluoxetine induced significant spawning in zebra mussels and dark false mussels at concentrations as low as 5 μM. Norfluoxetine induced significant parturition in fingernail clams at 10 μM. Fluoxetine also induced spawning in dark false mussels at concentrations as low as 100 nM. Implications for environmental impacts of norfluoxetine and fluoxetine on native and exotic bivalves are discussed.
This is a preview of subscription content, log in to check access.
Access options
Buy single article
Instant access to the full article PDF.
US$ 39.95
Price includes VAT for USA
Subscribe to journal
Immediate online access to all issues from 2019. Subscription will auto renew annually.
US$ 199
This is the net price. Taxes to be calculated in checkout.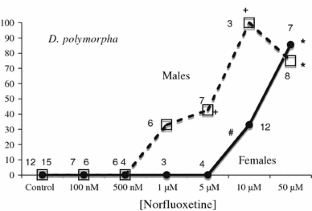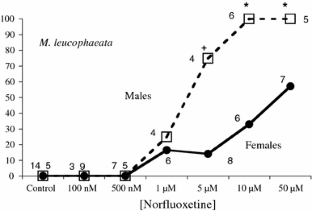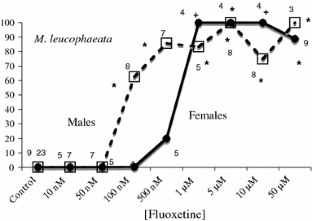 References
Armbrust K (2005) Occurrence, environmental fate, and exposure assessment of selective serotonin reuptake inhibitors (SSRIs) in aquatic environments. (Abstract) United States EPA meeting on pharmaceuticals in the environment, Las Vegas, NV

Brooks BW, Chambliss CK, Stanley JK, Ramirez A, Banks KE, Johnson RD, Lewis RJ (2005) Determination of select antidepressants in fish from an effluent-dominated stream. Environ Toxicol Chem 24:464–469. doi:10.1897/04-081R.1

Daughton CG (2004) PPCPs in the environment: future research beginning with the end always in mind. In: Kummerer K (ed) Pharmaceuticals in the environment: sources, fate, effects and risks, 2nd edn. Springer, Heidelberg, pp 463–495

Fong PP (1998) Zebra mussel spawning is induced in low concentrations of putative selective serotonin reuptake inhibitors. Biol Bull 194:143–149. doi:10.2307/1543044

Fong PP, Huminski PT, D'Urso LM (1998) Induction and potentiation of parturition in fingernail clams (Sphaerium striatinum) by selective serotonin re-uptake inhibitors (SSRIs). J Exp Zool 280:260–264. doi:10.1002/(SICI)1097010X(19980215)280:3<260::AID-JEZ7>3.0.CO;2-L

Hartke K, Mutschler E (1993) Deutsches Arzneibuch DAB 10-Kommentar, 10th edn, vols II and III, 3rd supplement. Deutscher Apotheker-Verlag, Stuttgart

Heltsley R, Cope GW, Bringolf R, Eads C, Shea D (2006) Prozac elicits spawning in native freshwater mussels. Annual meeting American Chemical Society, San Francisco

Henry TB, Kwon J-W, Armbrust KL, Black MC (2004) Acute and chronic toxicity of five selective serotonin reuptake inhibitors in Ceriodaphnia dubia. Environ Toxicol Chem 23:2229–2233. doi:10.1897/03-278

Hiemke C, Hartter S (2000) Pharmacokinetics of selective serotonin reuptake inhibitors. Pharmacol Ther 85:11–28. doi:10.1016/S0163-7258(99)00048-0

Jones-Lepp TL, Stevens R (2007) Pharmaceuticals and personal care products in biosolids/sewage sludge: the interface between analytical chemistry and regulation. Anal Bioanal Chem 387:1173–1183. doi:10.1007/s00216-006-0942-z

Kolpin DW, Furlong ET, Meyer MT, Thurman EM, Zaugg SD, Barber LB, Buxton HT (2002) Pharmaceuticals, hormones, and other organic wastewater contaminants in U.S. streams, 1999–2000: a national reconnaissance. Env Sci Tech 36:1202–1211. doi:10.1021/es011055j

Kwon J-W, Armbrust KL (2006) Laboratory persistence and fate of fluoxetine in aquatic environments. Environ Toxicol Chem 25:2561–2568. doi:10.1897/05-613R.1

Laine AO, Mattila J, Lehikoinen A (2006) First record of the brackish water dreissenid bivalve Mytilopsis leucophaeata in the northern Baltic Sea. Aquat Invasions 1:38–41

Metcalfe CD, Miao X-S, Koenig B, Struger J (2003) Distribution of acidic and neutral drugs in surface waters near sewage treatment plants in the lower Great Lakes, Canada. Environ Toxicol Chem 22:2881–2889. doi:10.1897/02-627

Ramirez AJ, Mottaleb MA, Brooks BW, Chambliss CK (2007) Analysis of pharmaceuticals in fish using liquid chromatography-tandem mass spectrometry. Anal Chem 79:3155–3163. doi:10.1021/ac062215i

Schloesser DW, Nalepa TF, Mackie GL (1996) Zebra mussel infestation of unionid bivalves (unionidae) in North America. Am Zool 36:300–310

Sebastine IM, Wakeman RJ (2003) Consumption and environmental hazards of pharmaceutical substances in the UK. Trans IChemE 81:229–235

Semsar K, Perreault HAN, Godwin J (2004) Fluoxetine-treated male wrasses exhibit low AVT expression. Brain Res 1029:141–147. doi:10.1016/j.brainres.2004.09.030

Seiler JP (2002) Pharmacodynamic activity of drugs and ecotoxicology-can the two be connected? Toxicol Lett 131:105–115. doi:10.1016/S0378-4274(02)00045-0

Verween A, Vincx M, Mees J, Degraer S (2005) Seasonal variability of Mytilopsis leucophaeata larvae in the harbour of Antwerp: implications for ecologically and economically sound biofouling control. Belg J Zool 135:91–93
Acknowledgments
We thank the Biology Department and Office of the Provost of Gettysburg College for funding.
About this article
Cite this article
Fong, P.P., Molnar, N. Norfluoxetine Induces Spawning and Parturition in Estuarine and Freshwater Bivalves. Bull Environ Contam Toxicol 81, 535 (2008). https://doi.org/10.1007/s00128-008-9558-7
Received:

Accepted:

Published:
Keywords
Norfluoxetine

Fluoxetine

Spawning

Bivalves