Abstract
The aim of this study was to develop and validate chemical methods for measuring pyrethroid insecticides at environmentally relevant concentrations in different matrices. The analytes included six synthetic pyrethroids with the highest agricultural and commercial structural uses in California: bifenthrin, cyfluthrin, cypermethrin, esfenvalerate/fenvalerate, lambda-cyhalothrin, permethrin, and their corresponding stereoisomers, which includes enantiomers, diastereomers and racemic mixtures. Fortified water samples were extracted for analysis of synthetic pyrethroids using liquid–liquid extraction, while fortified sediment and fish tissue samples were extracted using pressurized fluid extraction followed by gel permeation chromatography (GPC) to remove matrix interferences. A florisil column was used for additional cleanup and fractionation of sediment and tissue extracts. Extracts were analyzed using dual column high resolution gas chromatography with electron capture detection (GC/ECD) and confirmation was obtained with gas chromatography mass spectrometry using a quadrupole ion trap detector in MS-MS mode. Method detection limits (MDLs) have been established for water (1–3 ng/L), sediment (0.5–4 ng/g dry weight) and tissue (1–3 ng/g fresh weight). Mean percent recoveries of fortified blanks and samples ranged from 75 to 115% with relative standard deviation (RSD) values less than 20% for all target compounds.
This is a preview of subscription content, log in to check access.
Access options
Buy single article
Instant access to the full article PDF.
US$ 39.95
Price includes VAT for USA
Subscribe to journal
Immediate online access to all issues from 2019. Subscription will auto renew annually.
US$ 199
This is the net price. Taxes to be calculated in checkout.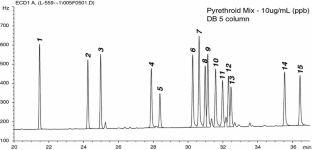 References
Amweg EL, Weston DP, Ureda NM (2005) Use and toxicity of pyrethroid pesticides in the Central Valley, California. Environ Toxicol Chem 24:966–972

Gan J, Lee SJ, Liu WP, Haver DL, Kabashina JN (2005) Distribution and persistence of pyrethroids in runoff sediments. J Environ Qual 34:836–841

Garey J, Wolff M (1998) Estrogenic and antiprogestagenic activities of pyrethroid insecticides. Biochem Biophys Res Commun 251(3):855–859

Go V, Garey J, Wolff MS, Pogo BG (1999) Estrogenic potential of certain pyrethroid compounds in the MCF-7 human breast carcinoma cell line. Environ Health Prospec 107:3

Hengel MJ, Mover CR, Shibamoto T (1997) New method for analysis of pyrethroid insecticides: esfenvalerate, cis-permethrin, and trans-permethrin, in surface waters using solid-phase extraction and gas chromatography. Bull Environ Contam Toxicol 59:171–178

Laskowski DA (2002) Physical and chemical properties of pyrethroids. Rev Environ Contam Toxicol 174:49–170

Lee S, Gan J, Kabashima J (2002) Recovery of synthetic pyrethroids in water samples during storage and extraction. J Agric Food Chem 50:7194–7198

Mueller-Beilschmidt D (1990) Toxicology and environmental fate of synthetic pyrethroids. J Pest Reform 10(3):32–37

TDC (2003) Insecticide Market Trends and Potential Water Quality Implications. TDC Environmental Report, San Francisco Estuary Project, p 105

Weston DP, You J, Lydy MJ (2004) Distribution and toxicity of sediment-associated pesticides in agriculture-dominated water bodies of California's Central Valley. Environ Sci Technol 38:2752–2759
About this article
Cite this article
Mekebri, A., Crane, D.B., Blondina, G.J. et al. Extraction and Analysis Methods for the Determination of Pyrethroid Insecticides in Surface Water, Sediments and Biological Tissues at Environmentally Relevant Concentrations. Bull Environ Contam Toxicol 80, 455–460 (2008). https://doi.org/10.1007/s00128-008-9382-0
Received:

Accepted:

Published:

Issue Date:
Keywords
Pyrethroids

Insecticides

Chrysanthemum cinerariaefolium

Gas chromatography