Abstract
Concentrations of seven metals (Cd, Cu, Cr, Pb, Ni, Zn, Hg) were monitored monthly during 2 years in two bivalves, Cerastoderma edule and Scrobicularia plana collected from the Souss estuary (South Morocco) before and after the commissioning of a sewage treatment plant in November 2002. According to trace metals, changes in concentrations were observed mainly in S. plana, characterised by a decrease of Cu, Hg and Pb when Cd was clearly increasing. Conversely, no clear changes were observed in C. edule during the same periods. This study suggests the use of S. plana in the monitoring of trace metal contamination of such coastal marine environments.
This is a preview of subscription content, log in to check access.
Access options
Buy single article
Instant access to the full article PDF.
US$ 39.95
Price includes VAT for USA
Subscribe to journal
Immediate online access to all issues from 2019. Subscription will auto renew annually.
US$ 199
This is the net price. Taxes to be calculated in checkout.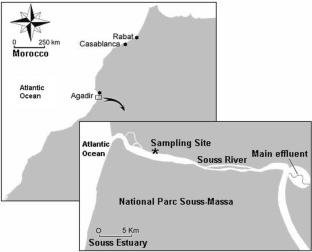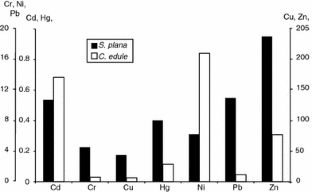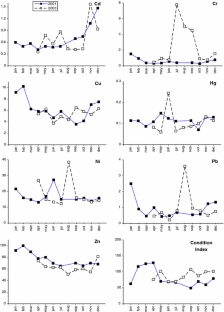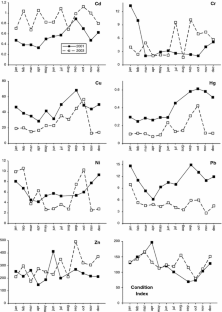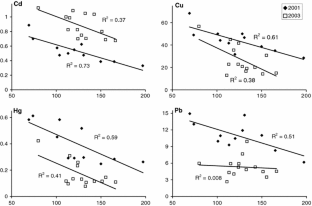 References
Ait Alla A, Gillet P, Deutsch B, Moukrim A, Bergayou H (2006a) Response of Nereis diversicolor (Polychaeta, Nereidae) populations to reduced wastewater discharge in the polluted estuary of Oued Souss, Bay of Agadir, Morocco. Estuar Coast Shelf Sci 70:633–642

Ait Alla A, Mouneyrac C, Durou C, Moukrim A, Pellerin J (2006b) Tolerance and biomarkers as useful tools for assessing environmental quality in the Oued Souss estuary (Bay of Agadir, Morocco). Comp Biochem Physiol C 143:23–29

Banaoui A, Chiffoleau JF, Moukrim A, Azdi M, Kaaya A, Auger D, Rozuel E (2004) Trace metal distribution in mussel Perna perna along the Moroccan coast. Mar Pollut Bull 48:378–402

Bergayou H, Moukrim A (2005) Cerastoderma edule (Linné, 1758) et Scrobicularia plana (da Costa, 1778): étude comparative de la croissance des mollusques et des générations annuelles dans l'estuaire de l'Oued Souss (sud-ouest du Maroc) sous climat aride. Haliotis 34:49–58

Bryan GW, Langston WJ (1992) Bioavailability, accumulation and effects of heavy metals in sediments with special reference to United Kingdom estuaries. A review. Environ Pollut 76:89–131

Cheggour M, Langston WJ, Chafik A, Texier H, Kaimoussi A, Bakkas S, Boumezzough A (2000) Metals in the bivalve molluscs Scrobicularia plana (Da Costa) and Cerastoderma edule (L.) and associated surface sediment from Oum Er Rbia Estuary (Moroccan Atlantic Coast). Toxicol Environ Chem 7:49–77

Cheggour M, Chafik A, Langston WJ, Burt GR, Benbrahim S, Texier H (2001) Metals in sediments and the edible cockle Cerastoderma edule from two Moroccan Atlantic lagoons: Moulay Bou Selham and Sidi Moussa. Environ Pollut 115:149–160

Cheggour M, Chafik A, Fisher NS, Benbrahim S (2005) Metal concentrations in sediments and clams in four Moroccan estuaries. Mar Environ Res 59:119–137

Chiffoleau JF, Auger D, Chartier E, Michel P, Truquet I, Ficht A, Gonzalez JL, Romaña LA (2001) Spatiotemporal changes in cadmium contamination in the Seine estuary (France). Estuaries 24:1029–1040

Claisse D (1989) Chemical contamination of French coast. The results of a ten years mussel-watch. Mar Pollut Bull 20:523–528

Gillet P, Gorman E, Tallec A, Moukrim Z, Mouloud M, Ait Alla A, Bergayou H, Kaaya A (2003) Impact of city wastewaters on benthic intertidal communities in the mouth of the Souss Wadi, bay of Agadir (Morocco). J Rech Oceanogr 28:39–44

Jung K, Stelzenmüller V, Zauke GP (2006) Spatial distribution of heavy metal concentrations and biomass indices in Cerastoderma edule Linnaeus (1758) from the German Wadden Sea: an integrated biomonitoring approach. J Exp Mar Biol Ecol 338:81–95

Langston WJ, Chesman BS, Burt GR, McEvoy J, Pope ND (2003) Bioaccumulation of metals in the Thames Estuary. Environment Agency, Reading (UK), no 8, p 131

Lucas A, Beninger PG (1985) The use of physiological condition indices in marine bivalve aquaculture. Aquaculture 44:187–200

Moukrim A, Chiffoleau JF, Cheggour M, Burgeot T (2008) Changes in the sediment trace metal contamination after the commissioning of a municipal wastewater treatment plant in the Souss estuary (South Morocco). Bull Environ Contam Toxicol (in press)

Moukrim A, Kaaya A, Najimi S, Roméo M, Gnassia-Barelli M, Narbonne JF (2000) Assessment of the trace metals level in two species of mussels of the Agadir Marine Bay (south of Morocco). Bull Environ Contam Toxicol 65:478–485

Mouneyrac C, Pellerin J, Moukrim A, Ait Alla A, Durou C, Viault N (2005) In situ relationship between energy reserves and steroid hormone levels in Nereis diversicolor (O.F. Müller) from clean and contaminated sites. Ecotoxicol Environ Safe 65:181–187

Mubiana VK, Vercauteren K, Blust R (2006) The influence of body size, condition index and tidal exposure on the variability in metal bioaccumulation in Mytilus edulis Environ Pollut 144:272–279

Phillips DJH (1980) Quantitative aquatic biological indicators. Applied Science Publishers Ltd, London

Ruiz JM, Saiz-Salinas JL (2000) Extreme variation in the concentration of trace metals in the sediment and bivalves from the Bilbao estuary (Spain) caused by the 1989–90 drought. Mar Environ Res 49:307–317
About this article
Cite this article
Anajjar, E.M., Chiffoleau, J., Bergayou, H. et al. Monitoring of Trace Metal Contamination in the Souss Estuary (South Morocco) Using the Clams Cerastoderma edule and Scrobicularia plana . Bull Environ Contam Toxicol 80, 283–288 (2008). https://doi.org/10.1007/s00128-008-9364-2
Received:

Accepted:

Published:

Issue Date:
Keywords
South estuary

Metals

Bivalves

Waste water

Monitoring