Abstract
This article describes the procedure of the testing the stability of compounds during sample processing for the pesticide residue analysis in cucumber, including matrix matched assessment. To find out significant differences, one-tailed t test was applied to the data at 95% confidence level. Our results showed that the calculated value was bigger than the critical value (t calc  > t crit ), which means the pesticides were decomposed under our processing conditions.
This is a preview of subscription content, log in to check access.
Access options
Buy single article
Instant access to the full article PDF.
US$ 39.95
Price includes VAT for USA
Subscribe to journal
Immediate online access to all issues from 2019. Subscription will auto renew annually.
US$ 199
This is the net price. Taxes to be calculated in checkout.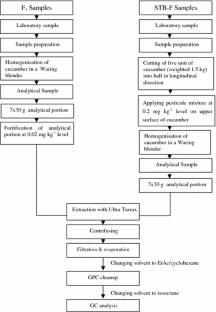 References
Anonymous (2005) MV In TW200_Lectures/GC_MS Practical FAO/IAEA Workshop on Introduction to QC/QA Measures in Pesticide Residue Analytical Laboratories, Seibersdorf, Vienna Austria, September 12–October 7, 2005

Anonymous (2006) Quality control procedures for pesticide residue analysis, Document N° SANCO/10232/ 2006, 24/March/2006

Ambrus A (2004) Reliability of measurements of pesticide residues in food. Accred Qual Assur 9:288–304

El-Bidaoui M, Jarju OP, Maestroni M, Phakaeiw Y, Amprus A (2000) Testing the effect of sample processing and storage on stability of residues In: Fajgelj A, Ambrus A (eds) Principles of method validation. Royal Society of Chemistry, Cambridge, pp 75–88

Fussell RJ, Addie KJ, Reynolds SL, Wilson MF (2002) Assessment of the stability of pesticides during cryogenic sample processing, 1.Apples. J Agric Food Chem 50(3):441–448

Gonzalez FJE, Torres MEH, Rodriguez LC, Lopez EA, Vidal JLM (2002) Estimation and correction of matrix effects in gas chromatographic pesticide multiresidue analytical methods with a nitrogen-phosphorus detector. Analyst 127:1038–1044

Hajšlová J, Holadová K, Kocourek V, Poustka J, Godula M, Cuhra P, Kempný M (1998) Matrix-induced effects: a critical point in the gas chromatographic analysis of pesticide residues. J Chromatogr A 800:283–295

Hill ARC, Harris CA, Warburton AG (2000) Effects of sample processing on pesticide residues in fruit and vegetables. In: Fajgelj A, Ambrus A (eds) Principles of method validation. Royal Society of Chemistry, Cambridge, pp 41–48

Huber W (2004) On the use of the correlation coefficient r for testing the linearity of calibration functions. Accred Qual Assur 9:726

Miller JN, Ambrus A (2005) Manual on basic statistics, Chaps. 3, 9 and 10. In Lectures Database FAO/IAEA Workshop on Introduction to QC/QA Measures in Pesticide Residue Analytical Laboratories, Seibersdorf, Vienna Austria, September 12–October 7, 2005

Poole CF (2007) Matrix-induced response enhancement in pesticide residue analysis by gas chromatography. J Chromatogr A 1158:241–250

Patel K, Fussell RJ, Goodall DM, Keely BJ (2003) Analysis of pesticide residues in lettuce by large volume-difficult matrix introduction-gas chromatography-time of flight-mass spectrometry (LV-DMI-GC-TOF-MS). Analyst 128:1228–1231

Soboleva E, Rathor N, Mageto A, Ambrus A (2000) Estimation of significance of matrix induced chromatographic effects In: Fajgelj A, Ambrus A (eds) Principles of method validation. Royal Society of Chemistry, Cambridge, pp 138–156

Tiryaki O, Aysal P (2005) Applicability of TLC in multiresidue methods for the determination of pesticides in wheat grain. Bull Environ Contam Tox 75(6):1143–1149
About this article
Cite this article
Tiryaki, O., Baysoyu, D., Seçer, E. et al. Testing the Stability of Pesticides During Sample Processing for the Chlorpyrifos and Malathion Residue Analysis in Cucumber, Including Matrix Effects. Bull Environ Contam Toxicol 80, 38–43 (2008). https://doi.org/10.1007/s00128-007-9308-2
Received:

Accepted:

Published:

Issue Date:
Keywords
Pesticide stability

Matrix-matched calibration

Sample processing