Abstract
Removal of phosphorus and nitrogen from eutrophicated water was carried out by in situ bioremediation. With the addition of Acinetobacter calcoaceticus, 65.0% ± 4.0% of total phosphorus (TP), 37.0% ± 4.0% of total nitrogen (TN), 75.0% ± 7.0% nitrite (NO2 −–N), and 87.0% ± 4.0% of ammonia (NH4 +–N) were removed. Furthermore, chlorophyll a removal in the inoculated treatments reached 83.7% ± 1.5%, and algae in the water was basically controlled.
This is a preview of subscription content, log in to check access.
Access options
Buy single article
Instant access to the full article PDF.
US$ 39.95
Price includes VAT for USA
Subscribe to journal
Immediate online access to all issues from 2019. Subscription will auto renew annually.
US$ 199
This is the net price. Taxes to be calculated in checkout.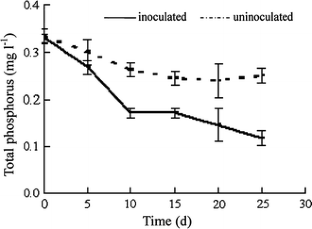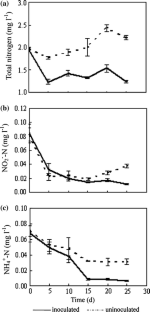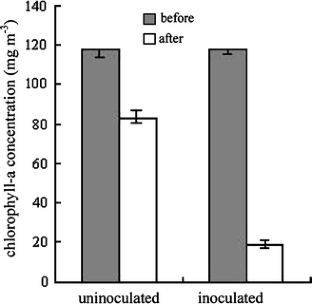 References
Alonso A, Camargo JA (2006) Ecological and toxicological effects of inorganic nitrogen pollution in aquatic ecosystems: a global assessment. Environ Int 32:831–849

Augspurger T, Keller AE, Black MC, Cope WG, Dwyer FJ (2003) Water quality guidance for protection of freshwater mussels (Unionidae) from ammonia exposure. Environ Toxicol Chem 22:2569–2575

AWWA (1999) Standard methods for the examination of water and wastewater. AWWA, Washington

Boyd CE, Massaut L (1999) Risks associated with the use of chemicals in pond aquaculture. Aquacult Eng 20:113–132

Burford MA, Thompson PJ, McIntosh RP, Bauman RH, Pearson DC (2003) Nutrient and microbial dynamics in high-intensity, zero-exchange shrimp ponds in Belize. Aquaculture 219:393–411

Clesceri SL, Greenberg AE, Trussell RR (1989) Standard methods for the examination of water and wastewater. American Public Health Association, American Water Works Association, Water Pollution Control Federation, Washington

Correll DL (1998) The role of phosphorus in the eutrophication of receiving waters: a review. J Environ Qual 27:261–266

Devaraja TN, Yusoff FM, Shariff M (2002) Changes in bacterial population and shrimp production in ponds treated with commercial microbial products. Aquaculture 206:245–256

Douillet PA (2000) Bacterial additives that consistently enhance rotifer growth under synxenic culture conditions 1. Evaluation of commercial products and pure isolates. Aquaculture 182:249–260

Häder D-P, Kumar HD, Smith RC, Worrest RC (1998) Effects on aquatic ecosystems. J Photochem Photobiol B 46:53–68

Head I (1998) Bioremediation: towards a credible technology. Microbiology 144:599–608

Jensen FB (2003) Nitrite disrupts multiple physiological functions in aquatic animals. Comp Biochem Phys A 135:9–24

Lam AK-Y, Prepas EE (1997) In situ evaluation of options for chemical treatment of hepatotoxic cyanobacterial blooms. Can J Fish Aquat Sci 54:1736–1742

Mino T, Van Loosdrecht MCM, Heijnen JJ (1998) Microbiology and biochemistry of the enhanced biological phosphate removal process. Water Res 32(11):3193–3207

Muyima NYO, Cloete TE (1995) Growth and phosphate uptake of immobilized Acinetobacter cells suspended in activated sludge mixed liquor. Water Res 29(11):2461–2466

Queiroz JF, Boyd CE (1998) Effects of a bacterial inoculum in channel catfish ponds. J World Aquac Soc 29:67–73

Randall S, Harper D, Brierley B (1999) Ecological and ecophysiological impacts of ferric dosing in reservoirs. Hydrobiologia 395/396:355–364

Ripl W (1976) Biochemical oxidation of polluted lake sediment with nitrate—A new restoration method. Ambio 5:132–135

Srivastava S, Srivastava AK (2005) Study on phosphate uptake by Acinetobacter calcoaceticus under aerobic conditions. Enzyme Microb Techol 36:362–368

Srivastava S, Srivastava AK (2006) Biological phosphate removal by model based continuous cultivation of Acinetobacter calcoaceticus. Process Biochem 41:624–630

Tilley DR, Badrinarayanan H, Ronald R, Son J (2002) Constructed wetlands as recirculation filters in large-scale shrimp aquaculture. Aquac Eng 26:81–109

Vezzulli L, Pruzzo C, Fabiano M (2004) Response of the bacterial community to in situ bioremediation of organic-rich sediments. Mar Pollut Bull 49:740–751

Whangchai N, Migo VP, Alfafara CG, Young HK, Nomura N, Matsumura M (2004) Strategies for alkalinity and pH control for ozonated shrimp pond water. Aquac Eng 30:1–13

Wiesmann U (1994) Biological nitrogen removal from wastewater. In: Foechter A (ed) Advances in biochemistry and engineering/biotechnology, vol 51. Springer, Berlin, pp. 113–154
Acknowledgments
This work was supported by Ecological Research Program of Beijing, China (Fund number: XK10019440) and Urban Agricultural Subject Program of Beijing, China (Fund number: XK100190553). Special thanks are due to the reviewers for their valuable comments on the manuscript.
About this article
Cite this article
Wang, L., Li, J. & Kang, W. Bioremediation of Eutrophicated Water by Acinetobacter Calcoaceticus . Bull Environ Contam Toxicol 78, 527–530 (2007). https://doi.org/10.1007/s00128-007-9169-8
Received:

Accepted:

Published:

Issue Date:
Keywords
Acinetobacter calcoaceticus

Bioremediation

Biodegradation

Eutrophication