This is a preview of subscription content, log in to check access.
Access options
Buy single article
Instant access to the full article PDF.
US$ 39.95
Price includes VAT for USA
Subscribe to journal
Immediate online access to all issues from 2019. Subscription will auto renew annually.
US$ 199
This is the net price. Taxes to be calculated in checkout.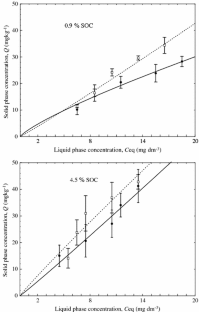 References
Abu-Zreig M, Rudra RP, Dickinson WT, Evans LJ (1999) Effect of surfactants on sorption of atrazine by soil. J Contam Hydrol 36:249–263

Barriuso E, Baer U, Calvet R (1992) Dissolved organic matter and adsorption-desorption of dimefuron, atrazine and carbetamide by soils. J Environ Qual 21:359–367

Bernhard-Bitaud C, Schiavon M, Andreux F (1994) Influence of repeated atrazine treatments on the adsorption of the pesticide on a Brown soil. In: Copin A et al. (eds) Environmental behaviour of pesticides and regulatory aspects. European Study Service, Rixensart, Belgium, pp79–86

Carter AD (2000) Herbicide movement in soils: principles, pathways and processes. Weed Res 40:113–122

Dousset S, Mouvet C, Schiavon M (1994) Sorption of terbuthylazine and atrazine in relation to the physico-chemical properties of three soils. Chemosphere 28:467–476

Iglesias-Jiménez E, Sánchez-Martin MJ, Sánchez-Camazano M (1996) Pesticide adsorption in a soil-water system in the presence of surfactants. Chemosphere 32:1771–1782

Krogh KA, Haling-Sørensen B, Mogensen BB, Vejrup KV (2003) Environmental properties and effects of nonionic surfactant adjuvants in pesticides: a review. Chemosphere 50:871–901

Mata-Sandoval JC, Karns J, Torrents A (2001) Influence of rhamnolipids and Triton X-100 on the biodegradation of three pesticides in aqueous phase and soil slurries. J Agric Food Chem 49:3296–3303

Moreau C, Mouvet C (1997) Adsorption and desorption of atrazine, deethylatrazine, and hydroxyatrazine by soil and aquifer solids. J Environ Qual 26:416–424

Muliński Z, Swarcewicz M, Ambrozek B (1996) Mathematical modeling of sorption kinetics of atrazine. In: Brown H (ed) Proc 2nd international weed control congress. Department Weed Control Pesticide Ecology, Flakkebjerg, Slagelse, Denmark, pp325–330

Payá-Pérez AB, Cortés A, Sala MN, Larens B (1992) Organic matter fractions controlling the sorption of atrazine in sandy soils. Chemosphere 25:887–898

Sánchez-Camazano M, Arienzo M, Sánchez-Martin MJ, Crisanto T (1995) Effect of different surfactants on the mobility of selected non-ionic pesticides in soil. Chemosphere 31:3793–3801

Swarcewicz M (2002) Study on the persistence of herbicides in the presence of other xenobiotics in soil. Rozprawy 208, Akademia Rolnicza Szczecin, pp.1–94 [in Polish]

Xing B, Pignatello JJ, Gigliotti B (1996) Competitive sorption between atrazine and other organic compounds in soils and model sorbents. Environ Sci Technol 30:2432–2440
Acknowledgments
This work was financially supported by the Polish Committee of Sciences as project No 2 P06S 042 26 (2004–2007).
About this article
Cite this article
Swarcewicz, M., Skórska, E. Adsorption of Atrazine by Soils Varying in Organic Carbon Content in the Presence of the Adjuvant Atpolan. Bull Environ Contam Toxicol 78, 231–234 (2007). https://doi.org/10.1007/s00128-007-9136-4
Received:

Accepted:

Published:

Issue Date:
Keywords
Soil Organic Carbon

Atrazine

Sandy Loam

Nonionic Surfactant

Sorption Isotherm