Abstract
Purpose
To investigate age-related differences in the relationships among at-risk alcohol consumption, alcohol use disorder (AUD), and psychological distress with a special focus on older adults.
Methods
We used a nationwide cross-sectional study of a representative sample of community-dwelling adults from the Korean Epidemiologic Catchment Area study for psychiatric disorders conducted by door-to-door interviews. The Korean version of the Composite International Diagnostic Interview was applied. Subjects were categorized into four age groups: young-to-middle-aged (20–54 years), near-old (55–64 years), early-old (65–74 years), and late-old (≥ 75 years). The associations among at-risk drinking, alcohol use disorder, and psychological distress were examined according to age groups.
Results
Among a total of 5102 individuals, half of them drank alcohol in the previous year, of whom 20.5% were at-risk drinkers (≥ 100 g/week). Older people were less often diagnosed with AUD than young-to-middle-aged adults with a similar degree of at-risk drinking. They were less likely to meet the DSM-5 AUD criteria in terms of social and vocational role disruption or creation of a physically hazardous situation. However, at-risk drinking showed a stronger association with subjective psychological distress in older adults, particularly in the near-old group (adjusted odds ratio 1.82, 95% confidence interval 1.09–3.03; p = 0.023).
Conclusions
These findings indicate the importance of screening for mental health problems in older adults, especially near-old adults, who drink more than 100 g of alcohol per week even when they do not satisfy the criteria for a diagnosis of AUD.
This is a preview of subscription content, log in to check access.
Access options
Buy single article
Instant access to the full article PDF.
US$ 39.95
Price includes VAT for USA
Subscribe to journal
Immediate online access to all issues from 2019. Subscription will auto renew annually.
US$ 199
This is the net price. Taxes to be calculated in checkout.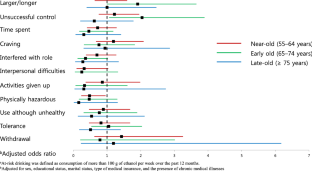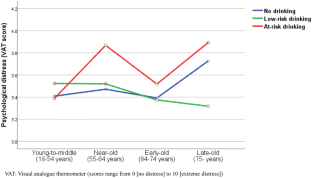 References
1.

Choi NG, DiNitto DM, Marti CN (2015) Alcohol and other substance use, mental health treatment use, and perceived unmet treatment need: comparison between baby boomers and older adults. Am J Addict 24(4):299–307. https://doi.org/10.1111/ajad.12225

2.

Kuerbis A, Sacco P, Blazer DG, Moore AA (2014) Substance abuse among older adults. Clin Geriatr Med 30(3):629–654. https://doi.org/10.1016/j.cger.2014.04.008

3.

Lehmann SW, Fingerhood M (2018) Substance-use disorders in later life. N Engl J Med 379(24):2351–2360. https://doi.org/10.1056/NEJMra1805981

4.

Kirchner JE, Zubritsky C, Cody M, Coakley E, Chen H, Ware JH, Oslin DW, Sanchez HA, Durai UN, Miles KM, Llorente MD, Costantino G, Levkoff S (2007) Alcohol consumption among older adults in primary care. J Gen Intern Med 22(1):92–97. https://doi.org/10.1007/s11606-006-0017-z

5.

Loscalzo E, Sterling RC, Weinstein SP, Salzman B (2017) Alcohol and other drug use in older adults: results from a community needs assessment. Aging Clin Exp Res 29(6):1149–1155. https://doi.org/10.1007/s40520-016-0718-z

6.

Pabst A, Kraus L, Piontek D, Baumeister SE (2012) Age differences in diagnostic criteria of DSM-IV alcohol dependence among adults with similar drinking behaviour. Addiction (Abingdon, England) 107(2):331–338. https://doi.org/10.1111/j.1360-0443.2011.03611.x

7.

Wood AM, Kaptoge S, Butterworth AS, Willeit P, Warnakula S, Bolton T, Paige E, Paul DS, Sweeting M, Burgess S, Bell S, Astle W, Stevens D, Koulman A, Selmer RM, Verschuren WMM, Sato S, Njolstad I, Woodward M, Salomaa V, Nordestgaard BG, Yeap BB, Fletcher A, Melander O, Kuller LH, Balkau B, Marmot M, Koenig W, Casiglia E, Cooper C, Arndt V, Franco OH, Wennberg P, Gallacher J, de la Camara AG, Volzke H, Dahm CC, Dale CE, Bergmann MM, Crespo CJ, van der Schouw YT, Kaaks R, Simons LA, Lagiou P, Schoufour JD, Boer JMA, Key TJ, Rodriguez B, Moreno-Iribas C, Davidson KW, Taylor JO, Sacerdote C, Wallace RB, Quiros JR, Tumino R, Blazer DG 2nd, Linneberg A, Daimon M, Panico S, Howard B, Skeie G, Strandberg T, Weiderpass E, Nietert PJ, Psaty BM, Kromhout D, Salamanca-Fernandez E, Kiechl S, Krumholz HM, Grioni S, Palli D, Huerta JM, Price J, Sundstrom J, Arriola L, Arima H, Travis RC, Panagiotakos DB, Karakatsani A, Trichopoulou A, Kuhn T, Grobbee DE, Barrett-Connor E, van Schoor N, Boeing H, Overvad K, Kauhanen J, Wareham N, Langenberg C, Forouhi N, Wennberg M, Despres JP, Cushman M, Cooper JA, Rodriguez CJ, Sakurai M, Shaw JE, Knuiman M, Voortman T, Meisinger C, Tjonneland A, Brenner H, Palmieri L, Dallongeville J, Brunner EJ, Assmann G, Trevisan M, Gillum RF, Ford I, Sattar N, Lazo M, Thompson SG, Ferrari P, Leon DA, Smith GD, Peto R, Jackson R, Banks E, Di Angelantonio E, Danesh J (2018) Risk thresholds for alcohol consumption: combined analysis of individual-participant data for 599 912 current drinkers in 83 prospective studies. Lancet (London, England) 391(10129):1513–1523. https://doi.org/10.1016/s0140-6736(18)30134-x

8.

Dufour MC, Archer L, Gordis E (1992) Alcohol and the elderly. Clin Geriatr Med 8(1):127–141

9.

Park JE, Lee JY, Sohn JH, Seong SJ, Cho MJ (2015) Ten-year trends in the prevalence and correlates of major depressive disorder in Korean near-elderly adults: a comparison of repeated nationwide cross-sectional studies from 2001 and 2011. Soc Psychiatry Psychiatr Epidemiol 50(9):1399–1406. https://doi.org/10.1007/s00127-015-1059-5

10.

Office KNS (2015) Report on the population and housing census. Korea National Statistical Office, Daejeon

11.

Hong JP (2017) The survey of mental disorders in Korea in 2016. Ministry of Health and Welfare. http://www.mohw.go.kr/react/jb/sjb030301vw.jsp?PAR_MENU_ID=03&MENU_ID=032901&CONT_SEQ=339138&page=1

12.

Cho MJ, Kim JK, Jeon HJ, Suh T, Chung IW, Hong JP, Bae JN, Lee DW, Park JI, Cho SJ, Lee CK, Hahm BJ (2007) Lifetime and 12-month prevalence of DSM-IV psychiatric disorders among Korean adults. J Nerv Ment Dis 195(3):203–210. https://doi.org/10.1097/01.nmd.0000243826.40732.45

13.

Cho M, Hahm B, Bae J, Suh T, Lee D, Cho S, Kim J (1999) Development of the Korean version of composite international diagnostic interview. In: Annual meeting of the Korean Neuropsychiatric Association. Korean Neuropsychiatric Association, Seoul, Korea

14.

American Psychiatric Association (1994) Diagnostic and statistical manual of mental disorders, 4th edn. American Psychiatric Press, Washington, D.C.

15.

American Psychiatric Association (2013) Diagnostic and statistical manual of mental disorders (DSM-5®). American Psychiatric Publications, Washington, D.C.

16.

Tuithof M, Ten Have M, van den Brink W, Vollebergh W, de Graaf R (2014) The relationship between excessive alcohol consumption and alcohol use disorders according to DSM-IV and DSM-5. Alcohol Clin Exp Res 38(1):249–256. https://doi.org/10.1111/acer.12248

17.

Donovan KA, Grassi L, McGinty HL, Jacobsen PB (2014) Validation of the distress thermometer worldwide: state of the science. Psycho-oncology 23(3):241–250. https://doi.org/10.1002/pon.3430

18.

Shim EJ, Shin YW, Jeon HJ, Hahm BJ (2008) Distress and its correlates in Korean cancer patients: pilot use of the distress thermometer and the problem list. Psycho-oncology 17(6):548–555. https://doi.org/10.1002/pon.1275

19.

Batterham PJ, Sunderland M, Slade T, Calear AL, Carragher N (2018) Assessing distress in the community: psychometric properties and crosswalk comparison of eight measures of psychological distress. Psychol Med 48(8):1316–1324. https://doi.org/10.1017/s0033291717002835

20.

Bertolote JM, Fleischmann A, De Leo D, Bolhari J, Botega N, De Silva D, Tran Thi Thanh H, Phillips M, Schlebusch L, Varnik A, Vijayakumar L, Wasserman D (2005) Suicide attempts, plans, and ideation in culturally diverse sites: the WHO SUPRE-MISS community survey. Psychol Med 35(10):1457–1465. https://doi.org/10.1017/s0033291705005404

21.

Wu LT, Blazer DG (2014) Substance use disorders and psychiatric comorbidity in mid and later life: a review. Int J Epidemiol 43(2):304–317. https://doi.org/10.1093/ije/dyt173

22.

Blazer DG, Wu LT (2011) The epidemiology of alcohol use disorders and subthreshold dependence in a middle-aged and elderly community sample. Am J Geriatr Psychiatry 19(8):685–694. https://doi.org/10.1097/JGP.0b013e3182006a96

23.

Chou SP, Lee HK, Cho MJ, Park JI, Dawson DA, Grant BF (2012) Alcohol use disorders, nicotine dependence, and co-occurring mood and anxiety disorders in the United States and South Korea-a cross-national comparison. Alcohol Clin Exp Res 36(4):654–662. https://doi.org/10.1111/j.1530-0277.2011.01639.x

24.

Kim W, Kim S (2008) Women's alcohol use and alcoholism in Korea. Subst Use Misuse 43(8–9):1078–1087. https://doi.org/10.1080/10826080801914212

25.

Choe SA, Yoo S, JeKarl J, Kim KK (2018) Recent trend and associated factors of harmful alcohol use based on age and gender in Korea. J Korean Med Sci 33(4):e23. https://doi.org/10.3346/jkms.2018.33.e23

26.

Kuerbis AN, Hagman BT, Sacco P (2013) Functioning of alcohol use disorders criteria among middle-aged and older adults: implications for DSM-5. Subst Use Misuse 48(4):309–322. https://doi.org/10.3109/10826084.2012.762527

27.

Martin CS, Steinley DL, Verges A, Sher KJ (2011) The proposed 2/11 symptom algorithm for DSM-5 substance-use disorders is too lenient. Psychol Med 41(9):2008–2010. https://doi.org/10.1017/s0033291711000717

28.

Rodriguez CA, Schonfeld L, King-Kallimanis B, Gum AM (2010) Depressive symptoms and alcohol abuse/misuse in older adults: results from the Florida BRITE project. Best Pract Ment Health 6(1):90–102

29.

Choi NG, Dinitto DM (2011) Heavy/binge drinking and depressive symptoms in older adults: gender differences. Int J Geriatr Psychiatry 26(8):860–868. https://doi.org/10.1002/gps.2616

30.

Schonfeld L, Dupree LW (1991) Antecedents of drinking for early- and late-onset elderly alcohol abusers. J Stud Alcohol 52(6):587–592

31.

Tsay YC, Chen CH, Pan WH (2016) Ages at onset of 5 cardiometabolic diseases adjusting for nonsusceptibility: implications for the pathogenesis of metabolic syndrome. Am J Epidemiol 184(5):366–377. https://doi.org/10.1093/aje/kwv449

32.

Latif E (2013) The impact of retirement on mental health in Canada. J Ment Health Policy Econ 16(1):35–46
Acknowledgements
This study was funded by the Korean Ministry of Health and Welfare, which played no role in study design; data collection, analysis, or interpretation; the writing of the report; or the decision to publish. No author has any commercial or financial interest that might create a conflict of interest in terms of manuscript submission.
Ethics declarations
Conflict of interest
The authors declare that they have no conflict of interest.
About this article
Cite this article
Park, J.E., Hong, J.P., Jeon, H.J. et al. Age-related differences in the associations among at-risk drinking, alcohol use disorder, and psychological distress across the adult lifespan: a nationwide representative study in South Korea. Soc Psychiatry Psychiatr Epidemiol (2020). https://doi.org/10.1007/s00127-020-01845-5
Received:

Accepted:

Published:
Keywords
At-risk drinking

Alcohol use disorder

Psychological distress

DSM-IV

DSM-5