Abstract
Purpose
Research has produced inconsistent results with respect to whether the association between psychotic experiences and suicidal behavior is independent of co-occurring clinical and socioenvironmental factors, despite substantial evidence linking the two phenomena. This study tests whether a comprehensive set of demographic, socioenvironmental, and clinical variables account for the statistical association between psychotic experiences and suicidal behaviors.
Methods
We utilized blocked multivariable logistic regression models to analyze the association between 12-month psychotic experiences and 12-month suicide behaviors (ideation, plan, and attempt) on a subsample (N = 2307) of the National Comorbidity Survey Replication. The models adjusted for socio-demographic characteristics, environmental factors in the form of childhood adversity, mental health service utilization, and psychiatric and substance abuse disorders.
Results
Psychotic experiences were significantly associated with suicidal ideation, even after adjusting for socio-demographics, childhood adversity. However, the significant association between psychotic experiences and suicidal ideation was not robust to the inclusion of mental health service utilization and psychiatric disorders. There was no significant association between psychotic experiences and suicide plan. Psychotic experiences were associated with a significantly increased risk of reporting suicide attempts (OR 6.52; 95% CI 1.36–31.11), even after adjusting for the full set of variables.
Conclusions
Although psychotic experiences were not associated with suicidal ideation after statistical adjustments, psychotic experiences were associated with a significantly increased risk of suicide attempts after the inclusion of common risk factors and co-morbidities. Thus, psychotic experiences should be included in routine psychiatric assessments to identify the individuals most at risk for attempting suicide.
This is a preview of subscription content, log in to check access.
Access options
Buy single article
Instant access to the full article PDF.
US$ 39.95
Price includes VAT for USA
Subscribe to journal
Immediate online access to all issues from 2019. Subscription will auto renew annually.
US$ 199
This is the net price. Taxes to be calculated in checkout.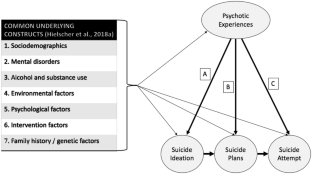 References
1.

Amrhein V, Greenland S, McShane B (2019) Scientists rise up against statistical significance. Nature 567:305–307

2.

Bromet EJ, Nock MK, Saha S, Lim CC, Aguilar-Gaxiola S, Al-Hamzawi A, de Girolamo G (2017) Association between psychotic experiences and subsequent suicidal thoughts and behavior: a cross-national analysis from the World Health Organization World Mental Health Surveys. JAMA Psychiatry 74(11):1136–1144

3.

Calkins ME, Moore TM, Satterthwaite TD, Wolf DH, Turetsky BI, Roalf DR, Merikangas KR, Ruparel K, Kohler CG, Gur RC, Gur RE (2017) Persistence of psychosis spectrum symptoms in the Philadelphia Neurodevelopmental Cohort: a prospective 2-year follow-up. World Psychiatry 16:62–76

4.

Crumlish N, Whitty P, Kamali M, Clarke M, Browne S, McTigue O, O'callaghan E (2005) Early insight predicts depression and attempted suicide after 4 years in first-episode schizophrenia and schizophreniform disorder. Acta Psychiatr Scand 112(6):449–455

5.

DeVylder JE, Lukens EP, Link BG, Lieberman JA (2015) Suicidal ideation and suicide attempts among adults with psychotic experiences: data from the collaborative psychiatric epidemiology surveys. JAMA Psychiatry 72(3):219–225

6.

DeVylder JE, Jahn DR, Doherty T, Wilson CS, Wilcox HC, Schiffman J, Hilimire MR (2015) Social and psychological contributions to the co-occurrence of sub-threshold psychotic experiences and suicidal behavior. Soc Psychiatry Psychiatr Epidemiol 50(12):1819–1830

7.

Fazel S, Wolf A, Palm C, Lichtenstein P (2014) Violent crime, suicide, and premature mortality in patients with schizophrenia and related disorders: a 38-year total population study in Sweden. Lancet Psychiatry 1(1):44–54

8.

Harkavy-Friedman JM, Kimhy D, Nelson EA, Venarde DF, Malaspina D, Mann JJ (2003) Suicide attempts in schizophrenia: the role of command auditory hallucinations for suicide. J Clin Psychiatry 64(8):871–874

9.

Harkavy-Friedman JM, Restifo K, Malaspina D, Kaufmann CA, Amador XF, Yale SA, Gorman JM (1999) Suicidal behavior in schizophrenia: characteristics of individuals who had and had not attempted suicide. Am J Psychiatry 156(8):1276–1278

10.

Hielscher E, Connell M, Lawrence D, Zubrick SR, Hafekost J, Scott JG (2018) Association between psychotic experiences and non-accidental self-injury: results from a nationally representative survey of adolescents. Soc Psychiatry Psychiatr Epidemiol 54:1–10

11.

Hielscher E, DeVylder JE, Saha S, Connell M, Scott JG (2018) Why are psychotic experiences associated with self-injurious thoughts and behaviours? A systematic review and critical appraisal of potential confounding and mediating factors. Psychol Med 48(9):1410–1426

12.

Honings S, Drukker M, van Nierop M, van Winkel R, Wittchen HU, Lieb R, van Os J (2016) Psychotic experiences and incident suicidal ideation and behaviour: disentangling the longitudinal associations from connected psychopathology. Psychiatry Res 245:267–275

13.

Honings S, Drukker M, Groen R, van Os J (2016) Psychotic experiences and risk of self-injurious behaviour in the general population: a systematic review and meta-analysis. Psychol Med 46(2):237–251

14.

Hor K, Taylor M (2010) Suicide and schizophrenia: a systematic review of rates and risk factors. J Psychopharmacol 24(4_suppl):81–90

15.

Ishii T, Hashimoto E, Ukai W, Kakutani Y, Sasaki R, Saito T (2014) Characteristics of attempted suicide by patients with schizophrenia compared with those with mood disorders: a case-controlled study in northern Japan. PLoS ONE 9(5):e96272

16.

Kelleher I, Cederlöf M, Lichtenstein P (2014) Psychotic experiences as a predictor of the natural course of suicidal ideation: a Swedish cohort study. World Psychiatry 13(2):184–188

17.

Kelleher I, Corcoran P, Keeley H, Wigman JT, Devlin RH, Wasserman D (2013) Psychotic symptoms and population risk for suicide attempt: a prospective cohort study. JAMA Psychiatry 70(9):940–948

18.

Kelleher I, Devlin N, Wigman JT, Kehoe A, Murtagh A, Fitzpatrick C, Cannon M (2014) Psychotic experiences in a mental health clinic sample: implications for suicidality, multimorbidity and functioning. Psychol Med 44(8):1615–1624

19.

Kessler RC, Adler LA, Barkley R, Biederman J, Conners CK, Faraone SV, Zaslavsky AM (2005) Patterns and predictors of ADHD persistence into adulthood: results from the National Comorbidity Survey Replication. Biol Psychiatry 5(11):1442–1451

20.

Kessler RC, Barker PR, Colpe LJ, Epstein JF, Ggroerer JC, Hiripi E, Zaslavsky AM (2003) Screening for serious mental illness in the general population. Arch Gen Psychiatry 60:184–189

21.

Kessler RC, Berglund P, Chiu WT, Demler O, Heeringa S, Hiripi E, Zheng H (2004) The US national comorbidity survey replication (NCS-R): design and field procedures. Int J Methods Psychiatr Res 13(2):69–92

22.

Kessler RC, Üstün TB (2004) The World Mental Health (WMH) survey initiative version of the World Health Organization (WHO) composite international diagnostic interview (CIDI). Int J Methods Psychiatr Res 13(2):93–121

23.

Klonsky ED, May AM (2015) The three-step theory (3ST): a new theory of suicide rooted in the "ideation-to-action" framework. Int J Cognit Ther 8(2):114–129

24.

Linscott RJ, Van Os J (2013) An updated and conservative systematic review and meta-analysis of epidemiological evidence on psychotic experiences in children and adults: on the pathway from proneness to persistence to dimensional expression across mental disorders. Psychol Med 43(6):1133–1149

25.

López-Moríñigo JD, Ramos-Ríos R, David AS, Dutta R (2012) Insight in schizophrenia and risk of suicide: a systematic update. Compr Psychiatry 53(4):313–322

26.

Martin G, Thomas H, Andrews T, Hasking P, Scott JG (2015) Psychotic experiences and psychological distress predict contemporaneous and future non-suicidal self-injury and suicide attempts in a sample of Australian school-based adolescents. Psychol Med 45(2):429–437

27.

Murphy J, Shevlin M, Hyland P, Christoffersen M, Elklit A, Bentall R (2018) Reconsidering the association between psychosis and suicide: a suicidal drive hypothesis. Psychosis 10(4):286–297

28.

Nishida A, Tanii H, Nishimura Y, Kajiki N, Inoue K, Okada M, Sasaki T, Okazaki Y (2008) Associations between psychotic-like experiences and mental health status and other psychopathologies among Japanese early teens. Schizophr Res 99:125–133

29.

Nock MK, Kessler RC (2006) Prevalence of and risk factors for suicide attempts versus suicide gestures: analysis of the National Comorbidity Survey. J Abnorm Psychol 115(3):616

30.

Rogers P, Watt A, Gray NS, MacCulloch M, Gournay K (2002) Content of command hallucinations predicts self-harm but not violence in a medium secure unit. J Forensic Psychiatry 13(2):251–262

31.

Selten JP, van der Ven E, Rutten BP, Cantor-Graae E (2013) The social defeat hypothesis of schizophrenia: an update. Schizophr Bull 39(6):1180–1186

32.

Shrivastava A, Johnston ME, Shah N, Innamorati M, Stitt L, Thakar M, Pompili M (2010) Persistent suicide risk in clinically improved schizophrenia patients: challenge of the suicidal dimension. Neuropsychiatr Dis Treat 6:633

33.

Van Orden KA, Witte TK, Cukrowicz KC, Braithwaite SR, Selby EA, Joiner TE Jr (2010) The interpersonal theory of suicide. Psychol Rev 117(2):575

34.

Yates K, Lång U, Cederlöf M, Boland F, Taylor P, Cannon M, Kelleher I (2019) Association of psychotic experiences with subsequent risk of suicidal ideation, suicide attempts, and suicide deaths: a systematic review and meta-analysis of longitudinal population studies. JAMA Psychiatry 76(2):180–189
Acknowledgements
This research was supported by a young investigator Grant from the American Foundation for Suicide Prevention (Grant YIG-1-042-16 to Dr. DeVylder). Emily Hielscher is supported by the Dr. F and Mrs. ME Zaccari Scholarship, Australia. James Scott is supported by a National Health and Medical Research Council Practitioner Fellowship Grant APP1105807 and is employed by the Queensland Centre for Mental Health Research which receives core funding from Queensland Health.
Ethics declarations
Conflict of interest
On behalf of all authors, the corresponding author states that there is no conflict of interest.
Electronic supplementary material
Below is the link to the electronic supplementary material.
About this article
Cite this article
DeVylder, J., Waldman, K., Hielscher, E. et al. Psychotic experiences and suicidal behavior: testing the influence of psycho-socioenvironmental factors. Soc Psychiatry Psychiatr Epidemiol (2020). https://doi.org/10.1007/s00127-020-01841-9
Received:

Accepted:

Published:
Keywords
Psychosis

Suicide

Attempts

Epidemiology

NCS-R