Abstract
Purpose
The aims of our study are: to explore rehospitalization in mental health services across Italian regions, Local Health Districts (LHDs), and hospitals; to examine the predictive power of different clinical and organizational factors.
Methods
The data set included adult patients resident in Italy discharged from a general hospital episode with a main psychiatric diagnosis in 2012. Independent variables at the individual, hospital, LHD, and region levels were used. Outcome variables were individual-level readmission and LHD-level readmission rate to any hospital at 1-year follow-up. The association with readmission of each variable was assessed through both single- and multi-level logistic regression; descriptive statistics were provided to assess geographical variation. Relevance of contextual effects was investigated through a series of random-effects regressions without covariates.
Results
The national 1-year readmission rate was 43.0%, with a cross-regional coefficient of variation of 6.28%. Predictors of readmission were: admission in the same LHD as residence, psychotic disorder, higher length of stay (LoS), higher rate of public beds in the LHD; protective factors were: young age, involuntary admission, and intermediate number of public healthcare staff at the LHD level. Contextual factors turned out to affect readmission only to a limited degree.
Conclusions
Homogeneity of readmission rates across regions, LHDs, hospitals, and groups of patients may be considered as a positive feature in terms of equity of the mental healthcare system. Our results highlight that readmission is mainly determined by individual-level factors. Future research is needed to better explore the relationship between readmission and LoS, discharge decision, and resource availability.
This is a preview of subscription content, log in to check access.
Access options
Buy single article
Instant access to the full article PDF.
US$ 39.95
Price includes VAT for USA
Subscribe to journal
Immediate online access to all issues from 2019. Subscription will auto renew annually.
US$ 199
This is the net price. Taxes to be calculated in checkout.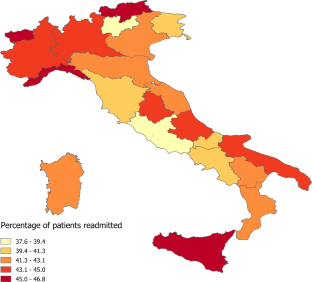 References
1.

Donisi V, Tedeschi F, Salazzari D, Amaddeo F (2016) Pre- and post-discharge factors influencing early readmission to acute psychiatric wards: implications for quality-of-care indicators in psychiatry. Gen Hosp Psychiatry 39:53–58

2.

Morlino M, Calento A, Schiavone V, Santone G, Picardi A, de Girolamo G, PROGRES-Acute group (2011) Use of psychiatric inpatient services by heavy users: findings from a national survey in Italy. Eur Psychiatry 26:252–259

3.

Vigod SN, Kurdyak PA, Dennis CL, Leszcz T, Taylor VH, Blumberger DM et al (2013) Transitional interventions to reduce early psychiatric readmissions in adults: systematic review. Br J Psychiatry 202(3):187–194

4.

OECD (2011) Unplanned hospital re-admissions for mental disorders. In: OECD. Health at a glance 2011: indicators. OECD Publishing, Paris

5.

Gandré C, Gervaix J, Thillard J, Macé JM, Roelandt JL, Chevreul K (2018) Understanding geographic variations in psychiatric inpatient admission rates: width of the variations and associations with the supply of health and social care in France. BMC Psychiatry 18(1):174

6.

Ådnanes M, Melby L, Cresswell-Smith J, Westerlund H, Rabbi L, Dernovšek MZ et al (2018) Mental health service users' experiences of psychiatric re-hospitalisation—an explorative focus group study in six European countries. BMC Health Serv Res 18(1):516

7.

Thornicroft G, Tansella M (1999) The mental health matrix: a manual to improve services. Cambridge University Press, Cambridge

8.

Kalseth J, Lassemo E, Wahlbeck K, Haaramo P, Magnussen J (2016) Psychiatric readmissions and their association with environmental and health system characteristics: a systematic review of the literature. BMC Psychiatry 16:376

9.

Donisi V, Tedeschi F, Wahlbeck K, Haaramo P, Amaddeo F (2016) Pre-discharge factors predicting readmissions of psychiatric patients: a systematic review of the literature. BMC Psychiatry 16:449

10.

Šprah L, Zvezdana Dernovšek M, Wahlbeck K, Haaramo P (2017) Psychiatric readmissions and their association with physical comorbidity: a systematic literature review. BMC Psychiatry 17:2

11.

Sfetcu R, Musat S, Haaramo P, Ciutan M, Scintee G, Vladescu C et al (2017) Overview of post-discharge predictors for psychiatric re-hospitalisations: a systematic review of the literature. BMC Psychiatry 17:227

12.

Gaddini A, Franco F, Di Lallo D, Biscaglia L (2005) Hospitalisation for schizophrenia in acute psychiatric wards of the Lazio region: a 4-year follow-up study. Epidemiol Psichiatr Soc 14(4):227–234

13.

Di Lorenzo R, Sagona M, Landi G, Martire L, Piemonte C, Del Giovane C (2016) The revolving door phenomenon in an Italian acute psychiatric ward: a 5-year retrospective analysis of the potential risk factors. J Nerv Ment Dis 204(9):686–692

14.

Bramesfeld A, Amaddeo F, Caldas-de-Almeida J, Cardoso G, Depaigne-Loth A, Derenne R, Donisi V, Jørgensen M, Lindelius B, Lora A, Mainz J, Mulder CL, Szecsenyi J, Killaspy H (2016) Monitoring mental healthcare on a system level: country profiles and status from EU countries. Health Policy 120(6):706–717

15.

Donisi V, Tedeschi F, Salazzari D, Amaddeo F (2016) Differences in the use of involuntary admission across the Veneto Region: which role for individual and contextual variables? Epidemiol Psychiatr Sci 25(1):49–57

16.

Katschnig H, Straßmayr C, the CEPHOS–LINK team (2017) Comparative effectiveness research on psychiatric HOSpitalisation by record LINKage of large administrative data sets in six European countries (CEPHOS–LINK). Final scientific report for objectives 1, 2 and 3. The European union's seventh framework programme. https://thl.fi/documents/189940/2732416/CEPHOS-LINK+final+scientific+report+2017-03-31+export.pdf/6f206810-5919-415c-82a1-884795732186. Accessed 13 Dec 2018

17.

Sokal RR, Rohlf FJ (1995) Biometry: the principles and practice of statistics in biological research, 3rd edn. W.H. Freeman and Co., New York

18.

Merlo J, Chaix B, Ohlsson H, Beckman A, Johnell K, Hjerpe P et al (2006) A brief conceptual tutorial of multilevel analysis in social epidemiology: using measures of clustering in multilevel logistic regression to investigate contextual phenomena. J Epidemiol Community Health 60(4):290–297

19.

OECD (2014) Making mental health count: the social and economic costs of neglecting mental health care. In: OECD health policy studies. OECD Publishing, Paris

20.

Moos RH, Mertens JR, Brennan PL (1995) Program characteristics and readmission among older substance abuse patients: comparisons with middle-aged and younger patients. J Ment Health Adm 22:332–345

21.

Lin HC, Tian WH, Chen CS, Liu TC, Tsai SY, Lee HC (2006) The association between readmission rates and length of stay for schizophrenia: a 3-year population-based study. Schizophr Res 83:211–214

22.

Zeff KN, Armstrong SC, Folen RA (1990) Characteristics associated with psychiatric readmission. Hosp Community Psychiatry 41:91–93

23.

Phibbs CS, Swindle RW, Recine B (1997) Does case mix matter for substance abuse treatment? A comparison of observed and case mix-adjusted readmission rates for inpatient substance abuse treatment in the Department of Veterans Affairs. Health Serv Res 31:755–771

24.

Prince JD, Akincigil A, Kalay E, Walkup JT, Hoover DR, Lucas J et al (2008) Psychiatric rehospitalization among elderly persons in the United States. Psychiatr Serv 59:1038–1045

25.

Russo J, Roy-Byrne P, Jaffe C, Ries R, Dagadakis C, Avery D (1997) Psychiatric status, quality of life, and level of care as predictors of outcomes of acute inpatient treatment. Psychiatr Serv 48:1427–1434

26.

Hendryx MS, Moore R, Leeper T, Reynolds M, Davis S (2001) An examination of methods for risk-adjustment of rehospitalization rates. Mental Health Serv Res 3:15–24

27.

Juo YY, Woods A, Ou R, Ramos G, Shemin R, Benharash P (2017) Does travel distance affect readmission rates after cardiac surgery? Am Surg 83(10):1170–1173

28.

Oiesvold T, Saarento O, Sytema S, Vinding H, Gostas G, Lonnerberg O et al (2000) Predictors for readmission risk of new patients: the Nordic comparative study on sectorized psychiatry. Acta Psychiatr Scand 101:367–373

29.

Heggestad T (2001) Operating conditions of psychiatric hospitals and early readmission-effects of high patient turnover. Acta Psychiatr Scand 103:196–202

30.

Lin HC, Lee HC (2009) Psychiatrists' caseload volume, length of stay and mental healthcare readmission rates: a three-year population-based study. Psychiatry Res 166:15–23

31.

Lee HC, Lin HC (2007) Is the volume-outcome relationship sustained in psychiatric care? Soc Psychiatry Psychiatr Epidemiol 42:669–672
Acknowledgements
We wish to thank the staff of "Direzione Generale della Programmazione Sanitaria - Banca Dati SDO" of the Italian Ministry of Health for providing data for this research, the CEPHOS-LINK Group for the definition of the global EU study design, and Dr. Jesse Canchola for his clarifications on the use of coefficient of variation with percentages. This paper used data collected for the CEPHOS-LINK project, which has received funding from the European Union's Seventh Framework Programme for research, technological development, and demonstration under grant agreement no 603264.
Ethics declarations
Conflict of interest
The authors declare that they have no conflict of interest.
Ethical standards
The study was reviewed and approved by the ethical committee of the Verona University Hospital (N. Prog. 437CESC) and has, therefore, been performed in accordance with the ethical standards laid down in the 1964 Declaration of Helsinki and its later amendments.
About this article
Cite this article
Tedeschi, F., Donisi, V., Salazzari, D. et al. Clinical and organizational factors predicting readmission for mental health patients across Italy. Soc Psychiatry Psychiatr Epidemiol 55, 187–196 (2020). https://doi.org/10.1007/s00127-019-01766-y
Received:

Accepted:

Published:

Issue Date:
Keywords
Hospital readmission

Psychiatric patients

Random effects

Contextual variation