Abstract
Purpose
Sexual minorities are at heightened risk for substance use disorders (SUDs). Discrimination based on sexual orientation may be an important factor in this increased risk, but differences across age have not been systematically examined. We examined age-varying associations of sexual orientation discrimination with alcohol use disorder (AUD), tobacco use disorder (TUD), and drug use disorder (DUD).
Methods
We used data from US participants aged 18–50 years who reported non-heterosexual identity, attraction, or behavior (N = 2375) in a nationally representative survey. We examined the prevalence of sexual orientation discrimination across age and its salience as a risk factor for AUD, TUD, and DUD for gay/lesbian, bisexual, and heterosexual identifying individuals using time-varying effect modeling.
Results
Sexual orientation discrimination was most prevalent in early young adulthood but was positively associated with greater odds of AUD, TUD, and DUD only at later ages. We found statistically significant associations at ages 24.5–40.0 for AUD, ages 32.5–42.9 for DUD, and ages 39.3–43.2 for TUD. For example, discrimination at age 30 was associated with 2.1 times greater odds of AUD (95% CI 1.3, 3.3) compared to those who reported no discrimination at that age. Discrimination at age 35 was associated with 2.8 times greater odds of DUD (95% CI 1.2, 6.6) relative to no discrimination.
Conclusions
Sexual orientation discrimination is significantly associated with SUDs and risk varies across age. Thus, age should be considered in the development of prevention and treatment of AUD, TUD, and DUD, particularly for sexual minorities.
This is a preview of subscription content, log in to check access.
Access options
Buy single article
Instant unlimited access to the full article PDF.
US$ 39.95
Price includes VAT for USA
Subscribe to journal
Immediate online access to all issues from 2019. Subscription will auto renew annually.
US$ 199
This is the net price. Taxes to be calculated in checkout.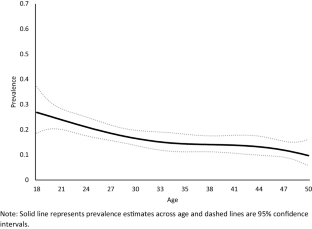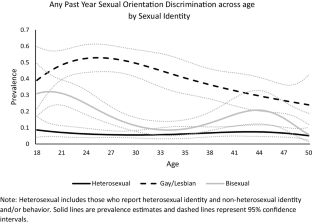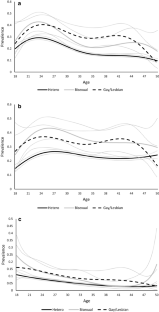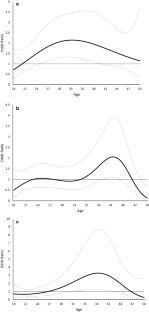 References
1.

Allen JL, Mowbray O (2016) Sexual orientation, treatment utilization, and barriers for alcohol related problems: findings from a nationally representative sample. Drug Alcohol Depend 161:323–330

2.

Branstrom R, Hatzenbuehler ML, Pachankis JE (2016) Sexual orientation disparities in physical health: age and gender effects in a population-based study. Soc Psychiatry Psychiatr Epidemiol 51:289–301

3.

Bry LJ, Mustanski B, Garofalo R, Burns MN (2017) Management of a concealable stigmatized identity: a qualitative study of concealment, disclosure, and role flexing among young, resilient sexual and gender minority individuals. J Homosex 64(6):745–769

4.

Connor JP, Haber PS, Hall WD (2016) Alcohol use disorders. Lancet 387(10022):988–998

5.

Coulter RWS, Jun HJ, Calzo JP, Truong NL, Mair C, Markovic N, Charlton BM, Silvestre AJ, Stall R, Corliss HL (2018) Sexual-orientation differences in alcohol use trajectories and disorders in emerging adulthood: results from a longitudinal cohort study in the United States. Addiction 113(9):1619–1632

6.

De Pedro KT, Esqueda MC, Gilreath TD (2017) School protective factors and substance use among lesbian, gay, and bisexual adolescents in california public schools. LGBT Health 4(3):210–216

7.

Dermody SS, Marshal MP, Cheong J, Burton C, Hughes T, Aranda F, Friedman MS (2014) Longitudinal disparities of hazardous drinking between sexual minority and heterosexual individuals from adolescence to young adulthood. J Youth Adolesc 43:30–39

8.

Fish JN, Rice CE, Lanza ST, Russell ST (2018) Is young adulthood a critical period for suicidal behavior among sexual minorities? Results from a US national sample. Prev Sci. https://doi.org/10.1007/s11121-018-0878-5

9.

Fredriksen-Goldsen KI, Bryan AE, Jen S, Goldsen J, Kim HJ, Muraco A (2017) The unfolding of LGBT lives: key events associated with health and well-being in later life. Gerontologist 57:S15–S29

10.

Gilbert PA, Zemore SE (2016) Discrimination and drinking: a systematic review of the evidence. Soc Sci Med 161:178–194

11.

Grant BF, Chu A, Sigman R, Amsbary M, Kali J, Sugawara Y, Goldstein R (2014) Source and accuracy statement: National Epidemiologic Survey on Alcohol and Related Conditions-III (NESARC III). National Institute on Alcohol Abuse and Alcoholism, Rockville

12.

Grant BF, Goldstein RB, Smith SM, Jung J, Zhang H, Chou SP, Pickering RP, Ruan WJ, Huang B, Saha TD, Aivadyan C, Greenstein E, Hasin DS (2015) The alcohol use disorder and Associated Disabilities Interview Schedule-5(AUDADIS-5): reliability of substance use and psychiatric disorder modules in a general population sample. Drug Alcohol Depend 148:27–33

13.

Hammack PL, Frost DM, Meyer IH, Pletta DR (2018) Gay men's health and identity: social change and the life-course. Arch Sex Behav 47:59–74

14.

Hastie T, Tibshirani R (1993) Varying-coefficient models. J R Stat Soc Ser B (Methodological) 55:757–779

15.

Hatzenbuehler ML, McLaughlin KA, Keyes KM, Hasin DS (2010) The impact of institutional discrimination on psychiatric disorders in lesbian, gay, and bisexual populations: a prospective study. Am J Public Health 100(3):452–459

16.

Krieger N, Sidney S (1997) Prevalence and health implications of anti-gay discrimination: a study of black and white women and men in the CARDIA cohort. Int J Health Serv 27(1):157–176

17.

Kerridge BT, Pickering RP, Saha TD, Ruan WJ, Chou SP, Zhang H, Hasin DS (2017) Prevalence, sociodemographic correlates and DSM-5 substance use disorders and other psychiatric disorders among sexual minorities in the United States. Drug Alcohol Depend 170:82–92. https://doi.org/10.1016/j.drugalcdep.2016.10.038

18.

Krieger N, Smith K, Naishadham D, Hartman C, Barbeau EM (2005) Experiences of discrimination:validity and reliability of a self-report measure for population health research on racism and health. Soc Sci Med 61(7):1576–1596

19.

Li R, Dziak JD, Tan X, Huang L, Wagner AT, Yang J (2015) TVEM (Time-varying Effect Model) SAS Macro Users' Guide (Version 3.1.0). University Park, PA, p 2. http://methodology.psu.edu

20.

Marshal MP, Friedman MS, Stall R, Thompson AL (2009) Individual trajectories of substance use in lesbian, gay and bisexual youth and heterosexual youth. Addiction 104:974–981

21.

McCabe SE, Hughes TL, Bostwick WB, West BT, Boyd CJ (2009) Sexual orientation, substance use behaviors and substance dependence in the United States. Addiction 104(8):1333–1345

22.

McCabe SE, Bostwick WB, Hughes TL, West BT, Boyd CJ (2010) The relationship between discrimination and substance use disorders among lesbian, gay, and bisexual adults in the United States. Am J Public Health 100(10):1946–1952

23.

McCabe SE, Matthews AK, Lee JG, Veliz P, Hughes TL, Boyd CJ (2018) Tobacco use and sexual orientation in a national cross-sectional study: age, race/ethnicity, and sexual identity-attraction differences. Am J Prev Med 54(6):736–745

24.

Meyer IH (2003) Prejudice, social stress, and mental health in lesbian, gay, and bisexual populations: conceptual issues and research evidence. Psychol Bull 129:674–697

25.

Muraco A, Fredriksen-Goldsen KI (2016) Turning points in the lives of lesbian and gay adults age 50 and over. Adv Life Course Res 30:124–132. https://doi.org/10.1016/j.alcr.2016.06.002

26.

Murray CJL, Lopez AD (2013) Measuring the global burden of disease. N Engl J Med 369:448–457. https://doi.org/10.1056/nejmra1201534

27.

Pearlin LI, Schieman S, Fazio EM, Meersman SC (2005) Stress, health, and the life course: some conceptual perspectives. J Health Soc Behav 46(2):205–219

28.

Reeves WC, Strine TW, Pratt LA, Thompson W, Ahluwalia I, Dhingra SS, McKnight-Eily LR, Harrison L, D'Angelo DV, Williams L, Morrow B, Gould D, Safran MA (2011) Mental illness surveillance among adults in the United States. Morbidity and Mortality Weekly Report CDC Surveillance Summaries, vol 60, no (Suppl. 3), pp 1–29. https://www.cdc.gov/mmwr/preview/mmwrhtml/ su6003a1.htm

29.

Rehm J, Mathers C, Popova S, Thavorncharoensap M, Teerawattananon Y, Patra J (2009) Global burden of disease and injury and economic cost attributable to alcohol use and alcohol-use disorders. Lancet 373(9682):2223–2233

30.

Schuler MS, Rice CE, Evans-Polce RJ, Collins RL (2018) Disparities in substance use behaviors and disorders among adult sexual minorities by age, gender, and sexual identity. Drug Alcohol Depend 189:139–146

31.

Slater ME, Godette D, Huang B, Ruan WJ, Kerridge BT (2017) Sexual orientation-based discrimination, excessive alcohol use, and substance use disorders among sexual minority adults. LGBT Health 4(5):337–344

32.

Substance Abuse and Mental Health Services Administration (2018) Key substance use and mental health indicators in the United States: Results from the 2017 National Survey on Drug Use and Health (HHS Publication No. SMA 18-5068, NSDUH Series H-53). Rockville, MD: Center for Behavioral Health Statistics and Quality, Substance Abuse and Mental Health Services Administration. https://www.samhsa.gov/data/

33.

Talley AE, Aranda F, Hughes TL, Everett B, Johnson TP (2015) Longitudinal associations among discordant sexual orientation dimensions and hazardous drinking in a cohort of sexual minority women. J Health Soc Behav 56(2):225–245

34.

Tan X, Shiyko MP, Li R, Li Y, Dierker L (2012) A time-varying effect model for intensive longitudinal data. Psychol Methods 17:61–77

35.

Umberson D, Crosnoe R, Reczek C (2010) Social relationships and health behavior across the life course. Ann Rev Sociol 36:139–157

36.

U.S. Department of Health and Human Services (2014) The health consequences of smoking—50 years of progress: a report of the Surgeon General. U.S. Department of Health and Human Services, Centers for Disease Control and Prevention, National Center for Chronic Disease Prevention and Health Promotion, Office on Smoking and Health, Atlanta

37.

Whiteford HA, Ferrari AJ, Degenhardt L, Feigin V, Vos T (2015) The global burden of mental, neurological and substance use disorders: an analysis from the Global Burden of Disease Study 2010. PLoS One 10(2):e0116820

38.

Wilson SM, Gilmore AK, Rhew IC, Hodge KA, Kaysen DL (2016) Minority stress is longitudinally associated with alcohol-related problems among sexual minority women. Addict Behav 61:80–83

39.

World Health Organization (2011) WHO report on the global tobacco epidemic. World Health Organization, Geneva
Acknowledgements
This research was supported by Grants R01AA025684 (PI: McCabe) and R01AA013328 (PI: Hughes) from the National Institute on Alcohol Abuse and Alcoholism, R01DA043696 (PI: Boyd) and R01DA036541 (PI: McCabe) from the National Institute on Drug Abuse, and R01CA212517 (PI: McCabe) from the National Cancer Institute.
Ethics declarations
Conflict of interest
On behalf of all authors, the corresponding author states that there is no conflict of interest.
Electronic supplementary material
Below is the link to the electronic supplementary material.
About this article
Cite this article
Evans-Polce, R.J., Veliz, P.T., Boyd, C.J. et al. Associations between sexual orientation discrimination and substance use disorders: differences by age in US adults. Soc Psychiatry Psychiatr Epidemiol 55, 101–110 (2020). https://doi.org/10.1007/s00127-019-01694-x
Received:

Accepted:

Published:

Issue Date:
Keywords
Sexual minorities

Substance use disorders

Discrimination

Time-varying effect models