Abstract
Purpose
The aim of this study was to investigate the independent and combined association of incident depression and dementia with mortality and to explore whether the magnitude of the association varies according to different types of dementia, including Alzheimer's disease and vascular dementia.
Methods and design
The study was based on a population-based longitudinal cohort consisting of 9940 participants at baseline and followed for over 14 years. The sample used for the analyses included 6114 participants with available information on diagnosis of incident dementia and depression. For survival analyses, Cox regression models with incident dementia (n = 293; 5%) and incident depression (n = 746; 12%) as time-dependent variables were used.
Results
Cox models adjusted for relevant confounders indicated that comorbidity of incident vascular dementia and incident depression was associated with a much higher mortality risk (HR 6.99; 95% CI 3.84–12.75) than vascular dementia in the absence of depression (HR 2.80; 95% CI 1.92–4.08). In contrast, estimates for comorbidity of Alzheimer's disease and depression were slightly lower than those for Alzheimer in absence of depression (HR 3.56; 95% CI 1.83–6.92 and HR 4.19; 95% CI 2.97–5.90, respectively). Incident depression in the absence of incident dementia was only weakly associated with mortality.
Conclusions
These findings indicate that depression and vascular dementia might have synergistic effects on mortality. The results have relevant public health implications for prevention, routine screening for and early treatment of depression among older people, especially those at risk of vascular dementia.
This is a preview of subscription content, log in to check access.
Access options
Buy single article
Instant access to the full article PDF.
US$ 39.95
Price includes VAT for USA
Subscribe to journal
Immediate online access to all issues from 2019. Subscription will auto renew annually.
US$ 199
This is the net price. Taxes to be calculated in checkout.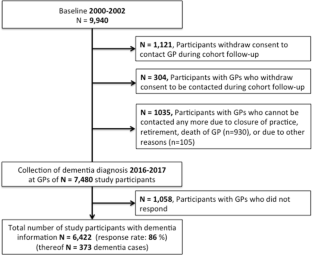 References
1.

Enache D, Winblad B, Aarsland D (2011) Depression in dementia: epidemiology, mechanism, and treatment. Curr Opin Psychiatry 24:461–472

2.

Castilla-Puentes RC, Habeych ME (2010) Subtypes of depression among patients with Alzheijer's disease and other dementias. Alzheimers Dement 6:63–69

3.

Boland RJ (2000) Depression in Alzheimer's disease and other dementias. Curr Psychiatry Rep 2:427–433

4.

Khundakar AA, Thomas AJ (2015) Neuropathology of depression on Alzheimer's disease: current knowledge and the potential for new treatments. J Alzheimers Dis 44:27–41

5.

van Agtmaal MJM, Houben AJHM, Pouwer F, Stehouwer CDA, Schram MT (2017) Association of microvascular dysfunction with late-life depression. A systematic review and meta-analysis. JAMA Psychiatry 74:729–739

6.

Aizenstein HJ, Baskys A, Boldrini M, Butters MA, Diniz BS, Jaiswal MK, Jellinger KA, Kruglov LS, Meshandin IA, Mijajlovic MD,, Pospos S, Raju K, Richter K, Steffens DC, Taylor WD, Tene O, Niklewski G (2016) Vascular depression consensus report—a critical update. BMC Med 14:161

7.

Diniz BS, Butters MA, Albert SM, Dew MA, Reynolds CF (2013) Late-life depression and risk of vascular dementia and Alzheimer's disease: a systematic review and meta-analysis of community-based cohort studies. Br J Psychiatry 202:329–335

8.

Richard E, Reitz C, Honig LS et al (2013) Late life depression, mild cognitive impairment and dementia. JAMA Neurology 70:374–382

9.

Todd S, Barr S, Roberts S, Passmore AP (2013) Survival in dementia and predictors of mortality: a review. Int J Geriatr Psychiatry 28:1109–1124

10.

Petersen JD, Waldorff FB, Siersma VD, Phung TKT, BEbe ACKM, Waldemar G (2017) Major depressive symptoms increase 3-year mortality rate in patients with mild dementia. Int J Alzheimers Dis 2017:7482094

11.

Georgakis MK, Papadopoulos FC, Protogerou AD et al (2016) Comorbidity of cognitive impairment and late-life depression increase mortality: results from a cohort of community-dwelling elderly individuals in rural Greece. J Geriatr Psychiatry Neurol 29:195–204

12.

Lara E, Haro JM, Tang MX, Manly J, Stern Y (2016) Exploring the excess mortality due to depressive symptoms in a community-based sample: the role of Alzheimer's disease. J Affect Disord 202:163–170

13.

Mattisson C, Bogren M, Brådvik L, Horstmann V (2015) Mortality of subjects with mood disorders in the Lundby community cohort: a follow-up over 50 years. J Affect Disord 178:98–106

14.

Cuijpers P, Vogelzangs N, Twisk J, Kleiboer A, Li J, Penninx BW (2014) Comprehensive meta-analysis of excess mortality in depression in the general community versus patients with specific illnesses. Am J Psychiatry 171:453–462

15.

Cuijpers P, Smit F (2002) Excess mortality in depression: a meta-analysis of community studies. J Affect Disord 72:227–236

16.

Houle JN (2013) Depressive symptoms and all-cause mortality in a nationally representative longitudinal study with time-varying covariates. Psychosom Med 75:297–304

17.

Blazer DG, Hybels CF, Pieper CF (2001) The association of depression and mortality in elderly persons: A case for multiple, independent pathways. J Gerontol A Biol Sci Med Sci 56:M505–M509

18.

Nabers A, Perna L, Lange J, Mons U et al (2018) Amyloid blood biomarkers detects Alzheimer's disease. EMBO Mol Med 10:e8763

19.

Unützer J (2002) Diagnosis and treatment of older adults with depression in primary care. Biol Psychiatry 52:285–292

20.

Park JH, Lee SB, Lee TJ et al (2007) Depression in vascular dementia is quantitatively and qualitatively different from depression in Alzheimer's disease. Dement Geriatr Cogn Disord 23:67–73

21.

Salzman C, Jeste D, Meyer RE et al (2008) Elderly patients with dementia-related symptoms of severe agitation and aggression: consensus statement on treatment options, clinical trials methodology, and policy. J Clin Psychiatry 69:889–898

22.

Atlantis E, Shi Z, Pennix BJ, Wittert GA, Taylor A, Almeida OP (2012) Chronic medical conditions mediate the association between depression and cardiovascular disease mortality. Soc Psychiatry Psychiatr Epidemiol 47:615–625

23.

Löw M, Stegmaier C, Ziegler H, Rothenbacher D, Brenner H (2004) Epidemiological investigations of the chances of preventing, recognizing early and optimally treating chronic diseases in an elderly populations (ESTHER study). Dtsch Med Wochenschr 129:2643–2647

24.

Weck MN, Gao L, Brenner H (2009) Helicobacter pylori infection and chronic atrophic gastritis: associations according to severity of disease. Epidemiology 20:569–574

25.

Sanchez-Villegas A, Schlatter J, Ortuno F et al (2008) Validity of a self-reported diagnosis of depression among participants in a cohort study using the structured clinical interview for DSM-IV (SCID-I). BMC Psychiatry 8:43

26.

Kessler RC, Bromet EJ (2013) The epidemiology of depression across cultures. Annu Rev Public Health 34:119–138

27.

Busch MA, Maske UE, Ryl L, Schlack R, Hapke U (2013) Prevalence of depressive symptoms and diagnosed depression among adults in Germany: results of the German Health Interview and Examination Survey for Adults (DEGS1). Bundesgesundheitsblatt Gesundheitsforschung Gesundheitsschutz 56:733–739

28.

Cole SR, Platt RW, Schisterman EF et al (2010) Illustrating bias due to conditioning on a collider. Int J Epidemiol 39:417–420
Funding
The ESTHER study was funded by grants from the Saarland state Ministry of Social Affairs, Health, Women and Family Affairs (Saarbrücken, Germany), the Baden-Württemberg state Ministry of Science, Research and Arts (Stuttgart, Germany), the Federal Ministry of Education and Research (Berlin, Germany) and the Federal Ministry of Family Affairs, Senior Citizens, Women and Youth (Berlin, Germany).
Ethics declarations
Conflict of interest
The authors declare that they have no conflict of interest.
Electronic supplementary material
Below is the link to the electronic supplementary material.
About this article
Cite this article
Perna, L., Wahl, H.W., Weberpals, J. et al. Incident depression and mortality among people with different types of dementia: results from a longitudinal cohort study. Soc Psychiatry Psychiatr Epidemiol 54, 793–801 (2019). https://doi.org/10.1007/s00127-019-01683-0
Received:

Accepted:

Published:

Issue Date:
Keywords
Dementia

Alzheimer's disease

Depression

Mortality