Abstract
Purpose
Spousal violence against women is a global public health problem. In India, approximately 40% of women report spousal violence. Like physical and sexual violence, emotional violence may be a determinant of women's health. This study explores the association between exposure to spousal emotional abuse and poor reproductive outcomes in Indian women.
Methods
Data on 60,350 women, collected in the Third Indian National Family Health Survey were analysed to assess the impact of spousal emotional abuse on seven reproductive outcomes: age at first birth, number of children, terminated pregnancies, unwanted pregnancies, access to prenatal and skilled delivery care, and breastfeeding. Spousal emotional abuse was assessed using two overlapping constructs: emotional violence and controlling behaviour. Multivariable logistic regression was used for analysis.
Results
Spousal emotional violence and controlling behaviour was reported by 16 and 38% of the women, respectively. In unadjusted analyses, spousal emotional violence was associated with all adverse reproductive outcomes, except breastfeeding. Controlling for socio-demographic risk factors attenuated the association, and further adjustment for other forms of violence removed all significant associations. Spousal controlling behaviour was significantly associated with all outcomes, except breastfeeding. The effects remained statistically significant in multivariable regression.
Conclusions
Women's experience of violence may be under-reported. When other forms of violence were adjusted for, emotional violence was not associated with adverse reproductive outcomes, whereas controlling behaviour remained associated with all but one adverse reproductive outcome. Therefore, spousal controlling behaviour requires further investigation as a determinant of reproductive health.
This is a preview of subscription content, log in to check access.
Access options
Buy single article
Instant access to the full article PDF.
US$ 39.95
Price includes VAT for USA
Subscribe to journal
Immediate online access to all issues from 2019. Subscription will auto renew annually.
US$ 199
This is the net price. Taxes to be calculated in checkout.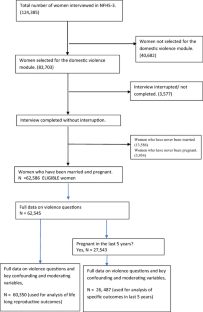 References
1.

World Health Organization (2013) Global and regional estimates of violence against women: prevalence and health effects of intimate partner violence and non-partner sexual violence [Internet]. World Health Organization. http://www.who.int/iris/handle/10665/85239. Accessed 5 Dec 2016

2.

Heise LL, Pitanguy J, Germain A (1994) Violence against women: the hidden health burden. World Bank Discussion Papers. https://www.scienceopen.com/document?vid=239b3a92-73c4-4a44-9563-ec1d70832251. Accessed 5 Dec 2016

3.

Devries KM, Mak JYT, García-Moreno C, Petzold M, Child JC, Falder G et al. Global health. The global prevalence of intimate partner violence against women. Science 2013 340(6140):1527–1528

4.

Breiding MJ, Basile KC, Smith SG, Black MC, Mahendra R (2015) Intimate partner violence surveillance: uniform definitions and recommended data elements. Version 2.0. Atlanta. Centers for Disease Control and Prevention, Georgia

5.

Garcia-Moreno C, Jansen HAFM., Ellsberg M, Heise L, Watts CH, WHO Multi-country Study on Women's Health and Domestic Violence against Women Study Team (2006) Prevalence of intimate partner violence: findings from the WHO multi-country study on women's health and domestic violence. Lancet Lond Engl 368(9543):1260–1269

6.

Krug EG, Mercy JA, Dahlberg LL, Zwi AB (2002) The world report on violence and health. Lancet Lond Engl 360(9339):1083–1088

7.

Karakurt G, Silver KE (2013) Emotional abuse in intimate relationships: the role of gender and age. Violence Vict 28(5):804–821

8.

Sarkar NN (2008) The impact of intimate partner violence on women's reproductive health and pregnancy outcome. J Obstet Gynaecol 28(3):266–271

9.

Bloom SS, Wypij D, Gupta MD (2001) Dimensions of women's autonomy and the influence on maternal health care utilization in a north indian city. Demography 38(1):67–78

10.

Morgan SP, Stash S, Smith HL, Mason KO (2002) Muslim and non-Muslim differences in female autonomy and fertility: evidence from four Asian countries. Popul Dev Rev 28(3):515–537

11.

Fotso J-C, Ezeh AC, Essendi H (2009) Maternal health in resource-poor urban settings: how does women's autonomy influence the utilization of obstetric care services? Reprod Health 6:9

12.

Coker AL, Smith PH, Bethea L, King MR, McKeown RE (2000) Physical health consequences of physical and psychological intimate partner violence. Arch Fam Med 9(5):451

13.

Campbell J, Torres S, Ryan J, King C, Campbell DW, Stallings RY et al (1999) Physical and nonphysical partner abuse and other risk factors for low birth weight among full term and preterm Babiesa multiethnic case-control study. Am J Epidemiol 150(7):714–726

14.

Babu BV, Kar SK (2009) Domestic violence against women in eastern India: a population-based study on prevalence and related issues. BMC Public Health 9:129

15.

Kimuna SR, Djamba YK, Ciciurkaite G, Cherukuri S (2013) Domestic violence in India: insights from the 2005–2006 national family health survey. J Interpers Violence 28(4):773–807

16.

Martin SL, Kilgallen B, Tsui AO, Maitra K, Singh KK, Kupper LL (1999) Sexual behaviors and reproductive health outcomes: associations with wife abuse in India. JAMA 282(20):1967–1972

17.

Koski AD, Stephenson R, Koenig MR (2011) Physical violence by partner during pregnancy and use of prenatal care in rural India. J Health Popul Nutr 29(3):245–254

18.

Shah PS, Shah J, Knowledge Synthesis Group on Determinants of Preterm/LBW Births (2010) Maternal exposure to domestic violence and pregnancy and birth outcomes: a systematic review and meta-analyses. J Womens Health 19(11):2017–2031

19.

Silverman JG, Decker MR, Reed E, Raj A (2006) Intimate partner violence around the time of pregnancy: association with breastfeeding behavior. J Womens Health 15(8):934–940

20.

Begum S, Dwivedi S, Pandey A, Mittal S (2010) Association between domestic violence and unintended pregnancies in India: findings from the National Family Health Survey-2 data. Natl Med J India 23(4):198–200

21.

Silverman JG, Decker MR, Cheng DM, Wirth K, Saggurti N, McCauley HL et al (2011) Gender-based disparities in infant and child mortality based on maternal exposure to spousal violence: the heavy burden borne by Indian girls. Arch Pediatr Adolesc Med 165(1):22–27

22.

National Family Health Survey India-3 [Internet]. http://www.nfhsindia.org/nfhs3.html

23.

National Family Health Survey (NFHS-3) (2007) 2005–2006. Mumbai: International Institute for Population Sciences (IIPS) and Macro International

24.

Straus MA, Hamby SL, BONEY-McCOY SUE, Sugarman DB (1996) The revised conflict tactics scales (CTS2) development and preliminary psychometric data. J Fam Issues 17(3):283–316

25.

Saha UC, Saha KB (2010) A trend in women's health in India—what has been achieved and what can be done. Rural Remote Health 10(2):1260

26.

Srinivasan S (2007) Population policy and programme in India: A review. Soc Change 37(1):125–136

27.

Swahnberg K, Wijma B, Schei B, Hilden M, Irminger K, Wingren GB (2004) Are sociodemographic and regional and sample factors associated with prevalence of abuse? Acta Obstet Gynecol Scand 83(3):276–288

28.

McNamee R (2005) Regression modelling and other methods to control confounding. Occup Environ Med 62(7):500–506

29.

Maldonado G, Greenland S (1993) Simulation study of confounder-selection strategies. Am J Epidemiol 138(11):923–936

30.

Data Analysis and Statistical Software|Stata [Internet]. http://www.stata.com/. Accessed 6 Dec 2016

31.

Sørbø MF, Grimstad H, Bjørngaard JH, Schei B, Lukasse M (2013) Prevalence of sexual, physical and emotional abuse in the Norwegian mother and child cohort study. BMC Public Health 13:186

32.

Villarreal A (2007) Women's employment status, coercive control, and intimate partner violence in Mexico. J Marriage Fam 69(2):418–434

33.

Lawoko S, Dalal K, Jiayou L, Jansson B (2007) Social inequalities in intimate partner violence: a study of women in Kenya. Violence Vict 22(6):773–784

34.

Mahapatro M, Gupta RN, Gupta V (2012) The risk factor of domestic violence in India. Indian J Community Med 37(3):153

35.

Jejeebhoy SJ, Sathar ZA (2001) Women's autonomy in India and Pakistan: the influence of religion and region. Popul Dev Rev 27(4):687–712

36.

Silverman JG, Gupta J, Decker MR, Kapur N, Raj A (2007) Intimate partner violence and unwanted pregnancy, miscarriage, induced abortion, and stillbirth among a national sample of Bangladeshi women. BJOG Int J Obstet Gynaecol 114(10):1246–1252

37.

Campbell JC (2002) Health consequences of intimate partner violence. Lancet 359(9314):1331–1336

38.

Stephenson R, Winter A, Hindin M (2013) Frequency of intimate partner violence and rural women's mental health in four Indian states. Violence Women 19(9):1133–1150

39.

Koenig MA, Stephenson R, Ahmed S, Jejeebhoy SJ, Campbell J (2006) Individual and contextual determinants of domestic violence in North India. Am J Public Health 96(1):132–138

40.

Sabarwal S, Santhya KG, Jejeebhoy SJ (2014) Women's autonomy and experience of physical violence within marriage in rural India: evidence from a prospective study. J Interpers Violence 29(2):332–347

41.

Go VF, Johnson SC, Bentley ME, Sivaram S, Srikrishnan AK, Celentano DD et al (2003) Crossing the threshold. Cult Health Sex 5(5):393–408

42.

Jejeebhoy SJ, Cook RJ (1997) State accountability for wife-beating: the Indian challenge. Lancet Lond Engl 349(Suppl 1):sI10-12

43.

Rahman M, Nakamura K, Seino K, Kizuki M (2012) Intimate partner violence and use of reproductive health services among married women: evidence from a national Bangladeshi sample. BMC Public Health 12:913

44.

Dalal K, Shabnam J, Andrews-Chavez J, Martensson LB, Timpka T (2012) Economic empowerment of women and utilization of maternal delivery care in Bangladesh. Int J Prev Med 3(9):628–636

45.

Ulrich YC, Cain KC, Sugg NK, Rivara FP, Rubanowice DM, Thompson RS (2003) Medical care utilization patterns in women with diagnosed domestic violence. Am J Prev Med 24(1):9–15

46.

Bonomi AE, Anderson ML, Rivara FP, Thompson RS (2009) Health care utilization and costs associated with physical and nonphysical-only intimate partner violence. Health Serv Res 44(3):1052–1067

47.

Emenike E, Lawoko S, Dalal K (2008) Intimate partner violence and reproductive health of women in Kenya. Int Nurs Rev 55(1):97–102

48.

Wokoma TT, Jampala M, Bexhell H, Guthrie K, Lindow S (2014) A comparative study of the prevalence of domestic violence in women requesting a termination of pregnancy and those attending the antenatal clinic. BJOG Int J Obstet Gynaecol 121(5):627–633

49.

Feder G, Ramsay J, Dunne D, Rose M, Arsene C, Norman R et al (2009) How far does screening women for domestic (partner) violence in different health-care settings meet criteria for a screening programme? Systematic reviews of nine UK National Screening Committee criteria. Health Technol Assess Winch Engl 13(16):iii–iv, xi–xiii, 1–113, 137–347

50.

Bacchus L, Mezey G, Bewley S (2002) Women's perceptions and experiences of routine enquiry for domestic violence in a maternity service. BJOG Int J Obstet Gynaecol 109(1):9–16

51.

High Demand for New India NFHS-4 Data|The DHS Program Blog [Internet]. http://blog.dhsprogram.com/high-demand-nfhs4/. Accessed 19 Sep 2017

52.

"Violence against women: a statistical overview, challenges and gaps in data collection and methodology and approaches for overcoming them"—Expert Group Meeting [Internet]. http://www.un.org/womenwatch/daw/egm/vaw-stat-2005/documents.html. Accessed 6 Dec 2016

53.

Janssen PA, Holt VL, Sugg NK, Emanuel I, Critchlow CM, Henderson AD (2003) Intimate partner violence and adverse pregnancy outcomes: a population-based study. Am J Obstet Gynecol 188(5):1341–1347

54.

Faramarzi M, Esmailzadeh S, Mosavi S (2005) A comparison of abused and non-abused women's definitions of domestic violence and attitudes to acceptance of male dominance. Eur J Obstet Gynecol Reprod Biol 122(2):225–231

55.

Moore MH (1995) Public health and criminal justice approaches to prevention. Crime Justice 19:237–262

56.

Mercy JA, Rosenberg ML, Powell KE, Broome CV, Roper WL (1993) Public health policy for preventing violence. Health Aff (Millwood) 12(4):7–29
Funding
The initial analysis was conducted as part of ST's MSc Global Health Science, at the University of Oxford, where she was funded by an ExxonMobil Foundation studentship.
About this article
Cite this article
Tiwari, S., Gray, R., Jenkinson, C. et al. Association between spousal emotional abuse and reproductive outcomes of women in India: findings from cross-sectional analysis of the 2005–2006 National Family Health Survey. Soc Psychiatry Psychiatr Epidemiol 53, 509–519 (2018). https://doi.org/10.1007/s00127-018-1504-3
Received:

Accepted:

Published:

Issue Date:
Keywords
Emotional abuse

Intimate partner violence

Women's health

India

Reproductive health