Abstract
Purpose
Our aim was to establish the 12-month prevalence of violent victimisation in a large sample of adults with psychotic disorders (N = 1825), compare this to population estimates, and examine correlates of violent victimisation.
Methods
The Australian national psychosis survey used a two-phase design to draw a representative sample of adults aged 18–64 years with psychotic disorders. Interview questions included psychopathology, cognition, sociodemographics, substance use, criminality, and childhood and adult victimisation. Multivariable logistic regression models were used to examine the independent contributions of known risk factors, clinical profile and childhood abuse, on risk of violent victimisation. Differences between men and women were examined.
Results
Among adults with psychotic disorders, 12-month prevalence of any victimisation was 38.6 % (males 37.4 %, females 40.5 %), and of violent victimisation was 16.4 % (males 15.2 %; females 18.3 %). Violent victimisation was 4.8 times higher than the population rate of 3.4 % (6.5 times higher for women; 3.7 times higher for men). Significant correlates of violent victimisation were established sociodemographic and behavioural risk factors predicting victimisation in the general community: younger age, residence in the most disadvantaged neighbourhoods, homelessness, lifetime alcohol abuse/dependence, and prior criminal offending. Among clinical variables, only mania and self-harm remained significant in the multivariable model. Childhood abuse was independently associated with violent victimisation.
Conclusions
Rates of violent victimisation are high for people with psychotic disorders, especially women, compared to population rates. Greater exposure to sociodemographic and behavioural risks may render them particularly vulnerable to victimisation. Social cognition as a valuable treatment target is discussed.
This is a preview of subscription content, log in to check access.
Access options
Buy single article
Instant access to the full article PDF.
US$ 39.95
Price includes VAT for USA
Subscribe to journal
Immediate online access to all issues from 2019. Subscription will auto renew annually.
US$ 199
This is the net price. Taxes to be calculated in checkout.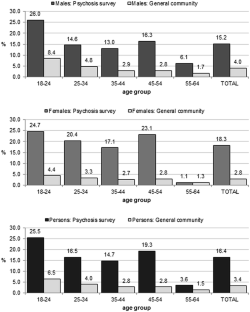 References
1.

Morgan VA, Morgan F, Valuri G, Ferrante A, Castle D, Jablensky A (2013) A whole-of-population study of the prevalence and patterns of criminal offending in people with schizophrenia and other mental illness. Psychol Med 43:1869–1880

2.

Joyal C, Dubreucq J-L, Gendron C, Millaud F (2007) Major mental disorders and violence: a critical update. Current Psychiatry Rev 3(1):33–50

3.

Fazel S, Gulati G, Linsell L, Geddes JR, Grann M (2009) Schizophrenia and violence: systematic review and meta-analysis. PLoS Med 6(8):e1000120

4.

Steadman HJ, Mulvey EP, Monahan J, Robbins PC, Appelbaum PS, Grisso T, Roth LH, Silver E (1998) Violence by people discharged from acute psychiatric inpatient facilities and by others in the same neighborhoods. Arch Gen Psychiatry 55(5):393–401

5.

Silver E, Arseneault L, Langley J, Caspi A, Moffitt TE (2005) Mental disorder and violent victimization in a total birth cohort. Am J Public Health 95(11):2015–2021

6.

Choe JY, Teplin LA, Abram KM (2008) Perpetration of violence, violent victimization, and severe mental illness: balancing public health concerns. Psychiatr Serv 59(2):153–164

7.

Khalifeh H, Johnson S, Howard LM, Borschmann R, Osborn D, Dean K, Hart C, Hogg J, Moran P (2015) Violent and non-violent crime against adults with severe mental illness. Br J Psychiatry 206(4):275–282

8.

Kamperman AM, Henrichs J, Bogaerts S, Lesaffre EM, Wierdsma AI, Ghauharali RR, Swildens W, Nijssen Y, van der Gaag M, Theunissen JR, Delespaul PA, van Weeghel J, van Busschbach JT, Kroon H, Teplin LA, van de Mheen D, Mulder CL (2014) Criminal victimisation in people with severe mental illness: a multi-site prevalence and incidence survey in the Netherlands. PLoS One 9(3):e91029

9.

Teplin LA, McClelland GM, Abram KM, Weiner DA (2005) Crime victimization in adults with severe mental illness: comparison with the National Crime Victimization Survey. Arch Gen Psychiatry 62(8):911–921

10.

Brekke JS, Prindle C, Bae SW, Long JD (2001) Risks for individuals with schizophrenia who are living in the community. Psychiatr Serv 52(10):1358–1366

11.

Khalifeh H, Dean K (2010) Gender and violence against people with severe mental illness. Int Rev Psychiatry 22(5):535–546

12.

Maniglio R (2009) Severe mental illness and criminal victimization: a systematic review. Acta Psychiatr Scand 119(3):180–191

13.

Goodman LA, Salyers MP, Mueser KT, Rosenberg SD, Swartz M, Essock SM, Osher FC, Butterfield MI, Swanson J (2001) Recent victimization in women and men with severe mental illness: prevalence and correlates. J Trauma Stress 14(4):615–632

14.

Dean K, Moran P, Fahy T, Tyrer P, Leese M, Creed F, Burns T, Murray R, Walsh E (2007) Predictors of violent victimization amongst those with psychosis. Acta Psychiatr Scand 116(5):345–353

15.

Walsh E, Moran P, Scott C, McKenzie K, Burns T, Creed F, Tyrer P, Murray RM, Fahy T (2003) Prevalence of violent victimisation in severe mental illness. Br J Psychiatry 183:233–238

16.

Read J, Os J, Morrison AP, Ross CA (2005) Childhood trauma, psychosis and schizophrenia: a literature review with theoretical and clinical implications. Acta Psychiatr Scand 112(5):330–350

17.

Varese F, Smeets F, Drukker M, Lieverse R, Lataster T, Viechtbauer W, Read J, van Os J, Bentall RP (2012) Childhood adversities increase the risk of psychosis: a meta-analysis of patient-control, prospective- and cross-sectional cohort studies. Schizophr Bull 38(4):661–671

18.

Bebbington PE, Bhugra D, Brugha T, Singleton N, Farrell M, Jenkins R, Lewis G, Meltzer H (2004) Psychosis, victimisation and childhood disadvantage: evidence from the second British national survey of psychiatric morbidity. Br J Psychiatry 185:220–226

19.

Morgan VA, Waterreus A, Jablensky A, Mackinnon A, McGrath JJ, Carr V, Bush R, Castle D, Cohen M, Harvey C, Galletly C, Stain HJ, Neil AL, McGorry P, Hocking B, Shah S, Saw S (2012) People living with psychotic illness in 2010: the second Australian national survey of psychosis. Aust N Z J Psychiatry 46(8):735–752

20.

Morgan VA, McGrath JJ, Jablensky A, Badcock JC, Waterreus A, Bush R, Carr V, Castle D, Cohen M, Galletly C, Harvey C, Hocking B, McGorry P, Neil AL, Saw S, Shah S, Stain HJ, Mackinnon A (2014) Psychosis prevalence and physical, metabolic and cognitive co-morbidity: data from the second Australian national survey of psychosis. Psychol Med 44:2163–2176

21.

Castle D, Jablensky A, McGrath J, Carr V, Morgan VA, Waterreus A, Valuri G, Stain H, McGuffin P, Farmer A (2006) The diagnostic interview for psychoses (DIP): development, reliability and applications. Psychol Med 36:69–80

22.

Wing JK, Babor T, Brugha T, Burke J, Cooper JE, Giel R, Jablensky A, Regier D, Sartorius N (1990) SCAN: schedules for clinical assessment in neuropsychiatry. Arch Gen Psychiatry 47:589–593

23.

McGuffin PC, Farmer A, Harvey I (1991) A polydiagnostic application of operational criteria in studies of psychotic illness. Development and reliability of the OPCRIT system. Arch Gen Psychiatry 48:764–770

24.

Jaeger J, Berns SM, Czobor P (2003) The multidimensional scale of independent functioning: a new instrument for measuring functional disability in psychiatric populations. Schizophr Bull 29(1):153–168

25.

Randolph C (1998) Repeatable battery for the assessment of neuropsychological status (RBANS): Test Manual. Harcourt Brace and Company, San Antonio

26.

Bromfield L, Holzer P (2008) A national approach for child protection. Project report. Melbourne

27.

Shah S, Mackinnon A, Galletly C, Carr V, McGrath JJ, Stain HJ, Castle D, Harvey C, Sweeney S, Morgan VA (2014) Prevalence and impact of childhood abuse in people with a psychotic illness. Data from the second Australian national survey of psychosis. Schizophr Res 159(1):20–26

28.

Australian Bureau of Statistics (2008) Socio-Economic Indexes for Areas (SEIFA)—Technical Paper 2006. Catalogue no. 2039.0.55.001. Australian Bureau of Statistics, Canberra

29.

Australian Bureau of Statistics (2005) Crime and Safety, Australia. Catalogue no. 4509.0. Australian Bureau of Statistics, Canberra

30.

Australian Bureau of Statistics (2011) Crime Victimisation, Australia 2009–2010. Catalogue no. 4530.0. Australian Bureau of Statistics, Canberra

31.

Chapple B, Chant D, Nolan P, Cardy S, Whiteford H, McGrath J (2004) Correlates of victimisation amongst people with psychosis. Soc Psychiatry Psychiatr Epidemiol 39(10):836–840

32.

Hiday VA, Swanson JW, Swartz MS, Borum R, Wagner HR (2001) Victimization: a link between mental illness and violence? Int J Law Psychiatry 24(6):559–572

33.

Cohen L, Felson M (1979) Social change and crime rate trends: a routine activity approach. Am Sociol Rev 44:588–608

34.

Hindelang M, Gottfredson MR, Garafalo J (1978) Victims of personal crime: an empirical foundation for a theory of personal victimization. Ballinger, Mass

35.

Hope TIM, Trickett A (2008) The distribution of crime victimisation in the population. Int Rev Victimol 15(1):37–58

36.

Morgan F (2001) Repeat burglary in a Perth suburb: indicator of short-term or long-term risk? In: Farrell G, Pease K (eds) Repeat Victimization, vol 12. Criminal Justice Press, New York, pp 83–118

37.

Sampson R, Raudenbush S, Earls F (1997) "Neighborhoods and violent crime: a multilevel study of collective efficacy. Sci Justice 277:918–924

38.

Green MF, Penn DL, Bentall R, Carpenter WT, Gaebel W, Gur RC, Kring AM, Park S, Silverstein SM, Heinssen R (2008) Social cognition in schizophrenia: an NIMH workshop on definitions, assessment, and research opportunities. Schizophr Bull 34(6):1211–1220

39.

Goodman LA, Thompson KM, Weinfurt K, Corl S, Acker P, Mueser KT, Rosenberg SD (1999) Reliability of reports of violent victimization and posttraumatic stress disorder among men and women with serious mental illness. J Trauma Stress 12(4):587–599

40.

Newman JM, Turnbull A, Berman BA, Rodrigues S, Serper MR (2010) Impact of traumatic and violent victimization experiences in individuals with schizophrenia and schizoaffective disorder. J Nerv Ment Dis 198:708–714

41.

Lommen MJ, Restifo K (2009) Trauma and posttraumatic stress disorder (PTSD) in patients with schizophrenia or schizoaffective disorder. Community Ment Health J 45(6):485–496

42.

Cascardi M, Mueser KT, DeGiralomo J, Murrin M (1996) Physical aggression against psychiatric inpatients by family members and partners. Psychiatr Serv 47(5):531–533
Acknowledgments
This publication is based on data collected in the framework of the 2010 Australian National Survey of High Impact Psychosis. The members of the Survey of High Impact Psychosis Study Group are: V. Morgan (Project Director); A. Jablensky (Chief Scientific Advisor); A. Waterreus (Project Coordinator); A. Mackinnon (Statistician); R. Bush, D. Castle, M. Cohen, C. Galletly, C. Harvey, P. McGorry, J. McGrath, H. Stain (Site Directors); V. Carr (Australian Schizophrenia Research Bank); A. Neil (Health Economics); B. Hocking (SANE Australia); S. Saw (Australian Government Department of Health and Ageing). This report acknowledges, with thanks, the hundreds of mental health professionals who participated in the preparation and conduct of the survey and the many Australians with psychotic disorders who gave their time and whose responses form the basis of this publication. The survey was funded by the Australian Government Department of Health and Ageing under contract to The University of Western Australia. The study sponsor had a role in the design of the original survey but did not have any role in the design or interpretation of the data analysis reported here, or in the writing of this paper, or the decision to submit this paper for publication.
Ethics declarations
Ethical standards
The authors confirm that this study was approved by the appropriate institutional human research ethics committees at each of the study sites, and have therefore been performed in accordance with the ethical standards laid down in the 1964 Declaration of Helsinki and its later amendments. All participants provided written, informed consent prior to participation.
Conflict of interest
V. Morgan, F. Morgan, S. Shah, G. Valuri and A. Jablensky declare that they have no conflict of interest. C. Galletly has received speaker honoraria and conference support from Lundbeck, conference support from Servier and advisory panel fees from Janssen Cilag. She is/has been involved in clinical trials with Lundbeck, Forum Pharmaceuticals and Janssen Cilag.
Electronic supplementary material
Below is the link to the electronic supplementary material.
About this article
Cite this article
Morgan, V.A., Morgan, F., Galletly, C. et al. Sociodemographic, clinical and childhood correlates of adult violent victimisation in a large, national survey sample of people with psychotic disorders. Soc Psychiatry Psychiatr Epidemiol 51, 269–279 (2016). https://doi.org/10.1007/s00127-015-1155-6
Received:

Accepted:

Published:

Issue Date:
Keywords
Victimisation

Schizophrenia

Childhood abuse

Sex differences

Criminal offending