Abstract
Objectives
Social inequalities in mental disorders have been reported; the lower the social position, the higher the prevalence of mental disorders. However, these inequalities have not always been observed and results may vary according to the indicator of social position, mental health outcome and population studied. The objective of this study was to examine the association between social position (educational level) and two mental disorders (major depressive disorder—MDD and general anxiety disorder—GAD), measured using a structured diagnostic interview (MINI), and to evaluate the contribution of work status in the explanation of this association.
Methods
The study was based on a national representative sample of the French general population of 11,777 people including 8,072 workers. All analyses were done using weighted data. Bivariate Rao–Scott Chi-square tests were conducted, and multivariate analysis was performed using weighted logistic regression analysis with adjustment for age.
Results
The prevalences of MDD/GAD and of less educated people were lower in the working population than in the non-working population. Educational inequalities were observed for MDD and GAD in the general population. Non-working status contributed to explain these inequalities by 23–28 % for MDD and by 23–37 % for GAD when the less educated group was considered. Non-working status was strongly associated with both disorders.
Conclusion
These results may improve our knowledge on educational inequalities in mental health and help to understand the discrepancies in the literature. Effort to preserve jobs and facilitate the return to employment may help to reduce social inequalities in mental health.
This is a preview of subscription content, log in to check access.
Access options
Buy single article
Instant access to the full article PDF.
US$ 39.95
Price includes VAT for USA
Subscribe to journal
Immediate online access to all issues from 2019. Subscription will auto renew annually.
US$ 199
This is the net price. Taxes to be calculated in checkout.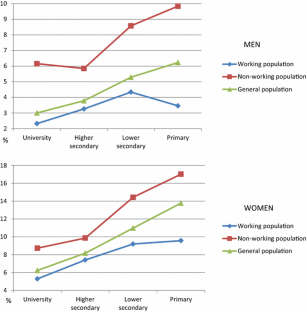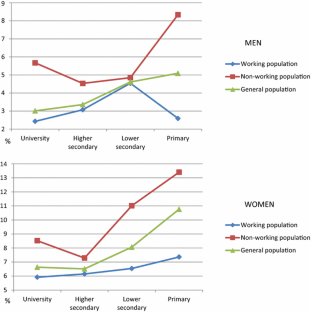 References
1.

Hoffman DL, Dukes EM, Wittchen HU (2008) Human and economic burden of generalized anxiety disorder. Depress Anxiety 25(1):72–90

2.

Ustun TB, Ayuso-Mateos JL, Chatterji S, Mathers C, Murray CJ (2004) Global burden of depressive disorders in the year 2000. Br J Psychiatry 184:386–392

3.

Dalstra JA, Kunst AE, Borrell C, Breeze E, Cambois E, Costa G et al (2005) Socioeconomic differences in the prevalence of common chronic diseases: an overview of eight European countries. Int J Epidemiol 34(2):316–326

4.

Huisman M, Kunst AE, Bopp M, Borgan JK, Borrell C, Costa G et al (2005) Educational inequalities in cause-specific mortality in middle-aged and older men and women in eight western European populations. Lancet 365(9458):493–500

5.

Fryers T, Melzer D, Jenkins R (2003) Social inequalities and the common mental disorders: a systematic review of the evidence. Soc Psychiatry Psychiatr Epidemiol 38(5):229–237

6.

Fryers T, Melzer D, Jenkins R, Brugha T (2005) The distribution of the common mental disorders: social inequalities in Europe. Clin Pract Epidemol Ment Health 1:14

7.

Lorant V, Deliege D, Eaton W, Robert A, Philippot P, Ansseau M (2003) Socioeconomic inequalities in depression: a meta-analysis. Am J Epidemiol 157(2):98–112

8.

Muntaner C, Eaton WW, Miech R, O'Campo P (2004) Socioeconomic position and major mental disorders. Epidemiol Rev 26:53–62

9.

Alonso J, Angermeyer MC, Bernert S, Bruffaerts R, Brugha TS, Bryson H et al (2004) Prevalence of mental disorders in Europe: results from the European Study of the Epidemiology of Mental Disorders (ESEMeD) project. Acta Psychiatr Scand Suppl 420:21–27

10.

Andersen I, Thielen K, Nygaard E, Diderichsen F (2009) Social inequality in the prevalence of depressive disorders. J Epidemiol Community Health 63(7):575–581

11.

Chazelle E, Lemogne C, Morgan K, Kelleher CC, Chastang JF, Niedhammer I (2011) Explanations of educational differences in major depression and generalised anxiety disorder in the Irish population. J Affect Disord 134(1–3):304–314

12.

Muntaner C, Eaton WW, Diala C, Kessler RC, Sorlie PD (1998) Social class, assets, organizational control and the prevalence of common groups of psychiatric disorders. Soc Sci Med 47(12):2043–2053

13.

Bijl RV, Ravelli A, van Zessen G (1998) Prevalence of psychiatric disorder in the general population: results of The Netherlands Mental Health Survey and Incidence Study (NEMESIS). Soc Psychiatry Psychiatr Epidemiol 33(12):587–595

14.

Pinto-Meza A, Moneta MV, Alonso J, Angermeyer MC, Bruffaerts R, de Almeida JMC et al (2013) Social inequalities in mental health: results from the EU contribution to the World Mental Health Surveys Initiative. Soc Psychiatry Psychiatr Epidemiol 48(2):173–181

15.

Skapinakis P, Weich S, Lewis G, Singleton N, Araya R (2006) Socio-economic position and common mental disorders. Longitudinal study in the general population in the UK. Br J Psychiatry 189:109–117

16.

Cohidon C, Imbernon E, Gorldberg M (2009) Prevalence of common mental disorders and their work consequences in France, according to occupational category. Am J Ind Med 52(2):141–152

17.

Virtanen M, Koskinen S, Kivimaki M, Honkonen T, Vahtera J, Ahola K et al (2008) Contribution of non-work and work-related risk factors to the association between income and mental disorders in a working population: the health 2000 study. Occup Environ Med 65(3):171–178

18.

Pulkki-Raback L, Ahola K, Elovainio M, Kivimaki M, Hintsanen M, Isometsa E et al (2012) Socio-economic position and mental disorders in a working-age Finnish population: the health 2000 study. Eur J Public Health 22(3):327–332

19.

Galobardes B, Shaw M, Lawlor DA, Lynch JW, Davey SG (2006) Indicators of socioeconomic position (part 1). J Epidemiol Community Health 60(1):7–12

20.

Coutrot T, Rouxel C, Bahu M, Herbet JB, Mermilliod C (2010) Parcours professionnel et état de santé. Premières Informations et Premières Synthèses 1:1–10

21.

Murcia M, Chastang JF, Niedhammer I (2013) Psychosocial work factors, major depressive and generalised anxiety disorders: results from the French national SIP study. J Affect Disord 146(3):319–327

22.

Malard L, Chastang J-F, Niedhammer I (2014) Changes in psychosocial work factors in the French working population between 2006 and 2010. Int Arch Occup Environ Health (in press)

23.

Niedhammer I, Chastang J-F (2014) Psychosocial work factors and first depressive episode: retrospective results from the French national SIP survey. Int Arch Occup Environ Health (in press)

24.

Sheehan DV, Lecrubier Y, Sheehan KH, Amorim P, Janavs J, Weiller E et al (1998) The Mini-International Neuropsychiatric Interview (M.I.N.I.): the development and validation of a structured diagnostic psychiatric interview for DSM-IV and ICD-10. J Clin Psychiatry 59(Suppl 20):22–33

25.

Schrijvers CT, van de Mheen HD, Stronks K, Mackenbach JP (1998) Socioeconomic inequalities in health in the working population: the contribution of working conditions. Int J Epidemiol 27(6):1011–1018

26.

Niedhammer I, Chastang JF, David S, Kelleher C (2008) The contribution of occupational factors to social inequalities in health: findings from the national French SUMER survey. Soc Sci Med 67(11):1870–1881

27.

Niedhammer I, Bourgkard E, Chau N (2011) Occupational and behavioural factors in the explanation of social inequalities in premature and total mortality: a 12.5-year follow-up in the Lorhandicap study. Eur J Epidemiol 26(1):1–12

28.

Lohr SL (2009) Sampling: Design and Analysis, Second Edition: Pacific Grove. Duxbury Press, CA

29.

van der Noordt M (2014) IJzelenberg H, Droomers M, Proper KI. Health effects of employment: a systematic review of prospective studies. Occup Environ Med 71(10):730–736

30.

Ezzi D (1993) Unemployment and mental health: a critical review. Soc Sci Med 37(1):41–52

31.

Berkman LF (2014) Commentary: The hidden and not so hidden benefits of work: identity, income and interaction. Int J Epidemiol 43(5):1517–1519

32.

Riumallo-Herl C, Basu S, Stuckler D, Courtin E, Avendano M (2014) Job loss, wealth and depression during the great recession in the USA and Europe. Int J Epidemiol 43(5):1508–1517

33.

Niedhammer I, Saurel-Cubizolles MJ, Piciotti M, Bonenfant S (2000) How is sex considered in recent epidemiological publications on occupational risks? Occup Environ Med 57(8):521–527
Acknowledgments
The authors thank the members of the DARES, DREES, CEE and INSEE, and all the people who participated to the SIP survey and made this study possible. This study was founded by the French Ministry of Labour (DARES, Grant No 2200727156).
Conflict of interest
On behalf of all authors, the corresponding author states that there is no conflict of interest.
About this article
Cite this article
Murcia, M., Chastang, J. & Niedhammer, I. Educational inequalities in major depressive and generalized anxiety disorders: results from the French national SIP study. Soc Psychiatry Psychiatr Epidemiol 50, 919–928 (2015). https://doi.org/10.1007/s00127-015-1010-9
Received:

Accepted:

Published:

Issue Date:
Keywords
Depression

Anxiety

Social position

Educational level

Social inequalities in mental health