Abstract
Purpose
This study investigated the post traumatic stress disorder (PTSD) and post traumatic growth (PTG) in 2,300 earthquake survivors 1 year after the 2008 Wenchuan earthquake. This study aimed to investigate the relationship between PTSD and PTG and also tested for the gender differences in PTSD and PTG subgroups.
Methods
A stratification random sampling strategy and questionnaires were used to collect the data. The PTSD was assessed using the PTSD Check list-Civilian and the PTG was assessed using the Post traumatic growth inventory. 2,300 individuals were involved in the initial survey with 2,080 completing the final questionnaire, a response rate of 90.4 %. One-way ANOVA analyses were performed to investigate the gender differences in the PTSD and PTG subgroups.
Results
One year following the earthquake, 40.1 and 51.1 % of survivors reported PTSD and PTG, respectively. A bivariate correlation analysis indicated that there was a positive association between PTG and PTSD. The PTG and PTSD variance analysis conducted on female and male subgroups suggested that women were more affected than men.
Conclusions
Given the relatively high PTG prevalence, it was concluded that researchers need to pay more attention to the positive outcomes of an earthquake rather than just focusing on the negative effects. The surveys and analyses indicated that psychological intervention and care for the earthquake disaster survivors should focus more on females and older people, who tend to be more adversely affected.
This is a preview of subscription content, log in to check access.
Access options
Buy single article
Instant access to the full article PDF.
US$ 39.95
Price includes VAT for USA
Subscribe to journal
Immediate online access to all issues from 2019. Subscription will auto renew annually.
US$ 199
This is the net price. Taxes to be calculated in checkout.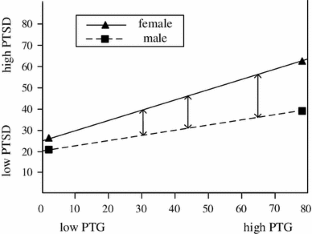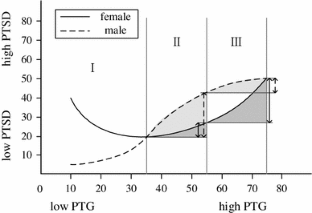 References
1.

Galea S, Nandi A, Vlahov D (2005) The epidemiology of post-traumatic stress disorder after disasters. Epidemiol Rev 27(1):78–91. doi:10.1093/epirev/mxi003

2.

Olff M, Langeland W, Draijer N, Berthold PRG (2007) Gender differences in posttraumatic stress disorder. Psychol Bull 133(2):183–204. doi:10.1037/0033-2909.133.2.183

3.

Bloom SL (2000) Our hearts and our hopes are turned to peace: origins of the International society for traumatic stress studies. In: Shalev AY, Yehuda R, McFarlane AC (eds) International handbook of human response to trauma. Kluwer Academic Publishers, Dordrecht, pp 27–50

4.

Lukaschek K, Kruse J, Emeny RT, Lacruz ME, Rothe AVE, Ladwig K (2013) Lifetime traumatic experiences and their impact on PTSD: a general population study. Soc Psych Psych Epid 48(4):525–532. doi:10.1007/S00127-012-0585-7

5.

Tedeschi RG, Calhoun LG (2004) Posttraumatic growth: conceptual foundations and empirical evidence. Psychol Inq 15(1):1–18. doi:10.1207/s15327965pli1501_01

6.

Tolin DF, Foa EB (2006) Sex differences in trauma and posttraumatic stress disorder: a quantitative review of 25 years of research. Psychol Bull 132(6):959–992. doi:10.1037/0033-2909.132.6.959

7.

Linley PA, Joseph S (2004) Positive change following trauma and adversity: a review. J Trauma Stress 17(1):11–21. doi:10.1023/B:JOTS.0000014671.27856.7e

8.

Tedeschi RG, Calhoun LG (1996) The posttraumatic growth inventory: measuring the positive legacy of trauma. J Trauma Stress 9(3):455–471. doi:10.1007/BF02103658

9.

Zoellner T, Maercker A (2006) Posttraumatic growth in clinical psychology-a critical review and introduction of a two component model. Clin Psychol Rev 26(5):626–653. doi:10.1016/j.cpr.2006.01.008

10.

Zwahlen D, Hagenbuch N, Carley MI, Jenewein J, Buchi S (2006) Posttraumatic growth in cancer patients and partners—effects of role, gender and the dyad on couples' posttraumatic growth experience. Psycho-oncology 19(1):12–20. doi:10.1002/pon.1486

11.

Chou FH, Su TT, Chou P, Ou-Yang WC, Lu MK, Chien IC (2005) Survey of psychiatric disorders in a Taiwan village population 6 months after a major earthquake. J Formos Med Assoc 104(5):308–317

12.

Yu X, Lau JTF, Zhang J, Mak WWS, Choi KC, Lui WWS, Zhang J, Chan EYY (2010) Posttraumatic growth and reduced suicidal ideation among adolescents an month 1 after the Sichuan Earthquake. J Affect Disord 123(1–3):327–331. doi:10.1016/j.jad.2009.09.019

13.

Frazier P, Conlon A, Glaser T (2001) Positive and negative life changes following sexual assault. J Consult Clin Psychol 69(6):1048–1055. doi:10.1037/0022-006X.69.6.1048

14.

Solomon Z, Dekel R (2007) Posttraumatic stress disorder and posttraumatic growth among Israeli ex-pows. J Trauma Stress 20(3):303–312. doi:10.1002/jts.20216

15.

Joseph S, Williams R, Yule W (1993) Changes in outlook following disaster: the preliminary development of a measure to assess positive and negative responses. J Trauma Stress 6(2):271–279

16.

Dekel S, Ein-Dor T, Solomon Z (2012) Posttraumatic growth and posttraumatic distress: a longitudinal study. Psychol Trauma Theory Res Pract Policy 4(1):94–101. doi:10.1037/a0021865

17.

Han SC, Chen XC, Yao L (2009) Prevalence and risk factors for post traumatic stress disorder: a cross-sectional study among survivors of the Wenchuan 2008 earthquake in China. Depress Anxiety 26(12):1134–1140. doi:10.1002/da.20612

18.

Kun P, Chen X, Han S, Gong X, Chen M, Zhang W, Yao L (2009) Prevalence of post-traumatic stress disorder in Sichuan Province, China after the 2008 Wenchuan earthquake. Public Health 123(11):703–707. doi:10.1016/j.puhe.2009.09.017

19.

Yang YK, Yeh TL, Chen CC, Lee CK, Lee IH, Lee LC, Jeffries KJ (2003) Psychiatric morbidity and posttraumatic symptoms among earthquake victims in primary care clinics. Gen Hosp Psychiat 25(4):253–261. doi:10.1016/S0163-8343(03)00022-7

20.

Cadell S, Regehr C, Hemsworth D (2003) Factors contributing to posttraumatic growth: a proposed structural equation model. Am J Orthopsychiatry 73(3):279–287. doi:10.1037/0002-9432.73.3.279

21.

Joseph S, Linley PA (2005) Positive change to threatening events: an organismic valuing theory of growth through adversity. Rev General Psychol 9(3):262–280. doi:10.1037/1089-2680.9.3.262

22.

Xu JP, Song XC (2011) Posttraumatic stress disorder among survivors of the Wenchuan earthquake 1 year after: prevalence and related risk factors. Compr Psychiat 52(4):431–437. doi:10.1016/j.comppsych.2010.08.002

23.

Xu JP, Liao Q (2011) Prevalence and predictors of posttraumatic growth among adult survivors 1 year following 2008 Sichuan earthquake. J Affect Disord 133(1–2):274–280. doi:10.1016/j.jad.2011.03.034

24.

Chang MD, Lee M, Connor MD, Davidson MD, Jeffries MHS, Lai MD (2003) Posttraumatic distress and coping strategies among rescue workers after an earthquake. J Nerv Ment Dis 191(6):391–398

25.

Hsu CC, Chong MY, Yang P, Yen CH (2002) Posttraumatic stress disorder among adolescent earthquake victims in Taiwan. J Am Acad Child Adolesc Psychiatry 41(7):875–881. doi:10.1097/00004583-200207000-00022

26.

Chen CH, Tan HKL, Liao LR, Chen HH, Chan CC, Cheng JJS, Chen CY, Wang TN, Lu ML (2007) Long-term psychological outcome of 1999 Taiwan earthquake survivors: a survey of a high-risk sample with property damage. Compr Psychiat 48(3):269–275. doi:10.1016/j.comppsych.2006.12.003

27.

Treynor W, Gonzalez R, Nolen-Hoeksema S (2003) Rumination reconsidered: a psychometric analysis. Cogn Ther Res 27(3):247–259. doi:10.1023/A:1023910315561

28.

Ozer EJ, Best SR, Lipsey TL, Weiss DS (2008) Predictors of posttraumatic stress disorder and symptoms in adults: a meta-analysis. Psychol Trauma Theory Res Pract Policy S(1):3–36. doi:10.1037/1942-9681.S.1.3

29.

Dell'osso L, Carmassi C, Massimetti G, Daneluzzo E, Tommaso SD, Rossi A (2011) Full and partial PTSD among young adult survivors 10 months after the L'Aquila 2009 earthquake: gender differences. J Affect Disord 131(1–3):79–83. doi:10.1016/j.jad.2010.11.023

30.

Wu HC, Chou P, Chou FHC, Su CY, Tsai KY, Ou-Yang WC, Su TTP, Chao SS, Sun WJ, Chen MC (2006) Survey of quality of life and related risk factors for a Taiwanese village population 3 years post-earthquake. Aust NZ J Psychiat 40(4):355–361. doi:10.1111/j.1440-1614.2006.01802.x

31.

Vishnevsky T, Cann A, Calhoun LG, Tedeschi RG, Demakis G (2010) Gender differences in self-reported posttraumatic growth: a meta-analysis. Psychol Women Q 34(1):110–120. doi:10.1111/j.1471-6402.2009.01546.x

32.

Calhoun LG, Cann A, Tedeschi RG, McMillan J (2000) A correlational test of the relationship between posttraumatic growth, religion, and cognitive processing. J Trauma Stress 13(3):521–527. doi:10.1023/A:1007745627077

33.

Shalev AY, Freedman S (2005) PTSD following terrorist attacks: a prospective evaluation. Am J Psychiat 162(6):1188–1191

34.

Dekel S, Mandl C, Solomon Z (2011) Shared and predictors of posttraumatic growth and distress. J Clin Psychol 67(3):241–252. doi:10.1002/jclp.20747
Acknowledgments
The research is supported by the Major Program of National Social Science Foundation of China (Grant No. 12 & ZD217), Sichuan Provincial Social Science Foundation of China (Grant No. SC13ZD06) and the research funding of Sichuan University (Grant No. SKG2013001). We appreciated these support both in finance and in spirit.
About this article
Cite this article
Jin, Y., Xu, J. & Liu, D. The relationship between post traumatic stress disorder and post traumatic growth: gender differences in PTG and PTSD subgroups. Soc Psychiatry Psychiatr Epidemiol 49, 1903–1910 (2014). https://doi.org/10.1007/s00127-014-0865-5
Received:

Accepted:

Published:

Issue Date:
Keywords
Post traumatic stress disorder

Post traumatic growth

Earthquake

PCL-C

PTGI