Abstract
Purpose
To analyze the effects of genetic and environmental factors on sense of coherence (SOC) in young adulthood and whether family environment measured in childhood modifies these effects.
Methods
SOC was measured at 20–27 years of age in 3,193 Finnish twins using the Antonovsky's 13-item short scale. The twins and their parents had rated their emotional family environment independently when the twins were 12 years of age. The data were analyzed using applications of structural linear equation modeling to twin data.
Results
Females rated SOC 2.42 points lower than males. Additive genetic factors explained 39 % of the variation of SOC in males and 49 % in females, whereas the rest of the variation was explained by environmental factors unique to each twin individual. For the dimensions of SOC, the highest genetic correlation was found between comprehensibility and manageability (0.90 in males and 0.97 in females). SOC was strongest in the participants who had reported supportive family atmosphere and low relational tensions to parents in childhood. These participants also had higher genetic variance and lower unique environmental variance of SOC when compared to those who reported emotionally more stressful family environment. The results were similar when we used parental rating of family environment.
Conclusion
Genetic factors are important for SOC, but genetic influences are much greater in supportive family environments. This emphasizes the importance of childhood home for the development of strong SOC.
This is a preview of subscription content, log in to check access.
Access options
Buy single article
Instant access to the full article PDF.
US$ 39.95
Price includes VAT for USA
Subscribe to journal
Immediate online access to all issues from 2019. Subscription will auto renew annually.
US$ 199
This is the net price. Taxes to be calculated in checkout.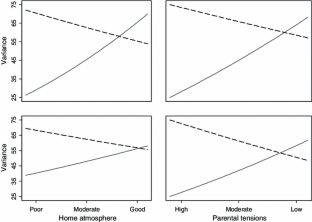 References
1.

Antonovsky A (1979) Health, stress and coping. Jossey-Bass, San Francisco

2.

Antonovsky A (1987) Unraveling the mystery of health. How people manage stress and stay well. Jossey-Bass, San Francisco

3.

Suominen S, Helenius H, Blomberg H, Uutela A, Koskenvuo M (2001) Sense of coherence as a predictor of subjective state of health: results of 4 years of follow-up of adults. J Psychosom Res 50:77–86

4.

Kouvonen AM, Väänänen A, Vahtera J, Heponiemi T, Koskinen A, Cox SJ et al (2010) Sense of coherence and psychiatric morbidity: a 19-year register-based prospective study. J Epidemiol Community Health 64:255–261

5.

Surtees P, Wainwright N, Luben R, Khaw KT, Day N (2003) Sense of coherence and mortality in men and women in the EPIC-Norfolk United Kingdom prospective cohort study. Am J Epidemiol 158:1202–1209

6.

Feldt T, Lintula H, Suominen S, Koskenvuo M, Vahtera J, Kivimäki M (2007) Structural validity and temporal stability of the 13-item sense of coherence scale: prospective evidence from the population-based HeSSup study. Qual Life Res 16:483–493

7.

Hakanen JJ, Feldt T, Leskinen E (2007) Change and stability of sense of coherence in adulthood: longitudinal evidence from the Health Child Study. J Res Personal 41:602–617

8.

Bouchard TJ Jr, McGue M (2003) Genetic and environmental influences on human psychological differences. J Neurobiol 54:4–45

9.

Hansson K, Cederblad M, Lichtenstein P, Reiss D, Pedersen N, Belderhiser J et al (2008) Individual resiliency factors from a genetic perspective: results from a twin study. Fam Proc 47:537–551

10.

Boomsma DI, de Geus EJ, van Baal GC, Koopmans JR (1999) A religious upbringing reduces the influence of genetic factors on disinhibition: evidence for interaction between genotype and environment on personality. Twin Res 2:115–125

11.

Distel MA, Middeldorp CM, Trull TJ, Derom CA, Willemsen G, Boomsma DI (2011) Life events and borderline personality features: the influence of gene–environment interaction and gene–environment correlation. Psychol Med 41:849–860

12.

Robbers S, van Oort F, Huizink A, Verhulst F, van Beijsterveldt C, Boomsma D et al (2012) Childhood problem behavior and parental divorce: evidence for gene–environment interactions. Soc Psychiatry Psychiatr Epidemiol 47:1539–1548

13.

Dick DM, Viken R, Purcell S, Kaprio J, Pulkkinen L, Rose RJ (2007) Parental monitoring moderates the importance of genetic and environmental influences on adolescent smoking. J Abnorm Psychol 116:213–218

14.

Lukaschek K, Kruse J, Emeny RT, Lacruz ME, von EisenhartRothe A, Ladwig KH (2013) Lifetime traumatic experiences and their impact on PTSD: a general population study. Soc Psychiatry Psychiatr Epidemiol 48:525–532

15.

Morgan Z, Brugha T, Fryers T, Stewart-Brown S (2012) The effects of parent–child relationships on later life mental health status in two national birth cohort. Soc Psychiatry Psychiatr Epidemiol 47:1707–1715

16.

DaveySmith G (2011) Epidemiology, epigenetics and the 'Gloomy Prospect': embracing randomness in population health research and practice. Int J Epidemiol 40:537–562

17.

Purcell S (2002) Variance components models for gene–environment interaction in twin analysis. Twin Res 5:554–571

18.

Kaprio J, Pulkkinen L, Rose RJ (2002) Genetic and environmental factors in health-related behaviors: studies on Finnish twins and twin families. Twin Res 5:366–371

19.

Jelenkovic A, Ortega-Alonso A, Rose RJ, Kaprio J, Rebato E, Silventoinen K (2011) Genetic and environmental influences on growth from late childhood to adulthood: a longitudinal study of two Finnish twin cohorts. Am J Hum Biol 23:764–773

20.

Latendresse SJ, Rose RJ, Viken RJ, Pulkkinen L, Kaprio J, Dick DM (2010) Examining the etiology of associations between perceived parenting and adolescents' alcohol use: common genetic and/or environmental liabilities? J Stud Alcohol Drugs 71:313–325

21.

Posthuma D, Beem AL, de Geus EJ, van Baal GC, von Hjelmborg JB, Iachine I et al (2003) Theory and practice in quantitative genetics. Twin Res 6:361–376

22.

Neale MC, Cardon LR (2003) Methodology for genetic studies of twins and families. Kluver Academic Publisher, Dordrecht

23.

Neale MC (2003) Mx: statistical modeling: Box 710 MCV, Richmond, VA 23298. Department of Psychiatry

24.

Williams R (2000) A note on robust variance estimation for cluster-correlated data. Biometrics 56:645–646

25.

Keltikangas-Järvinen L, Salo J (2009) Dopamine and serotonin systems modify environmental effects on human behavior: a review. Scand J Psychol 50:574–582

26.

Frustaci A, Pozzi G, Gianfagna F, Manzoli L, Boccia S (2008) Meta-analysis of the brain-derived neurotrophic factor gene (BDNF) Val66Met polymorphism in anxiety disorders and anxiety-related personality traits. Neuropsychobiology 58:163–170

27.

Calati R, Porcelli S, Giegling I, Hartmann AM, Moller HJ, De Ronchi D et al (2011) Catechol-o-methyltransferase gene modulation on suicidal behavior and personality traits: review, meta-analysis and association study. J Psychiatr Res 45:309–321

28.

Davies G, Tenesa A, Payton A, Yang J, Harris SE, Liewald D, et al (2011) Genome-wide association studies establish that human intelligence is highly heritable and polygenic. Mol Psychiatry 16:996–1005

29.

Honkinen PL, Suominen S, Rautava P, Hakanen J, Kalimo R (2006) The adult sense of coherence scale is applicable to 12-year-old schoolchildren–an additional tool in health promotion. Acta Paediatr 95:952–955

30.

Caspi A, Sugden K, Moffitt TE, Taylor A, Craig IW, Harrington H et al (2003) Influence of life stress on depression: moderation by a polymorphism in the 5-HTT gene. Science 301:386–389

31.

Risch N, Herrell R, Lehner T, Liang KY, Eaves L, Hoh J et al (2009) Interaction between the serotonin transporter gene (5-HTTLPR), stressful life events, and risk of depression: a meta-analysis. JAMA 301:2462–2471

32.

Volanen SM, Lahelma E, Silventoinen K, Suominen S (2004) Factors contributing to sense of coherence among men and women. Eur J Public Health 14:322–330

33.

Lundberg O (1997) Childhood conditions, sense of coherence, social class and adult ill health: exploring their theoretical and empirical relations. Soc Sci Med 44:821–831

34.

Feldt T, Kokko K, Kinnunen U, Pulkkinen L (2005) The role of family background, school success, and career orientation in the development of sense of coherence. Europ Psychologist 10:298–308

35.

Volanen SM, Suominen S, Lahelma E, Koskenvuo M, Silventoinen K (2006) Sense of coherence and its determinants: a comparative study of the Finnish-speaking majority and the Swedish-speaking minority in Finland. Scand J Public Health 34:515–525

36.

Anson O, Paran E, Neumann L, Chernichovsky D (1993) Gender differences in health perceptions and their predictors. Soc Sci Med 36:419–427

37.

Larsson G, Kallenberg K (1996) Sense of coherence, socio-economic conditions and health. Eur J Public Health 6:175–180
Acknowledgments
Data collection and analysis have been supported by National Institute of Alcohol Abuse and Alcoholism (Grants AA-12502, AA-00145, and AA-09203 to RJR), the Academy of Finland (Grants 100499, 205585, 118555, 141054 and 264146 to JK and 266592 for KS) and the Academy of Finland Center of Excellence in Complex Disease Genetics (Grant Numbers: 213506, 129680).
Conflict of interest
None to declare.
About this article
Cite this article
Silventoinen, K., Volanen, S., Vuoksimaa, E. et al. A supportive family environment in childhood enhances the level and heritability of sense of coherence in early adulthood. Soc Psychiatry Psychiatr Epidemiol 49, 1951–1960 (2014). https://doi.org/10.1007/s00127-014-0851-y
Received:

Accepted:

Published:

Issue Date:
Keywords
Childhood environment

Gene–environment interactions

Genetic factors

Sense of coherence