Abstract
Purpose
This realist review seeks to elucidate the modifiable causal pathways through which neighborhoods affect depressive symptoms in adult populations.
Methods
Studies were identified using Medline, PubMed, PsycInfo, Geobase, and Web of Science databases, and chosen using reproducible selection criteria and systematic critical appraisal.
Results
A total of 14 longitudinal studies, published between 2003 and 2011, were included. Eleven of the articles observed a significant relationship between depression and at least one of the following neighborhood-level variables: neighborhood deprivation, disorder, instability, and social ties. Proposed modifiable pathways linking neighborhood characteristics and depression include: (1) the level of neighborhood-based stress that is placed on individuals, (2) the formation and strength of protective and supportive social networks, (3) the level of resiliency to negative affectivity and stress, (4) the perceptions of the esthetic and form of residential space, and (5) the sense of control and agency in place of residence. These pathways represent potential areas for future research and intervention.
Conclusions
Further research requires a more systematic use of longitudinal design and a diversity of physical and social environmental measures. Interventions aimed at improving affective resiliency need to be tested.
This is a preview of subscription content, log in to check access.
Access options
Buy single article
Instant access to the full article PDF.
US$ 39.95
Price includes VAT for USA
Subscribe to journal
Immediate online access to all issues from 2019. Subscription will auto renew annually.
US$ 199
This is the net price. Taxes to be calculated in checkout.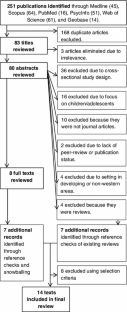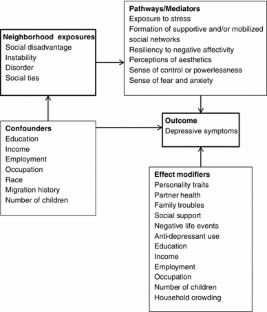 References
1.

WHO (2008) The global burden of disease. 2004 update. World Health Organization, Geneva

2.

Bisschop MI, Kriegsman D, Deeg D, Beekman A, van Tilburg W (2004) The longitudinal relation between chronic diseases and depression in older persons in the community: the Longitudinal Aging Study of Amsterdam. J Clin Epidemiol 57(2):187–194

3.

Patten SB (2005) An analysis of data from two general health surveys found that increased incidence and duration contributed to elevated prevalence of major depression in persons with chronic medical conditions. J Clin Epidemiol 58(2):184–189

4.

Han B (2002) Depressive symptoms and self-rated health in community-dwelling older adults: a longitudinal study. J Am Geriatr Soc 50(9):1549–1556

5.

Hessler RC (2006) Prevalence and effects of mood disorders on work performance in a nationally representative sample of US workers. Am J Psychiatry 163(9):1561–1568

6.

Riso LP, Miyatake RK, Thase ME (2002) The search for determinants of chronic depression: a review of six factors. J Affect Disord 70:103–115

7.

Demakakos P, Marmot M, Steptoe A (2012) Socioeconomic position and the incidence of type 2 diabetes: the ELSA study. Eur J Epidemiol 27:367–378

8.

Lorant V, Deliege D, Eaton W, Robert A, Philippot P, Ansseau M (2003) Socioeconomic inequalities in depression: a meta-analysis. Am J Epidemiol 157(2):98–112

9.

Diez Roux A, Mair C (2010) Neighborhoods and health. Ann N Y Acad Sci 1186:125–145

10.

Matheson FI, Moineddin R, Dunn JR, Creatore MI, Gozdyra P, Glazier RH (2006) Urban neighborhoods, chronic stress, gender and depression. Soc Sci Med 63:2064–2616

11.

Cutrona CE, Wallace G, Wesner KA (2006) Neighborhood characteristics and depression: an examination of stress processes. Curr Dir Psychol Sci 15(4):188–192

12.

Kim D (2008) Blues from the Neighborhood? Neighborhood characteristics and depression. Epidemiol Rev 30(1):101–117. doi:10.1093/epirev/mxn009

13.

Mair C, Diez Roux AV, Galea S (2008) Are neighbourhood characteristics associated with depressive symptoms? A review of evidence. J Epidemiol Community Health 62(11):940–946. doi:10.1136/jech.2007.066605

14.

Paczkowski MMaG, Sandro (2010) Sociodemographic characteristics of the neighborhood and depressive symptoms. Current Opinion in Psychiatry 23(4):337-341

15.

Pawson R, Greenhalgh T, Harvey G, Walshe K (2005) Realist review—a new method of systematic review designed for complex policy interventions. J Health Serv Res Policy 10(1):21–34

16.

Beahler CC, Sundheim JJ, Trapp NI (2000) Information retrieval in systematic reviews: challenges in the public health arena. Am J Prev Med 18(4S):6–10

17.

Pawson R (2002) Evidence-based policy: the promise of 'realist synthesis'. Evaluation 8(3):340–358. doi:10.1177/135638902401462448

18.

DeBono N (2012) Does the food stamp program cause obesity? A realist review and a call for place-based research. Health Place 18:747–756

19.

Heller RF, Verma A, Gemmell I, Harrison R, Hart J, Edwards R (2008) Critical appraisal for public health: a new checklist. Public Health 122:92–98

20.

Lofors J, Sundquist K (2007) Low-linking social capital as a predictor of mental disorders: a cohort study of 4.5 million Swedes. Soc Sci Med 64(1):21–34

21.

Stafford M, McMunn A, De Vogli R (2011) Neighbourhood social environment and depressive symptoms in mid-life and beyond. Ageing Soc 31(6):893–910. doi:10.1017/s0144686x10001236

22.

Weich S, Twigg L, Lewis G, Jones K (2005) Geographical variation in rates of common mental disorders in Britain: prospective cohort study. Br J Psychiatry 187:29–34

23.

Cutrona CE, Russell DW, Brown PA, Hessling RM, Clark LA, Gardner KA (2005) Neighborhood context, personality, and stressful life events as predictors of depression among African-American women. J Abnorm Psychol 114(1):3–15

24.

Santiago CD, Wadsworth ME, Stump J (2011) Socioeconomic status, neighborhood disadvantage, and poverty-related stress: prospective effects on psychological syndromes among diverse low-income families. J Econ Psychol 32(2):218–230

25.

Wight RG, Cummings JR, Karlamangla AS, Aneshensel CS (2009) Urban neighborhood context and change in depressive symptoms in late life. J Gerontol Ser B Psychol Sci Soc Sci 64(2):247–251

26.

Beard JR, Cerda M, Blaney S, Ahern J, Vlahov D, Galea S (2009) Neighborhood characteristics and change in depressive symptoms among older residents of New York City. Am J Public Health 99(7):1308–1314

27.

Glymour MM, Mujahid M, Wu Q, White K, Tchetgen EJ (2010) Neighborhood disadvantage and self-assessed health, disability, and depressive symptoms: longitudinal results from the health and retirement study. Ann Epidemiol 20(11):856–861

28.

Schootman M, Andresen EM, Wolinsky FD, Malmstrom TK, Miller JP, Miller DK (2007) Neighbourhood environment and the incidence of depressive symptoms among middle-aged African-Americans. J Epidemiol Community Health 61(6):527–532

29.

Buu A, Wang W, Wang J, Puttler LI, Fitzgerald HE, Zucker RA (2011) Changes in women's alcoholic, antisocial, and depressive symptomatology over 12 years: a multilevel network of individual, familial, and neighborhood influences. Dev Psychopathol 23(1):325–337

30.

Latkin CA, Curry AD (2003) Stressful neighborhoods and depression: a prospective study of the impact of neighborhood disorder. J Health Soc Behav 44(1):34–44

31.

Kim J (2010) Neighborhood disadvantage and mental health: the role of neighborhood disorder and social relationships. Soc Sci Res 39(2):260–271

32.

Truong KD, Ma S (2006) A systematic review of relations between neighborhoods and mental health. J Ment Health Policy Econ 9(3):137–154

33.

Coulton CJ, Korbin J, Chan T, Su M (2001) Mapping residents' perceptions of neighborhood boundaries: a methodological note. Am J Community Psychol 29(2):371–383

34.

Curry A, Latkin C, Davey-Rothwell M (2008) Pathways to depression: the impact of neighborhood violent crime on inner-city residents in Baltimore, Maryland, USA. Soc Sci Med 67(1):23–30

35.

Galea S, Ahern J, Nandi A, Tracy M, Beard J, Vlahov D (2007) Urban neighborhood poverty and the incidence of depression in a population-based cohort study. Ann Epidemiol 17(3):171–179

36.

Daly MC, Duncan GJ, Kaplan GA, Lynch JW (2001) Macro-to-micro links in the relation between income inequality and mortality. Milbank Q 76(3):315–340

37.

Ostir G, Eschbach K, Markides K, Goodwin J (2003) Neighbourhood composition and depressive symptoms among older Mexican Americans. J Epidemiol Community Health 57(12):987–992

38.

Gerst K, Miranda PY, Eschbach K, Sheffield KM, Peek M, Markides KS (2011) Protective neighborhoods: neighborhood proportion of Mexican Americans and depressive symptoms in very old Mexican Americans. J Am Geriatr Soc 59(2):353–358

39.

Lazarus RS (1996) Psychological stress and the coping process. McGraw-Hill, New York

40.

Tennant C (2002) Life events, stress and depression: a review of recent findings. Aust N Z J Psychiatry 36(2):173–182

41.

Hill TD, Ross CE, Angel RJ (2005) Neighborhood disorder, psychophysiological distress, and health. J Health Soc Behav 46(2):170–186

42.

Luthar SS, Cicchetti D, Becker B (2000) The construct of resilience: a critical evaluation and guidelines for future work. Child Dev 71(3):543–562

43.

Whitley R, McKenzie K (2005) Social capital and psychiatry: review of the literature. Harv Rev Psychiatry 13(2):71–84

44.

Asakura T (2011) Neighborhood environment quality, individual-level social capital, and depressive symptoms among adolescents. [Nihon kōshū eisei zasshi] Jpn J Public Health 58(9):754–767

45.

Olff M (1999) Stress, depression and immunity: the role of defense and coping styles. Psychiatry Res 85(1):7–15

46.

Kristensen TS (1995) The demand-control-support model: methodological challenges for future research. Stress Med 11(1):17–26. doi:10.1002/smi.2460110104

47.

Mirowsky J, Ross CE (1990) Control or defense? Depression and the sense of control over good and bad outcomes. J Health Soc Behav 31(1):175–196

48.

Mair C, Diez Roux AV, Osypuk TL, Rapp SR, Seeman T, Watson KE (2010) Is neighborhood racial/ethnic composition associated with depressive symptoms? The multi-ethnic study of atherosclerosis. Soc Sci Med 71(3):541–550

49.

Patten SB (2006) Descriptive epidemiology of major depression in Canada. Can J Psychiatry 51(2):84–90
Acknowledgments
Alexandra Blair receives funding through Dr. Norbert Schmitz's Canadian Institute for Health Research Operating Grant MOP 106514 (Neighborhood characteristics and depression SEC 117118), and through a Master's Award from the Fonds de la recherche en santé du Québec (FRSQ Dossier 28229).
Conflict of interest
On behalf of all authors, the corresponding author states that there is no conflict of interest.
About this article
Cite this article
Blair, A., Ross, N.A., Gariepy, G. et al. How do neighborhoods affect depression outcomes? A realist review and a call for the examination of causal pathways. Soc Psychiatry Psychiatr Epidemiol 49, 873–887 (2014). https://doi.org/10.1007/s00127-013-0810-z
Received:

Accepted:

Published:

Issue Date:
Keywords
Depression

Neighborhood

Review

Public health

Epidemiology