Abstract
Purpose
Depressive disorders are common among the very old, but insufficiently studied. The present study aims to identify risk factors for depressive disorders in very old age.
Methods
The present study is based on the GERDA project, a population-based cohort study of people aged ≥85 years (n = 567), with 5 years between baseline and follow-up. Factors associated with the development of depressive disorders according to DSM-IV criteria at follow-up were analysed by means of a multivariate logistic regression.
Results
At baseline, depressive disorders were present in 32.3 % of the participants. At follow-up, 69 % of those with baseline depressive disorders had died. Of the 49 survivors, 38 still had depressive disorders. Of the participants without depressive disorders at baseline, 25.5 % had developed depressive disorders at follow-up. Baseline factors independently associated with new cases of depressive disorders after 5 years were hypertension, a history of stroke and 15-item Geriatric Depression Scale score at baseline.
Conclusions
The present study supports the earlier findings that depressive disorders among the very old are common, chronic and malignant. Mild depressive symptoms as indicated by GDS-15 score and history of stroke or hypertension seem to be important risk factors for incident depressive disorders in very old age.
This is a preview of subscription content, log in to check access.
Access options
Buy single article
Instant access to the full article PDF.
US$ 39.95
Price includes VAT for USA
Subscribe to journal
Immediate online access to all issues from 2019. Subscription will auto renew annually.
US$ 199
This is the net price. Taxes to be calculated in checkout.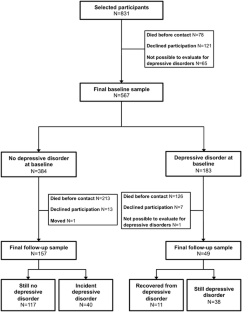 References
1.

World Health Organization (2008) The global burden of disease: 2004 update. World Health Organization, Switzerland

2.

Stek ML, Gussekloo J, Beekman AT, van Tilburg W, Westendorp RG (2004) Prevalence, correlates and recognition of depression in the oldest old: the Leiden 85-plus study. J Affect Disord 78:193–200. doi:10.1016/S0165-0327(02)00310-5

3.

Paivarinta A, Verkkoniemi A, Niinisto L, Kivela SL, Sulkava R (1999) The prevalence and associates of depressive disorders in the oldest-old Finns. Soc Psychiatry Psychiatr Epidemiol 34:352–359

4.

Meller I, Fichter MM, Schroppel H (1996) Incidence of depression in octo- and nonagenerians: results of an epidemiological follow-up community study. Eur Arch Psychiatry Clin Neurosci 246:93–99

5.

Stek ML, Vinkers DJ, Gussekloo J, van der Mast RC, Beekman AT, Westendorp RG (2006) Natural history of depression in the oldest old: population-based prospective study. Br J Psychiatry 188:65–69. doi:10.1192/bjp.188.1.65

6.

Blazer DG (2000) Psychiatry and the oldest old. Am J Psychiatry 157:1915–1924

7.

Van der Weele GM, Gussekloo J, De Waal MW, De Craen AJ, Van der Mast RC (2009) Co-occurrence of depression and anxiety in elderly subjects aged 90 years and its relationship with functional status, quality of life and mortality. Int J Geriatr Psychiatry 24:595–601. doi:10.1002/gps.2162

8.

Vinkers DJ, Stek ML, Gussekloo J, Van Der Mast RC, Westendorp RG (2004) Does depression in old age increase only cardiovascular mortality? The Leiden 85-plus Study. Int J Geriatr Psychiatry 19:852–857. doi:10.1002/gps.1169

9.

Vinkers DJ, Stek ML, van der Mast RC, de Craen AJ, Le Cessie S, Jolles J, Westendorp RG, Gussekloo J (2005) Generalized atherosclerosis, cognitive decline, and depressive symptoms in old age. Neurology 65:107–112. doi:10.1212/01.wnl.0000167544.54228.95

10.

van der Mast RC, Vinkers DJ, Stek ML, Bek MC, Westendorp RG, Gussekloo J, de Craen AJ (2008) Vascular disease and apathy in old age. The Leiden 85-plus Study. Int J Geriatr Psychiatry 23:266–271. doi:10.1002/gps.18729

11.

Rodda J, Walker Z, Carter J (2011) Depression in older adults. BMJ 343:d5219

12.

Skoog I (2011) Psychiatric disorders in the elderly. Can J Psychiatry 56:387–397

13.

Alexopoulos GS, Bruce ML, Silbersweig D, Kalayam B, Stern E (1999) Vascular depression: a new view of late-onset depression. Dialogues Clin Neurosci 1:68–80

14.

Fujikawa T, Yamawaki S, Touhouda Y (1993) Incidence of silent cerebral infarction in patients with major depression. Stroke 24(11):1631–1634

15.

Roose SP, Sackeim HA, Krishnan KR, Pollock BG, Alexopoulos G, Lavretsky H, Katz IR, Hakkarainen H (2004) Antidepressant pharmacotherapy in the treatment of depression in the very old: a randomized, placebo-controlled trial. Am J Psychiatry 161(11):2050–2059. doi:10.1176/appi.ajp.161.11.2050

16.

Gildengers AG, Houck PR, Mulsant BH, Pollock BG, Mazumdar S, Miller MD, Dew MA, Frank E, Kupfer DJ, Reynolds CF 3rd (2002) Course and rate of antidepressant response in the very old. J Affect Disord 69(1–3):177–184

17.

Magai C, Kennedy G, Cohen CI, Gomberg D (2000) A controlled clinical trial of sertraline in the treatment of depression in nursing home patients with late-stage Alzheimer's disease. Am J Geriatr Psychiatry 8(1):66–74

18.

Banerjee S, Hellier J, Dewey M, Romeo R, Ballard C, Baldwin R, Bentham P, Fox C, Holmes C, Katona C (2011) Sertraline or mirtazapine for depression in dementia (HTA-SADD): a randomised, multicentre, double-blind, placebo-controlled trial. Lancet 378(9789):403–411

19.

von Heideken Wagert P, Gustavsson JM, Lundin-Olsson L, Kallin K, Nygren B, Lundman B, Norberg A, Gustafson Y (2006) Health status in the oldest old. Age and sex differences in the Umea 85+ Study. Aging Clin Exp Res 18:116–126. doi:http://www.ncbi.nlm.nih.gov/pubmed/16702780

20.

Hornsten C, Molander L, Gustafson Y (2012) The prevalence of stroke and the association between stroke and depression among a very old population. Arch Gerontol Geriatr 55:555–559. doi:10.1016/j.archger.2012.04.012

21.

Sheikh JI (1986) Geriatric Depression Scale (GDS): recent evidence and development of a shorter version. Clin Gerontol 5:165

22.

Conradsson M, Rosendahl E, Littbrand H, Gustafson Y, Olofsson B, Lovheim H (2013) Usefulness of the Geriatric Depression Scale 15-item version among very old people with and without cognitive impairment. Aging Ment Health. doi:10.1080/13607863.2012.758231

23.

Montgomery SA, Asberg M (1979) A new depression scale designed to be sensitive to change. Br J Psychiatry 134:382–389

24.

Jensen E, Dehlin O, Gustafson L (1993) A comparison between three psychogeriatric rating scales. Int J Geriatr Psychiatry 8:215–229. doi:10.1002/gps.930080305

25.

Lawton MP (1975) The Philadelphia Geriatric Center Morale Scale: a revision. J Gerontol 30:85–89

26.

American Psychiatric Association (1994) Diagnostic and statistical manual of mental disorders, 4th edn. American Psychiatric Association, Washington DC

27.

Mahoney FI, Barthel DW (1965) Functional evaluation: the Barthel index. Md State Med J 14:61–65

28.

Guigoz Y, Vellas B, Garry JP (1994) Mini nutritional assessment: a practical assessment tool for grading the nutritional state of elderly patients. Fact Res Gerontol 4:15–59

29.

Folstein MF, Folstein SE, McHugh PR (1975) "Mini-mental state". A practical method for grading the cognitive state of patients for the clinician. J Psychiatr Res 12:189–198 (pii 0022-3956(75)90026-6)

30.

Ware JE Jr, Sherbourne CD (1992) The MOS 36-item short-form health survey (SF-36). I. Conceptual framework and item selection. Med Care 30:473–483

31.

Harris T, Cook DG, Victor C, DeWilde S, Beighton C (2006) Onset and persistence of depression in older people—results from a 2-year community follow-up study. Age Ageing 35:25–32. doi:10.1093/ageing/afi216

32.

Turvey CL, Carney C, Arndt S, Wallace RB, Herzog R (1999) Conjugal loss and syndromal depression in a sample of elders aged 70 years or older. Am J Psychiatry 156:1596–1601

33.

Stegmayr B, Asplund K (2003) Stroke in Northern Sweden. Scand J Public Health Suppl 61:60–69. doi:10.1080/14034950310001379

34.

Cole MG, Bellavance F, Mansour A (1999) Prognosis of depression in elderly community and primary care populations: a systematic review and meta-analysis. Am J Psychiatry 156:1182–1189

35.

Cole MG, Dendukuri N (2003) Risk factors for depression among elderly community subjects: a systematic review and meta-analysis. Am J Psychiatry 160:1147–1156

36.

Wilson K, Mottram P, Sixsmith A (2007) Depressive symptoms in the very old living alone: prevalence, incidence and risk factors. Int J Geriatr Psychiatry 22(4):361–366. doi:10.1002/gps.1682

37.

Horwath E, Johnson J, Klerman GL, Weissman MM (1992) Depressive symptoms as relative and attributable risk factors for first-onset major depression. Arch Gen Psychiatry 49:817–823

38.

de Craen AJ, Heeren TJ, Gussekloo J (2003) Accuracy of the 15-item geriatric depression scale (GDS-15) in a community sample of the oldest old. Int J Geriatr Psychiatry 18:63–66. doi:10.1002/gps.773

39.

Krishnan KR, McDonald WM, Doraiswamy PM, Tupler LA, Husain M, Boyko OB, Figiel GS, Ellinwood EH Jr (1993) Neuroanatomical substrates of depression in the elderly. Eur Arch Psychiatry Clin Neurosci 243:41–46

40.

Siennicki-Lantz A, Andre-Petersson L, Elmstahl S (2013) Decreasing blood pressure over time is the strongest predictor of depressive symptoms in octogenarian men. Am J Geriatr Psychiatry. doi:10.1016/j.jagp.2012.11.007

41.

Petersen RC (2004) Mild cognitive impairment as a diagnostic entity. J Intern Med 256:183–194. doi:10.1111/j.1365-2796.2004.01388.x

42.

Bergdahl E, Gustavsson JM, Kallin K, von Heideken Wagert P, Lundman B, Bucht G, Gustafson Y (2005) Depression among the oldest old: the Umea 85 + study. Int Psychogeriatr 17:557–575. doi:10.1017/S104161020500226710.1017/S1041610205002267
Conflict of interest
The authors declare that they have no conflicts of interest.
About this article
Cite this article
Petersson, S., Mathillas, J., Wallin, K. et al. Risk factors for depressive disorders in very old age: a population-based cohort study with a 5-year follow-up. Soc Psychiatry Psychiatr Epidemiol 49, 831–839 (2014). https://doi.org/10.1007/s00127-013-0771-2
Received:

Accepted:

Published:

Issue Date:
Keywords
Depression

Depressive disorder

Very old

Risk factors

GDS-15

Stroke

Hypertension