Abstract
Purpose
Previous research has shown considerable differences in how often coercive measures are used in mental health care between groups of patients, institutions and geographical areas. Staff attitudes towards the use of coercion have been put forward as a factor that may influence these differences.
Method
This study investigates the attitudes to coercion in 651 staff members within 33 Norwegian acute psychiatric wards. The newly developed Staff Attitude to Coercion Scale was used to measure staff attitudes.
Results
Multilevel analysis showed that there was significant variance among wards, estimated to be about 8–11% of the total variance on three scales.
Conclusions
Despite substantial differences in attitudes among wards, most of the variance could be attributed to individual staff level factors. Hence, it is likely that staff attitudes are influenced, to a large extent, by each individual staff member's personality and values.
This is a preview of subscription content, log in to check access.
Access options
Buy single article
Instant access to the full article PDF.
US$ 39.95
Price includes VAT for USA
Subscribe to journal
Immediate online access to all issues from 2019. Subscription will auto renew annually.
US$ 199
This is the net price. Taxes to be calculated in checkout.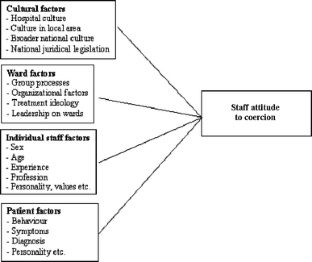 References
1.

Hoyer G (2008) Involuntary hospitalization in contemporary mental health care. Some (still) unanswered questions. J Mental Health 17(3):281–292

2.

Kallert TW (2008) Coercion in psychiatry. Curr Opin Psychiatry 21(5):485–489

3.

Salize HJ, Dressing H (2004) Epidemiology of involuntary placement of mentally ill people across the European Union. Br J Psychiatry 184:163–168

4.

Bowers L, van der Werf B, Vokkolainen A, Muir-Cochrane E, Allan T, Alexander J (2007) International variation in containment measures for disturbed psychiatric inpatients: a comparative questionnaire survey. Int J Nurs Stud 44(3):357–364

5.

Korkeila JA, Tuohimaki C, Kaltiala-Heino R, Lehtinen V, Joukamaa M (2002) Predicting use of coercive measures in Finland. Nord J Psychiatry 56(5):339–345

6.

Okin RL (1985) Variation among state hospitals in use of seclusion and restraint. Hosp Community Psychiatry 36(6):648–652

7.

Carpenter MD, Hannon VR, McCleery G, Wanderling JA (1988) Variations in seclusion and restraint practices by hospital location. Hosp Community Psychiatry 39(4):418–423

8.

Hoyer G, Kjellin L, Engberg M, Kaltiala-Heino R, Nilstun T, Sigurjonsdottir M et al (2002) Paternalism and autonomy: a presentation of a Nordic study on the use of coercion in the mental health care system. Int J Law Psychiatry 25(2):93–108

9.

Kallert TW, Glockner M, Onchev G, Raboch J, Karastergiou A, Solomon Z et al (2005) The EUNOMIA project on coercion in psychiatry: study design and preliminary data. World Psychiatry 4(3):168–172

10.

Parker C (2007) Developing mental health policy: a human rights perspective. In: Knapp M, McDavid D, Mossialos E, Thornicroft G (eds) Mental Health Policy and Practice across Europe: the future direction of mental health care. Open University Press, PA, pp 308–335

11.

WHO (2005) WHO resource book on mental health, human rights and legislation. Stop exclusion, dare to care. WHO Library cataloguing in publication data. World Health Organization, Geneva

12.

Kjellin L, Ostman O, Ostman M (2008) Compulsory psychiatric care in Sweden—development 1979–2002 and area variation. Int J Law Psychiatry 31(1):51–59

13.

Steinert T, Lepping P, Baranyai R, Hoffmann M, Leherr H (2005) Compulsory admission and treatment in schizophrenia: a study of ethical attitudes in four European countries. Soc Psychiatry Psychiatr Epidemiol 40(8):635–641

14.

Olofsson B, Norberg A (2001) Experiences of coercion in psychiatric care as narrated by patients, nurses and physicians. J Adv Nurs 33(1):89–97

15.

Martin V, Kuster W, Baur M, Bohnet U, Hermelink G, Knopp M et al (2007) Incidence of coercive measures as an indicator of quality in psychiatric hospitals Problems of data recording and processing, preliminary results of a benchmarking study. Psychiatr Prax 34(1):26–33

16.

Bindman J, Reid Y, Szmukler G, Tiller J, Thornicroft G, Leese M (2005) Perceived coercion at admission to psychiatric hospital and engagement with follow-up—a cohort study. Soc Psychiatry Psychiatr Epidemiol 40(2):160–166

17.

Hoyer G, Lidz CW, Engberg M, Kaltiala-Heino R, Kjellin L, Sigurjonsdottir M (2002) Measurements of perceived coercion; methodological problems. Eur Psychiatry 17:89S

18.

Iversen KI, Hoyer G, Sexton H, Gronli OK (2002) Perceived coercion among patients admitted to acute wards in Norway. Nord J Psychiatry 56(6):433–439

19.

Alem A, Jacobsson L, Lynoe N, Kohn R, Kullgren G (2002) Attitudes and practices among Ethiopian health care professionals in psychiatry regarding compulsory treatment. Int J Law Psychiatry 25(6):599–610

20.

Bowers L, Alexander J, Simpson A, Ryan C, Carr-Walker P (2004) Cultures of psychiatry and the professional socialization process: the case of containment methods for disturbed patients. Nurse Educ Today 24(6):435–442

21.

Brooks RA (2006) US Psychiatrists' beliefs and wants about involuntary civil commitment grounds. Int J Law Psychiatry 29(1):13–21

22.

Klinge V (1994) Staff opinions about seclusion and restraint at a state forensic hospital. Hosp Community Psychiatr 45(2):138–141

23.

Kullgren G, Jacobsson L, Lynoe N, Kohn R (1996) Practices and attitudes among Swedish psychiatrists regarding the ethics of compulsory treatment. Acta Psychiatr Scand 93(5):389–396

24.

Lepping P, Steinert T, Gebhardt RP, Rottgers HR (2004) Attitudes of mental health professionals and lay-people towards involuntary admission and treatment in England and Germany—a questionnaire analysis. Eur Psychiatry 19(2):91–95

25.

Wynn R (2004) Restraint and seclusion in a Norwegian university psychiatric hospital. University in Tromsø, Tromsø

26.

Bohner G, Wänke M (2002) Attitudes an attitude change. Psychology Press, UK

27.

Bråten S (1973) Model monopoly and communication: systems theoretical notes on democratization. Acta Sociol 16(2):98–107

28.

Leyland A, Goldsted H (2001) Multilevel modelling of health statistics. Wiley, Chichester

29.

Wynn R (2003) Staff's attitudes to the use of restraint and seclusion in a Norwegian university psychiatric hospital. Nord J Psychiatry 57(6):453–459

30.

Klimitz H, Uhlemann H, Fahndrich E (1998) Do we use restraints too often? Indication, frequency and conditions of restraints on a general psychiatric unit. Psychiatr Prax 25(5):235–239

31.

Wing JK, Beevor AS, Curtis RH, Park SB, Hadden S, Burns A (1998) Health of the Nation Outcome Scales (HoNOS). Research and development. Br J Psychiatry 172:11–18

32.

Husum TL, Finset A, Ruud T (2008) The Staff Attitude to Coercion Scale (SACS): reliability, validity and feasibility. Int J Law Psychiatry 31(5):417–422

33.

Hox J (2002) Multilevel analysis: techniques and applications. Laurence Erlbaum Associates Inc. Publishers, NJ

34.

Bowers L, Nijman H, Simpson A, Jones J (2010) The relationship between leadership, teamworking, structure, burnout and attitude to patients on acute psychiatric wards. Soc Psychiatry Psychiatr Epidemiol

35.

Falkum E, Forde R (2001) Paternalism, patient autonomy, and moral deliberation in the physician–patient relationship. Attitudes among Norwegian physicians. Soc Sci Med 52(2):239–248
About this article
Cite this article
Husum, T.L., Bjørngaard, J.H., Finset, A. et al. Staff attitudes and thoughts about the use of coercion in acute psychiatric wards. Soc Psychiatry Psychiatr Epidemiol 46, 893–901 (2011). https://doi.org/10.1007/s00127-010-0259-2
Received:

Accepted:

Published:

Issue Date:
Keywords
Staff attitudes

Coercion

Acute psychiatric wards

Multilevel analysis