Abstract
Purpose
This study examines trends in self-reported suicide attempts by Greek adolescents.
Methods
Data were obtained from five nationwide school probability surveys, each of approximately 8,000–10,000 adolescents aged 14–18 years, carried out from 1984 to 2007. Students answered an anonymous questionnaire in their classrooms supervised by research assistants. Logistic regression analysis used as dependent variable any self-reported suicide attempts and as independent variables basic sociodemographic information and the year of the survey.
Results
Self-reported suicide attempts doubled in prevalence from 7.0% in 1984 to 13.4% in 2007. Female gender (odds ratio OR 2.49, 95% confidence interval CI 2.30–2.71), living in a single parent family (OR 1.91, CI 1.73–2.11), lower paternal education (OR 1.20, CI 1.10–1.31) and living in a major city (OR 1.17, CI 1.08–1.27 for Greater Athens and OR 1.13, CI 1.00–1.28 for Thessaloniki) were significantly associated with suicide attempts. A larger increase among males, from 2.4 to 8.4%, compared to females (11.5 to 17.9%) contributed to a decrease in gender differences.
Conclusions
Changes in Greek society during the last 30 years, including loosening of family ties, increased drug use and stress because of the demands of school work, are hypothesised to have had an impact on the increasing trend in suicide attempts among adolescents.
This is a preview of subscription content, log in to check access.
Access options
Buy single article
Instant access to the full article PDF.
US$ 39.95
Price includes VAT for USA
Subscribe to journal
Immediate online access to all issues from 2019. Subscription will auto renew annually.
US$ 199
This is the net price. Taxes to be calculated in checkout.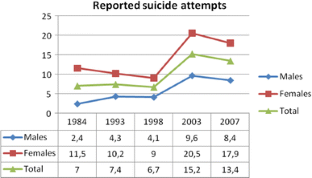 References
1.

Centers for Disease Control (2007) Suicide trends among youths and young adults aged 10–24 years—United States, 1990–2004. MMWR 56:905–908

2.

WHO (2004) Suicide prevention. WHO European ministerial conference on mental health. Briefing. World Health Organization, Regional Office for Europe. Available at http://www.euro.who.int/document/MNH/ebrief07.pdf. Accessed 8 January 2010

3.

Carlson GA, Abbott SF (1995) Mood disorders and suicide. In: Caplan HI, Sadock BJ (eds) Comprehensive textbook of psychiatry, vol 2, 6th edn. Williams & Wilkins, Baltimore, pp 2367–2391

4.

Centers for Disease Control (1995) Fatal and non-fatal suicide attempts among adolescents—Oregon, 1988–1993. MMWR Morb Mortal Wkly Rep 44:312–315 (See also pp 321–323)

5.

YRBSS. Trends in the prevalence of suicide-related behaviors. National YRBS: 1991–2007. Available at http://www.cdc.gov/yrbss. Accessed 6 Oct 2009

6.

Hawton K, Hall S, Simkin S et al (2003) Deliberate self-harm in adolescents: a study of characteristics and trends in Oxford 1990–2000. J Child Psychol Psychiatry 44:1191–1198

7.

Zemaitiene N, Zaborskis A (2005) Suicidal tendencies and attitude towards freedom to choose suicide among Lithuanian schoolchildren: results from three cross-sectional studies in 1994, 1998 and 2002. BMC Public Health 5:83

8.

Waldrop AE, Hanson RF, Resnick HS, Kilpatrick DG, Naugle AE, Saunders BE (2007) Risk factors for suicidal behavior among a national sample of adolescents: implications for prevention. J Trauma Stress 20:869–879

9.

Wichstrøm L, Rossow I (2002) Explaining the gender difference in self-reported suicide attempts: a nationally representative study of Norwegian adolescents. Suicide Life Threat Behav 32:101–116

10.

Rey Gex C, Narring F, Ferron C, Michaud PA (1998) Suicide attempts among adolescents in Switzerland: prevalence, associated factors and comorbidity. Acta Psychiatr Scand 98:28–33

11.

Wang J, Deng X, Wang J, Wang X, Xu L (2009) Substance use, sexual behaviors, and suicidal ideation and attempts among adolescents: findings from the 2004 Guangzhou Youth Risk behavior survey. Public Health 123:116–121

12.

Culp AM, Clyman MM, Culp RE (1995) Adolescent depressed mood, reports of suicide attempts, and asking for help. Adolescence 30:827–837

13.

Garcia C, Skay C, Sieving R, Naughton S, Bearinger LH (2008) Family and racial factors associated with suicide and emotional distress among Latino students. J Sch Health 78:487–495

14.

Plener PL, Libal G, Keller F, Fegert JM, Muehlenkamp JJ (2009) An international comparison of adolescent non-suicidal self-injury (NSSI) and suicide attempts: Germany and the USA. Psychol Med 27:1–10

15.

Eskin M (1995) Suicidal behavior as related to social support and assertiveness among Swedish and Turkish high school students: a cross-cultural investigation. J Clin Psychol 51:158–172

16.

Zoroglu SS, Tuzun U, Sar V et al (2003) Suicide attempt and self-mutilation among Turkish high school students in relation with abuse, neglect and dissociation. Psychiatry Clin Neurosci 57:119–126

17.

Hall-Lande JA, Eisenberg ME, Christenson SL, Neumark-Sztainer D (2007) Social isolation, psychological health and protective factors in adolescence. Adolescence 42:265–286

18.

Windle RC, Windle M (1997) An investigation of adolescents' substance use behaviors, depressed affect and suicidal behaviors. J Child Psychol Psychiatry 38:921–929

19.

Evans E, Hawton K, Rodham K, Deeks J (2005) The prevalence of suicidal phenomena in adolescents: a systematic review of population-based studies. Suicide Life Threat Behav 35:239–250

20.

Scoliers G, Porztky G, Madge N et al (2009) Reasons for adolescent deliberate self-harm: a cry of pain and/or cry for help? Findings from the child and adolescent self-harm in Europe (CASE) study. Soc Psychiatry Psychiatr Epidemiol 44:601–607

21.

de Wilde EJ, Kienhorst CWM (1995) Suicide attempts in adolescence: "self report" and "other report". Crisis 16:59–62

22.

Moscicki EK (1989) Epidemiological surveys as tools for studying suicidal behavior: a review. Suicide Life Threat Behav 19:131–146

23.

Beratis S (1991) Suicide among adolescents in Greece. Br J Psychiatry 159:515–519

24.

Schmidtke A, Bille-Brahe U, Deleo D et al (1996) Attempted suicide in Europe: rates, trends and sociodemographic characteristics of suicide attempters during the period 1989–1992. Results of the WHO/EURO Multicentre study on parasuicide. Acta Psychiatr Scand 93:327–338

25.

Choquet M, Ledoux S (1994) Adolescents: Enquête nationale. La Documentation Francaise. INSERM, Paris

26.

Kann L, Kinchen SA, Williams BI et al (2000) Youth risk behavior surveillance—United States, 1999. MMWR CDC Surveill Summ 1(SS-5):1–96

27.

Molina JA, Duarte R (2006) Risk determinants of suicide attempts among adolescents. Am J Econ Soc 65:407–434

28.

Kokkevi A, Stefanis CN (1991) The epidemiology of licit and illicit substance use among high school students in Greece. Am J Public Health 81:48–52

29.

Kokkevi A, Terzidou M, Politikou K, Stefanis C (2000) Substance use among high school students in Greece: outburst of illicit drug use in a society under change. Drug Alcohol Depend 58:181–188

30.

Kokkevi A, Fotiou A, Arapaki A, Richardson C (2008) Prevalence, patterns, and correlates of tranquilizer and sedative use among European adolescents. J Adolesc Health 43:584–592

31.

Hibell BB, Andersson B, Bjarnason T et al (2004) The 2003 ESPAD report: alcohol and other drug use among students in 35 European countries. Swedish Council for Information on Alcohol and Other Drugs (CAN) and Council of Europe Pompidou Group, Stockholm

32.

Hibell B, Guttormsson U, Ahlstrom S et al (2009) The 2007 ESPAD report: substance use among students in 35 European countries. Swedish Council for Information on Alcohol and Other Drugs (CAN) and Council of Europe Pompidou Group, Stockholm

33.

Zacharakis CA, Madianos MG, Papadimitriou GN, Stefanis CN (1998) Suicide in Greece 1980–1995: patterns and social factors. Soc Psychiatry Psychiatr Epidemiol 33:471–476

34.

Poisoning Centre. Epidemiological data on poisoning. Poisoning Centre, "P. & A. Kyriakou" Children's Hospital, Athens, Greece (In Greek). Available at http://www.aglaiakyriakou.gr/poison_b.html. Accessed 6 Oct 2009

35.

Peter T, Roberts LW, Buzdugan R (2008) Suicidal ideation among Canadian youth: a multivariate analysis. Arch Suicide Res 12:263–275

36.

Hawton K, Rodham K, Evans E, Weatherall R (2002) Deliberate self harm in adolescents: self report survey in schools in England. Br Med J 325:1207–1211

37.

Omigbodun O, Dogra N, Esan O, Adedokun B (2008) Prevalence and correlates of suicidal behaviour among adolescents in southwest Nigeria. Int J Soc Psychiatry 54:34–46

38.

Haavisto A, Sourander A, Multimäki P et al (2005) Factors associated with ideation and acts of deliberate self-harm among 18-year-old boys: a prospective 10-year follow-up study. Soc Psychiatry Psychiatr Epidemiol 40:912–921

39.

Laukkanen E, Rissanen M-L, Honkalampi K, Kylmä J, Tolmunen T, Hintikka J (2009) The prevalence of self-cutting and other self-harm among 13- to 18-year-old Finnish adolescents. Soc Psychiatry Psychiatr Epidemiol 44:23–28

40.

Nikolitsas D (2006) Female labour force participation in Greece: developments and determining factors. Econ Bull 26:7–35

41.

Hacker KA, Suglia SF, Fried LE, Rappaport N, Cabral H (2006) Developmental differences in risk factors for suicide attempts between ninth and eleventh graders. Suicide Life Threat Behav 36:154–166

42.

Riesch SK, Jacobson G, Sawdey L, Anderson J, Henriques J (2008) Suicide ideation among later elementary school-aged youth. J Psychiatr Ment Health Nurs 15:263–277

43.

Wild LG, Flisher AJ, Bhana A, Lombard C (2004) Associations among adolescent risk behaviors and self-esteem in six domains. J Child Psychol Psychiatry 45:1454–1467

44.

Rich CR, Fowler RC, Young D (1989) Substance abuse and suicide: the San Diego study. Ann Clin Psychiatry 1:79–85

45.

Kapi A, Veltista A, Kavadias G, Lekea V, Bakoula C (2007) Social determinants of self-reported emotional and behavioral problems in Greek adolescents. Soc Psychiatry Psychiatr Epidemiol 42:594–598

46.

Currie C, Nic Gabhainn S, Godeau E et al (eds) (2008) Inequalities in young people's health—HBSC international report from the 2005/2006 survey. World Health Organization Regional Office for Europe, Copenhagen

47.

Joe S, Marcus SC (2003) Datapoints: trends by race and gender in suicide attempts among US adolescents, 1991–2001. Psychiatr Serv 54:454

48.

Madianos MG, Christodoulou G (2007) Reform of the mental healthcare system in Greece, 1984–2006. Inter Psychiatr 4:16–19

49.

Stefanis CN, Εconomou M (2005) The unprecedented initiative of European Ministers of Health. In: Okasha A, Stefanis C (eds) Perspectives on the stigma of mental illness. World Psychiatric Association, Geneva, pp 7–20

50.

Economou M, Gramandani C, Louki E, Giotis L, Stefanis CN (2006) Stigma and mental illness: the way ahead—the Greek programme against stigma and discrimination because of schizophrenia. Psychol J Hellenic Psychol Soc 13:28–43 (in Greek with English abstract)
Acknowledgments
The National School Population Surveys in Greece were supported by grants from: the General Secretariat of Youth (1984 and 1988 surveys); DG V of the European Union (1993); General Secretariat of Research and Technology, STRIDE programme (1993); Greek Organization Against Drugs (OKANA) (1998 and 2007); Stavros S. Niarchos Foundation (2007); Alexandros S. Onassis Foundation (2007).
About this article
Cite this article
Kokkevi, A., Rotsika, V., Arapaki, A. et al. Increasing self-reported suicide attempts by adolescents in Greece between 1984 and 2007. Soc Psychiatry Psychiatr Epidemiol 46, 231–237 (2011). https://doi.org/10.1007/s00127-010-0185-3
Received:

Accepted:

Published:

Issue Date:
Keywords
Survey descriptive study

Suicide attempts

Adolescents

Trends

Greece