Abstract
Background
Overall, decreasing suicide mortality rates were observed in the last decades in most Western populations. However, it remains unclear, whether these favourable trends occurred uniformly in particular suicide methods. Therefore, the present study evaluated time trends of suicide mortality by method in Germany over the period 1991–2002.
Methods
A total of 145,865 fatal suicide cases of men and women aged ≥15 years and with available suicide method were recorded by the Federal Statistical Office of Germany (suicides coded "death following a suicide attempt" were excluded). Based on these data, seven different suicide methods were defined. Poisson regression was used to estimate the age-adjusted annual percentage change (AAPC) of the number of each suicide method.
Results
The most frequently used suicide methods in both sexes were hanging, strangling or suffocation (HSS) with 55.8% in men and 39.9% in women, followed by self-poisoning. Statistically significant declines of the number of suicides were observed, in descending order, for self-poisoning, drowning and HSS in both sexes. In contrast, methods using firearm discharges or stab with a sharp object remained in roughly constant level. Modifications of time trends were observed for several methods by age classes.
Conclusions
The present study demonstrates different time trends for suicide methods. Further examinations are recommended in particular concerning possible reasons for the choice of a suicidal method.
This is a preview of subscription content, log in to check access.
Access options
Buy single article
Instant access to the full article PDF.
US$ 39.95
Price includes VAT for USA
Subscribe to journal
Immediate online access to all issues from 2019. Subscription will auto renew annually.
US$ 199
This is the net price. Taxes to be calculated in checkout.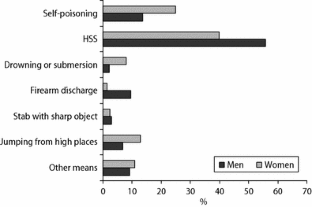 References
1.

Anderson RN, Smith BL (2003) Deaths: leading causes for 2001. National Vital Stat Rep 52:1–86

2.

Baumert JJ, Erazo N, Ladwig KH (2005) Sex- and age-specific trends in mortality from suicide and undetermined death in Germany 1991–2002. BMC Public Health 5:61

3.

Baumert J, Erazo N, Ladwig KH (2006) Ten-year incidence and time trends of railway suicides in Germany from 1991 to 2000. Eur J Public Health 16:173–178

4.

Bertolote JM (2001) Suicide in the world: an epidemiological overview: 1959 – 2000. In: Wasserman D (ed.) Suicide–an unnecessary death. Martin Dunitz, London, pp 3–10

5.

Bille-Brahe U, Jessen G (1994) Suicide in Denmark, 1922–1991: the choice of method. Acta Psychiatr Scand 90:91–96

6.

Breslow NE, Day NE (1987) Statistical methods in cancer research. Vol II–the design and analysis of cohort studies. IARC, Lyon

7.

Cantor CH, Baume PJ (1998) Access to methods of suicide: what impact? Aust NZ J Psychiatry 32:8–14

8.

Eddleston M, Phillips MR (2004) Self poisoning with pesticides. BMJ 328:42–44

9.

Fischer EP, Comstock GW, Monk MA, Sencer DJ (1993) Characteristics of completed suicides: implications of differences among methods. Suicide Life Threat Behav 23:91–100

10.

Granizo JJ, Guallar E, Rodriguez-Artalejo F (1996) Age-period-cohort analysis of suicide mortality rates in Spain, 1959–1991. Int J Epidemiol 25:814–820

11.

Guaiana G, D'Avanzo B, Barbui C (2002) Update of suicide trends in Italy from 1986–1996. Soc Psychiatry Psychiatr Epidemiol 37:267–270

12.

Gunnell D, Middleton N (2003) National suicide rates as an indicator of the effect of suicide on premature mortality. Lancet 362:961–962

13.

Gunnell D, Middleton N, Frankel S (2000) Method availability and the prevention of suicide: a re-analysis of secular trends in England and Wales 1950–1975. Soc Psychiatry Psychiatr Epidemiol 35:437–443

14.

Huchcroft SA, Tanney BL (1988) Sex-specific suicide trends in Canada, 1971–1985. Int J Epidemiol 17:839–843

15.

Kapusta ND, Zorman A, Etzersdorfer E, Ponocny-Seliger E, Jandl-Jager E, Sonneck G (2008) Rural-urban differences in Austrian suicides. Soc Psychiatry Psychiatr Epidemiol 43:311–318

16.

Kposowa AJ, McElvain JP (2006) Gender, place, and method of suicide. Soc Psychiatry Psychiatr Epidemiol 41:435–443

17.

Ladwig KH, Baumert JJ (2004) Patterns of suicidal behaviour in a metro subway system: a study of 306 cases injured by the Munich subway, 1980–1999. Eur J Public Health 14:291–295

18.

Lester D (1990) Changes in the methods used for suicide in 16 countries from 1960 to 1980. Acta Psychiatr Scand 81:260–261

19.

Lester D, Beck AT (1980) What the suicide's choice of method signifies. Omega 11:271–277

20.

Levi F, La Vecchia C, Lucchini F, Negri E, Saxena S, Maulik PK, Saraceno B (2003) Trends in mortality from suicide, 1965–99. Acta Psychiatr Scand 108:341–349

21.

McCullagh P, Nelder JA (1989) Generalized linear models. 2nd edn, University Press, Cambridge

22.

Moens GF (1984) The rise of suicide mortality in Belgium between 1968–72 and 1978–81: age, sex and geographical characteristics. Int J Epidemiol 13:243–245

23.

Moens GF, Loysch MJ, Honggokoesoemo S, van de Voorde H (1989) Recent trends in methods of suicide. Acta Psychiatr Scand 79:207–215

24.

Ohberg A, Lonnqvist J, Sarna S, Vuori E, Penttila A (1995) Trends and availability of suicide methods in Finland. Proposals for restrictive measures. Br J Psychiatry 166:35–43

25.

Spicer RS, Miller TR (2000) Suicide acts in 8 states: incidence and case fatality rates by demographics and method. Am J Public Health 90:1885–1891

26.

Stark C, Hopkins P, Gibbs D, Rapson T, Belbin A, Hay A (2004) Trends in suicide in Scotland 1981–1999: age, method and geography. BMC Public Health 4:49

27.

Statistisches Bundesamt (accessed 2005) [http://www.gbe-bund.de]

28.

Sutton L, Hawton K, Simkin S, Turnbull P, Kapur N, Bennewith O, Gunnell D. (2005) Gunshot suicides in England–a multicentre study based on coroners' records. Soc Psychiatry Psychiatr Epidemiol 40:324–328

29.

Tamosiunas A, Reklaitiene R, Virviciute D, Sopagiene D (2006) Trends in suicide in a Lithuanian urban population over the period 1984–2003. BMC Public Health 6:184

30.

Wiedenmann A, Weyerer S (1993) The impact of availability, attraction and lethality of suicide methods on suicide rates in Germany. Acta Psychiatr Scand 88:364–368

31.

World Health Organization (WHO) (1977) The ninth revision of the international classification of diseases (ICD-9). World Health Organization, Geneva

32.

World Health Organization (WHO) (1992) The tenth revision of the international classification of diseases (ICD-10). World Health Organization, Geneva
About this article
Cite this article
Baumert, J., Erazo, N., Ruf, E. et al. Time trends in suicide mortality vary in choice of methods. Soc Psychiat Epidemiol 43, 913 (2008). https://doi.org/10.1007/s00127-008-0380-7
Received:

Accepted:

Published:
Keywords
suicide

mortality

methods

trends

suicide prevention