Abstract
Introduction
In this study, we aimed to establish: (1) whether social isolation modifies the effect of unemployment on first episode psychosis and duration of untreated psychosis (DUP); and (2) whether the gap between high employment expectations and perceived poor employment achievement is associated with first-episode psychosis; and (3) whether the relationship of this achievement–expectation gap and first-episode psychosis is strongest in the African-Caribbean population.
Method
All patients with a first episode of psychosis presenting to specialist mental health services within tightly defined catchment areas in south-east London and Nottingham over a 2-year period were included in the study. A random sample of healthy participants living within the same catchment areas was also recruited. Data were collected on socio-demographic and clinical characteristics, DUP, social contacts, and perceived levels of employment achievement and expectation. Analysis was conducted on data of 546 participants (224 cases, 322 controls) from the ÆSOP study.
Results
The relationship between unemployment and risk of non-affective psychosis was moderated by social contacts (unemployed/low social contacts, OR 7.52, 95% CI 2.97–19.08; unemployed/medium social contacts, OR 3.27, 95% CI 1.66–6.47; unemployed/high social contacts, OR 1.36, 95% CI 0.47–3.93). Unemployed patients experienced a longer DUP when having reported lower levels of social contacts. Participants whose employment achievement was lower than their expectations were more likely to be cases than those in whom achievement matched or exceeded expectations (adjusted OR 1.84, 95% CI 1.13–3.02). This applied equally to both African-Caribbean and White British participants (the Mantel–Haenszel test for homogeneity of odds ratios, χ 2 = 0.96, P = 0.33).
Conclusions
This study suggests that unemployment, social isolation, employment achievement and expectations are important environmental factors associated with risk of psychosis. More attention needs to be focused on interactions between environmental factors as well as subjective experience of those factors in future research on the aetiology of psychosis.
This is a preview of subscription content, log in to check access.
Access options
Buy single article
Instant access to the full article PDF.
US$ 39.95
Price includes VAT for USA
Subscribe to journal
Immediate online access to all issues from 2019. Subscription will auto renew annually.
US$ 199
This is the net price. Taxes to be calculated in checkout.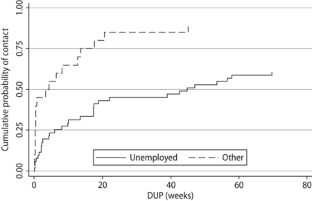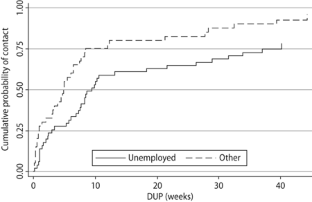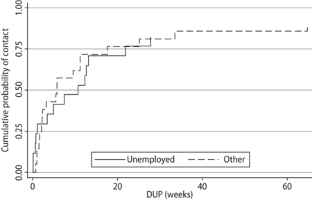 References
1.

Agerbo E, Byrne M, Eaton W, Mortensen P (2004) Marital and labor market status in the long run in schizophrenia. Arch Gen Psychiatry 61:28–33

2.

Bebbington P, Nayani T (1995) The psychosis screening questionnaire. Int J Methods Psychiatr Res 5:11–20

3.

Bhugra D, Hilwig M, Mallett R et al (2000) Factors in the onset of schizophrenia: a comparison between London and Trinidad samples. Acta Psychiatr Scand 101:135–141

4.

Boydell J, van Os J, McKenzie K, Murray R (2004) The association of inequality with the incidence of schizophrenia: an ecological study. Soc Psychiatry Psychiatr Epidemiol 39:597–599

5.

Broome M, Woolley J, Tabraham P, Johns L, Bramon E, Murray G, Pariante C, McGuire P, Murray R (2005) What causes the onset of psychosis? Schizophr Res 79:23–34

6.

Cooper C, Morgan C, Byrne C et al (2008) Perceptions of disadvantage, ethnicity and psychosis. Br J Psychiatry 192:185–190

7.

Craig T, Bromet E, Fennig S et al (2000) Is there an association between duration of untreated psychosis and 24-month clinical outcome in a first-admission series? Am J Psychiatry 157:60–66

8.

Drake R, Haley C, Akhtar S, Lewis S (2000) Causes and consequences of duration of untreated psychosis in schizophrenia. Br J Psychiatry 177:511–515

9.

Fearon P, Kirkbride J, Morgan C et al (2006) Incidence of schizophrenia and other psychoses in ethnic minority groups: results from the MRC ÆSOP Study. Psychol Med 36:1541–1550

10.

Gilvarry C, Walsh E, Samele C (1999) Life events, ethnicity and perceptions of discrimination in patients with severe mental illness. Soc Psychiatry Psychiatr Epidemiol 34:600–608

11.

Häfner H (2003) Prodrome, onset and early course of schizophrenia. In: Murray R, Jones P, Susser E, van Os J, Cannon M (eds) The epidemiology of schizophrenia. Cambridge University Press, Cambridge, pp 124–147

12.

Jablensky A, Sartorius N, Ernberg G et al (1992) Schizophrenia: manifestations, incidence and course in different cultures: a World Health Organization ten-country study. Psychol Med 20:1–97

13.

Jenkins R, Meltzer H (1995) The national survey of psychiatric morbidity in Great Britain. Soc Psychiatry Psychiatr Epidemiol 30:1–4

14.

Jones P, Bebbington P, Foerster A et al (1993) Premorbid social underachievement in schizophrenia: results from the Camberwell Collaborative Psychosis Study. Br J Psychiatry 162:65–71

15.

Kalla O, Aalton J, Wahlström J et al (2002) Duration of untreated psychosis and its correlates in first-episode psychosis in Finland and Spain. Acta Psychiatr Scand 106:265–275

16.

Kessler R, Turner B, House J (1988) Effects of unemployment on health in a community survey: main, modifying, and mediating effects. J Soc Issues 44:69–85

17.

Kirkbride J, Fearon P, Morgan C et al (2006) Heterogeneity in incidence rates of schizophrenia and other psychotic syndromes: findings from the 3-center ÆSOP study. Arch Gen Psychiatry 63:250–258

18.

Kirkbride J, Fearon P, Morgan C et al (2007) Neighbourhood variation in the incidence of psychotic disorders in Southeast London. Soc Psychiatry Psychiatr Epidemiol 42:438–445

19.

Kleiner R, Parker S (1959) Migration and mental illness: a new look. Am Soc Rev 24:87–110

20.

Lloyd T, Kennedy N, Fearon P et al (2005) Incidence of bipolar affective disorder in three UK cities: results from the ÆSOP study. Br J Psychiatry 186:126–131

21.

Mallett R, Leff J, Bhugra D, Takei N, Corridan B (2004) Ethnicity, goal striving and schizophrenia: a case–control study. Int J Soc Psychiatry 50:331–344

22.

Marwaha S, Johnson S (2004) Schizophrenia and employment. Soc Psychiatry Psychiatr Epidemiol 39:337–349

23.

McKee-Ryan F, Song Z, Wanberg C, Kinicki A (2005) Psychological and physical well-being during unemployment: a meta-analytic study. J Appl Psychol 90:53–76

24.

Meltzer H, Gill B, Petticrew M, Hinds K (1995) The prevalence of psychiatric morbidity among adults living in private households. HMSO, London

25.

Modood T, Berthoud R, Lakey J et al (1997) Ethnic minorities in Britain: diversity and disadvantage. Policy Studies Institute, London

26.

Morgan C, Abdul-Al R, Lappin J et al (2006) Clinical and social determinants of duration of untreated psychosis in the ÆSOP first-episode psychosis study. Br J Psychiatry 189:446–452

27.

Morgan C, Dazzan P, Morgan K et al (2006) First episode psychosis and ethnicity: initial findings from the ÆSOP study. World Psychiatry 5:40–46

28.

Morgan C, Kirkbride J, Mallett R, Hutchinson G, Fearon P, Morgan K, Dazzan P, Craig T, Harrison G, Jones P, Murray R, Leff J (2005) Social isolation, ethnicity and psychosis:findings from the ÆSOP first onset psychosis study. Schizophr Bull 31:232

29.

Parker S, Kleiner R (1966) Mental illness in the urban Negro community. Free Press, New York

30.

Peralta V, Cuesta M, Martinez-Larrea A et al (2005) Duration of untreated psychotic illness: the role of premorbid social support networks. Soc Psychiatry Psychiatr Epidemiol 40:345–349

31.

SPSS (2003) SPSS for Windows Release 12. SPSS, Chicago

32.

Sharpley M, Hutchinson G, McKenzie K, Murray R (2001) Understanding the excess of psychosis among the African Caribbean population in England. Br J Psychiatry 178(Suppl 40):s60–s68

33.

Stata (2005) STATA Statistical Software, Release 9. Stata Corporation, College Station

34.

Warner R (1999) Quality of life assessment: an anthropological perspective. In: Priebe S, Oliver J, Kaiser W (eds) Quality of life and mental health care. Wrightson Biomedical Publishing, Petersfield, pp 125–130

35.

Warr P (1984) Reported behaviour changes after job loss. Br J Soc Psychol 23:271–275

36.

Warr P (1987) Work, unemployment and mental health. Clarendon Press, Oxford

37.

Wing J, Babor T, Brugha J et al (1990) Schedules for clinical assessment in clinical neuropsychiatry. Arch Gen Psychiatry 47:589–593

38.

World Health Organization (1993) The ICD-10 classification of mental and behavioural disorders: clinical descriptions and diagnostic guidelines. WHO, Geneva

39.

World Health Organization (1996) Personal and psychiatric history schedule. WHO, Geneva
Acknowledgments
The ÆSOP study was funded by the UK Medical Research Council and the Stanley Medical Research Institute. The authors wish to thank the ÆSOP researchers who helped with data collection. They are grateful to mental health services and patients in Bristol, Nottingham and south-east London for their co-operation and support.
About this article
Cite this article
Reininghaus, U.A., Morgan, C., Simpson, J. et al. Unemployment, social isolation, achievement–expectation mismatch and psychosis: findings from the ÆSOP Study. Soc Psychiat Epidemiol 43, 743–751 (2008). https://doi.org/10.1007/s00127-008-0359-4
Received:

Accepted:

Published:

Issue Date:
Key words
psychosis

social risk factors

unemployment

social isolation

ethnicity

achievement–expectation mismatch