Abstract
Purpose
This epidemiological study aims to assess the utilisation of inpatient psychiatric services by immigrants. Specifically, we address the question of gender-specific differences in immigrants and compare the population-based rates of males and females from different countries of origin.
Methods
We analysed inpatient admission rates from a defined catchment area over a 6-year period by means of psychiatric register data. Poisson regression analysis was used to model effects of gender, age and country group (immigrants grouped into six categories according to their country of origin).
Results
Of the total of 28,511 subjects consecutively referred to psychiatric inpatient treatment, 4,814 were foreign nationals (16.9%). Among immigrants the proportion of female inpatients (38.7%) was far lower than in the general population (45.6%; equal proportion of female-to-total among Swiss inpatients). Immigrants were 37.4 years old on average at index admission (Swiss people: 46.3 years), but there were considerable differences across country groups. We found three groups with particularly high admission rates: male immigrants originating from Turkey, Eastern European and 'Other' countries (rates >6 per 1,000 population/year). These were admitted as inpatients at far higher rates than females from the same countries. In women, there was no immigrant group utilising inpatient treatment at a higher level than Swiss females. The rates of inpatient admission in males and females was almost equal among the Swiss (4.3 per 1,000), as was the case for immigrants from Southern, Western/Northern Europe and former Yugoslavia, although on a lower level (2.26–3.15 per 1,000). Regression analysis further suggests that country effects and age effects are different for males and females, and age effects are specific to the country of origin.
Discussion
These gender- and interaction effects point to inequalities in psychiatric service use in people with different migration background. Further research is needed, particularly to understand the reasons for the markedly different gender-specific utilisation of psychiatric services by some immigrant groups.
This is a preview of subscription content, log in to check access.
Access options
Buy single article
Instant access to the full article PDF.
US$ 39.95
Price includes VAT for USA
Subscribe to journal
Immediate online access to all issues from 2019. Subscription will auto renew annually.
US$ 199
This is the net price. Taxes to be calculated in checkout.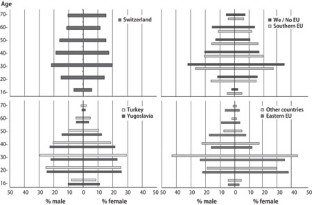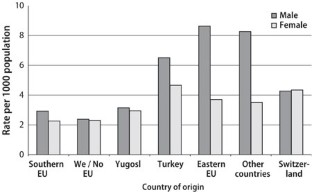 References
1.

Almeida-Filho N, Lessa I, Magalhaes L, Araujo MJ, Aquino E, James SA, et al. (2004) Social inequality and depressive disorders in Bahia, Brazil: interactions of gender, ethnicity, and social class. Soc Sci Med 59:1339–1353

2.

Bhugra D (2002) Ethnic factors and service utilization. Curr Opin Psychiatr 15:201–204

3.

Bhugra D (2003) Migration and depression. Acta Psychiatr Scand 108:67–72

4.

Bhugra D (2004) Migration and mental health. Acta Psychiatr Scand 109:243–258

5.

Bhugra D, Leff J, Mallett R, Der G, Corridan B, Rudge S (1997) Incidence and outcome of schizophrenia in whites, African-Caribbeans and Asians in London. Psychol Med 27:791–798

6.

Bhui K, Abdi A, Abdi M, Pereira S, Dualeh M, Robertson D, et al. (2003) Traumatic events, migration characteristics and psychiatric symptoms among Somali refugees–preliminary communication. Soc Psych Psych Epidemiol 38:35–43

7.

Bhui K, Stansfeld S, Head J, Haines M, Hillier S, Taylor S, et al. (2005) Cultural identity, acculturation, and mental health among adolescents in east London's multiethnic community. J Epidemiol Commun Health 59:296–302

8.

Bhui K, Stansfeld S, Hull S, Priebe S, Mole F, Feder G (2003) Ethnic variations in pathways to and use of specialist mental health services in the UK. Systematic review. Br J Psychiatr 182:105–116

9.

Christen S (2003) Research Reports of the Psychiatric University Hospital Zürich. PSYREC Bericht 2002: ambulante und teilstationäre Behandlungen psychiatrischer Institutionen des Kantons Zürich. Vol. 8 No. 5. Psychiatrische Universitätsklinik, Zürich

10.

Christen S, Christen L, Meyer PC, Eichenberger A (2003) Length of inpatient stay in psychiatric hospitals—Record Linkage. Psychiatric University Hospital of Zurich Research Report 8(1). Psychiatrische Universitätsklinik, Zürich

11.

Claassen D, Ascoli M, Berhe T, Priebe S (2005) Research on mental disorders and their care in immigrant populations: a review of publications from Germany, Italy and the UK. Eur Psychiatr 20:540–549

12.

Cochrane R, Bal SS (1989) Mental hospital admission rates of immigrants to England: a comparison of 1971 and 1981. Soc Psych Psych Epidemiol 24:2–11

13.

Collatz J (2001) Bedarf und Inanspruchnahme psychiatrischer Versorgung durch Migrantinnen und Migranten. In: Hegemann T, Salman R (eds) Transkulturelle Psychiatrie: Konzepte für die Arbeit mit Menschen aus anderen Kulturen. Psychiatrie-Verlag, Bonn, pp 52–63

14.

Factourovich A, Ritsner M, Maoz B, Levin K, Mirsky J, Ginath Y, et al. (1996) Psychological adjustment among Soviet immigrant physicians: distress and self-assessments of its sources. Isr J Psychiatr Relat Sci 33:32–39

15.

Federal Office for Migration. http://www.bfm.admin.ch. Accessed 30-01-2006

16.

Fossion P, Ledoux Y, Valente F, Servais L, Staner L, Pelc I, et al. (2002) Psychiatric disorders and social characteristics among second-generation Moroccan migrants in Belgium: an age-and gender-controlled study conducted in a psychiatric emergency department. Eur Psychiatr 17:443–450

17.

Gater R, Tansella M, Korten A, Tiemens BG, Mavreas VG, Olatawura MO (1998) Sex differences in the prevalence and detection of depressive and anxiety disorders in general health care settings: report from the World Health Organization Collaborative Study on Psychological Problems in General Health Care. Arch Gen Psychiatr 55:405–413

18.

Gotor L, Gonzalez-Juarez C (2004) Psychiatric hospitalization and continuity of care in immigrants treated in Madrid (Spain). Soc Psych Psych Epidemiol 39(7):560–568

19.

Haasen C, Lambert M, Yagdiran O, Krausz M (1997) Psychiatric disorders among migrants in Germany: prevalence in a psychiatric clinic and implications for services and research. Eur Psychiatr 12:305–310

20.

Haasen C, Yagdiran O, Mass R, Krausz M (2001) Schizophrenic disorders among Turkish migrants in Germany. A controlled clinical study. Psychopathology 34:203–208

21.

Holtz TH (1998) Refugee trauma versus torture trauma: a retrospective controlled cohort study of Tibetan refugees. J Nerv Ment Dis 186:24–34

22.

Hutchinson G, Haasen C (2004) Migration and schizophrenia: the challenges for European psychiatry and implications for the future. Soc Psych Psych Epidemiol 39:350–357

23.

Jacobi F, Wittchen HU, Holting C, Hofler M, Pfister H, Muller N, et al. (2004) Prevalence, co-morbidity and correlates of mental disorders in the general population: results from the German Health Interview and Examination Survey (GHS). Psychol Med 34:597–611

24.

Kessler RC, McGonagle KA, Zhao S, Nelson CB, Hughes M, Eshleman S, et al. (1994) Lifetime and 12-month prevalence of DSM-III-R psychiatric disorders in the United States. Results from the National Comorbidity Survey. Arch Gen Psychiatr 51:8–19

25.

Klimidis S, McKenzie DP, Lewis J, Minas IH (2000) Continuity of contact with psychiatric services: immigrant and Australian-born patients. Soc Psych Psych Epidemiol 35:554–563

26.

Lay B, Lauber C, Nordt C, Rössler W (2006) Patterns of inpatient care for immigrants in Switzerland: a case control study. Soc Psych Psych Epidemiol 41:199–207

27.

Lay B, Lauber C, Rössler W (2005) Are immigrants at a disadvantage in psychiatric in-patient care? Acta Psychiatr Scand 111:358–366

28.

Lay B, Lauber C, Rössler W (2006) Prediction of in-patient use in first-admitted patients with psychosis. Eur Psychiatr 21: 401–409

29.

Mortensen PB, Cantor-Graae E, McNeil TF (1997) Increased rates of schizophrenia among immigrants: some methodological concerns raised by Danish findings. Psychol Med 27:813–820

30.

Müllejans R (2001) Psychotherapie mit Patientinnen aus der Türkei. In: Riecher-Rössler A, Rohde A (eds) Psychische Erkrankungen bei Frauen. Karger, Basel, pp 267–280

31.

Ødegård O (1932) Emigration and insanity: a study of mental disease among Norwegian born population in Minnesota. Acta Psychiatr Neurol 7:1–206

32.

Office for National Statistics (2003) http://www.statistics.gov.uk/cci/nugget.asp?id = 273. Accessed 30-01-2006

33.

Office nationale de statistique (2004) http://www.interieur.gouv.fr/rubriques/a/a4_publications/sejour2002/population.pdf. Accessed 30-01-2006

34.

Ritsner M, Ponizovsky A (1998) Psychological symptoms among an immigrant population: a prevalence study. Comp Psychiatr 39:21–27

35.

Ritsner M, Ponizovsky A, Nechamkin Y, Modai I (2001) Gender differences in psychosocial risk factors for psychological distress among immigrants. Comp Psychiatr 42:151–160

36.

Robins L, Regier D (1991) Psychiatric disorders in America. The Free Press, New York

37.

Schrier AC, van de Wetering BJ, Mulder PG, Selten JP (2001) Point prevalence of schizophrenia in immigrant groups in Rotterdam: data from outpatient facilities. Eur Psychiatr 16:162–166

38.

Selten JP, Sijben N (1994) First admission rates for schizophrenia in immigrants to The Netherlands. The Dutch National Register. Soc Psych Psych Epidemiol 29:71–77

39.

Selten JP, Slaets JP, Kahn RS (1997) Schizophrenia in Surinamese and Dutch Antillean immigrants to The Netherlands: evidence of an increased incidence. Psychol Med 27:807–811

40.

Selten JP, van Os J, Nolen WA (2003) First admissions for mood disorders in immigrants to the Netherlands. Soc Psych Psych Epidemiol 38:547–550

41.

Statistical Office of the Canton of Zurich. http://www.statistik.zh.ch/. Accessed 30-01-2006

42.

Summerfield D (2000) War and mental health: a brief overview. Br Med J 321:232–235

43.

Swiss Federal Statistical Office (2004) http://www.bfs.admin.ch/bfs/portal/de/index/themen/bevoelkerung/stand_u_struktur/blank/kennzahlen0/auslaendische_bevoelkerung/staatsangehoerigkeit.html. Accessed 30-01-2006

44.

Swiss Federal Statistical Office (2004) http://www.bfs.admin.ch/bfs/portal/de/index/themen/bevoelkerung/uebersicht/blank/wichtigste_kennzahlen.html. Accessed 30-01-2006

45.

Swiss Medical Association. 6. Berufstätige Ärzte nach Kanton und Fachgebiet. http://www.fmh.ch/fr/data/pdf/sts2002-06.pdf. Accessed 30-01-2006

46.

Zolkowska K, Cantor-Graae E, McNeil TF (2001) Increased rates of psychosis among immigrants to Sweden: is migration a risk factor for psychosis? Psychol Med 31:669–678
About this article
Cite this article
Lay, B., Nordt, C. & Rössler, W. Mental hospital admission rates of immigrants in Switzerland. Soc Psychiat Epidemiol 42, 229–236 (2007). https://doi.org/10.1007/s00127-007-0157-4
Accepted:

Published:

Issue Date:
Key words
migration

psychiatric hospitalisation

gender

epidemiology