Abstract
Introduction
Despite the importance of disability associated with common mental disorders, research on the detection of mental disorders in primary care has scarcely explored its relevance.
Aims
To describe the disability burden of primary care patients with common mental disorders and subthreshold disorders and to examine the association between general practitioner's (GP) recognition of mental disorder and disability.
Design
Cross-sectional survey of GPs and their patients.
Setting
General practices in the lower North Island of New Zealand.
Method
Participants were randomly selected: GPs (n=70) and their patients (n=3414, of whom a subset of 775 from the basis of this paper). Formal DSM-IV diagnoses were made with the Composite International Diagnostic Interview (CIDI), and psychosomatic and psychological symptoms were measured with the Somatic and Psychological Health Report. Disability was measured with the World Health Organisation's Disability Assessment Schedule-version II. GPs independently rated the severity of psychological symptoms and the presence or absence of disorder.
Results
The principal findings were (1) that disability was associated with both mental disorder and subthreshold disorder with no significant difference in the level of disability between these categories, and (2) that GPs were less sensitive to the presence of mental disorders as defined by the CIDI if there was little concomitant disability, and in subthreshold cases, the presence of disability increased the chance of GPs identifying clinically significant symptoms.
Conclusion
Studies of GP recognition of mental disorder have almost exclusively adopted the perspective of concepts of disorder as defined by psychiatry. This study provides some insight into the way GPs attend to both symptoms and functioning in their assessments of psychological syndromes. Disability is an important cue to recognition of mental health problems in the primary care setting, including those that are not recognised by standardised psychiatric assessment but which may still be relevant to patient suffering.
This is a preview of subscription content, log in to check access.
Access options
Buy single article
Instant access to the full article PDF.
US$ 39.95
Price includes VAT for USA
Subscribe to journal
Immediate online access to all issues from 2019. Subscription will auto renew annually.
US$ 199
This is the net price. Taxes to be calculated in checkout.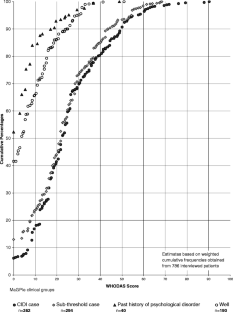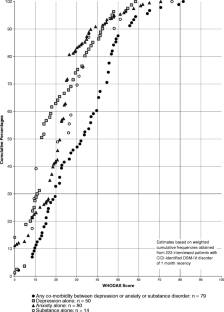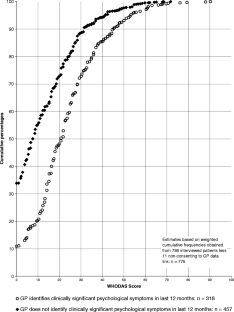 References
1.

Paykel ES, Weissman MM (1973) Social adjustment and depression. Arch Gen Psychiatry 28:659–663

2.

Wells KB, Golding JM, Burnham MA (1988) Psychiatric disorders in a sample of the general population with and without chronic medical illness. Am J Psychiatry 145:976–981

3.

Broadhead WE, Blazer DG, George LK, Tse CK (1990) Depression, disability days, and days lost from work in a prospective epidemiologic survey. JAMA 264(19):2524–2529

4.

Von Korff M, Ormel J, Katon W, Lin EHB (1992) Disability and depression among high utilizers of health care. Arch Gen Psychiatry 49:91–100

5.

Ormel J, VonKorff M, Ustun TB, Pini S, Korten A, Oldehinkel T (1994) Common mental disorders and disability across cultures: results from the WHO Collaborative Study on psychological problems in general health care. JAMA 272(22):1741–1748

6.

American Psychiatric Association A (1995) DSM IV. American Psychiatric Association, Washington, DC

7.

Sanderson K, Andrews G (2002) Prevalence and severity of mental health-related disability and relationship to diagnosis. Psychiatr Serv 53(1):80–86

8.

The MaGPIe Research Group (2003) The nature and prevalence of psychological problems in New Zealand primary health care: a report on Mental Health and General Practice Investigation. NZMJ 116(1171):1–15

9.

The MaGPIe Research Group (2004) Frequency of consultation and general practitioner recognition of psychological symptoms. Br J Gen Pract 54(508):838–842

10.

Ormel J, Koeter M, van den Brink R, Van De Willige G (1991) Recognition, management and course of anxiety and depression in general practice. Arch Gen Psychiatry 48:700–706

11.

Pignone MP Gaynes BN, Rushton JL et al (2002) Screening for depression in adults: a summary of the evidence for the US Preventive Services Task Force. Ann Intern Med 136:760–764

12.

Henkel V, Mergl R, Kohnen R, Maier W, Moller H-J, Hegerl U (2003) Identifying depression in primary care: a comparison of different methods in a prospective cohort study. BMJ 326(7382):200–201

13.

Ormel J, Van Den Brink W, Koeter MW, Giel R, Van Der Meer K, Van De Willige G et al (1990) Recognition, management and outcome of psychological disorders in primary care: a naturalistic follow-up study. Psychol Med 20(4):909–923

14.

The MaGPIe Research Group (2004) General practitioner recognition of mental illness in the absence of a "gold standard". Aust NZ J Psychiatry 38:789–794

15.

Olfson M, Fireman B, Weissman MM et al (1997) Mental disorders and disability among patients in a primary care group practice. Am J Psychiatry 154:1734–1740

16.

Wells KB, Stewart A, Hays RD, Burnam A, Rogers W, Daniels M, et al (1989) The functioning and well-being of depressed patients results: from the medical outcomes study. JAMA 262(7):914–919

17.

Ormel J, Costa e Silva J (1995) The impact of psychopathology on disability and health perceptions. In: Ustun B, Sartorius N (eds) Mental illness in general health care: an international study. WHO Wiley, Chichester, pp 335–346

18.

Kessler RC, DuPont RL, Berglund P, Wittchen H-U (1999) Impairment in pure and comorbid generalized anxiety disorder and major depression at 12 months in two national surveys. Am J Psychiatry 156(12)1915–1923

19.

Wells KB, Sherbourne C (1999) Functioning and utility for current health of patients with depression or chronic medical conditions in managed, primary care practices. Arch Gen Psychiatry 56:897–904

20.

Andrews G, Henderson S, Hall W (2001) Prevalence, comorbidity, disability and service utilisation. Overview of the Australian National Mental Health Survey. Br J Psychiatry 178:145–153

21.

Bijl R, Ravelli A (2000) Current and residual functional disability associated with psychopathology: findings from the Netherlands mental health Survey and Incidence Study (NEMESIS). Psychol Med 30(3):657–668

22.

Henderson S, Korten A, Medway J (2001) Non-disabled cases in a national survey. Psychol Med 31:769–777

23.

Spitzer R, Kroenke K, Linzer M, Hahn S et al (1995) Health related quality of life in primary care patients with mental disorders: results form the PRIME-MD 1000 Study. JAMA 274(19):1511–1517

24.

Magruder K, Calderone G (2000) Public health consequences of different thresholds for the diagnosis of mental disorders. Compr Psychiatry 41(2):14–18

25.

Klerman G (1989) Depressive disorders: further evidence for increased medical morbidity and impairment of social functioning. Arch Gen Psychiatry 46:856–858

26.

Sartorius N, Ustun T, Silva J, Goldberg D, Lecrubier Y, Ormel J et al (1993) An international study of psychological problems in primary care. Arch Gen Psychiatry 50:819–824

27.

Ustun T, Sartorius N (1995) Mental illness in general health care. Wiley, England

28.

WHO (2000) WHODAS-II Disability Assessment Schedule Training Manual: a guide to administration. World Health Organisation, Geneva

29.

Hickie I, Davenport T, Hadzi-Pavlovic D et al (2001) Development of a simple screening tool for common mental disorders in general practice. Med J Aust 175(Suppl):S10–S17

30.

Kish L (1965) Survey sampling. Wiley, New York

31.

Bebbington P, Brugha T, Meltzer H, Farrell M, Ceresa C, Jenkins R et al (2000) Psychiatric disorder and dysfunction in the UK National Survey of Psychiatric Morbidity. Soc Psychiatry Psychiatr Epidemiol 35:191–197

32.

Goldberg D, Huxley P (1980) Mental illness in the community: the pathway to psychiatric care. Tavistock Publications Limited, London

33.

Goldberg D (1992) A classification of psychological distress for use in primary care settings. Soc Sci Med 35:189–193

34.

Klinkman M, Coyne J, Gallo S, Schwenk T (1998) False positives, false negatives, and the validity of the diagnosis of major depression in primary care [comment]. Arch Fam Med 7(5):451–461

35.

Rosenberg E, Lussier M, Beaudoin C et al (2002) Determinants of the diagnosis of psychological problems by primary care physicians in patients with normal GHQ-28 scores. Gen Hosp Psychiatry 24:322–327

36.

Solomon D, Leon A, Endicott J, Mueller T, Coryell W, Shea T et al (2004) Psychosocial impairment and recurrence of major depression. Compr Psychiatry 45(6):423–430

37.

Ormel J, Vonkorff M, Oldehinkel AJ, Simon G, Tiemens BG, Ustun TB (1999) Onset of disability in depressed and non-depressed primary care patients. Psychol Med 29(4):847–853

38.

Goldberg D, le Crubier Y (1995) Form and frequency of mental disorders across centres. In: Ustun B, Sartorius N (eds) Mental illness in general health care: an international study. WHO Wiley, Chichester, pp 323–334
Acknowledgements
We are grateful for the support of the participating general practitioners and other practice staff, the patients who participated, and our research staff. The Health Research Council of New Zealand funded the project (grant 99/065). Supplementary funds were also contributed by the Alcohol Advisory Council (ALAC).
Additional information
The "MaGPIe" (Mental Health and General Practice Investigation) research group consists of John Bushnell, Anthony Dowell, Deborah McLeod, Clare Salmond, Stella Ramage, Sunny Collings, Pete Ellis, Marjan Kljakovic and Lynn McBain.
Support
The Health Research Council of New Zealand funded the project (grant 99065). Supplementary funds were also contributed by the Alcohol Advisory Council (ALAC).
About this article
Cite this article
Collings, S. Disability and the detection of mental disorder in primary care. Soc Psychiat Epidemiol 40, 994–1002 (2005). https://doi.org/10.1007/s00127-005-0984-0
Accepted:

Published:

Issue Date:
Key words
primary health care

mental disorders

disability