Abstract
Background
Research on the association of psychopathology and violence has mainly focused on severe but rare mental disorders, especially psychotic disorders. However, evidence is growing that psychotic disorders are continuous with common psychotic-like experiences in the general population. This study aimed to examine the association of psychotic-like experiences with violence in a general population sample.
Methods
In 38,132 adult participants of the 2001 US National Household Survey on Drug Abuse, the association of psychotic-like experiences with violent behavior were examined.
Results
Psychotic-like experiences were reported by 5.1% (N = 2,584) of adults in the community. These experiences were associated with increased risk of attacking someone with the intent of hurting that person (Odds Ratio [OR] = 5.72), intimate partner violence (OR = 4.97), arrests for aggravated assault (OR = 5.12), and arrests for other assault (OR = 3.65). The risk of violence increased with the number of psychotic-like experiences. Unusual perceptual experiences and paranoid ideations were more consistently associated with violence.
Conclusions
The link between psychopathology and interpersonal violence appears to expand beyond the limits of severe mental disorders and to include more common psychotic-like experiences in the general population.
This is a preview of subscription content, log in to check access.
Access options
Buy single article
Instant access to the full article PDF.
US$ 39.95
Price includes VAT for USA
Subscribe to journal
Immediate online access to all issues from 2019. Subscription will auto renew annually.
US$ 199
This is the net price. Taxes to be calculated in checkout.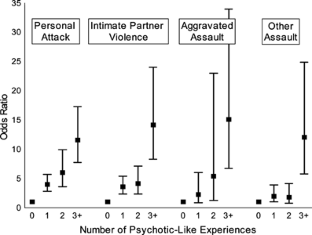 References
1.

Angermeyer MC, Cooper B, Link BG (1998) Mental disorder and violence: results of epidemiological studies in the era of de-institutionalization. Soc Psychiatry Psychiatr Epidemiol 33(Suppl 1):S1–S6

2.

Steadman HJ, Mulvey EP, Monahan J, Robbins PC, Appelbaum PS, Grisso T, Roth LH, Silver E (1998) Violence by people discharged from acute psychiatric inpatient facilities and by others in the same neighborhoods. Arch Gen Psychiatry 55:393–401

3.

Torrey EF (1994) Violent behavior by individuals with serious mental illness. Hosp Community Psychiatry 45:653–662

4.

Link BG, Stueve A, Phelan J (1998) Psychotic symptoms and violent behaviors: probing the components of "threat/control-override" symptoms. Soc Psychiatry Psychiatr Epidemiol 33(Suppl 1):S55–S60

5.

Swanson J, Borum R, Swartz MS, Monahan J (1996) Psychotic symptoms and disorders and the risk of violent behaviour in the community. Crim Behav Ment Health 6:309–329

6.

Appelbaum PS, Robbins PC, Roth LH (1999) Dimensional approach to delusions: comparison across types and diagnoses. Am J Psychiatry 156:1938–1943

7.

Bak M, Delespaul P, Hanssen M, de Graaf R, Vollebergh W, van Os J (2003) How false are "false" positive psychotic symptoms? Schizophr Res 62:187–189

8.

Stefanis NC, Hanssen M, Smirnis NK, Avramopoulos DA, Evdokimidis IK, Stefanis CN, Verdoux H, Van Os J (2002) Evidence that three dimensions of psychosis have a distribution in the general population. Psychol Med 32:347–358

9.

van Os J, Hanssen M, Bijl RV, Vollebergh W (2001) Prevalence of psychotic disorder and community level of psychotic symptoms: an urban–rural comparison. Arch Gen Psychiatry 58:663–668

10.

van Os J, Hanssen M, Bijl RV, Ravelli A (2000) Strauss (1969) revisited: a psychosis continuum in the general population? Schizophr Res 45:11–20

11.

Olfson M, Lewis-Fernandez R, Weissman MM, Feder A, Gameroff MJ, Pilowsky D, Fuentes M (2002) Psychotic symptoms in an urban general medicine practice. Am J Psychiatry 159:1412–1419

12.

Chapman LJ, Chapman JP, Kwapil TR, Eckblad M, Zinser MC (1994) Putatively psychosis-prone subjects 10 years later. J Abnorm Psychol 103:171–183

13.

Poulton R, Caspi A, Moffitt TE, Cannon M, Murray R, Harrington H (2000) Children's self-reported psychotic symptoms and adult schizophreniform disorder: a 15-year longitudinal study. Arch Gen Psychiatry 57:1053–1058

14.

Substance Abuse and Mental Health Services Administration (2002) Results from the 2001 National Household Survey on Drug Abuse: Volume II. Technical Appendices and Selected Data Tables. (Office of Applied Studies, NHSDA Series H-18, DHHS Publication No. SMA 02-3759). SAMHSA, Rockville, MD

15.

Kessler RC, Barker PR, Colpe LJ, Epstein JF, Gfroerer JC, Hiripi E, Howes MJ, Normand SL, Manderscheid RW, Walters EE, Zaslavsky AM (2003) Screening for serious mental illness in the general population. Arch Gen Psychiatry 60:184–189

16.

Kessler RC, Andrews G, Colpe LJ, Hiripi E, Mroczek DK, Normand SL, Walters EE, Zaslavsky AM (2002) Short screening scales to monitor population prevalences and trends in non-specific psychological distress. Psychol Med 32: 959–976

17.

Furukawa TA, Kessler RC, Slade T, Andrews G (2003) The performance of the K6 and K10 screening scales for psychological distress in the Australian National Survey of Mental Health and Well-Being. Psychol Med 33:357–362

18.

Rehm J, Ustun TB, Shekhar S, Nelson CB, Chatterji S, Ivis F, Adlaf E (1999) On the development and psychometric testing of the WHO screening instrument to assess disablement in the general population. Int J Methods Psychiatr Res 8:110–123

19.

American Psychiatric Association (1994) Diagnostic and statistical manual of mental disorders, 4th edn (DSM-IV). APA, Washington, DC

20.

StataCorp (2001) Stata Statistical Software, Release 7.0. Stata Corporation, College Station, TX

21.

Kendler KS, Gallagher TJ, Abelson JM, Kessler RC (1996) Lifetime prevalence, demographic risk factors, and diagnostic validity of nonaffective psychosis as assessed in a US community sample. The National Comorbidity Survey. Arch Gen Psychiatry 53:1022–1031

22.

Monahan J, MacArthur Violence Risk Assessment Study (2001) Rethinking risk assessment: the MacArthur study of mental disorder and violence. Oxford University Press, New York

23.

Appelbaum PS, Robbins PC, Monahan J (2000) Violence and delusions: data from the MacArthur violence risk assessment study. Am J Psychiatry 157:566–572

24.

Crisanti A, Laygo R, Junginger J (2003) A review of the validity of self-reported arrests among persons with mental illness. Curr Opin Psychiatry 16:565–569

25.

Mills JF, Loza W, Kroner DG (2003) Predictive validity despite social desirability: evidence for the robustness of self-report among offenders. Crim Behav Ment Health 13:140–150

26.

Turner CF, Ku L, Rogers SM, Lindberg LD, Pleck JH, Sonenstein FL (1998) Adolescent sexual behavior, drug use, and violence: increased reporting with computer survey technology. Science 280:867–873

27.

Human Rights Watch (2003) Ill-Equipped: U.S. Prisons and Offenders with Mental Illness. Human Rights Watch, New York

28.

Robins LN, Regier DA (1991) Psychiatric disorders in American: the epidemiologic catchment area study. Free Press, New York

29.

Regier DA, Kaelber CT, Rae DS, Farmer ME, Knauper B, Kessler RC, Norquist GS (1998) Limitations of diagnostic criteria and assessment instruments for mental disorders. Implications for research and policy. Arch Gen Psychiatry 55:109–115

30.

Cheung P, Schweitzer I, Crowley K, Tuckwell V (1997) Violence in schizophrenia: role of hallucinations and delusions. Schizophr Res 26:181–190

31.

Myin-Germeys I, van Os J, Schwartz JE, Stone AA, Delespaul PA (2001) Emotional reactivity to daily life stress in psychosis. Arch Gen Psychiatry 58:1137–1144

32.

Janssen I, Krabbendam L, Bak M, Hanssen M, Vollebergh W, de Graaf R, van Os J (2004) Childhood abuse as a risk factor for psychotic experiences. Acta Psychiatr Scand 109:38–45

33.

Heyman RE, Slep AM (2002) Do child abuse and interparental violence lead to adulthood family violence? J Marriage Family 64:864–870

34.

Skeem JL, Monahan J, Mulvey EP (2002) Psychopathy, treatment involvement, and subsequent violence among civil psychiatric patients. Law Hum Behav 26:577–603
Appendix A
Appendix A
Psychotic-like experiences assessed in the 2001 National Household Survey on Drug Abuse.
The next questions are about unusual experiences that some people have. When you answer these questions, please do not include times when you were dreaming or half asleep, had a high fever, or were under the influence of llegal drugs or alcohol.
    During the past 12 months, have you heard voices—that is, voices that     other people said did not exist, voices coming from inside your head, or     voices coming out of the air when there was no one around?*     (hearing voices)
    During the past 12 months, have you seen a vision—that is, something     that other people could not see?* (seeing visions)
    During the past 12 months, have you felt that a force was taking over     your mind and trying to make you do things you didn't want to do?*     (influence experiences)
    During the past 12 months, have you felt that some force was     inserting thoughts directly into your head by means of X-rays or     laser beams or other methods?* (thoughts inserted)
    During the past 12 months, have you felt that your own thoughts     were being stolen out of your mind by someone or something you     did not have control over?* (thoughts stolen)
    During the past 12 months, have you felt that some force was trying     to communicate directly with you by sending special signs or signals     that only you could understand?* (reference ideations)
    During the past 12 months, have you believed that there was an unfair     plot going on to harm you or to have people follow you—when your     family and friends did not believe that this was happening?*     (paranoid ideations)
*Each question was followed by the statement: "Remember, please do not include times when you were dreaming or half asleep, had a high fever, or were under the influence of illegal drugs or alcohol."
About this article
Cite this article
Mojtabai, R. Psychotic-like experiences and interpersonal violence in the general population. Soc Psychiat Epidemiol 41, 183–190 (2006). https://doi.org/10.1007/s00127-005-0020-4
Accepted:

Published:

Issue Date:
Keywords
psychotic-like experiences

violence

aggression

general population surveys