Abstract
Understanding the relationship between mineral occurrences and host granitic rocks can be controversial. The Zaozigou Au-Sb deposit (118 t Au, 0.12 Mt Sb), hosted in metasedimentary rocks and dacitic to granodioritic sills and dikes, is one such example of a large gold deposit argued to have formed from either magmatic or metamorphic hydrothermal processes. Two populations of monazite are identified within a mineralized dacite located along a major shear zone. Magmatic monazite commonly occurs within magmatic biotite and quartz phenocrysts and is characterized by uniform and high Th concentrations. It has a crystallization age of 238.3 ± 2.6 Ma, consistent with the zircon U-Pb age of 238.0 ± 1.8 Ma from the same dacite. Hydrothermal monazite is associated with sulfides and sericite, and has a 207Pb-corrected 206Pb/238U age of 211.1 ± 3.0 Ma. The amount of Th in hydrothermal monazite is widely variable. The low Th content of some monazite grains reflects direct precipitation from a metamorphic hydrothermal fluid. Furthermore, the elevated Th content in other hydrothermal monazite grains is likely due to the release of Th (and U) into hydrothermal fluids by dissolution of pre-existing Th-rich minerals in the country rock during ore-related alteration events. The magmatism, which overlaps Middle-Late Triassic terrane subduction-accretion in the West Qinling orogen, thus pre-dates the ore-forming event by about 30 m.y. The δ34S values of pyrite, arsenopyrite, stibnite, marcasite, and chalcopyrite from disseminated- and vein-type ores range from − 12.0 to − 5.5‰. Such negative values are distinct from those measured for other deposits in the northwestern part of the orogen that are genetically related to Triassic magmatism, including the Xiekeng-Jiangligou-Shuangpengxi Cu-Au-Fe-Mo skarn, Laodou reduced intrusion-related Au, and Gangcha epithermal Au ores. The Zaozigou deposit is best classified as an epizonal orogenic Au-Sb deposit. Our results demonstrate the usefulness of high-precision in situ geochronology on monazite for deciphering age relationships in ore deposits that have spatial associations with granitic rocks, thus aiding in the testing of the veracity of ore formation models.
This is a preview of subscription content, log in to check access.
Access options
Buy single article
Instant unlimited access to the full article PDF.
US$ 39.95
Price includes VAT for USA
Subscribe to journal
Immediate online access to all issues from 2019. Subscription will auto renew annually.
US$ 199
This is the net price. Taxes to be calculated in checkout.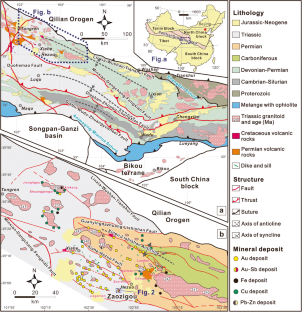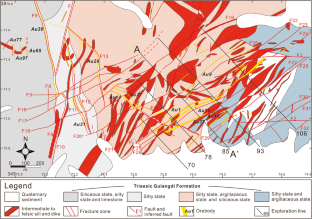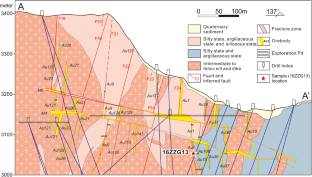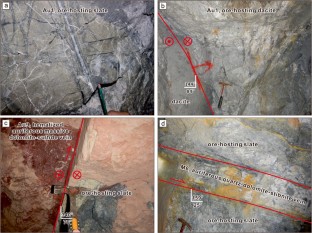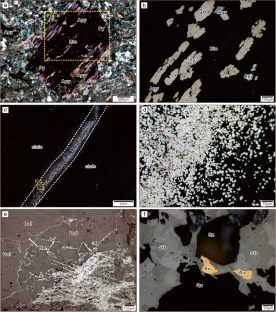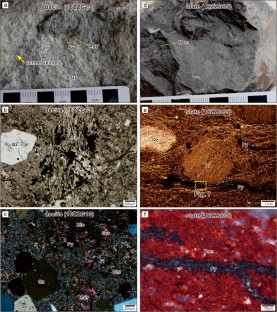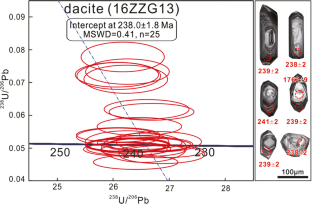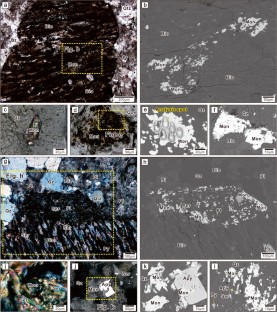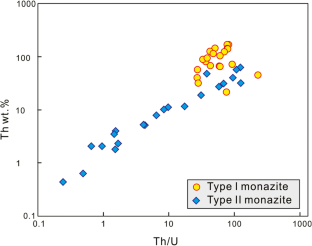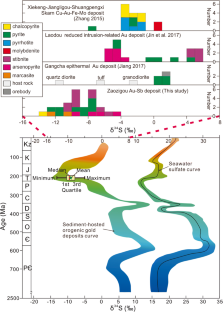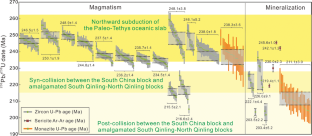 References
Aleinikoff JN, Schenck WS, Plank MO, Srogi L, Fanning CM, Kamo SL, Bosbyshell H (2006) Deciphering igneous and metamorphic events in high-grade rocks of the Wilmington complex, Delaware: morphology, cathodoluminescence and backscattered electron zoning, and SHRIMP U-Pb geochronology of zircon and monazite. Geol Soc Am Bull 118:39–64

Aliyari F, Rastad E, Mohajjel M (2012) Gold deposits in the Sanandaj-Sirjan zone: orogenic gold deposits or intrusion-related gold systems? Resour Geol 62:296–315

Chang ZS, Vervoort JD, McClelland WC, Knaack C (2006) U-Pb dating of zircon by LA-ICP-MS: geochemistry. Geophysics, Geosystems 7:Q05009. https://doi.org/10.1029/2005GC001100

Chang ZS, Large RR, Maslennikov V (2008) Sulfur isotopes in sediment-hosted orogenic gold deposits: evidence for an early timing and a seawater sulfur source. Geology 36:971–974

Chen RL, Chen ZL, Wu JJ, Liang ZL, Han FB, Wang Y, Xiao CH, Wei LX, Shen T (2018) Fluid inclusions and S-Pb isotope in Zaozigou gold deposit, Hezuo in Gansu Province. J Jilin Univ (Earth Sci Ed) 48:87–104 (in Chinese with English abstract)

Dai WJ, Chen YY (2012) Relationship between neutral rock vein and mineralization in Zaozigou gold deposit, Gansu. Gold 33:19–23 (in Chinese with English abstract)

de Ronde CEJ, Faure K, Bray CJ, Whitford DJ (2000) Round Hill shear zone-hosted gold deposit, Macraes Flat, Otago, New Zealand: evidence of a magmatic ore fluid. Econ Geol 95:1025–1048

Deng J, Wang QF, Li GJ, Santosh M (2014) Cenozoic tectono-magmatic and metallogenic processes in the Sanjiang region, southwestern China. Earth-Sci Revi 138:268–299

Deng J, Wang CM, Bagas L, Carranza EJM, Lu YJ (2015) Cretaceous–Cenozoic tectonic history of the Jiaojia Fault and gold mineralization in the Jiaodong Peninsula, China: constraints from zircon U–Pb, illite K–Ar, and apatite fission track thermochronometry. Mineral Deposita 50:987–1006

Deng J, Wang QF (2016) Gold mineralization in China: metallogenic provinces, deposit types and tectonic framework. Gondwana Res 36:219–274

Di PF (2018) Geochemistry and ore-forming mechanism on Zaozigou gold deposit in Xiahe-Hezuo, West Qinling, China (in Chinese with English abstract). PhD Thesis, Lanzhou University

Dirks PHGM, Charlesworth EG, Munyai MR, Wormald R (2013) Stress analysis, post-orogenic extension and 3.01 Ga gold mineralisation in the Barberton Greenstone Belt, South Africa. Precambrian Res 226:157–184

Dong YP, Santosh M (2016) Tectonic architecture and multiple orogeny of the Qinling orogenic belt, central China. Gondwana Res 29:1–40

Dong YP, Yang Z, Liu XM, Sun SS, Li W, Cheng B, Zhang FF, Zhang XN, He DF, Zhang GW (2016) Mesozoic intracontinental orogeny in the Qinling Mountains, central China. Gondwana Res 30:144–158

Dong YP, Zhang GW, Neubauer F, Liu XM, Genser J, Hauzenberger C (2011) Tectonic evolution of the Qinling orogen, China: review and synthesis. J Asian Earth Sci 41:213–237

Duan M, Niu YL, Kong JJ, Sun P, Hu Y, Zhang Y, Chen S, Li JY (2016) Zircon U-Pb geochronology, Sr-Nd-Hf isotopic composition and geological significance of the Late-Triassic Baijiazhuang and Lvjing granitic plutons in West Qinling orogen. Lithos 260:443–456

Fan HR, Zhai MG, Xie YH, Yang JH (2003) Ore-forming fluids associated with granite-hosted gold mineralization at the Sanshandao deposit, Jiaodong gold province, China. Mineral Deposita 38:739–750

Fielding IOH, Johnson SP, Zi JW, Rasmussen B, Muhling JR, Dunkley DJ, Sheppard S, Wingate MTD, Rogers JR (2017) Using in-situ SHRIMP U-Pb monazite and xenotime geochronology to determine the age of orogenic gold mineralization: an example from the Paulsens mine, southern Pilbara craton. Econ Geol 112:1205–1230

Geng JZ, Qiu KF, Gou ZY, Yu HC (2017) Tectonic regime switchover of Triassic western Qinling orogen: constraints from LA-ICP-MS zircon U-Pb geochronology and Lu-Hf isotope of Dangchuan intrusive complex in Gansu, China. Chemie Erde-Geochem 77:637–651

Giesemann A, Jaeger HJ, Norman AL, Krouse HR, Brand WA (1994) On-line sulfur-isotope determination using an elemental analyzer coupled to a mass spectrometer. Anal Chem 66(18):2816–2819

Goldfarb RJ, Snee LW, Miller LD, Newberry RJ (1991) Rapid dewatering of the crust deduced from ages of mesothermal gold deposits. Nature 354:296–298

Goldfarb RJ, Miller LD, Leach DL, Snee LW (1997) Gold deposits in metamorphic rocks of Alaska. In: Goldfarb RJ, Miller LD (eds) Mineral deposits of Alaska, Econ Geol Monogr, vol 9, pp 151–190

Goldfarb RJ, Groves DI, Gardoll S (2001) Orogenic gold and geologic time: a global synthesis. Ore Geol Rev 18:1–75

Goldfarb RJ, Baker T, Dubé B, Groves DI, Hart CJR, Gosselin P (2005) Distribution, character, and genesis of gold deposits in metamorphic terranes. Econ Geol 100th Anniversary Vol. 407–450

Goldfarb RJ, Groves DI (2015) Orogenic gold: common or evolving fluid and metal sources through time. Lithos 233:2–26

Goldfarb RJ, Qiu KF, Deng J, Chen YJ, Yang LQ (2019) Orogenic gold deposits of China. Soc Econ Geol Spec Publ 22 in press

Gou ZY, Yu HC, Qiu KF, Geng JZ, Wu MQ, Wang YG, Yu MH, Li J (2019) Petrogenesis of ore-hosting diorite in the Zaorendao gold deposit at the Tongren-Xiahe-Hezuo polymetallic district, West Qinling, China. Minerals 9:76

Groves DI, Goldfarb RJ, Gebre-Mariam M, Hagemann SG, Robert F (1998) Orogenic gold deposits—a proposed classification in the context of their crustal distribution and relationship to other gold deposit types. Ore Geol Rev 13:7–27

Groves DI, Goldfarb RJ, Robert F, Hart CJR (2003) Gold deposits in metamorphic belts: overview of current understanding, outstanding problems, future research, and exploration significance. Econ Geol 98:1–29

Groves DI, Santosh M (2016) The giant Jiaodong gold province: the key to a unified model for orogenic gold deposits? Geosci Front 7:409–417

Hall G, Wall V (2007) Geology works: the use of regional geological maps in exploration. In Proceedings of Exploration 07: Fifth Decennial International Conference on Mineral Exploration, 51–60

Hart CJR, Goldfarb RJ (2005) Distinguishing intrusion-related from orogenic gold systems. In Proceedings of the New Zealand Minerals Conference, Auckland, New Zealand, 125–113

Helt KM, Williams-Jones AE, Clark JR, Wing BA, Wares R (2014) Constraints on the genesis of the Archean oxidized, intrusion-related Canadian Malartic gold deposit, Quebec, Canada. Econ Geol 109:713–735

Hopp J, Trieloff M, Brey GP, Woodland AB, Simon NSC, Wijbrans JR, Siebel W, Reitter E (2008) 40Ar/39Ar–ages of phlogopite in mantle xenoliths from South African kimberlites: evidence for metasomatic mantle impregnation during the Kibaran orogenic cycle. Lithos 106:351–364

Jiang ZC (2017) Metallogenic model and exploration potential of the Gangcga gold deposit in Gansu (in Chinese with English abstract). PhD Thesis, China University of Geosciences, Beijing

Jin XY, Li JW, Hofstra AH, Sui JX (2017) Magmatic-hydrothermal origin of the early Triassic Laodou lode gold deposit in the Xiahe-Hezuo district, West Qinling orogen, China: implications for gold metallogeny. Mineral Deposita 52:883–902

Kelley SP, Wartho JA (2000) Rapid kimberlite ascent and the significance of Ar–Ar ages in xenolith phlogopites. Science 289:609–611

Kerrich R (1986) Fluid transport in lineaments. Phil Transact R Soc London A 317:219–251

Kerrich R, Cassidy KF (1994) Temporal relationships of lode gold mineralization to accretion, magmatism, metamorphism and deformation—Archean to present: a review. Ore Geol Rev 9:263–310

Kong FP (2013) Study of geological features and metallogenic relationship with magmatism of Zaozigou gold deposit in Hezuo Gansu province (in Chinese with English abstract). Master Thesis, China University of Geosciences, Wuhan

Lang JR, Baker T (2001) Intrusion-related gold systems: the present level of understanding. Mineral Deposita 36:477–489

Li SG, Sun WD, Zhang GW, Chen JY, Yang SC (1996) Chronology and geochemistry of metamorphic volcanic rocks in Heigouxia, South Qinling. Sci China Earth Sci 26:223–230 (in Chinese)

Li SZ, Jahn BG, Zhao SJ, Dai LM, Li XY, Suo YH, Guo LL, Wang YM, Li XC, Lan HY, Zhou ZZ, Zheng QL, Wang PC (2017) Triassic southeastward subduction of North China Block to South China Block: insights from new geological, geophysical and geochemical data. Earth-Sci Rev 166:270–285

Li XH, Fan HR, Yang KF, Hollings P, Liu X, Hu FF, Cai YC (2018a) Pyrite textures and compositions from the Zhuangzi Au deposit, southeastern North China Craton: implication for ore-forming processes. Contrib Mineral Petrol 173:73–20. https://doi.org/10.1007/s00410-018-1501-2

Li SZ, Zhao SJ, Liu X, Cao HH, Yu S, Li XY, Somerville I, Yu SY, Suo YH (2018b) Closure of the Proto-Tethys Ocean and Early Paleozoic amalgamation of microcontinental blocks in East Asia. Earth-Sci Rev 186:37–75

Li XW, Mo XX, Huang XF, Dong GC, Yu XH, Luo MF, Liu YB (2015) U-Pb zircon geochronology, geochemical and Sr-Nd-Hf isotopic compositions of the Early Indosinian Tongren pluton in west Qinling: petrogenesis and geodynamic implications. J Asian Earth Sci 97:38–50

Liang S, Liu L, Zhang CL, Yang YC, Yang WQ, Kang L, Cao YT (2013) Metamorphism and zircon U-Pb age of high-pressure mafic granulites in in Mian-Lüe suture zone, South Qinling orogen. Acta Petrol Sin 29:1657–1674 (in Chinese with English Abstract)

Liang ZL, Gong QS, Ma HS, Zhang YN, Chen GZ, Li PB, Wang JL, Cai L, Yang F, Chi HG, Zhao, JZ, Zhao ZC, Zhu R (2016a) Mineral exploration report of Zaozigou gold deposit. 221p (in Chinese).

Liang ZL, Chen GZ, Ma HS, Zhang YN (2016b) Evolution of ore-controlling faults in the Zaozigou gold deposit, western Qinling. Geotecton Metallog 40:354–366 (in Chinese with English Abstract)

Liu JJ, Liu CH, Carranza EJM, Li YJ, Mao ZH, Wang JP, Wang YH, Zhang J, Zhai DG, Zhang HF, Shan L, Zhu LM, Lu RK (2015) Geological characteristics and ore-forming process of the gold deposits in the western Qinling region. China J Asian Earth Sci 103:40–69

Liu Y, Liu YH, Dong FC, Li ZH, Yu JK, Ma XP (2012) Accurate dating of mineralogenetic epoch and its geological significance in Zaozigou gold deposit, Gansu province. Gold 33:10–17 (in Chinese with English Abstract)

Liu YS, Gao S, Hu ZC, Gao CG, Zong KQ, Wang DB (2010) Continental and oceanic crust recycling-induced melt–peridotite interactions in the trans-North China orogen: U-Pb dating, Hf isotopes and trace elements in zircons from mantle xenoliths. J Petrol 51:537–571

Ludwig KR (2012) User's manual for Isoplot 3.75—a geochronological toolkit for Microsoft Excel: Berkeley Geochronology Center

Luo BJ, Zhang HF, Xu WC, Guo L, Pan F, Yang H (2015) The middle Triassic Meiwu batholith, west Qinling, central China: implications for the evolution of compositional diversity in a composite batholith. J Petrol 56:1139–1172

Ma WD, Fan HR, Liu X, Pirajno F, Hu FF, Yang KF, Yang YH, Xu WG, Jiang P (2017) Geochronological framework of the Xiadian gold deposit in the Jiaodong province, China: implications for the timing of gold mineralization. Ore Geol Rev 86:196–211

Mao JW, Qiu YM, Goldfarb RJ, Zhang Z, Garwin S, Ren F (2002) Geology and distribution of gold deposits in the western Qinling belt, central China. Mineral Deposita 37:352–377

Mattauer M, Matte P, Malavieille J, Tapponnier P, Maluski H, Qin XZ, Lun LY, Qin TY (1985) Tectonics of Qinling Belt: build-up and evolution of eastern Asia. Nature 317:496–500

McCuaig TC, Kerrich R (1998) P-T-t-deformation-fluid characteristics of lode gold deposits: evidence from alteration systematics. Ore Geol Rev 12:381–454

McIntire D, Qiu KF, Yu HC, Gou ZY, Goldfarb RJ, Chang ZS (2019) Structural and tectonic evolution of the Zaozigou gold-antimony deposit: evidence for a counter-clockwise rotation of principal stress direction during compression. 15th Biennial Meeting of the Society for Geology Applied to Mineral Deposits <Glasgow>, Abstract

Miller LD, Goldfarb RJ, Gehrels GE, Snee LW (1994) Genetic links among fluid cycling, vein formation, regional deformation, and plutonism in the Juneau gold belt, southeastern Alaska. Geology 22:203–206

Mueller AG, Hagemann SG, McNaughton NJ (2016) Neoarchean orogenic, magmatic and hydrothermal events in the Kalgoorlie-Kambalda area, Western Australia: constraints on gold mineralization in the Boulder Lefroy-Golden Mile fault system Mineral Deposita https://doi.org/10.1007/s0012601606659

Phillips GN, Powell R (2015) A practical classification of gold deposits, with a theoretical basis. Ore Geol Rev 65:568–573

Pitcairn IK, Teagle DAH, Craw D, Olivo GR, Kerrich R, Brewer TS (2006) Sources of metals and fluids in orogenic gold deposits: insights from the Otago and Alpine Schists, New Zealand. Econ Geol 101:1525–1546

Powell R, Will TM, Phillips GN (1991) Metamorphism in Archaean greenstone belts: calculated fluid compositions and implications for gold mineralization. J Metamorphic Geol 9:141–150

Qiu KF, Yang LQ (2011) Genetic feature of monazite and its U-Th-Pb dating: critical considerations on the tectonic evolution of Sanjiang Tethys. Acta Petrol Sin 27:2721–2732 (in Chinese with English abstract)

Qiu KF, Taylor RD, Song YH, Yu HC, Song KR, Li N (2016) Geologic and geochemical insights into the formation of the Taiyangshan porphyry copper-molybdenum deposit, western Qinling orogenic belt, China. Gondwana Res 35:40–58

Qiu KF, Deng J (2017) Petrogenesis of granitoids in the Dewulu skarn copper deposit: implications for the evolution of the Paleotethys ocean and mineralization in western Qinling, China. Ore Geol Rev 90:1078–1098

Qiu KF, Marsh E, Yu HC, Pfaff K, Gulbransen C, Gou ZY, Li N (2017) Fluid and metal sources of the Wenquan porphyry molybdenum deposit, Western Qinling, NW China. Ore Geol Rev 86:459-473

Qiu KF, Yu HC, Gou ZY, Liang ZL, Zhang JL, Zhu R (2018) Nature and origin of Triassic igneous activity in the Western Qinling orogen: the Wenquan composite pluton example. Int Geol Rev 60:242–266

Qiu KF, Yu HC, Wu MQ, Geng JZ, Ge XK, Gou ZY, Taylor RD (2019) Discrete Zr and REE mineralization of the Baerzhe rare-metal deposit, China. Am Mineral 104:1487–1502

Qiu XP, Wang SH, Zou Q (2008) Metallogenetic effect of tan–Lu fault on gold accumulation area in Shandong Peninsula, China. Geol Anhui 18:16–19 (in Chinese with English abstract)

Rasmussen B, Fletcher IR, Sheppard S (2005) Isotopic dating of the migration of a low-grade metamorphic front during orogenesis. Geology 33:773–776

Rock NMS, Groves DI, Perring CS (1989) Gold, lamprophyres, and porphyries: what does their association mean? Econ Geol Monogr 6:609–625

Salier BP, Groves DI, McNaughton NJ, Fletcher IR (2004) The world-class Wallaby gold deposit, Laverton, Western Australia: an orogenic-style overprint on a magmatic-hydrothermal magnetite-calcite alteration pipe? Mineral Deposita 39:473–494

Schandl ES, Gorton MP (2004) A textural and geochemical guide to the identification of hydrothermal monazite: criteria for selection of samples for dating epigenetic hydrothermal ore deposits. Econ Geol 99:1027–1035

Sillitoe RH (2008) Major gold deposits and belts of the North and South American Cordillera: distribution, tectonomagmatic settings, and metallogenic considerations. Econ Geol 103:663–687

Sillitoe RH, Thompson JFH (1998) Intrusion-related vein gold deposits: types, tectono-magmatic settings and difficulties of distinction from orogenic gold deposits. Resour Geol 48:237–250

Skipton DR, Schneider DA, Mcfarlane CRM, St-Onge MR, Jackson S (2016) Multi-stage zircon and monazite growth revealed by depth profiling and in-situ, U-Pb geochronology: resolving the Paleoproterozoic tectonics of the Trans-Hudson Orogen on southeastern Baffin Island, Canada. Precambrian Res 285:272–298

Spencer CJ, Kirkland CL, Taylor RJM (2016) Strategies towards statistically robust interpretations of in-situ, U-Pb zircon geochronology. Geosci Front 7:581–589

Stacey JS, Kramers JD (1975) Approximation of terrestrial lead isotope evolution by a two-stage model. Earth Planet Sci Lett 26:207–221

Sui JX, Li JW (2013) Geochronology and genesis of the Zaozigou gold deposit, Xiahe-Hezuo district, west Qinling. Acta Minera Sin:346–347 (in Chinese with English abstract)

Sui JX, Li JW, Jin XY, Vasconcelos P, Zhu R (2018) 40Ar/39Ar and U-Pb constraints on the age of the Zaozigou gold deposit, Xiahe-Hezuo district, West Qinling orogen, China: relation to early Triassic reduced intrusions emplaced during slab rollback. Ore Geol Rev 101:885–899

Tang QY, Di PF, Yu M, Bao J, Zhao Y, Liu DX, Wang YX (2019) Mineralogy and Geochemistry of Pyrite and Arsenopyrite from the Zaozigou Gold Deposit in West Qinling Orogenic Belt, Central China: Implications for Ore Genesis. Resource Geology 69 (3):314-332

Tartese R, Ruffet G, Poujol M, Boulvais P, Ireland TR (2011) Simultaneous resetting of the muscovite K-Ar and monazite U-Pb geochronometers: a story of fluids. Terra Nova 23:390–398

Taylor RD, Goldfarb RJ, Monecke T, Fletcher IR, Cosca MA, Kelly NM (2015) Application of U-Th-Pb phosphate geochronology to young orogenic gold deposits: new age constraints on the formation of the Grass Valley gold district, Sierra Nevada Foothills province. California. Econ Geol 110: 1313–1337

Tomkins AG (2010) Windows of metamorphic sulfur liberation in the crust: implications for gold deposit genesis. Geochim Cosmochim Acta 74:3246–3259

Vaughan DJ (2006) Sulfide mineralogy and geochemistry: introduction and overview. Rev Mineral Geochem 61:1–5

Vielreicher NM, Groves DI, Fletcher IR, McNaughton NJ, Rasmussen B (2003) Hydrothermal monazite and xenotime geochronology: a new direction for precise dating of orogenic gold mineralization. SEG Newsletter 531:10–16

Wang X, Wang T, Castro A, Rocío P, Lu X, Xiao Q (2011) Triassic granitoids of the Qinling orogen, central China: genetic relationship of enclaves and rapakivi-textured rocks. Lithos 126:369–387

Wei LX, Chen ZL, Pang ZS, Han FB, Xiao CH (2018) An analysis of the tectonic stress field in the Zaozigou gold deposit, Hezuo area, Gansu province. Acta Geosci Sin 39:79–93

Williams ML, Jercinovic MJ, Hetherington CJ (2007) Microprobe monazite geochronology: understanding geologic processes by integrating composition and chronology. Annu Rev Earth Planet Sci 35:137–175

Williams ML, Jercinovic MJ, Harlov DE, Budzyn B, Hetherington CJ (2011) Resetting monazite ages during fluid-related alteration. Chem Geol 283:218–225

Wu YF, Li JW, Evans K, Koenig AE, Li ZK, O'Brien H, Lahaye Y, Rempel K, Hu SY, Zhang ZP, Yu JP (2018a) Ore-forming processes of the Daqiao epizonal orogenic gold deposit, West Qinling orogen, China: constraints from textures, trace elements, and sulfur isotopes of pyrite and marcasite, and Raman spectroscopy of carbonaceous material. Econ Geol 113:1093–1132

Wu YF, Li JW, Evans K, Vasconcelos PM, Thiede DS, Fougerouse D, Rempel K (2018b) Late Jurassic to early cretaceous age of the Daqiao gold deposit, West Qinling orogen, China: implications for regional metallogeny. Mineralium Deposita (in press) https://doi.org/10.1007/s00126-018-0835-z

Yang LQ, Deng J, Dilek Y, Qiu KF, Ji XZ, Li N, Taylor RD, Yu JY (2015a) Structure, geochronology, and petrogenesis of the Late Triassic Puziba granitoid dikes in the Mianlue suture zone, Qinling orogen, China. Geol Soc Am Bull 11:1831–1854

Yang LQ, Deng J, Qiu KF, Ji XZ, Santosh M, Song KR, Song YH, Geng JZ, Zhang C, Hua B (2015b) Magma mixing and crust-mantle interaction in the Triassic monzogranites of Bikou terrane, central China: constraints from petrology, geochemistry, and zircon U-Pb-Hf isotopic systematics. J Asian Earth Sci 98:320–341

Yu HC, Guo CA, Qiu KF, McIntire D, Jiang GP, Gou ZY, Geng JZ, Pang Y, Zhu R, Li NB (2019a) Geochronological and geochemical constraints on the formation of the giant Zaozigou Au-Sb deposit, West Qinling, China. Minerals 9:37

Yu HC, Qiu KF, Sai SX, McIntire DC, Pirajno F, Duo DW, Miggins DP, Wang J, Jia RY, Wu MQ (2019b) Paleo-Tethys Late Triassic Orogenic Gold Mineralization Recorded by the Yidi'nan Gold Deposit, West Qinling, China. Ore Geol Rev, in press. https://doi.org/10.1016/j.oregeorev.2019.103211

Yue SW, Deng XH, Bagas L, Lin ZW, Fang J, Zhu CH, Zhang W (2017) Fluid inclusion geochemistry and 40Ar/39Ar geochronology constraints on the genesis of the Jianchaling Au deposit, China. Ore Geol Rev 80:676–690

Zeng QT, McCuaig TC, Hart CJ, Jourdan F, Muhling J, Bagas L (2012) Structural and geochronological studies on the Liba goldfield of the West Qinling Orogen, central China. Mineral Deposita 47:799–819

Zhang GW, Zhang BR, Yuan XC, Xiao QH (2001) Qinling orogenic belt and continental dynamics (in Chinese with English abstract). Science Press, Beijing

Zhang T (2015) The geochemistry characteristics and metallogenic series of Gangcha pluton in Tongren, Qinghai Province (in Chinese with English abstract). PhD Thesis, China University of Geosciences, Beijing

Zi JW, Rasmussen B,  Muhling JR, Maier WD, Fletcher IR (2019) U-Pb monazite ages of the Kabanga mafic-ultramafic intrusions and contact aureoles, central Africa: Geochronological and tectonic implications. GSA Bulletin 131 (11-12):1857-1870

Zhu RX, Fan HR, Li JW, Meng QR, Li SR, Zeng QD (2015) Decratonic gold deposits. Sci China Earth Sci 58:1523–1537
Acknowledgments
The authors would like to thank Guest Editor David Groves, Editor-in-Chief Bernd Lehmann, and anonymous reviewers for providing constructive comments. We are indebted to João Carlos Biondi, Jiajun Liu, Liqiang Yang, Birger Rasmussen, and Jianwei Zi for thoughtful discussions on early versions of the manuscript. This research was financially supported by the National Natural Science Foundation (41702069, 41230311, 41730426, 41872066), the National Basic Research Program (2015CB452606), the National Key Research Program (2016YFC0600107, 2017YFC0601506), the Fundamental Research Funds for the Central Universities (2652018125), the Open Research Project from the State Key Laboratory of Geological Processes and Mineral Resources at the China University of Geosciences (GPMR201812), CAS Key Laboratory of Mineral Resources (KLMR2017-03), the 111 Project (BP0719021), and the State Administration of Foreign Affairs Overseas Professor Project to Goldfarb (MS2014ZGDZ[BJ]014). K-F Qiu gratefully acknowledges the support of the China Scholarship Council, Society of Economic Geologists Foundation, China Postdoctoral Foundation, and K.C. WONG Education Foundation, Hong Kong.
Additional information
Publisher's note
Springer Nature remains neutral with regard to jurisdictional claims in published maps and institutional affiliations.
Editorial handling: D. Groves
Electronic supplementary material
About this article
Cite this article
Qiu, K., Yu, H., Deng, J. et al. The giant Zaozigou Au-Sb deposit in West Qinling, China: magmatic- or metamorphic-hydrothermal origin?. Miner Deposita (2020). https://doi.org/10.1007/s00126-019-00937-w
Received:

Accepted:

Published:
Keywords
Monazite geochronology

Sulfur isotope

Zaozigou deposit

Orogenic Au-Sb

West Qinling