Multiple mineralization events of the Paleozoic Tuwu porphyry copper deposit, Eastern Tianshan: evidence from geology, fluid inclusions, sulfur isotopes, and geochronology
Abstract
The Tuwu porphyry Cu deposit, located in Eastern Tianshan, NW China, is hosted by a plagiogranite porphyry and Carboniferous Qi'eshan Group volcanic rocks. Based on crosscutting relationships and mineral assemblages, hydrothermal alteration and mineralization processes at Tuwu can be divided into four stages: early propylitic alteration (stage I), porphyry mineralization (stage II), overprinting mineralization (stage III), and post-mineralization (stage IV). The porphyry mineralization stage (stage II) contributed to the majority of the Cu–Mo resource, with Cu mineralization occurring mainly as quartz-chalcopyrite veins. Stage III also produced minor Cu mineralization, characterized by chalcopyrite–anhydrite–chlorite–calcite assemblages. Fluid inclusion (FI) study reveals that stage II is characterized by a high-temperature, high-salinity, highly oxidized, and K-rich H2O–NaCl–CaCl2 fluid. Fluid boiling and mixing likely occurred during the porphyry mineralization stage, leading to the precipitation of chalcopyrite and pyrite. Alteration and mineralization in stage III were derived from a S-rich H2O–NaCl–CaCl fluid, with fluid boiling leading to the precipitation of chalcopyrite. The δ34S values of chalcopyrite from stages II and III are − 0.8–0.6 ‰ and 1.1–1.3 ‰, respectively, suggesting magmatic sources for the ore-forming components of both stages. 40Ar/39Ar dating indicates that stage II likely occurred at 328.1 ± 1.4 Ma, around the age emplacement of the causative plagiogranite porphyry (ca. 337.7–330.3 Ma). We suggest the overprinting mineralization event occurred at ca. 323 Ma, spatially and genetically related to the emplacement of the quartz albite porphyry at 323.6 ± 2.5 Ma.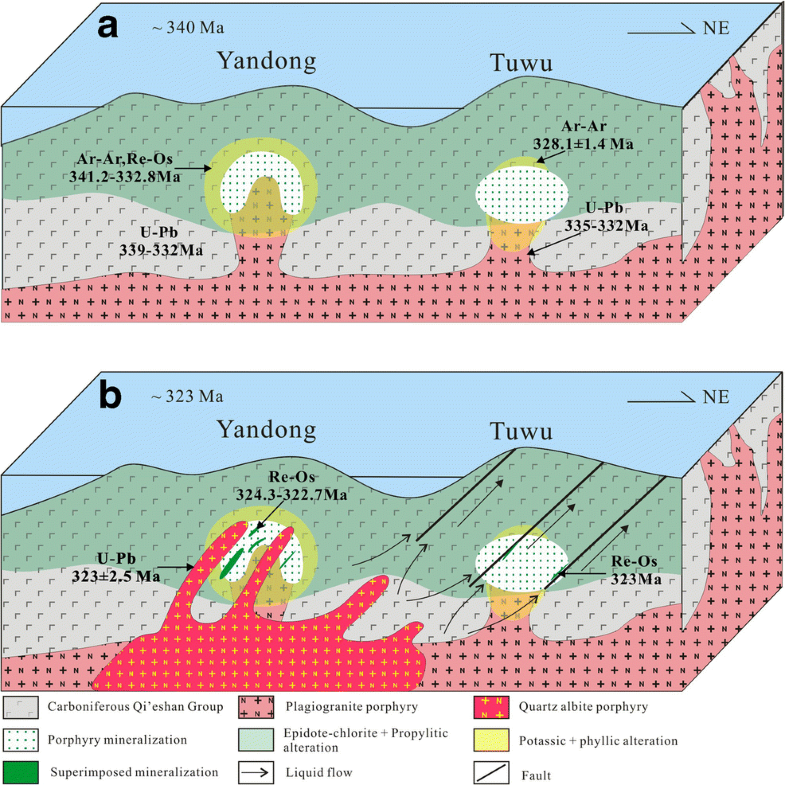 Keywords
Tuwu porphyry Cu deposit 
Eastern Tianshan 
Overprinting mineralization 
Fluid inclusions 
S isotope 
Ar–Ar dating 
Notes
Acknowledgments
We gratefully acknowledge Dengfeng Li, Weifeng Zhang, Liandang Zhao, Wanjian Lu for providing assistance undertaking field work. We also thank the technical support of Niu Hecai for assistance during fluid inclusion microthermometry. This is contribution no. IS–2592 from GIGCAS.
Funding information
This study was financially supported by the Natural Science Foundation of China Program (U1603244), and Strategic Priority Research Program (B) of Chinese Academy of Sciences (XDB1803206).
Copyright information
© Springer-Verlag GmbH Germany, part of Springer Nature 2018