Abstract
Intermediate sulfidation veins containing quartz–sphalerite–tetrahedrite–rhodochrosite–fluorite in the Sweet Home Mine, Alma District, Colorado were originally mined for silver starting in 1873. For the last 13 years up until 2004, however, the mine has produced world-class rhodochrosite specimens. Some of these specimens are considered to be among the finest mineral specimens ever produced and the finest of their species with values well over $1 million US dollars. The extraction, preparation, and marketing techniques pioneered at the Sweet Home operation have revolutionized the minerals specimen industry. The Sweet Home deposit is interpreted as a single pulse variant of a Climax-type hydrothermal system. Evidence for this includes (1) an age of mineralization (25.8 ± 0.3 Ma) that coincides with the age of the end stages of mineralization of the Climax molybdenum deposit approximately 7.5 km to the northeast; (2) a geochemical (Mn, W, F) and mineralogical (topaz, fluorite, hubnerite, greisen muscovite) signature typically associated with Climax-type systems; (3) the presence of porphyry rhyolite dikes, a breccia dike, and local quartz–molybdenite veins in the nearby area; (4) a small pegmatite within the mine with an age (25.9 ± 0.3 Ma) coincident with mineralization, which also contains minor amounts of disseminated molybdenite; and (5) the presence of similar-appearing gemmy, red rhodochrosites at Climax and other high-silica rhyolite systems. A significant difference is that unlike Climax-type systems, the Sweet Home hydrothermal system appears to have consisted of a single, relatively small pulse of magmatic fluid that slowly cooled and diluted with groundwater. This is inferred to have occurred at moderate depths in the order of 1.5–2.5 km below the surface. The fluids that formed the Sweet Home veins were dilute (salinity in the order of 2–4 wt% NaCl equivalent), high-temperature (temperatures of homogenization up to 370°C), and initially of magmatic origin. Gem quality ruby-red rhodochrosite at the Sweet Home Mine is nearly pure manganese carbonate with minimal solid solution with Fe+2, Ca, or Mg. It formed at higher temperatures and salinities in comparison to lower value, pink rhodochrosite. Gemmy, ruby-red rhodochrosite is distinctly associated with highly evolved silica-rich igneous/hydrothermal systems. The high fluorine content typical of such systems suggests that Mn was transported in solution as fluoride complexes, which, in turn, favored rhodochrosite deposition at above-average temperatures and with minimal cation contamination.
This is a preview of subscription content, log in to check access.
Access options
Buy single article
Instant access to the full article PDF.
US$ 39.95
Price includes VAT for USA
Subscribe to journal
Immediate online access to all issues from 2019. Subscription will auto renew annually.
US$ 199
This is the net price. Taxes to be calculated in checkout.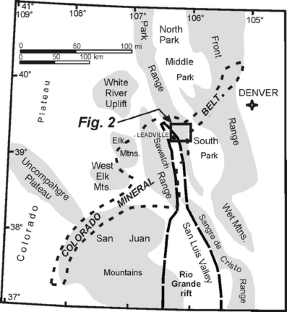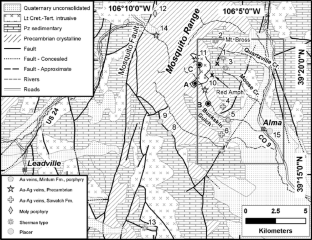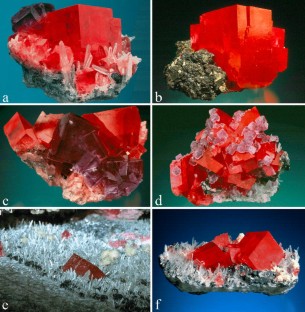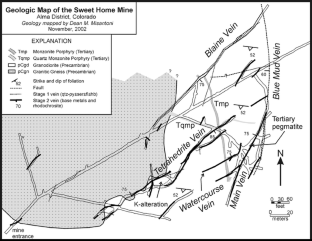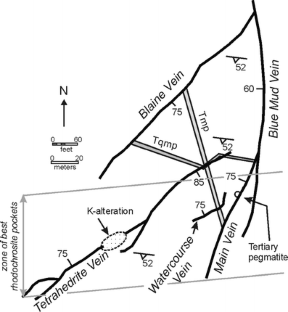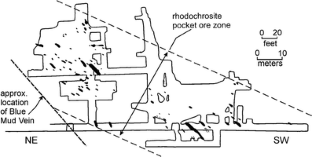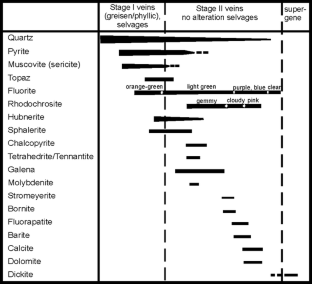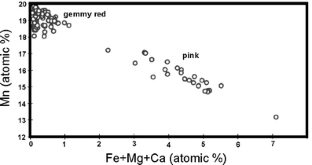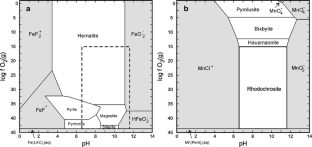 References
Bancroft P (1973) The world's finest minerals and crystals. Viking, New York, p 176

Barbá KE (2004) Structural analysis on mineralized veins in the Sweet Home Mine, Alma, Colorado. Unpublished MS thesis, Colorado School of Mines, p 141

Barbá KE, Nelson EP, Misantoni D, Hitzman MW, Layer PW (2005) Structural controls on mineralized veins in the Sweet Home Mine, Alma District, Colorado. In: Rhoden HN, Steininger RC, and Vikre PG (eds) Geological Society of Nevada Symposium 2005: Window to the World, Reno, Nevada, May 2005, pp 689–708

Beaty DW, Landis GP, Thompson TB (1990) Carbonate-hosted sulfide deposits of the Central Colorado mineral belt. Econ Geol Monogr 7:424p

Behre CH Jr (1953) Geology and ore deposits of the west slope of the Mosquito Range. US Geol Surv Professional Paper 235:176

Bookstrom AA (1983) Geology and ore deposits of the Alma District. Climax Molybdenum Company Private Report (216 pp)

Bookstrom AA (1989) The Climax–Alma granite batholith of Oligocene age and the porphyry molybdenum deposits of Climax, CO, USA. Eng Geol 27:543–568

Bussell MA, Alpers CN, Petersen U, Shepherd TJ, Bermudez C, Baxter AN (1990) The Ag–Mn–Pb–Zn vein, replacement, and skarn deposits of Uchucchacua, Peru: studies of structure, mineralogy, metal zoning, Sr isotopes, and fluid inclusions. Econ Geol 85:1348–1383

Casadeval T, Ohmoto H (1977) Sunnyside Mine: Eureka mining district, San Juan County, Colorado: geochemistry of gold and base metal ore deposition in a volcanic environment. Econ Geol 72:1285–1320

Colombo F (2003) The polymetallic Capillitas deposit, Catamarca, Argentina. Mineral Rec 34(1):114–115

Crowley JA, Currier RH, Szenics T (1997a) Pasto Bueno Group, Pasto Bueno District, Pallasca Province, Ancash department. Mineral Rec 28(4):29–36

Crowley JA, Currier RH, Szenics T (1997b) The Pachapaqui District, Bolognesi Province, Ancash department. Mineral Rec 28(4):39–47

Crowley JA, Currier RH, Szenics T (1997c) The Uchucchacua Mine, Oyon Province, Lima department. Mineral Rec 28(4):58–61

Deer WA, Howie RA, Zussman J (1962) Rock forming minerals, vol 5. Non-silicates. Longman, London, p 371

Diaz N (1975) Geología de la región de Pachapaqui. Bol de la Sociedad Geológica del Perú, Tomo 50:53–64

Dickinson WR (2003) The Basin and Range province as a composite extensional domain. In: Klemperer SL, Ernst, WG (eds) The lithosphere of western North America and its geophysical characterization, vol 7. GSA International Book Series, pp 213–250

Eckel EB, Cobban RR, Collins DS, Foord EE, Kile DE, Modreski PJ, Murphy JA (1997) Minerals of Colorado. Fulcrum Publishing, Golden, CO, p 665

Emmons SF (1886) Geology and mining industry of Leadville, U.S. Geol Surv Monogr 12:770

Endlich FM (1878) Mineralogical report—catalogue of minerals found in Colorado. In: Hayden FV (ed) Tenth annual report of the U.S. geological and geographical survey of the territories, embracing Colorado and parts of adjacent territories, report of progress of exploration for the year 1876. US Geological and Geographical Survey of the Territories, pp 133–159

Fubini B, Stone FS (1983) Physico-chemical properties of MnCO3–CaCo3 and MnO–CaO solid solutions. J Chem Soc Faraday Trans I 79:1215–1227

Goldsmith JR, Graf DL (1957) The system Cao–MnO–CO2: solid-solution and decomposition relations. Geochim Cosmochim Acta 11:310–334

Gorman-Lewis DJ, Reed MH, Rusk BG (2002) Low salinity fluid inclusions in Main stage veins of the Butte, Montana porphyry copper deposit. Geological Society of America abstracts with program, Cordilleran Section, 98th Annual Meeting 34(5):16

Holmes RW, Kennedy MB (1983) The mines and minerals of the Great American Rift (Colorado-New Mexico), Van Nostrand Reinhold, New York, New York, pp 223–232

Landis GP, Rye RO (1974) Geologic, fluid inclusion and stable isotope studies of the Pasto Buena tungsten-base metal ore deposit, northern Peru. Econ Geol 69:1025–1059

Miller HW (1971) Rhodochrosite crystal localities in the west. Mineral Rec 2(3):105–110

Misantoni D, Silberman ML, Lees BK (1998) Geology of the Sweet Home Mine and Alma District. Mineral Rec 29(4):101–114

Musgrave JA, Thompson TB (1991) Sultan Mountain Mine, Western San Juan Mountains, Colorado: a fluid inclusion and stable isotope study. Econ Geol 86:768–779

Myrow PM, Taylor JF, Miller JF, Ethington RL, Ripperdan RL, Allen J (2003) Fallen arches: dispelling myths concerning Cambrian and Ordovician paleogeography of the Rocky Mountain region. Geol Soc Amer Bull 115(6):695–713

Parker BH Jr (1974) Gold placers of Colorado (Book 1): Colo Sch Mines Q 69(3):268

Patton HB, Hoskin AJ, Bulter GM (1912) Geology and ore deposits of the Alma District, Park County, Colorado. Colo Geol Surv Bull 3:272

Powell JL (1992) Mineralogy and fluid inclusion geochemistry of the Mountain Queen vein, San Juan County, Colorado. Masters Thesis, Colorado School of Mines (124 pp)

Reynolds TJ (1998) Ancient fluids at the Sweet Home Mine. Mineral Rec 29(4):127–131

Rice CM, Harmon RS, Shepherd TJ (1985) Central City, Colorado: the upper part of an alkaline porphyry molybdenum system. Econ Geol 80:1769–1796

Robinson RW, Norman DI (1984) Mineralogy and fluid inclusion study of the southern amethyst vein system, Creede mining district, Colorado. Econ Geol 79:439–447

Seedorff E, Einaudi MT (2004a) Henderson porphyry molybdenum system, Colorado: I. Sequence and abundance of hydrothermal mineral assemblages, flow paths of evolving fluids, and evolutionary style. Econ Geol 99(1):3–35

Seedorff E, Einaudi MT (2004b) Henderson porphyry molybdenum system, Colorado: II. Decoupling of introduction and deposition of metals during geochemical evolution of hydrothermal fluids. Econ Geol 99(1):37–70

Sillitoe RH, Hedenquist JW (2003) Linkages between volcanotectonic settings, ore-fluid compositions, and epithermal precious-metal deposits. In: Simmons SF, Graham IJ (eds) Volcanic, geothermal and ore-forming fluids: rulers and witnesses of processes within the Earth. Society of Economic Geologists and Geochemical Society Special Publication 10:315–343

Sims PK, Drake AA Jr, Tooker EW (1963) Economic geology of the Central City District, Gilpin County, Colorado. US Geol Surv Professional Paper 359:228

Singewald QD, Butler BS (1931) Preliminary report of the geology of Mount Lincoln and the Russia Mine, Park County, Colorado. Proc Colo Sci Soc 12(12):389–406

Singewald QD, Butler BS (1941) Ore deposits in the vicinity of the London fault of Colorado. US Geol Surv Bull 911:72

Sverjensky DA, Shock EL, Helgeson HC (1997) Prediction of the thermodynamic properties of aqueous metal complexes to 1,000°C and 5 kb. Geochim Cosmochim Acta 61:1359–1412

Taylor HP Jr (1974) The application of oxygen and hydrogen isotopic studies to problems of hydrothermal alteration and ore deposition. Econ Geol 69:843–883

Thompson TB, Arehart GB (1990) Geology and the origin of ore deposits in the Leadville District, Colorado: Part I. Geologic studies of orebodies and wall rocks. In: Beaty DW, Landis GP, Thompson TB (eds) Carbonate-hosted sulfide deposits of the Central Colorado mineral belt. Econ Geol Monogr 7:130–155

Tweto O (1980) Precambrian geology of Colorado. In: Kent HC, Porter KW (eds) Colorado geology. Rocky Mount Assoc Geol pp 37–46

Tweto O, Sims PK (1963) Precambrian ancestry of the Colorado Mineral Belt. Geol Soc Amer Bull 74:991–1014

Von Bezing KL, Dixon RD, Pohl D, Cavallo G (1991) The Kalahari manganese field: an update. Mineral Rec 22(4):279–302

Voynick S (1998) The Sweet Home Mine, 1873–1989. Mineral Rec 29(4):11–20

Wallace AR (1990) Regional geologic and tectonic setting of the Central Colorado mineral belt. Econ Geol Monogr 7:19–28

Wallace SR, Muncaster NK, Jonson DC, Mackenziz WB, Bookstrom AA, Surface VE (1968) Multiple intrusion and mineralization at Climax, Colorado. In ore deposits of the United States, 1933–1967: Graton-Sales Volume, vol 1. The American Institute of Mining, Metallurgical, and Petroleum Engineers Inc., pp 605–640

Wenrich KJ, Aumente-Modreski R (1998) Crystal chemistry of minerals from the Sweet Home Mine. Mineral Rec 29(4):132–144

Wenrich KJ (1998) Sweet Home rhodochrosite—what makes it so cherry red? Mineral Rec 29(4):123–126

White WH, Bookstrom AA, Kamilli RJ, Ganster MW, Smith RP, Ranta DE, Steininger RC (1981) Character and origin of Climax-type molybdenum deposits. In: Skinner BJ (ed) Economic Geology Seventy-Fifth Anniversary Volume 1905–1980. Lancaster Press, Lancaster, PA, pp 270–316

Widmann BL, Bartos PJ, Madole, RF, Barbá, KE, Moll ME (2004) Geologic map of the Alma quadrangle, Park and Summit Counties, Colorado. Colo Geol Surv Open-File Rep 04–3

Wilson WE, Dunn PJ (1978) Famous mineral localities: the Kalahari manganese field. Mineral Rec 9(3):137–156
Acknowledgment
Kate Barbá provided some vein and wall rock samples from her work at the Sweet Home Mine; the use of these samples is greatly appreciated. The other mappers of the Alma quadrangle, Beth Widdman and Richard Madole, along with field assistants Kate Barbá and Marilyn Moll, provided much useful feedback in the field and office. Joel Brugger constructed and provided the log fO2/pH diagrams. Reviews by Graham Closs, Kalin Kouzmanov, and Joel Brugger greatly improved the paper.
About this article
Cite this article
Bartos, P.J., Nelson, E.P. & Misantoni, D. The Sweet Home rhodochrosite specimen mine, Alma District, Central Colorado: the porphyry molybdenum–fluorine connection. Miner Deposita 42, 235–250 (2007). https://doi.org/10.1007/s00126-006-0103-5
Received:

Accepted:

Published:

Issue Date:
Keywords
Rhodochrosite

Climax-type system

Sweet Home mine

Fluorite