Abstract
The Palaeoproterozoic (1.9 Ga) Rytky and Kotalahti mafic-ultramafic intrusions are located in the contact zone between the Archaean craton and Proterozoic supracrustal rocks. During the second deformation event (D2) the surrounding country rocks were subjected to intensive metamorphism and deformation associated with the Svecofennian orogeny; the Archaean/Proterozoic boundary controlled both D2 thrusting and magma ascent. Emplacement of the Rytky and Kotalahti intrusions took place at the culmination of D2, as shown by the gneiss inclusions with S2 schistosity within the intrusions. Overthrusting continued after emplacement, with detached fragments of the bodies incorporated into the Archaean gneisses. During the third deformation event (D3) the originally subhorizontal intrusions were rotated into a subvertical position, so that they now have their stratigraphic top towards the west. The Rytky intrusion is composed mainly of medium- and coarse-grained lherzolite, websterite and gabbronorite. The nickel deposit with pentlandite as the main nickel mineral is associated with the lherzolite and websterite. The coarse-grained lherzolite, websterite and melagabbro represent the first rocks to form, and they contain the nickel sulphide mineralisation. Country rock contamination, as indicated by high TiO2, P2O5, Rb, Zr and light rare earth element contents (LREE), is most pronounced in the marginal part of the intrusion, which was the first to form. The variation in olivine composition (Fo 78.6-84.77 mole %; Ni 630–2386 ppm) and the metal ratio of the sulphide (Ni/Co 19.3 – 50.3) along with the internal stratigraphy of the intrusion indicate an in-situ process of sulphide ore formation.
This is a preview of subscription content, log in to check access.
Access options
Buy single article
Instant access to the full article PDF.
US$ 39.95
Price includes VAT for USA
Subscribe to journal
Immediate online access to all issues from 2019. Subscription will auto renew annually.
US$ 199
This is the net price. Taxes to be calculated in checkout.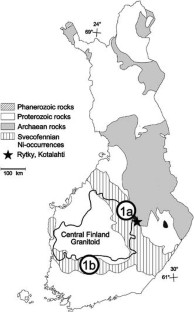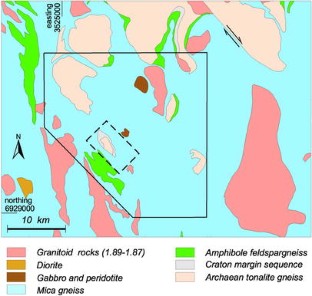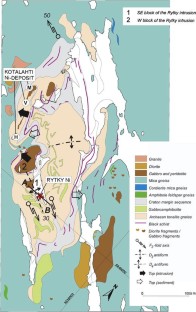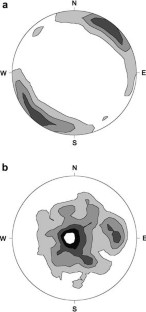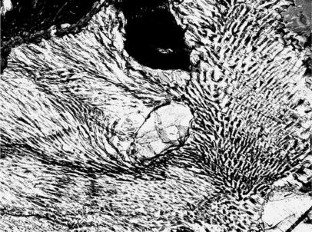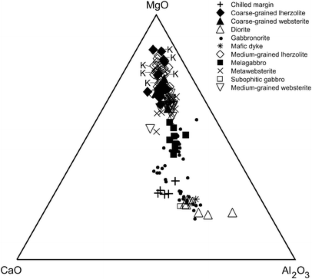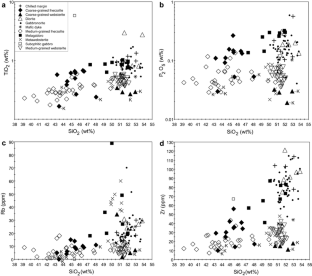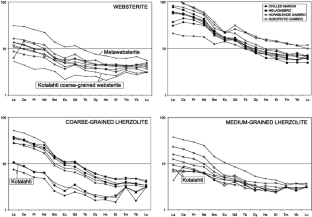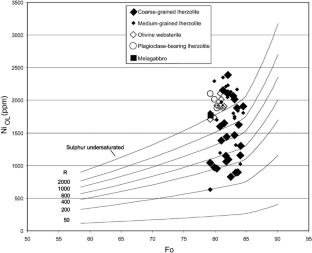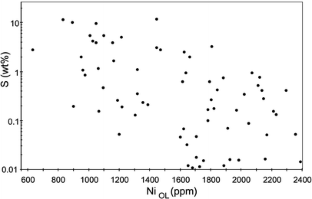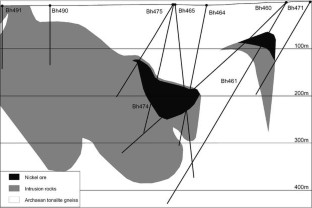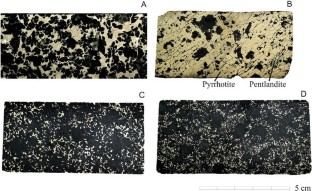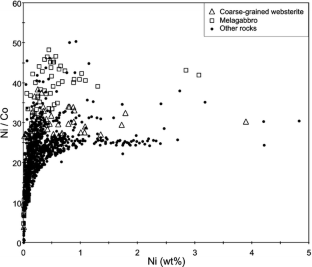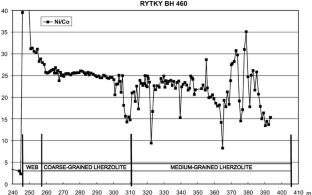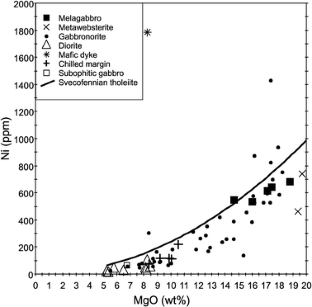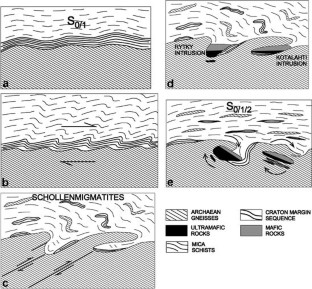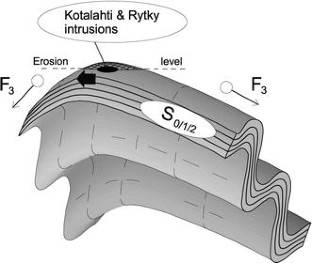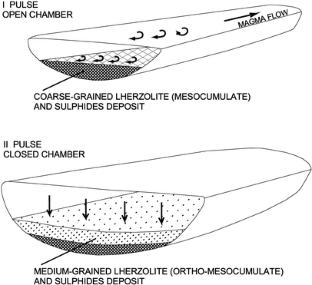 References
Barnes SJ (1986) The effect of trapped liquid crystallization on cumulus mineral compositions in layered intrusions. Contributions to Mineralogy and Petrology 93:524–531

Bleeker W (1991) Thompson area – general geology and ore deposits. In: Galley AG Bailes AH Syme EC Bleeker W Macek JJ and Gordon TM. (eds.) Geology and mineral deposits of the Flin Flon and Thompson Belts, Manitoba. Field trip 10. Geological Survey of Canada, Open File Report 2165: 93 - 136

Boynton WV (1984) Cosmochemistry of the rare earth elements: meteorite studies. In: Henderson P (ed.) Rare earth element geochemistry. Amsterdam: Elsevier, 63–114

Campbell IH Naldrett AJ (1979) The influence of silicate:sulfide ratios on the geochemistry of magmatic sulfides. Economic Geology 74: 1503–1505

Czamanske GK Moore JG (1977) Composition and phase chemistry of sulfide globules in basalt from Mid-Atlantic Ridge rift valley near 37 N lat. Geological Society of America, Bulletin 88: 587–599

Duke JM Naldrett AJ (1978) A numerical model of the fractionation of olivine and molten sulfide from komatiite magma. Earth and Planetary Science Letters 39: 255–266

Fleet ME MacRae ND Herzberg CT (1977) Partition of nickel between olivine and sulfide: A test for immiscible sulfide liquids. Contributions to Mineralogy and Petrology 65: 191–197

Francis RD (1990) Sulfide globules in mid-ocean ridge basalts (MORB), and the effect of oxygen abundance in Fe-S-O liquids on the ability of those liquids to partition metals from MORB and komatiite magmas. Chemical Geology 85: 199-213

Gaál G (1972) Tectonic control of some Ni-Cu deposits in Finland. In: Gill JE (ed.) International Geological Congress, 24th session, Montreal 1972 : Section 4, Mineral deposits, pp. 215–224

Gaál G (1980) Geological setting and intrusion tectonics of the Kotalahti nickel-copper deposit, Finland. Bulletin of the Geological Society of Finland 52: 101–128

Hill RET (2001) Komatiite volcanology, volcanological setting and primary geochemical properties of komatiite-associated nickel deposits. Geochemistry 1:365–381

Kilpeläinen T (1998) Evolution and 3D modelling of structural and metamorphic patterns of the Palaeoproterozoic crust in the Tampere-Vammala area, southern Finland. Geological Survey of Finland. Bulletin 397. p. 124

Koistinen TJ (1981) Structural evolution of an early Proterozoic stratabound Cu-Co-Zn deposit, Outokumpu, Finland. Transactions of the Royal Society of Edinburgh : Earth Sciences 72: 115–158

Kontas E Niskavaara H Virtasalo J (1990) Gold, palladium and tellurium in South African, Chinese and Japanese geological reference samples. Geostandards Newsletter 14:477–478

Korsman K Glebovitsky V (eds.) (1999) Raahe-Ladoga Zone structure-lithology, metamorphism and metallogeny: a Finnish-Russian cooperation project 1996–1999. Map 2: Metamorphism of the Raahe-Ladoga Zone 1:1 000 000. Espoo: Geological Survey of Finland

Korsman K Koistinen T Kohonen J Wennerström M Ekdahl E Honkamo M Idman H Pekkala Y (eds.) (1997) Suomen kallioperäkartta. Berggrundskarta över Finland. Bedrock map of Finland 1:1 000 000. Espoo. Geological Survey of Finland

Kousa J Lundqvist T (2000) Svecofennian Domain. In: Lundqvist Th, Autio S (eds.) Description to the bedrock map of central Fennoscandia (Mid-Norden). Geological Survey of Finland. Special Paper 28: 47–75

Kärki A Laajoki K Luukas J (1993) Major Palaeoproterozoic shear zones of the central Fennoscandian Shield. In: Gorbatschev R (ed.) The Baltic Shield. Precambrian Research 64:207–223

Li C Naldrett AJ (1999) Geology and petrology of the Voisey's Bay Intrusion: Reaction of olivine with sulfide and silicate liquids. Lithos 47: 1–31

Makkonen HV (1996) 1.9 Ga tholeiitic magmatism and related Ni-Cu deposition in the Juva area, SE Finland. Geological Survey of Finland. Bulletin 386. p. 101

Mäkinen J (1987) Geochemical characteristics of Svecokarelidic mafic-ultramafic intrusions associated with Ni-Cu occurrences in Finland. Geological Survey of Finland. Bulletin 342. 109 p.

Naldrett AJ (1989) Magmatic sulfide deposits. Oxford Monographs on Geology and Geophysics 14. New York: Oxford University Press

Nilsson G (1985) Nickel-copper deposits in Sweden. In: Papunen H, Gorbunov GI (eds.) Nickel-copper deposits of the Baltic Shield and Scandinavian Caledonides. Geological Survey of Finland. Bulletin 333:313–362

Nironen M (1997) The Svecofennian Orogen : a tectonic model. Precambrian Research 86:21–44

Papunen H Koskinen J (1985) Geology of the Kotalahti nickel-copper ore. In: Papunen H, Gorbunov GI (eds.) Nickel-copper deposits of the Baltic Shield and Scandinavian Caledonides. Geological Survey of Finland. Bulletin 333: 228–240

Papunen H Vorma A (1985) Nickel deposits in Finland, a review. In: Papunen H, Gorbunov GI (eds.) Nickel-copper deposits of the Baltic Shield and Scandinavian Caledonides. Geological Survey of Finland. Bulletin 333: 123–143

Peach CL Mathez EA Keays RR (1990) Sulfide melt-silicate melt distribution coefficients for noble metals and other chalcophile elements as deduced from MORB: Implications for partial melting. Geochimica et Cosmochimica Acta 54:3379–3389

Peltonen P (1995) Magma-country rock interaction and the genesis of Ni-Cu deposits in the Vammala Nickel Belt, SW Finland. Mineralogy and Petrology 52: 1 – 24

Peltonen P (2004) Mafic-Ultramafic Intrusions of the Svecofennian Orogen. In: Lehtinen M, Nurmi PA, Rämö OT (eds.) Precambrian Bedrock of Finland—a Key to the Evolution of the Fennoscandian Shield. pp. 413 – 447, Elsevier, Amsterdam. In Press

Peredery WV (1979) Relationships of ultamafic amphibolites to metavolcanic rocks and serpentinites in the Thompson Belt, Manitoba. Canadian Mineralogist 17:187 – 200

Puustinen K Saltikoff B Tontti M (1995) Distribution and metallogenic types of nickel deposits in Finland. Geological Survey of Finland. Report of Investigation 132. p. 38

Rajamani V Naldrett AJ (1978) Partitioning of Fe, Co, Ni and Cu between sulfide liquid and basaltic melts and the composition of Ni-Cu sulfide deposits. Economic Geology 73: 82–93

Rautiainen I Hagel-Brunnström M-L Heiskanen L Kallio E (1996) Production oriented method for the determination of rare earth and other trace elements in rocks by ICP-MS. In: Nickel H, Broekaert JAC (eds.) XXIX Colloquium spectroscopicum internationale, Leipzig, Germany, August 27-September 1, 1995. Fresenius' Journal of Analytical Chemistry 355:393–396
Acknowledgements
We are grateful to Peter Lightfoot for his many valuable comments on the manuscript. We thank Olavi Kontoniemi, Jouni Luukas, Erkki Luukkonen, Peter Sorjonen-Ward and Olli Äikäs for their comments on the early version of the manuscript and Malcolm Hicks for checking the English.
About this article
Cite this article
Mäkinen, J., Makkonen, H.V. Petrology and structure of the Palaeoproterozoic (1.9 Ga) Rytky nickel sulphide deposit, Central Finland: a comparison with the Kotalahti nickel deposit. Miner Deposita 39, 405–421 (2004). https://doi.org/10.1007/s00126-004-0413-4
Received:

Accepted:

Published:

Issue Date:
Keywords:
Finland

Rytky

Geochemistry

Nickel

Sulphide

Structural geology

Ultramafic intrusion

Palaeoproterozoic