Clinical aspects of heart failure in individuals with diabetes
Abstract
Heart failure (HF) is an important comorbidity in individuals with diabetes. Most commonly, the condition is secondary to ischaemia and hypertension. Diabetic cardiomyopathy is becoming increasingly recognised as a cause of HF and blood glucose control plays a pivotal role in the prevention and treatment of HF. Since the US Food and Drug Administration regulatory guidance in 2008, new glucose-lowering agents are evaluated routinely by cardiovascular outcome trials. These trials offer a wealth of knowledge and allow better understanding of the risks and benefits of contemporary diabetes medications. In this review, we will focus on the risks of HF with emerging glucose-lowering therapies and the safety of these medications in patients with established HF. We will summarise the guidance that is available for the treatment algorithm of diabetes in those with HF and highlight future areas of research.
Keywords
Diabetes 
Heart failure 
Medical management 
Review 
Abbreviations
CANVAS

Canagliflozin Cardiovascular Assessment Study

CVD

Cardiovascular disease

CVO

Cardiovascular outcome

DECLARE-TIMI 58

Dapagliflozin Effect on Cardiovascular Events-Thrombolysis in Myocardial Infarction 58

DPP-4

Dipeptidyl peptidase-4

EMPA-REG OUTCOME

Empagliflozin, Cardiovascular Outcome Event Trial in Type 2 Diabetes Mellitus Patients

FDA

Food and Drug Administration

GLP-1

Glucagon-like peptide 1

HF

Heart failure

HFpEF

Heart failure with preserved ejection fraction

HFrEF

Heart failure with reduced ejection fraction

HHF

Hospitalisation for heart failure

LEADER

Liraglutide Effect and Action in Diabetes: Evaluation of Cardiovascular Outcome Results

MACE

Major adverse cardiovascular events

MI

Myocardial infarction

NT-proBNP

N-terminal-pro-B-type-natriuretic peptide

NYHA

New York Heart Association

REWIND

Researching Cardiovascular Events with a Weekly Incretin in Diabetes

SAVOR-TIMI 53

Saxagliptin Assessment of Vascular Outcomes Recorded in Patients with Diabetes Mellitus-Thrombolysis in Myocardial Infarction 53

SGLT2

Sodium–glucose cotransporter 2

TECOS

Trial Evaluating Cardiovascular Outcomes with Sitagliptin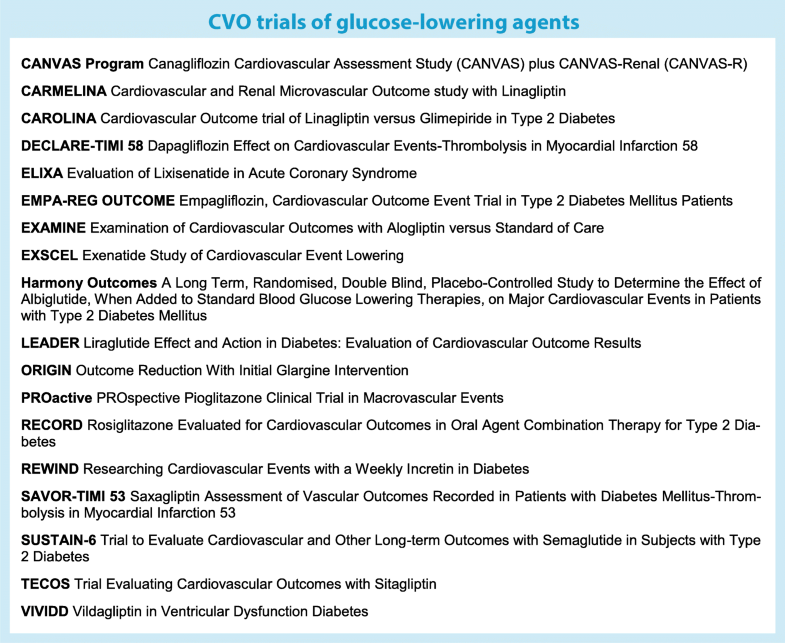 Notes
Contribution statement
All authors were responsible for drafting the article and revising it critically for important intellectual content. All authors approved the version to be published.
Duality of interest
LFL has served as a consultant for Tandem, Novo Nordisk, Merck, Eli Lilly and Sanofi and receives royalties from Springer Inc. JB has received research support from the National Institutes of Health, Patient Centered Outcomes Research Institute and the European Union and serves as a consultant for Adrenomed, Amgen, Array, AstraZeneca, Bayer, Berlin Cures, Boehringer Ingelheim, Bristol Myers Squib, CVRx, G3 Pharmaceutical, Janssen, Lantheus, Luitpold, Medtronic, Merck, Novartis, Relypsa, Roche, Sanofi, StealthPeptide, SC Pharma, Vifor and ZS Pharma. CDB reports no duality of interest associated with this manuscript.
Copyright information
© Springer-Verlag GmbH Germany, part of Springer Nature 2019