Incidence and prevalence of type 2 diabetes by occupation: results from all Swedish employees
Abstract
Aims/hypothesis
The workplace is a potentially important arena for prevention of type 2 diabetes and the first step is to identify occupations where the disease is common and/or risk is high. Therefore, our aim was to analyse incidence and prevalence of type 2 diabetes across all occupational groups in Sweden.
Methods
This nationwide study included all Swedish citizens born between 1937 and 1979 and gainfully employed between 2001 and 2013 (N = 4,550,892), and followed for a diagnosis of diabetes from 2006 to 2015 (n = 201,717) through national registers. Prevalence in 2013 (mean age 51 years; range 35–67) and age-standardised incidence (per 1000 person-years) were analysed across the 30 most common occupations among men and women. Information on BMI, physical fitness and smoking was obtained through the National Conscription (mean age 18) and Medical Birth Registers (mean age 29).
Results
Prevalence of type 2 diabetes was 5.2% in men and 3.2% in women; in men it was highest among motor vehicle drivers (8.8%) and in women it was highest among manufacturing workers (6.4%). Incidence varied dramatically across occupational groups. In men, it was highest among manufacturing workers (9.41) and professional drivers (9.32) and lowest among university teachers (3.44). In women, incidence was highest in manufacturing workers (7.20) and cleaners (6.18) and lowest in physiotherapists (2.20). We found major differences in the prevalence of being overweight and smoking and in the level of physical fitness across these occupational groups even at young ages.
Conclusions/interpretation
Professional drivers, manufacturing workers and cleaners have a threefold increased risk of type 2 diabetes compared with university teachers and physiotherapists. These differences most likely reflect dramatic differences in the prevalence of lifestyle risk factors. If workplace interventions could reduce weight and increase physical activity among employees in these occupations, major health gains may be made.
Keywords
Epidemiology 
Incidence 
Lifestyle 
Occupation 
Prevalence 
Prevention 
Registry-based 
Type 2 diabetes 
Abbreviations
LISA

Longitudinal Integrated Database for Health Insurance and Labour Market Studies

SES

Socioeconomic status

SIR

Standardised incidence rate ratio

SSYK96

Swedish Standard Classification of Occupations 1996

Wmax

Maximal aerobic workload
Introduction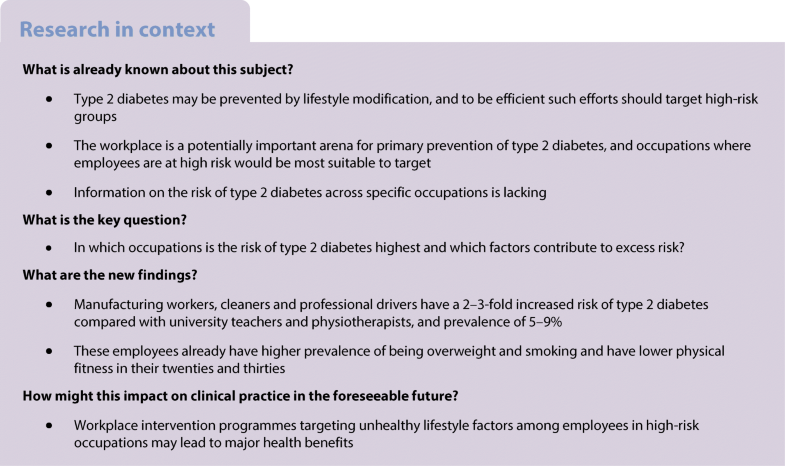 Diabetes is a common and increasing public health problem; according to the International Diabetes Federation, 425 million adults had diabetes in 2017 [1], the global number of afflicted individuals has quadrupled since the 1980s [2] and this trend is expected to continue [1, 3, 4]. For example, in Sweden, prevalence is projected to rise from 7% in 2013 to 10% by 2050 [4]. Demographic changes contribute to the rise but lifestyle changes are also important [2]. Type 2 diabetes is the most common form of diabetes (>85% cases) and risk factors include obesity, physical inactivity, unhealthy dietary patterns and smoking [5]. To reduce the diabetes burden, we need efficient preventive programmes targeting these factors and, to be cost effective, we should focus on high-risk individuals.
The risk of diabetes is known to differ by socioeconomic status (SES). According to a meta-analysis, a 30–40% increased incidence is observed in those with low socioeconomic position as indicated by income, education or occupation [6]. Individuals with low SES form a large and heterogeneous group that may encompass occupational groups with major differences in diabetes risk as well as individuals who are unemployed. A high risk could be due to a high prevalence of obesity, smoking or lack of leisure time physical activity among the employees. In addition, some occupations may promote diabetes; for example, those that involve shift work [7], long sitting times [8] or psychological stress [9]. Adults spend a large proportion of their time at work, which means that the work place could be an arena for primary prevention, and the first step towards such an approach would be to identify occupations where the diabetes risk is high. Diabetes prevalence is also important to map, since major gains in productivity could potentially be made if efficient secondary prevention could reduce the risk of comorbidities in high-prevalence occupations.
To date, few studies have investigated the diabetes burden across different occupational groups [10, 11]. To fill this knowledge gap, we investigated the prevalence and incidence of type 2 diabetes by occupation, using nationwide, register-based data for the entire Swedish population.
Notes
Acknowledgements
Open access funding provided by Karolinska Institute.
Contribution statement
All authors made substantial contributions to conception and design, acquisition of data or analysis and interpretation of data, and drafting the article or revising it critically for important intellectual content, and provided final approval of the version to be published. SC is the guarantor of this work.
Funding
This research received no specific grant from any funding agency in the public, commercial or not-for-profit sectors.
Duality of interest
The authors declare that there is no duality of interest associated with this manuscript.
Copyright information
© The Author(s) 2019
Open Access This article is distributed under the terms of the Creative Commons Attribution 4.0 International License (http://creativecommons.org/licenses/by/4.0/), which permits unrestricted use, distribution, and reproduction in any medium, provided you give appropriate credit to the original author(s) and the source, provide a link to the Creative Commons license, and indicate if changes were made.