Gestational diabetes in young women predicts future risk of serious liver disease
Abstract
Aims/hypothesis
In common with type 2 diabetes, gestational diabetes mellitus (GDM) is associated with a propensity for hepatic fat deposition. We hypothesised that GDM predicts future lifetime risk of serious liver-disease outcomes, such as cirrhosis, liver failure and need for transplantation.
Methods
From population-based administrative databases, we identified all women in Ontario, Canada, who had a pregnancy resulting in live birth between April 1994 and March 2002 (N = 698,078). This population was stratified into individuals with (n = 17,932) and without (n = 680,146) GDM, and both groups were further stratified according to subsequent development of type 2 diabetes in the years after delivery. The median follow-up for the development of serious liver disease (defined as hospitalisation for cirrhosis, liver failure or transplantation) was 14.0 years.
Results
Women with GDM had a higher risk of serious liver disease than those without GDM (n = 680,146; HR = 1.40, 95% CI 1.01, 1.94). Compared with women who did not have GDM and did not develop diabetes (n = 635,998), those with GDM who subsequently developed type 2 diabetes (n = 8567) had a higher risk of serious liver disease (adjusted HR = 1.56, 95% CI 1.02, 2.39), as did those without GDM who developed type 2 diabetes (n = 44,148; adjusted HR = 2.48, 95% CI 2.10, 2.93), but not those with GDM who did not develop type 2 diabetes (n = 9365; adjusted HR = 1.15, 95% CI 0.69, 1.91).
Conclusion/interpretation
GDM is associated with future risk of serious liver disease in young women, the development of which may be dependent upon progression to non-gestational diabetes.
Keywords
Cirrhosis 
Gestational diabetes 
Liver disease 
Liver failure 
Transplantation 
Abbreviations
CVD

Cardiovascular disease

GDM

Gestational diabetes mellitus

ODD

Ontario Diabetes Database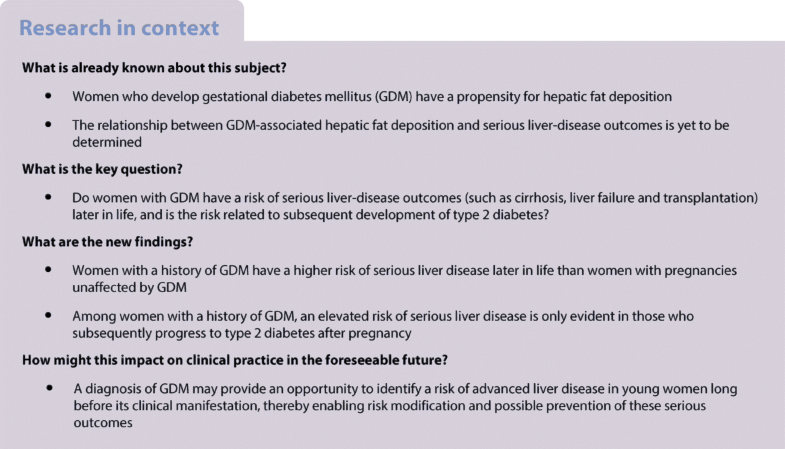 Notes
Acknowledgements
The authors wish to thank P. Austin, Institute for Clinical Evaluative Sciences, for his assistance with statistical analyses. RR holds the Boehringer Ingelheim Chair in Beta-cell Preservation, Function and Regeneration at Mount Sinai Hospital and his research programme is supported by the Sun Life Financial Program to Prevent Diabetes in Women. The Institute for Clinical Evaluative Sciences (ICES) is a not-for-profit research institute funded by the Ontario Ministry of Health and Long-Term Care (MOHLTC). Parts of this material are based on data and/or information compiled and provided by the Canadian Institute for Health Information (CIHI). No endorsement by ICES, the MOHLTC or CIHI is intended, or should be inferred. The opinions, results and conclusions reported in this study are those of the authors, and are independent of the funding sources. Some of the data were presented in an abstract at the 78th Scientific Sessions of the ADA, Orlando, in 2018.
Contribution statement
RR conceived the hypothesis and wrote the manuscript. RR and BRS designed the analysis plan. JL performed the statistical analyses. All authors interpreted the data and critically revised the manuscript for important intellectual content. All authors approved the final manuscript. BRS had full access to all of the data in the study and is responsible for the integrity of the work as a whole.
Funding
This research received no specific grant from any funding agency in the public, commercial or not-for-profit sectors.
Duality of interest
The authors declare that there is no duality of interest associated with this manuscript.
Copyright information
© Springer-Verlag GmbH Germany, part of Springer Nature 2018