Use of SGLT2 inhibitors in type 2 diabetes: weighing the risks and benefits
Abstract
Sodium–glucose cotransporter 2 (SGLT2) inhibitors belong to a novel class of glucose-lowering medications that reduce plasma glucose concentrations by inhibiting glucose reabsorption by the kidney, inducing glucosuria. Their actions encompass reductions in HbA1c, fasting and postprandial blood glucose levels, body weight and BP. To date, empagliflozin and canagliflozin have additionally been shown to improve cardiovascular outcomes in high-risk individuals and to slow the progression of diabetic kidney disease. Adverse effects associated with this class include urinary frequency, dehydration, genitourinary tract infections and, rarely, euglycaemic diabetic ketoacidosis. Of the SGLT2 inhibitors, only canagliflozin has been linked to a higher risk of lower-extremity amputations and bone fractures compared with placebo. Optimal prescribing of agents within this relatively new drug category requires a full understanding of their risks in addition to their benefits.
Keywords
Benefits 
Cardiovascular 
Fractures 
Ketoacidosis 
Renal 
Review 
Risks 
SGLT2 inhibitors 
Type 2 diabetes 
Abbreviations
AKI

Acute kidney injury

CANVAS

Canagliflozin Cardiovascular Assessment Study

CANVAS-R

CANVAS-Renal

CVD

Cardiovascular disease

DKA

Diabetic ketoacidosis

DPP-4

Dipeptidyl peptidase-4

EMPA-REG OUTCOME

Empagliflozin, Cardiovascular Outcome Event Trial in Type 2 Diabetes Mellitus Patients

MACE

Major adverse cardiac events

PVD

Peripheral vascular disease

SGLT2

Sodium–glucose cotransporter 2

UTI

Urinary-tract infection
Introduction
Sodium–glucose cotransporter 2 (SGLT2) inhibitors belong to a novel class of medications that reduce plasma glucose concentrations by increasing urinary glucose excretion. Members of this class approved for use in the USA and Europe are canagliflozin, dapagliflozin, empagliflozin and ertugliflozin. Besides decreasing plasma glucose, they also induce some weight loss, lower BP and carry a low risk of hypoglycaemia. Some SGLT2 inhibitors also have cardiovascular and renal benefits. They are generally well tolerated but have several well-recognised adverse effects that should be considered to optimise their risk to benefit ratio. The benefits vs risks of SGLT2 inhibitors are shown in Fig.
1
.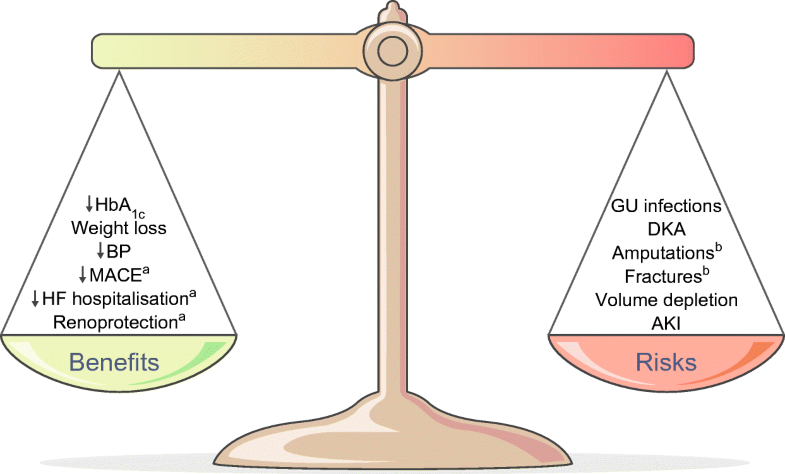 Beneficial effects of SGLT2 inhibitors
Adverse effects of SGLT2 inhibitors
The place of SGLT2 inhibitors in diabetes management
In a 2015 update to the 2012 ADA–EASD position statement on the management of hyperglycaemia in individuals with type 2 diabetes, SGLT2 inhibitors are suggested as second- or third-line agents after metformin in individuals needing additional glucose control [
37
]. In the 2018 ADA diabetes care guidelines they are recommended as second-line agents after metformin, as they are proven to reduce MACE and/or cardiovascular mortality in individuals with type 2 diabetes and established CVD (Fig.
2
) [
38
]. Based on available data, two members of the SGLT2 inhibitor class, empagliflozin and canagliflozin are now proven to have an overall cardiovascular benefit (with only empagliflozin reducing mortality), while cardiovascular protection with other SGLT2 inhibitors is not yet established. The proposed benefits of these drugs on renal outcomes has not yet been acknowledged in treatment algorithms, to our knowledge.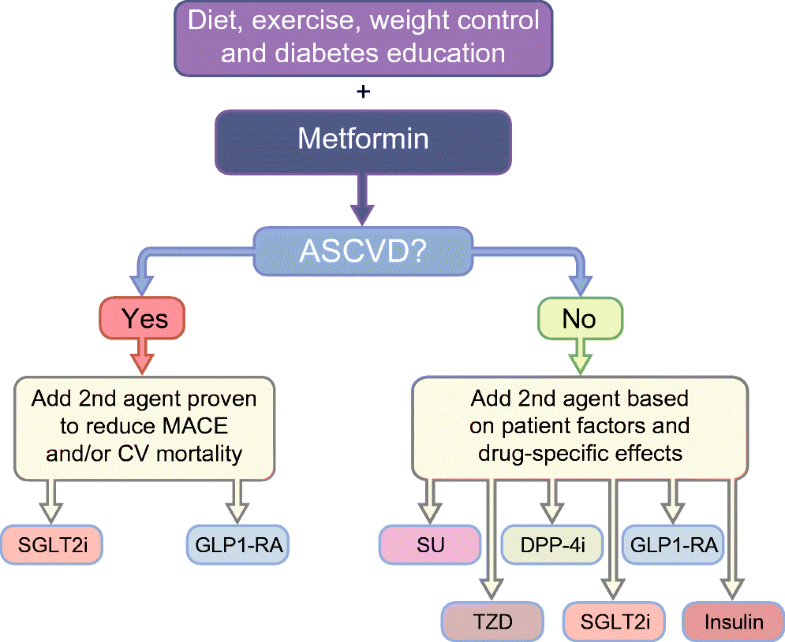 In addition to considering expert recommendations and national guidelines, prescribers and their patients should carefully weigh the now-recognised benefits of SGLT2 inhibitors against their safety concerns. Based on available evidence, it is reasonable to consider empagliflozin or canagliflozin as a second-line treatment for type 2 diabetes in individuals unable to achieve optimal glycaemic control with metformin, especially in those who may benefit from weight loss and/or BP reduction. These drugs appear to be particularly advantageous in those with established CVD and/or underlying prevalent kidney disease, so long as the eGFR is adequate. Despite the EMPA-REG OUTCOME trial demonstrating that mortality and chronic kidney disease benefits were observed down to an eGFR of 30 ml min−1 [1.73 m]−2, current labelling states that empagliflozin and canagliflozin should be discontinued when the eGFR is <45 ml min−1 [1.73 m]−2 and that dapagliflozin should be stopped when the GFR is <60 ml min−1 [1.73 m]−2. Use below these cut-points would be considered experimental until more information is garnered from ongoing trials. Further, it is not yet known whether these drugs might provide similar benefits if used in individuals not requiring additional glucose lowering on their current therapy.
The post hoc analyses from CANVAS suggesting a heart failure and renal benefit even in those without prevalent CVD should also be considered hypothesis-generating at this point and need to be substantiated by additional studies. It is difficult to know whether other SGLT2 inhibitors, namely dapagliflozin and ertugliflozin, will have the same benefits, as cardiovascular outcome trials involving these drugs are still pending. Their risk profile also needs further elucidation.
Canagliflozin should be avoided in individuals at risk for amputations, such as those with advanced PVD, severe peripheral neuropathy or prior history of lower-limb amputation or foot ulceration. Even though amputations were not seen in the EMPA-REG OUTCOME trial, it is not unreasonable to avoid the entire class in those at the highest amputation risk until more safety data are accumulated. Canagliflozin should probably also be used cautiously in those with prior fragility fractures or at high fracture risk, such as women with osteoporosis.
Although the trend in stroke in the EMPA-REG OUTCOME trial might suggest the drug be avoided in those with cerebrovascular disease, further analysis revealed that the imbalance in stroke events was largely due to occurrences in participants already off the study drug for at least 90 days. Accordingly, it is difficult to conclude that the drug specifically increases stroke risk. In addition, the trend for cardiovascular mortality was similar in individuals with and without a history of stroke at baseline [8].
SGLT2 inhibitors are to be avoided in individuals with prior history of complicated UTIs such as pyelonephritis or urosepsis, those with an indwelling urinary catheter and those with recurrent genital mycotic infections. Men with prostatic hypertrophy and women with urinary incontinence will find this drug class challenging to use, and this is likely to have a negative impact on quality of life. Caution should be taken before initiating SGLT2 inhibitor therapy in individuals with a predisposition to hypovolaemia, those who have borderline kidney function or those taking concomitant potent diuretics or nephrotoxic medications such as non-steroidal anti-inflammatory drugs.
The diuretic effect exerted by SGLT2 inhibitors means it is important to assess volume status and BP before initiating treatment. In hypovolaemic or hypotensive individuals, the SGLT2 inhibitor should be delayed until the fluid status and BP are corrected. If an individual is euvolaemic but verging towards hypotension, SGLT2 inhibitors should be initiated cautiously and close monitoring is advised. Euvolaemic, normotensive individuals on thiazide therapy can continue with the thiazide as this diuretic does not further reduce BP beyond the reduction achieved with SGLT2 inhibitors. In contrast, in individuals receiving more potent loop diuretics, reducing the dose by 50% should be considered, with close follow-up. In individuals with heart failure, any such changes would ideally be made after consultation with a cardiologist. Individuals on concurrent SGLT2 inhibitor and any diuretic should have their BP, weight, creatinine and electrolytes measured periodically. Finally, SGLT2 inhibitors should not be started in individuals with labile volume status [39].
Despite possible glycaemic benefits, SGLT2 inhibitors should not be used in type 1 diabetes because of concerns regarding euglycaemic DKA; individuals with latent autoimmune diabetes of adults (LADA) may also be at higher risk of developing ketoacidosis. Avoidance of SGLT2 inhibitors is advisable in individuals with type 2 diabetes who have evidence of very low insulin secretory capacity, as suggested by labile diabetes control, lean body build and, of course, prior episodes of ketosis.
Finally, since SGLT2 inhibitors are relatively new and are thus far only available as proprietary brand formulations, cost should also be considered. In the USA, for example, retail costs are more than 100-fold higher than for generic metformin or sulfonylureas. Justifying such expenses, using the information from clinical trials available to date, may be difficult for the more typical newly diagnosed individuals with type 2 diabetes who do not have prevalent CVD or nephropathy. Benefit in this group will need to be proven.
Conclusions
SGLT2 inhibitors, constituting the most recently available oral glucose-lowering drug category, exert their effect by increasing urinary glucose excretion. Optimal prescribing of agents within this category requires a full understanding of their risks in addition to their benefits. Besides improving glycaemic control, weight and BP, some members of this class provide beneficial cardiovascular and renoprotective effects. SGLT2 inhibitors should be considered reasonable second-line treatment options for individuals at risk of cardiovascular events or those with underlying nephropathy, if good glycaemic control has not been achieved with metformin monotherapy. Possible side effects include urinary frequency and orthostasis. Additional potential adverse effects include genitourinary tract infections, euglycaemic DKA, AKI, lower-extremity amputations and fractures—the latter two to date being associated solely with canagliflozin. Individuals at risk for such complications should be monitored closely and treatment should be discontinued or at least reconsidered if they occur.
Notes
Contribution statement
Both authors were responsible for drafting and revising the article and approved this version for publishing.
Duality of interest
SI has consulted for Janssen and vTv Pharmaceuticals and served on Research Steering Committees for AstraZeneca, Boehringer Ingelheim, Daiichi Sankyo, Novo Nordisk and Sanofi/Lexicon, Eisai (TIMI) and on a Data Monitoring Committee for Intarcia. BL declares that there is no duality of interest associated with her contribution to this manuscript.
Copyright information
© Springer-Verlag GmbH Germany, part of Springer Nature 2018