The effect of anaemia and abnormalities of erythrocyte indices on HbA1c analysis: a systematic review
Abstract
Aims/hypothesis
The use of HbA1c for the diagnosis of diabetes is now widely advocated despite caveats to its use. Anaemia is cited as a major confounder to this use; however, the effect of erythrocyte indices and to what degree anaemia influences HbA1c levels is not known.
Methods
A systematic electronic database search of MEDLINE, EMBASE, the Cumulative Index to Nursing & Allied Health Literature (CINAHL) and the Cochrane Library was conducted for relevant articles published between January 1990 and May 2014. Included studies had at least one measurement of HbA1c and glucose, and a least one index of haematinic deficiency, involving non-pregnant adults, not known to have diabetes.
Results
A total of 12 articles from 544 were included. The majority of studies focused on iron deficiency anaemia (IDA) and, in general, demonstrated that the presence of iron deficiency with or without anaemia led to an increase in HbA1c values compared with controls, with no concomitant rise in glucose indices. Data on the effects of other indices of erythrocyte abnormalities on HbA1c are limited but show a possible decrease in HbA1c values with non-iron deficiency forms of anaemia.
Conclusions/interpretation
HbA1c is likely to be affected by iron deficiency and IDA with a spurious increase in HbA1c values; conversely, non-IDA may lead to a decreased HbA1c value. This may lead to confusion when diagnosing diabetes using HbA1c. This review clearly identifies the need for more evidence, especially in identifying the types and degrees of anaemia likely to have significant impact on the reliability of HbA1c.
Keywords
Anaemia 
Diabetes 
HbA1c 
Iron deficiency 
Systematic review 
Abbreviations
CINAHL

Cumulative Index to Nursing & Allied Health Literature

FPG

Fasting plasma glucose

IDA

Iron deficiency anaemia

IFCC

International Federation for Clinical Chemistry and Laboratory Medicine

MCH

Mean corpuscular haemoglobin

MCHC

Mean corpuscular haemoglobin concentration

MCV

Mean corpuscular volume

NHANES

National Health and Nutrition Examination Survey

PCV

Packed cell volume

RDW

Red cell distribution width

SIGN

Scottish Intercollegiate Guidelines Network

TSAT

Transferrin saturation
Introduction
The traditional role of HbA1c analysis has been for assessing glycaemic control in patients with diabetes. The results of seminal studies [1, 2] demonstrated that early, intensive glycaemic control could significantly reduce the risk of a range of diabetes-related complications, and permitted the establishment of precise HbA1c target values for treatment goals [3].
More recently, there has been a move towards the use of HbA1c for the diagnosis of type 2 diabetes. The WHO and the ADA have both advocated the use of HbA1c for diagnosing type 2 diabetes, at a value of 6.5% (48 mmol/mol) [4, 5].
Further to the recommendations of the WHO, the UK issued an expert position statement on the application of these recommendations in clinical practice in the UK [6]. One key factor thought to be a confounder in the use of HbA1c is an altered erythrocyte lifespan, in particular due to anaemia. The WHO defines anaemia in adults as 120 g/l Hb in non-pregnant women and 130 g/l in men [7]. It is widely purported that haemolytic anaemia can lead to decreased HbA1c values due to reduced erythrocyte lifespan, and iron deficiency anaemia (IDA) may result in increased HbA1c values due to an elongation of the erythrocyte lifespan. However, it is not known to what degree alterations in erythrocyte indices affect HbA1c values especially around the diagnostic cut point of 6.5% (48 mmol/mol) or the degree of abnormality severity required to result in a significant change. With approximately 29% of non-pregnant women worldwide having anaemia in 2011 [8], this translates to a significant number of people where the use of HbA1c for diagnosis of diabetes may be precluded.
Since the publication of the recommendations, there has been a demand for clarity on this topic. The key questions asked are: 'At what level of anaemia should I not use HbA1c for diagnosis?' and 'Should I routinely screen patients for anaemia when using HbA1c for diagnosis and if so, what test should I use?'
This systematic review aims to address the above questions by assessing the available evidence on the impact of abnormalities of erythrocyte indices and anaemia, on HbA1c levels around the diagnostic cut off point of 6.5% (48 mmol/mol).
Methods
This systematic review is registered on Prospero (registration no. CRD42013005251). Approval of an ethics committee was not required.
Results
The electronic database searches identified 451 potentially relevant, unique articles. Titles/abstracts of the 451 articles were reviewed and 408 were excluded based on evaluation of the title and/or abstract. The remaining 43 full text articles were reviewed, 31 were excluded upon further reading. The residual 12 were approved and quality assessed using the SIGN criteria. The main reasons for exclusion were irrelevant or incomplete data when compared with the inclusion criteria. No additional articles were identified through review of the reference lists (see Fig. 
1
for flow chart).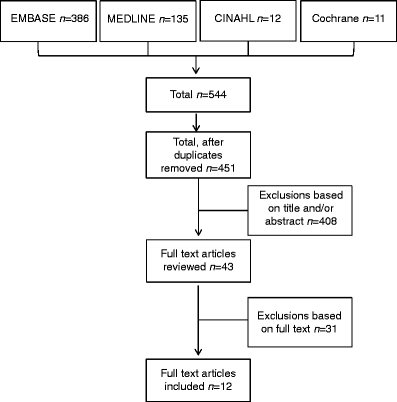 Narrative analysis of included studies
Discussion
Does anaemia affect HbA1c?
Generally, the studies investigating the effect of anaemia and abnormalities of erythrocyte indices on HbA1c analysis are limited to small sample groups and two studies that both analysed the same large cross-sectional population study. It is apparent that IDA can have a significant impact on HbA1c values with most studies suggesting a spuriously high HbA1c in IDA compared with other markers of glycaemia. The exception to this is the study by Sinha et al [20], which found low values of HbA1c in severe cases of IDA that increased with iron replacement therapy. The authors did not discuss why their data conflicts with other studies but it may be due to the severity of anaemia as the participants in this study had low mean Hb levels (62 g/l); the duration of anaemia was not given. Together, these data support the hypothesis that iron deficiency per se may cause elevated HbA1c values, irrespective of anaemia.
Limited data indicate that non-IDAs also affect HbA1c values to a varying degree [13, 14, 19]. Ford et al [13] showed that in patients without diabetes, with low Hb but normal iron levels had significantly lower HbA1c values than those with normal iron and normal Hb (see Table 2). The difference between the non-IDA and control values was greater than was observed between IDA and iron deficiency values and controls, suggesting that HbA1c may be spuriously elevated in iron deficiency and spuriously depressed in non-IDAs. Ideally, any further studies would separate out iron deficiency and non-iron deficiency cases prior to analysis as there is the potential to null the data by combing the two pathologies in one evaluation.
Hardikar et al [14] investigated a population where of those with anaemia 30.8% had vitamin B12 deficiency, 15% had folate deficiency and 30% had multiple nutrient deficiencies. In multivariate analysis, B12 and folate were not significantly related to HbA1c levels but this may be due to the small sample size analysed. Where mixed nutrient deficiencies are observed, the combination of pathologies will lead to variable and unpredictable effects on HbA1c levels depending on the relative degree of each nutrient deficiency.
To what degree do abnormalities of erythrocyte indices affect HbA1c values?
The two evaluations of the cross-sectional NHANES data showed that having iron deficiency or IDA increased the odds of having an HbA1c value shift upwards from <5.5% (<37 mmol/mol) to 5.5–5.9% (37–41 mmol/mol) [12, 13]. Hardikar et al [14] demonstrated that markers of microchromic anaemia were associated with increased HbA1c values and also more patients diagnosed with prediabetes or diabetes by HbA1c compared with glucose indices. In patients with non-IDA, there was a marked shift downwards in apparent distribution of HbA1c results [13]. Son et al [15] demonstrated that IDA in the patients with prediabetes defined by glucose levels had a mean HbA1c of 6.4% vs 6.1% (46 mmol/mol vs 43 mmol/mol) in controls; this is sufficient to re-categorise some patients from prediabetes to diabetes in the anaemic group.
Other studies which looked more specifically at HbA1c levels in patients with or without anaemia showed differences of up to 2.1% (23 mmol/mol) HbA1c increase with IDA [16] and studies measuring HbA1c pre and post treatment for anaemia showed changes as large as −1.2% (−13 mmol/mol) HbA1c post treatment [17].
What does this mean on a wider scale?
Recent data has shown a surge in the incidence and prevalence of young onset obesity, many of whom are premenopausal females, at increased risk of iron deficiency. There has been a concomitant increase in HbA1c values in these participants considered at high risk of diabetes, owing to factors such as obesity [24]. Data from England shows that the prevalence of prediabetes rose from 11.6% in 2003 to 35.3% in 2011 [25] and in view of the rising prevalence of obesity, we would anticipate to identify a larger proportion of patients, with higher HbA1c values. If the estimated upward shift in HbA1c values seen with iron deficiency is combined with the apparent increased prevalence of prediabetes, it may result in a significant number of patients where the combination of the two will be sufficient to shift HbA1c values to move from a diagnosis of prediabetes to diabetes.
Clinical use and relevance
One of the main questions still to answer is how to apply this information to everyday clinical practice. In addition to published guidance [
4
,
5
,
6
], we suggest the following:
1.

During monitoring of people with diabetes, when glucose and HbA1c are discordant, consider abnormalities of erythrocyte indices.

 

2.

When HbA1c is normal/elevated but Hb is low, do not assume that HbA1c is falsely elevated—check erythrocyte indices, in particular MCV and MCH; if low, consider iron deficiency by TSAT or ferritin. If MCV and MCH are not low then consider other forms of anaemia—HbA1c may be falsely decreased in these cases.

 

3.

Iron deficiency, as well as IDA, may be sufficient to cause a change in HbA1c values; this is highly relevant in women of childbearing age.

 

4.

If abnormalities of erythrocyte indices or anaemia are identified, consider correction of the abnormality before using HbA1c for diagnosis or monitoring. The studies included in this review suggest that it may take up to 6 months after treatment is initiated to normalise erythrocyte indices. RDW will provide an additional indicator of normalisation of the erythrocyte population and erythrocyte lifespan.

 
Ferritin as a marker of iron status is useful if it is low but would not rule out iron deficiency if it was found to be normal or elevated as ferritin is an acute phase reactant and inflammation may mask a true low ferritin. Raj and Rajan [26] investigated 86 patients with type 2 diabetes mellitus and demonstrated that serum ferritin positively correlated with HbA1c and was increased with increasing duration of disease, indicating that poor glycaemic control can contribute to elevated ferritin levels independent of iron status. In situations of increased inflammation, alternative measures of iron status such as TSAT or total iron binding capacity should be considered.
Changes in erythrocyte lifespan even with normal haematological indices can affect HbA1c values [27], therefore, it is important to show that the erythrocyte population is stable after treatment for abnormalities before using HbA1c. Erythrocyte indices including RDW may assist with this.
Further research questions
Although it is clear that anaemia may influence HbA1c results, further studies to identify the roles of erythrocyte indices as appropriate adjunct analyses to identify patients where this is an issue, are needed. Future studies should consider the effect of erythrocyte indices rather than anaemia alone. In particular, studies should aim to include sufficient participants to differentiate between the effects of the type and severity of erythrocyte abnormalities/anaemia on HbA1c values. This may be achieved through a combination of population based studies and intervention studies where changes in HbA1c values are assessed in relation to therapy for erythrocyte abnormalities and anaemias.
Strengths and limitations of this study
This review is limited to a selection of small study groups and two separate analyses of the NHANES survey data from overlapping time periods. The conclusions drawn are limited by a lack of robust evidence from a significant number of the included studies. The quality analysis of the included studies has highlighted shortfalls and confounders in most of the cases, which would need to be addressed in future studies—in particular, a lack of power to confer significance on many of the findings.
Notes on standardisation of HbA1c methods
International standardisation of HbA1c was achieved in 2002 [28, 29, 30]. An International HbA1c Consensus Committee was formed which agreed that HbA1c values should be reported in both SI units (mmol/mol) and converted to % units via the master equations established by the International Federation for Clinical Chemistry and Laboratory Medicine (IFCC) and designated comparison methods [10, 11]. All studies reported in this review either stated that they were aligned to the NGSP or did not state any performance information for the HbA1c analysis. In light of this, even if there was sufficient data for meta-analysis, it is likely that a lack of standardisation of results would be a major confounder. Any further studies should endeavour to ensure that all HbA1c measurements are performed in alignment with the IFCC and clear quality data should be provided in the reports.
Conclusion
It is clear from the limited number of studies, many with low participant numbers, that the subject of anaemia and HbA1c warrants further investigation. Generally, the studies described demonstrate that abnormalities of erythrocyte indices are a considerable confounder in the analysis of HbA1c and there is currently insufficient data to fully inform clinicians and scientists on how to address this in clinical practice. However, we have made some suggestions to facilitate its use whilst clarity is awaited.
The key questions that are still to be answered are whether anaemia and erythrocyte abnormalities will have a significant impact on the diagnosis of diabetes using HbA1c in the general population—something that is now widely performed.
Notes
Acknowledgements
We would like to thank R. Curtis (Library Services, University of Nottingham, Nottingham, UK) for her help and guidance in constructing the database searches.
Funding
This research received no specific grant from any funding agency in the public, commercial or not-for-profit sectors.
Duality of interest statement
The authors declare that there is no duality of interest associated with this manuscript.
Contribution statement
All of the authors listed have made a substantial contribution to the production of this article. EE, II, KD, EK and WGJ all contributed to the concept of the work; EE, GS and II designed the data collection; EE and GS collected and analysed the data. All authors revised the manuscript critically for important intellectual content and approved the final version to be submitted/published. EE drafted the manuscript. EE is the guarantor of this work.
Copyright information
© Springer-Verlag Berlin Heidelberg 2015