Abstract
Aims/hypothesis
The aim of this study was to estimate the heritability of quantitative measures of glucose regulation obtained from a tolbutamide-modified frequently sampled IVGTT (t-FSIGT) and to correlate the heritability of the glucose-stimulated beta cell response to the tolbutamide-induced beta cell response. In addition, single nucleotide polymorphisms (SNPs) having an exclusive effect on either glucose- or tolbutamide-stimulated insulin release were identified.
Methods
Two hundred and eighty-four non-diabetic family members of patients with type 2 diabetes underwent a t-FSIGT with intravenous injection of glucose at t = 0 min and tolbutamide at t = 20 min. Measurements of plasma glucose, serum insulin and serum C-peptide were taken at 33 time points from fasting to 180 min. Insulin secretion rate, acute insulin response (AIR), disposition index (DI) after glucose and disposition index after tolbutamide (DIT), insulin sensitivity (SI), glucose effectiveness (SG) and beta cell responsiveness to glucose were calculated. A polygenic variance component model was used to estimate heritability, genetic correlations and associations.
Results
We found high heritabilities for acute insulin secretion subsequent to glucose stimulation (AIRglucose h 2 ± SE: 0.88 ± 0.14), but these were slightly lower after tolbutamide (AIRtolbutamide h 2 ± SE: 0.69 ± 0.14). We also estimated the heritabilities for SI (h 2 ± SE: 0.26 ± 0.12), SG (h 2 ± SE: 0.47 ± 0.13), DI (h 2 ± SE: 0.56 ± 0.14), DIT (h 2 ± SE: 0.49 ± 0.14) and beta cell responsiveness to glucose (h 2 ± SE: 0.66 ± 0.12). Additionally, strong genetic correlations were found between measures of beta cell response after glucose and tolbutamide stimulation, with correlation coefficients ranging from 0.77 to 0.88. Furthermore, we identified five SNPs with an exclusive effect on either glucose-stimulated (rs5215, rs1111875, rs11920090) or tolbutamide-stimulated (rs10946398, rs864745) insulin secretion.
Conclusions/interpretation
Our data demonstrate that both glucose- and tolbutamide-induced insulin secretions are highly heritable traits, which are largely under the control of the same genes.
This is a preview of subscription content, log in to check access.
Access options
Buy single article
Instant access to the full article PDF.
US$ 39.95
Price includes VAT for USA
Subscribe to journal
Immediate online access to all issues from 2019. Subscription will auto renew annually.
US$ 199
This is the net price. Taxes to be calculated in checkout.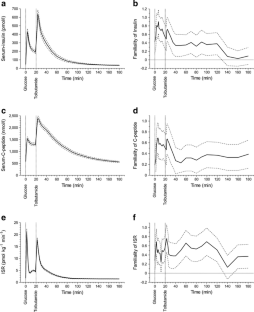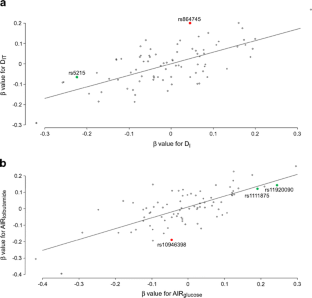 Abbreviations
ACE model:

Model including the additive genetic effect, the common environmental effect and the unique environmental effect

AE model:

Model including the additive genetic effect and the unique environmental effect

AIR:

Acute insulin response

c 2 :

Effect of the shared environment

DI :

Disposition index

DIT :

Disposition index after tolbutamide

e 2 :

Effect of the unique environment

h 2 :

Additive genetic effect

inc AUC:

Incremental AUC

ISR:

Insulin secretion rate

SG :

Glucose effectiveness

SI :

Insulin sensitivity index

SNP:

Single nucleotide polymorphism

t-FSIGT:

Tolbutamide-modified frequently sampled IVGTT
References
1.

So HC, Gui AH, Cherny SS, Sham PC (2011) Evaluating the heritability explained by known susceptibility variants: a survey of ten complex diseases. Genet Epidemiol 35:310–317

2.

Watanabe RM, Valle T, Hauser ER et al (1999) Familiality of quantitative metabolic traits in Finnish families with non-insulin-dependent diabetes mellitus. Finland-United States Investigation of NIDDM Genetics (FUSION) Study investigators. Hum Hered 49:159–168

3.

Simonis-Bik AM, Eekhoff EM, de Moor MH et al (2009) Genetic influences on the insulin response of the beta cell to different secretagogues. Diabetologia 52:2570–2577

4.

Rasmussen-Torvik LJ, Pankow JS, Jacobs DR et al (2007) Heritability and genetic correlations of insulin sensitivity measured by the euglycaemic clamp. Diabet Med 24:1286–1289

5.

Lehtovirta M, Kaprio J, Forsblom C, Eriksson J, Tuomilehto J, Groop L (2000) Insulin sensitivity and insulin secretion in monozygotic and dizygotic twins. Diabetologia 43:285–293

6.

Elbein SC, Hasstedt SJ, Wegner K, Kahn SE (1999) Heritability of pancreatic beta-cell function among nondiabetic members of Caucasian familial type 2 diabetic kindreds. J Clin Endocrinol Metab 84:1398–1403

7.

Bergman RN, Zaccaro DJ, Watanabe RM et al (2003) Minimal model-based insulin sensitivity has greater heritability and a different genetic basis than homeostasis model assessment or fasting insulin. Diabetes 52:2168–2174

8.

Swen JJ, Guchelaar HJ, Baak-Pablo RF, Assendelft WJ, Wessels JA (2011) Genetic risk factors for type 2 diabetes mellitus and response to sulfonylurea treatment. Pharmacogenet Genomics 21:461–468

9.

Kirchheiner J, Bauer S, Meineke I et al (2002) Impact of CYP2C9 and CYP2C19 polymorphisms on tolbutamide kinetics and the insulin and glucose response in healthy volunteers. Pharmacogenetics 12:101–109

10.

Xu H, Murray M, McLachlan AJ (2009) Influence of genetic polymorphisms on the pharmacokinetics and pharmaco-dynamics of sulfonylurea drugs. Curr Drug Metab 10:643–658

11.

Aquilante CL (2010) Sulfonylurea pharmacogenomics in type 2 diabetes: the influence of drug target and diabetes risk polymorphisms. Expert Rev Cardiovasc Ther 8:359–372

12.

Alberti KG, Zimmet PZ (1998) Definition, diagnosis and classification of diabetes mellitus and its complications. Part 1: diagnosis and classification of diabetes mellitus provisional report of a WHO consultation. Diabet Med 15:539–553

13.

Andersen L, Dinesen B, Jorgensen PN, Poulsen F, Roder ME (1993) Enzyme immunoassay for intact human insulin in serum or plasma. Clin Chem 39:578–582

14.

Faber OK, Markussen J, Naithani VK, Binder C (1976) Production of antisera to synthetic benzyloxycarbonyl-C-peptide of human proinsulin. Hoppe Seylers Z Physiol Chem 357:751–757

15.

Faber OK, Binder C, Markussen J et al (1978) Characterization of seven C-peptide antisera. Diabetes 27(Suppl 1):170–177

16.

Heding LG, Rasmussen SM (1975) Human C-peptide in normal and diabetic subjects. Diabetologia 11:201–206

17.

Voight BF, Scott LJ, Steinthorsdottir V et al (2010) Twelve type 2 diabetes susceptibility loci identified through large-scale association analysis. Nat Genet 42:579–589

18.

Almasy L, Blangero J (1998) Multipoint quantitative-trait linkage analysis in general pedigrees. Am J Hum Genet 62:1198–1211

19.

Hovorka R, Koukkou E, Southerden D, Powrie JK, Young MA (1998) Measuring pre-hepatic insulin secretion using a population model of C-peptide kinetics: accuracy and required sampling schedule. Diabetologia 41:548–554

20.

Breda E, Cobelli C (2001) Insulin secretion rate during glucose stimuli: alternative analyses of C-peptide data. Ann Biomed Eng 29:692–700

21.

Hovorka R, Soons PA, Young MA (1996) ISEC: a program to calculate insulin secretion. Comput Methods Programs Biomed 50:253–264

22.

Kjems LL, Christiansen E, Volund A, Bergman RN, Madsbad S (2000) Validation of methods for measurement of insulin secretion in humans in vivo. Diabetes 49:580–588

23.

Pacini G, Bergman RN (1986) MINMOD: a computer program to calculate insulin sensitivity and pancreatic responsivity from the frequently sampled intravenous glucose tolerance test. Comput Methods Programs Biomed 23:113–122

24.

Elbein SC, Sun J, Scroggin E, Teng K, Hasstedt SJ (2001) Role of common sequence variants in insulin secretion in familial type 2 diabetic kindreds: the sulfonylurea receptor, glucokinase, and hepatocyte nuclear factor 1alpha genes. Diabetes Care 24:472–478

25.

Bergman RN (2005) Minimal model: perspective from 2005. Horm Res 64(Suppl 3):8–15

26.

Kjems LL, Holst JJ, Volund A, Madsbad S (2003) The influence of GLP-1 on glucose-stimulated insulin secretion: effects on beta-cell sensitivity in type 2 and nondiabetic subjects. Diabetes 52:380–386

27.

Visscher PM, Hill WG, Wray NR (2008) Heritability in the genomics era—concepts and misconceptions. Nat Rev Genet 9:255–266

28.

Henquin JC (2004) Pathways in beta-cell stimulus-secretion coupling as targets for therapeutic insulin secretagogues. Diabetes 53(Suppl 3):S48–S58

29.

Jonkers FC, Guiot Y, Rahier J, Henquin JC (2001) Tolbutamide stimulation of pancreatic beta-cells involves both cell recruitment and increase in the individual Ca(2+) response. Br J Pharmacol 133:575–585

30.

Henquin JC (2000) Triggering and amplifying pathways of regulation of insulin secretion by glucose. Diabetes 49:1751–1760

31.

Barg S, Renstrom E, Berggren PO et al (1999) The stimulatory action of tolbutamide on Ca2+-dependent exocytosis in pancreatic beta cells is mediated by a 65-kDa mdr-like P-glycoprotein. Proc Natl Acad Sci U S A 96:5539–5544

32.

Renstrom E, Barg S, Thevenod F, Rorsman P (2002) Sulfonylurea-mediated stimulation of insulin exocytosis via an ATP-sensitive K+ channel-independent action. Diabetes 51(Suppl 1):S33–S36

33.

Sesti G, Laratta E, Cardellini M et al (2006) The E23K variant of KCNJ11 encoding the pancreatic beta-cell adenosine 5′-triphosphate-sensitive potassium channel subunit Kir6.2 is associated with an increased risk of secondary failure to sulfonylurea in patients with type 2 diabetes. J Clin Endocrinol Metab 91:2334–2339

34.

Holstein A, Hahn M, Stumvoll M, Kovacs P (2009) The E23K variant of KCNJ11 and the risk for severe sulfonylurea-induced hypoglycemia in patients with type 2 diabetes. Horm Metab Res 41:387–390

35.

Hansen T, Echwald SM, Hansen L et al (1998) Decreased tolbutamide-stimulated insulin secretion in healthy subjects with sequence variants in the high-affinity sulfonylurea receptor gene. Diabetes 47:598–605

36.

Bort R, Martinez-Barbera JP, Beddington RS, Zaret KS (2004) Hex homeobox gene-dependent tissue positioning is required for organogenesis of the ventral pancreas. Development 131:797–806

37.

Rosengren AH, Braun M, Mahdi T et al (2012) Reduced insulin exocytosis in human pancreatic beta-cells with gene variants linked to type 2 diabetes. Diabetes 61:1726–1733

38.

Mourad NI, Nenquin M, Henquin JC (2011) Metabolic amplification of insulin secretion by glucose is independent of beta-cell microtubules. Am J Physiol Cell Physiol 300:C697–C706

39.

Mourad NI, Nenquin M, Henquin JC (2010) Metabolic amplifying pathway increases both phases of insulin secretion independently of beta-cell actin microfilaments. Am J Physiol Cell Physiol 299:C389–C398

40.

Chistiakov DA, Potapov VA, Smetanina SA, Bel'chikova LN, Suplotova LA, Nosikov VV (2011) The carriage of risk variants of CDKAL1 impairs beta-cell function in both diabetic and non-diabetic patients and reduces response to non-sulfonylurea and sulfonylurea agonists of the pancreatic KATP channel. Acta Diabetol 48:227–235
Acknowledgements
The authors would like to thank A. Forman, B. Andersen, G.J. Klavsen, T.H. Laurentzen and M. Modest (Steno Diabetes Center, Gentofte, Denmark) for their dedicated and careful technical assistance, and G. Lademann (Section of Metabolic Genetics, University of Copenhagen, Copenhagen, Denmark) for secretarial support.
Funding
The study was supported by grants from the Danish Medical Research Council, the University of Copenhagen, an EEC grant (BMH4CT950662), the Velux Foundation, the Lundbeck Foundation Centre of Applied Medical Genomics for Personalised Disease Prediction and Care (LUCAMP; http://www.lucamp.org), the European Foundation for the Study of Diabetes (EFSD) and the Danish Diabetes Association. The Novo Nordisk Foundation Center for Basic Metabolic Research is an independent research centre at the University of Copenhagen partially funded by an unrestricted donation from the Novo Nordisk Foundation (http://www.metabol.ku.dk).
Duality of interest
TH and OP hold personal shares in Novo Nordisk. The remaining authors declare that there is no duality of interest associated with this manuscript.
Contribution statement
MH, APG, CTE, SAU, HE, OP and TH contributed to the conception and design of the study. MH, APG, KHA, OP and TH contributed to the analysis and interpretation of data. The first manuscript was written by MH and APG with equal contribution and the final draft was finalised by MH, APG, KHA, CTE, SAU, HE, OP and TH. All authors have revised the manuscript critically for important intellectual content and approved the final version of the paper. TH is the quarantor of the study.
Additional information
Anette P. Gjesing and Malene Hornbak contributed equally to this study.
Electronic supplementary material
Below is the link to the electronic supplementary material.
About this article
Cite this article
Gjesing, A.P., Hornbak, M., Allin, K.H. et al. High heritability and genetic correlation of intravenous glucose- and tolbutamide-induced insulin secretion among non-diabetic family members of type 2 diabetic patients. Diabetologia 57, 1173–1181 (2014). https://doi.org/10.1007/s00125-014-3207-y
Received:

Accepted:

Published:

Issue Date:
Keywords
Acute insulin response

Genetic correlation

Heritability

Tolbutamide-modified frequently sampled intravenous glucose tolerance test

Type 2 diabetes