Genomics-assisted breeding in four major pulse crops of developing countries: present status and prospects
Abstract
Key message
Given recent advances in pulse molecular biology, genomics-driven breeding has emerged as a promising approach to address the issues of limited genetic gain and low productivity in various pulse crops.
Abstract
The global population is continuously increasing and is expected to reach nine billion by 2050. This huge population pressure will lead to severe shortage of food, natural resources and arable land. Such an alarming situation is most likely to arise in developing countries due to increase in the proportion of people suffering from protein and micronutrient malnutrition. Pulses being a primary and affordable source of proteins and minerals play a key role in alleviating the protein calorie malnutrition, micronutrient deficiencies and other undernourishment-related issues. Additionally, pulses are a vital source of livelihood generation for millions of resource-poor farmers practising agriculture in the semi-arid and sub-tropical regions. Limited success achieved through conventional breeding so far in most of the pulse crops will not be enough to feed the ever increasing population. In this context, genomics-assisted breeding (GAB) holds promise in enhancing the genetic gains. Though pulses have long been considered as orphan crops, recent advances in the area of pulse genomics are noteworthy, e.g. discovery of genome-wide genetic markers, high-throughput genotyping and sequencing platforms, high-density genetic linkage/QTL maps and, more importantly, the availability of whole-genome sequence. With genome sequence in hand, there is a great scope to apply genome-wide methods for trait mapping using association studies and to choose desirable genotypes via genomic selection. It is anticipated that GAB will speed up the progress of genetic improvement of pulses, leading to the rapid development of cultivars with higher yield, enhanced stress tolerance and wider adaptability.
Keywords
Bacterial Artificial Chromosome 
Association Mapping 
Faba Bean 
Genomic Selection 
Bacterial Artificial Chromosome Library 
These keywords were added by machine and not by the authors. This process is experimental and the keywords may be updated as the learning algorithm improves.
Introduction
The Fabaceae/Leguminosae or legume family with ~20,000 species is the third largest family in the plant kingdom and second most important after Gramineae or Poaceae as mainstays for human food/protein security (Cannon et al. 2009; Gepts et al. 2005; Weeden 2007; Young et al. 2003). Legumes are endowed with the unique property of biologically fixing atmospheric nitrogen via symbiosis, making them an integral component of sustainable agricultural production systems (Zhu et al. 2005). In the Fabaceae, grain legumes or pulses are particularly important in supplying adequate quantity of lysine-rich protein to humans, thereby complementing the conventional cereal-based carbohydrate-rich diets, which are otherwise deficient in lysine and tryptophan (Broughton et al. 2003; Ufaz and Galili 2008). Additionally, pulses are potential sources of several essential minerals, vitamins and secondary metabolites like isoflavonoids in human diets (Cannon et al. 2009). Concerning protein deficiency, it is important to emphasize that globally over one billion people are currently suffering from protein and micronutrient malnutrition (Godfray et al. 2010). In this context, pulses by virtue of their high protein, vitamin and mineral content play a crucial role in alleviating micronutrient deficiencies, undernourishment or protein calorie malnutrition (PCM), especially in the less-developed countries (Broughton et al. 2003).
FAO categorizes only those legumes as pulses which are harvested exclusively for grain purpose, thereby recognizing a total of 11 pulse crops (http://faostat.fao.org/; Akibode and Maredia 2011). In terms of worldwide pulse production, a total of 70.41 million tons (m t) are harvested annually from 77.5 million (m) ha area with a productivity of 907 kg/ha (FAOSTAT 2012). Almost 90 % of the global pulse production (62.98 m t) is shared by major pulse crops, viz. dry beans (mainly common bean), chickpea, dry peas (pea), cowpea, pigeonpea, lentil and faba bean. Based on their adaptability to tropical and temperate agro-climatic conditions, these pulse crops can be further categorized into two distinct groups, i.e. (1) warm season crops (common bean, pigeonpea and cowpea) and (2) cool season crops (pea, chickpea, lentil and faba bean) (Cannon et al. 2009; Young et al. 2003; Zhu et al. 2005). Interestingly, chickpea, pea and lentil are among the founder grain crops, which experienced domestication early in pre-history (c. 11,000 years ago), and these paved the way for establishment of modern agriculture (Zohary and Hopf 2000). The pulse crops have always been a key contributor to maintaining sustainability of the farming systems in the semi-arid and sub-tropical world and in generating livelihood and food security to millions of resource-poor people inhabiting these regions (Broughton et al. 2003).
Owing to their immense agricultural value, exhaustive research has been done for pulse improvement through conventional breeding, resulting in the development and release of several high-yielding varieties (Gaur et al.
2012
; Pérez de la Vega et al.
2011
; Saxena
2008
; Singh
2005
; Torres et al.
2011
), followed by an increase in the global area under pulses from 64 to 77.5 m ha over the last 50 years (FAOSTAT
2012
). With respect to productivity, however, appreciable gains have not been materialized so far in any of the major pulse crops (Fig. 
1
). The productivity of major pulse crops remains dismally low, around 1,000 kg/ha, and large gap exists between their potential and actual yields (FAOSTAT
2012
; Varshney et al.
2013a
). In this context, integrating genomic tools with conventional breeding methods holds the key to accelerate the progress of crop improvement. Unlike cereals like wheat and barley (which were domesticated almost at the same time as pulses), limited efforts have been directed towards undertaking molecular breeding or more appropriately genomics-assisted breeding (GAB) of pulse crops (Muchero et al.
2009a
; Muehlbauer et al.
2006
; Timko et al.
2007
; Varshney et al.
2010
). One likely reason is the limited attention of the international research community to these pulse crops. As a result, there has been a dearth of prerequisite genomic tools to commence GAB at a larger level (Varshney et al.
2009a
). These crops, therefore, are often referred to as "orphan crops". Nevertheless, in some pulse crops, large-scale genomic tools, technologies and platforms have become available in recent years (Gaur et al.
2012
; Gepts et al.
2008
; Kelly et al.
2003
; Muehlbauer et al.
2006
; Rubiales et al.
2011
; Varshney et al.
2013a
), thereby opening up new avenues for practising GAB. This is a highly opportune time for reframing our breeding strategies, allowing judicious and routine use of genomic tools for genetic enhancement of modern cultivars as well as diversification of the primary gene pool through introduction of desirable alien alleles from crop wild relatives (CWRs). Advances in genomics and molecular breeding have been discussed in details for chickpea and pigeonpea in some recent reviews (Varshney et al.
2013a
). However, not much information is available about recent developments in case of other pulse crops. In consideration of the above, this review summarizes the production scenario and constraints, the available genomic resources and their downstream applications as well as prospects for GAB in four selected pulse crops, i.e. cowpea (
Vigna unguiculata
(L.) Walp.), pea (
Pisum sativum
L.), lentil (
Lens culinaris
Medik.) and faba bean (
Vicia faba
L.).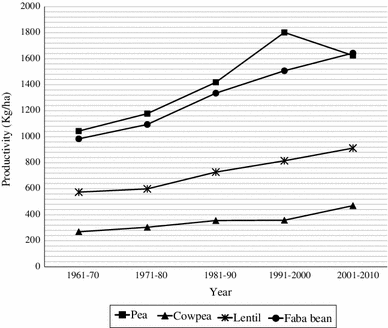 Global production scenario and major yield constraints
Although there are several warm and cool season pulse crops that make important portion of diets of the poor in developing countries, four major pulse crops, namely, cowpea, pea, lentil and faba bean, have been included here for discussion.
Genomic resources
Concerning pulse genomics, a rapid progress has been witnessed over the last 10 years generating a plethora of genomic tools for their extensive use in pulse improvement programmes. These resources include (1) different kinds of bacterial artificial chromosome (BAC)-derived resources like BAC libraries, BAC-end sequences (BESs), BAC-associated simple sequence repeat (SSR) markers (BES-SSRs) and physical maps; (2) genome-wide distributed molecular markers and automated genotyping platforms; and (3) the transcriptome and whole-genome assemblies.
BAC-based resources
BAC libraries are valuable tools for facilitating various genetic applications such as DNA marker development, gene/QTL cloning, construction of physical map and BAC-to-BAC genome sequencing (Farrar and Donnison 2007). In pulses, several BAC/BIBAC libraries were established, providing extensive genome coverage in the respective crops, viz. cowpea (~9×) and pea (~2.2×) (Coyne et al. 2007; Kami et al. 2006). To date, however, no BAC libraries have been reported for lentil and faba bean. BAC libraries have been used for developing physical map and assembling the genome sequences. In this context, BACs are subjected to fingerprinting and these fingerprints are then used as seeds for the development of genome-wide physical maps and in the determination of minimum tiling path (MTP) for assembling the whole-genome sequence (Venter et al. 1996). A high-quality BAC-based physical map is now available for cowpea (790 contigs and 2,535 singletons, http://phymap.ucdavis.edu/cowpea/).
To enhance the accuracy of physical maps or assembling the sequences of BACs in the whole-genome sequencing, selected or entire set of BACs are also used for generating BESs. Additionally, the utility of these BESs in large-scale marker development has also been demonstrated through in silico SSR mining in cowpea (Xu et al. 2011a). These BES-associated markers such as BES-SSRs represent the potential anchoring points for integrating genome-wide physical maps with high-density genetic maps (Córdoba et al. 2010).
Genome-wide distributed molecular markers
Starting from the introduction of hybridization based markers, viz. restriction fragment length polymorphism (RFLP), consistent improvements have been made in the area of DNA marker development and genotyping (see Bohra
2013
). To this end, the traditional DNA marker technologies are being increasingly replaced by next-generation sequencing (NGS)-based high-throughput (HTP) discovery of DNA markers, especially single nucleotide polymorphisms (SNPs) (Varshney et al.
2009b
). Further, on account of their amenability to automated genotyping platforms, SNPs have emerged as the preferred markers for next generation, substituting the earlier hybridization as well as polymerase chain reaction (PCR)-based assays (Varshney et al.
2009b
). Through in silico mining of expressed sequence tags (ESTs), transcriptomes and whole-genome sequence, a large number of SSRs and SNPs have recently been detected in pulse crops (Table 
1
). For example, massive-scale SSR markers including 2,393 and 28,503 SSRs were developed in pea and faba bean, respectively, using Roche 454-FLX sequencing (Kaur et al.
2011
; Yang et al.
2012
). Likewise, thousands of SNP markers were identified in pea (50,000) and lentil (44,879) using NGS technologies such as Roche 454-FLX and Illumina Genome Analyzer (GA) (Sharpe et al.
2013
; Sindhu et al.
2013
).
Table 1
List of available genomic tools in selected pulse crops
Genomic Resources

Cowpea

Pea

Lentil

Faba bean

Mapping resources

 Traditional bi-parental populations

~30 (including Sesquipedalis group) (Lucas et al. 2011; Muchero et al. 2009a, b; Ouedraogo et al. 2001, 2001, 2012)

~ 20 (Arbaoui et al. 2008; Ma et al. 2013; Torres et al. 2006)

 Second-generation populations like MAGIC/NAM

In progress

–

–

–

Reverse genetics resources

 TILLING population

–

Two sets comprising 3,027 and 4,704 lines (Dalmais et al. 2008; Triques et al. 2007)

–

–

BAC-tools

 BAC libraries

3 (Yu 2012)

2 (Yu, 2012)

–

–

 BESs

30,527 (Barrera-Figueroa et al. 2011)

–

–

–

 Physical maps

10 × coverage (Close et al. 2011)

–

–

–

Genetic markers

 Genomic SSRs

  Enriched library based

44 (Li et al. 2001)

434 (Loridon et al. 2005)

360 (Andeden et al. 2013), ~75 SSRs (Durán et al. 2004; Hamwieh et al. 2005, 2009)

73 (Zeid et al. 2009)

  Gene space read (GSR)/BES and NGS based

1,071 (Gupta and Gopalakrishna 2010); 712 (Andargie et al. 2011); 1, 372 (Xu et al. 2010, 2011a, b)

43 (Burstin et al. 2001)

–

28,503 (Yang et al. 2012)

 EST-SSRs

410 (Xu et al. 2010)

 SNPs

1,536 (Lucas et al. 2011; Muchero et al. 2009a; Xu et al. 2011a, b)

63 (Aubert et al. 2006a, 2006b); 384 (Deulvot et al. 2010); 36,188 (Leonforte et al. 2013); 35,455 (Duarte et al. 2014)

Transcriptomic resources

 ESTs deposited at NCBI http://www.ncbi.nlm.nih.gov/dbEST/dbEST_summary.html (dbEST release 1st Jan 2013)

1,87,487

1,85,76

9,513

5,510

 Transcriptome assemblies

1 (Muchero et al. 2009a)

3 (Duarte et al. 2014; Franssen et al. 2011; Kaur et al. 2012)

1 (Kaur et al. 2012)

Genetic linkage maps

 Population specific

~25 (Lucas et al. 2011; Muchero et al. 2009a, b; Ouedraogo et al. 2001, 2002, 2012; Timko et al. 2007)

~20 (Andeden et al. 2013; Ford et al. 2007; Pérez de la Vega et al. 2011)

~10 (Gutiérrez et al. 2013; Ma et al. 2013; Torres et al. 2011)

 Consensus/composite

7 (Aubert et al. 2006a, b; Bordat et al. 2011; Duarte et al. 2014; Hamon et al. 2011, 2013; Loridon et al. 2005; Weeden et al. 1998)

–

4 (Román et al. 2004; Satovic et al. 1996, 2013; Vaz Patto et al. 1999)

Whole-genome sequence

In progress

In progress

In progress

–
Interestingly, the discovery of high-density SNP markers is complemented with the establishment of ultra HTP genotyping assays like Illumina GoldenGate (GG) and Infinium assays, which are able to accommodate up to 3,000 and 4 million SNPs, respectively (Deschamps et al. 2012). Informative SNPs were chosen for designing robust GG assays and as a result 768-/1,536-SNPs based GG platforms have become available in cowpea (Lucas et al. 2011; Muchero et al. 2009a, 2013), pea (Duarte et al. 2014; Leonforte et al. 2013; Sindhu et al. 2013), lentil (Kaur et al. 2013; Sharpe et al. 2013) and faba bean (Kaur et al. 2014). Further, increasing number of re-sequencing database in coming days will allow identification of more SNPs and, consequently, HTP cost-effective genotyping assays using only informative SNPs will become available in all pulse crops.
Due to major shortcomings of GG and Infinium assays including cost-prohibitive designing and low flexibility, some customized SNP detection systems like competitive allele-specific PCR (KASPar) have been introduced to incorporate small to moderate number of SNPs for specific applications (Hiremath et al. 2012; Khera et al. 2013; Kumar et al. 2012; Saxena et al. 2012). Given the flexibility mentioned above, the KASPar assay was used for typing SNPs in asparagus bean (Xu et al. 2012a), lentil (Fedoruk et al. 2013; Sharpe et al. 2013) and faba bean (Cottage et al. 2012). Similarly, another custom-designed Illumina Veracode assay was employed for genotyping a set of 384 SNP markers in pea (Deulvot et al. 2010). Utilization of such automated genotyping systems not only enhances the speed of genotyping, but also ensures better accuracies in SNP typing. Apart from SNPs, diversity arrays technology (DArT) is another second-generation automated platform that enables genotyping of hundreds to thousands of genome-wide DNA markers with great precision. Successful implementation of DArT system has been reported in several pulse crops including chickpea and common bean for genetic linkage mapping and genetic diversity estimation (Briñez et al. 2012; Thudi et al. 2011). However, among the pulse crops presented here, to our knowledge DArT markers have not been applied so far.
Transcriptome and genome assemblies
Transcriptome assemblies are excellent genomic resources to capture the gene space for both basic and applied studies. Transcriptome assemblies facilitate detailed comparative analyses across different genera and discovery of functionally relevant markers (FMs), especially EST-SSR, SNP, intron-targeted primer (ITP) or intron spanning region (ISR) markers (Agarwal et al. 2012; Kudapa et al. 2012). More importantly, in case of crops like pea, lentil and faba bean with large and poorly characterized genomes, comprehensive transcriptome assemblies offer a means to directly access the gene space and causative functional polymorphisms, thus yielding valuable insights about the genome organization.
Initially, Sanger sequencing of c-DNA libraries generated transcriptomics resources such as ESTs for various crop species. For instance, a total of 183,118 ESTs were recovered through sequencing of nine c-DNA libraries in cowpea (Muchero et al. 2009a). Recently, transcriptome/cDNA library sequencing using 454 GS-FLX Titanium (generating longer reads) and Illumina GA/GAIIx systems (comparatively shorter reads) has appeared as a potential alternative to leverage the genomic resource repertoire. Deep transcriptome sequencing has been performed in pea (Duarte et al. 2014; Franssen et al. 2011; Kaur et al. 2012), lentil (Sharpe et al. 2013; Verma et al. 2013) and faba bean (Kaur et al. 2012). As a result of this HTP sequencing, massive transcriptomic data were obtained in the form of high-quality sequence reads in the selected pulse crops, viz. pea (720,324 reads), lentil (847,824 reads) and faba bean (304,680), and the transcriptome assemblies consisted of 70,682, 84,074 and 60,440 unigenes, respectively.
Based on the different approaches chosen for assembly of NGS reads, various kinds of transcriptome assemblies, viz. de novo, reference based and hybrid are being established in these pulse crops (Agarwal et al. 2012; Kudapa et al. 2012). The immense potential of NGS was also explored for whole-genome transcript profiling in faba bean, and NGS in combination with super serial analysis of gene expression (SAGE) led to the generation of 1,313,009 tags shedding new light on the transcriptional changes that take place during faba bean–Ascochyta fabae interaction (Madrid et al. 2013). Moreover, from functional genomics concerns, faba bean is particularly important as it has served as an excellent system for understanding the kinetics of stomatal movements in plants (Chen et al. 2004; Dietrich et al. 2001; Gao et al. 2005; Hanstein and Felle 2002). In addition to transcriptome, low-depth 454 sequencing was successfully utilized to uncover the repetitive DNA in the pea genome, which enabled a genome-wide characterization of the major repeat families and comparison of repeat composition with other legume species including soybean and Medicago (Macas et al. 2007).
On account of their shorter sequence reads and higher error rates (as compared to Sanger sequencing), NGS methods were initially considered suitable for re-sequencing of genotypes where a high-quality reference genome sequence was available (Imelfort and Edwards 2009; Varshney et al. 2009b). With continuous refinements being made in computational algorithms that are used for assembly and alignment, NGS was also applied to de novo whole-genome sequencing especially in the crops with moderate-sized genomes and even in the absence of physical maps (Varshney et al. 2011). In contrast to the BAC by BAC method, which is very tedious involving construction of BAC libraries, sequencing of BACs, development of a physical map and the determination of MTP, the current de novo genome assembly using whole-genome shotgun (WGS) approach is straightforward, cost-effective and time saving (Imelfort and Edwards 2009; Venter et al. 1996).
In addition to model legume species like Medicago truncatula (Young et al. 2011), Lotus japonicus (http://www.kazusa.or.jp/lotus/index.html), whole/draft genome sequence has become available for soybean (Schmutz et al. 2010), pigeonpea (Varshney et al. 2011) and chickpea (Varshney et al. 2013b). More recently, 52 % (598 Mb) genome has been assembled for lupin (Yang et al. 2013). Among pulses selected for discussion here, assembling the gene space in cowpea is underway (Tim Close, personal communication). Similarly, efforts have been initiated to sequence genomes of pea and lentil. In case of lentil, a draft (23×) of the genome assembly has recently been generated for the reference genotype 'CDC Redberry' (Ramsay et al. 2014). The complexity and large genome size coupled with small research community have not allowed undertaking genome sequencing of faba bean.
NGS methods are also being employed for whole-genome re-sequencing (WGRS) and restriction site-associated DNA (RAD) sequencing of germplasm lines for exploring genetic diversity and population dynamics (Varshney et al. 2013b). Like the above-mentioned techniques, genotyping by sequencing (GBS) is another NGS-based platform that allows simultaneous discovery and mapping of several thousands of genetic markers (Davey et al. 2011). In lentil, the NGS-GBS approach has facilitated detection and mapping of genome-wide SNPs (Temel et al. 2014). Advances in sequencing technologies and collaborative efforts are expected to deliver draft genome sequences in all the pulse crops in the very recent future. It is also anticipated that re-sequencing of germplasm collections in these pulse crops will provide estimates on genome diversity and detailed population structure of germplasm collections.
Trait mapping/gene(s) discovery in pulse crops
Identification of a gene/QTL underlying the trait of interest is the most critical step while proceeding for marker-assisted selection (MAS)/GAB. Among various genomic resources, molecular markers are of direct application in crop breeding, as these are heavily deployed in trait mapping studies using either family-based linkage (FBL) mapping approaches or germplasm-based association mapping (AM) (Mackay and Powell 2007). An appropriately built experimental population with considerable size lies at the core of FBL-based QTL discovery studies (Mitchell-Olds 2010). Alternatively, non-experimental population or a set of genetically diverse genotypes can be used for uncovering the genetic architecture of important traits via linkage disequilibrium (LD) analysis or AM (Mackay and Powell 2007). Trait mapping using linkage or association analysis corresponds to a forward genetics approach, in which phenotypic expression is usually known and the phenotypic variation is therefore targeted for detecting causal genetic polymorphisms. In contrast, a reverse genetics method, more precisely a locus-to-phenotype approach, relies on determination of the function of a known sequence (McCallum et al. 2000).
Developing Web tools for community-oriented research
With a deluge of omics information being generated worldwide, easy access to data remains one of the foremost challenges to large-scale integration of omics information into crop improvement (Main et al.
2013
). The community-based approach has facilitated the development of several Web interfaces for various pulse crops, allowing storage and ensuing retrieval of data in a very systematic and user-friendly manner (Table 
4
). These databases offer a comprehensive view of the available genetic resources like mutant stocks/germplasm collections, genomic tools including BACs, BESs, markers, maps, QTLs and transcriptomic resources such as cDNA libraries and ESTs. Moreover, these Web tools integrate several other databases/browsers enabling comprehensive computational analyses for comparative genomics studies. For example, a popular legume Web resource namely Legume Information System (LIS) was developed by the National Center for Genome Resources (NCGR) and the United States Department of Agriculture (USDA), which incorporates several other databases and Web interfaces including SoyBase, CMap and comparative functional genomics browser (CFGB) (Gonzales et al.
2005
). In the interest of the pulse research community, it is very essential to keep these websites updated with newer useful information.
Table 4
Web tools developed for selected pulse crops
| Resource | Link | Content | Reference |
| --- | --- | --- | --- |
| Legume Information System (LIS) | | Sequenced genomes, annotations, BACs and BESs, transcriptome assemblies, genetic and comparative maps, primer sequences, etc. | Gonzales et al. (2005) |
| KnowPulse | | Genetic resources, mapping populations, markers, genotype data with phenotypic assessment of available resources, annotation tools, etc. | Sharpe et al. (2013) |
| Cool Season Food Legume Genome Database | | cDNA libraries, ESTs, genetic markers, maps and genome sequencing information | Main et al. (2013) |
| BeanGenes | | Germplasm information, QTLs, pathogen descriptions | McClean (1995) |
| Cowpea Genespace/Genomics Knowledge Base (CGKB) | | Genetic markers, gene-space, metabolic pathways, mitochondrial and chloroplast sequences | Chen et al. (2007) |
| The Cowpea Genomics Initiative (CGI) | | Recent advances in cowpea genomics | Chen et al. (2007) |
| HarvEST:Cowpea | | EST database with gene function analysis and primer design | |
| PhyMap cowpea | | Cowpea physical map assembly and BAC contigs | Close et al. (2011) |
| URGV TILLING pea database (UTILLdb) | | Mutant collections of pea, tomato and Brachypodium | Dalmais et al. (2008) |
| Pgene | | Detailed information about Pisum genes and mapping populations | Rubiales et al. (2011) |
| Pea genetic stocks collection | | A comprehensive collection of pea accessions provided by Prof G.A. Marx | Rubiales et al. (2011) |
GAB in pulse crops: advancing from MAS to GS
The establishment of marker–trait associations in these crops has opened new avenues for applying knowledge-based breeding, which focuses on crossing of genotypes and selection of appropriate offspring on the basis of QTL(s)/marker(s) rather than relying entirely on phenotypic expression. Outstanding success stories on the deployment of the marker(s)/QTL(s) in routine breeding programme are available in several crops including rice, maize, wheat, pearl millet and mustard (Gupta et al. 2012a). In case of pulses, a relatively poor genomic infrastructure has prevailed for a long time, which has hampered the initial investments in GAB; however, recent developments in pulses genomics have led to initiation of several MAS projects.
It was the classic work by Karl Sax in common bean, which laid the foundation of modern theory of association between genetic markers and quantitative traits. He examined linkages of size differences with seed coat pattern and pigmentation (Sax 1923). Thenceforth, DNA markers have greatly contributed making MAS an integral component of pulse breeding. The utility of SCAR markers (MahSe2 and C42B) in discriminating Striga resistant and susceptible lines was successfully demonstrated in cowpea (Omoigui et al. 2012). In lentil, selection based on markers UBC 2271290 (RAPD)/RB18680 (SCAR) and OPO61250 (RAPD) associated with Ascochyta blight and Anthracnose resistance, respectively, allowed identification of genotypes carrying resistance genes to both Ascochyta blight and Anthracnose (Tar'an et al. 2003a). Similarly, a robust CAPS marker was used for MAS in faba bean and exhibited 100 % accuracy in distinguishing determinate and indeterminate genotypes in the F2 population (Verde Bonita' ×2N52) (Avila et al. 2006). Likewise, indirect selections using SCAR markers (linked with the genes: zt-1 and zt-2) were successful (accuracy up to 95 %) in discriminating high tannin-containing genotypes from genotypes with zero tannin content (Torres et al. 2010). The CAPS markers associated with low vicine and convicine content are also good candidates for practising MAS against these major anti-nutritional factors (Gutiérrez et al. 2006).
Marker-assisted back crossing (MABC) is the simplest way to introgress QTLs, particularly a finite number of QTL(s)/gene(s) experiencing strong and durable effects on the phenotype (Varshney et al. 2012; Xu et al. 2012b). Alternatively to capture multiple QTLs with smaller effects, the idea of marker-assisted recurrent selection (MARS) was propounded (Ribaut et al. 2010). Given the demerits of phenotypic recurrent selection (RS) like imprecise selection and lengthy breeding cycles, the MARS scheme offers a marker-aided refinement over RS in which selection and inter-mating are based on marker scores (Ribaut and Ragot 2007; Ribaut et al. 2010). Unlike MABC, MARS can be initiated without any prior knowledge of QTLs with the objective of discovering and harnessing the superior QTLs/alleles during the MARS scheme itself (Bernardo and Charcosset 2006). Empirical and simulation results obtained in maize, soybean and sunflower have encouraged the research community to extend MARS scheme to these pulse crops. For example, MARS programmes have been recently initiated in cowpea involving several populations, each derived from two elite parents (Huynh et al. 2014).
Sometimes, introgressed QTLs may not be able to reproduce the expected phenotype due to fresh genetic interactions that are established with the new genetic background (Grandillo and Tanksley 2005). Given the above-mentioned repercussion of QTL–background interactions, the advanced backcross QTL (AB-QTL) scheme was proposed that could facilitate detection as well as transfer of QTLs within the same mapping population. AB-QTL generates new prospects to explore the underutilized genetic variation contained in the CWRs (Tanksley and Nelson 1996). Though widely accepted in cereals like wheat, rice, barley and maize (Grandillo and Tanksley 2005), AB-QTL has not shown significant impacts in pulse crops. Among the various pulse crops, AB-QTL populations have been developed only in few crops like common bean and pigeonpea (Blair et al. 2006; Varshney et al. 2013a). In particular, the CWR-derived populations have great scope in improving crops that have suffered from severe domestication bottlenecks and extremely narrow genetic base in the primary gene pool. Owing to immense variability for domestication forms, pea is considered an excellent system to understand the genetic basis of changes that occurred during the process of domestication. A set of five broad-based genetic populations was established in pea using a wild ancestor (P. sativum ssp. elatius) and primitive landrace (P. sativum ssp. abyssinicum), and the investigation revealed important genes/QTLs for domestication-related traits that collectively represent a 'domestication syndrome' (Weeden 2007). The pulse crops have fairly less genetic diversity in the cultivated pool and, hence, development of such broad-based genetic populations is a highly desirable strategy to expand the genetic base.
In recent years, noteworthy changes were experienced in the throughput and accuracy of several genotyping platforms and NGS systems (Xu et al.
2012b
). In parallel, a continued search for more efficient and high-throughput molecular breeding methods has resulted in the introduction of a novel approach for genetic improvement, in which selections are made on the basis of
genomic estimated breeding values
(GEBVs) (Meuwissen
2007
). The GEBVs are calculated using genome-wide DNA marker information and choosing worthy individuals based on GEBV is referred to as genomic selection (GS) (Heffner et al.
2009
; Meuwissen et al.
2001
). In GS, high-density genotyping and phenome-level phenotyping are performed for
training population
. On the other hand, the
candidate population
(another component of GS) is used for genotyping only and eventually for selecting the superior individuals (Nakaya and Isobe
2012
). As evident from the above description, no additional phenotyping is required for the candidate population. Hence, GS efficiently exploits the high-density marker data available at a reasonable cost, and at the same time it dramatically reduces the experimental cost by circumventing the need for repeated phenotyping (Heffner et al.
2009
; Xu et al.
2012b
). Keeping the recent genomics advances in view, a holistic approach for improvement of pulse crops has been illustrated in Fig. 
2
.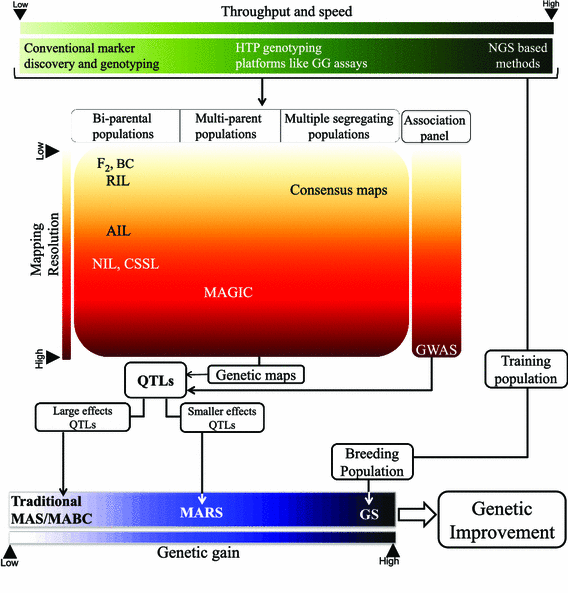 Summary and perspectives
To realize the enormous potential of genomic tools and technologies, it is essential that these tools should become an integral part of regular pulse breeding programmes so that all the accumulated resources and genomic knowledge could be translated into improved cultivars. The wide applicability of MAS has already been demonstrated in cowpea and pea, while in the case of lentil and faba bean it is in infancy stage. However, one encouraging fact is that exceptional progress has already been made in generating ample genomic resources in all the major pulse crops. To this end, the availability of reference genome sequences opens an exciting future for genomic-assisted pulse improvement. Though the prices of HTP genotyping and sequencing have come down to an affordable level, phenotyping of complex traits remains cumbersome, cost prohibitive and environmentally sensitive. Therefore, there is a compelling need to deploy modern molecular breeding methods such as MARS and GS that are able to reap maximum benefits from declining genotyping prices, while demanding the least (one-time) phenotyping. In addition, the recently developed NGS-based methods like WGRS/GBS/RADseq would efficiently extract valuable information from complex mapping resources such as MAGIC or NAM. Besides high-resolution QTL mapping, nearly homozygous MAGIC lines have direct implications in variety development (see Bandillo et al. 2013). These advanced molecular breeding approaches thus represent the next generation of MAS that would greatly assist breeders to strengthen as well as reorient the pulse breeding programmes.
Notes
Acknowledgments
AB would like to thank Dr. Kanwar L. Sahrawat, Adjunct Scientist, RP-Dry Land Cereals, International Crops Research Institute for the Semi-Arid Tropics (ICRISAT), Hyderabad, India, for providing detailed and constructive suggestions on the manuscript. AB, UCJ, IPS, DD, SKC and NN acknowledge the support from the Indian Council of Agricultural Research (ICAR), India. The authors from ICRISAT (MP and RKV) acknowledge the support from the Department of Biotechnology, Government of India, and CGIAR Generation Challenge Programme.
Conflict of interest
The authors declare that there is no conflict of interest.
Copyright information
© The Author(s) 2014
Open AccessThis article is distributed under the terms of the Creative Commons Attribution License which permits any use, distribution, and reproduction in any medium, provided the original author(s) and the source are credited.