Abstract
Aromatic rice is an important commodity for international trade, which has encouraged the interest of rice breeders to identify the genetic control of rice aroma. The recessive Os2AP gene, which is located on chromosome 8, has been reported to be associated with rice aroma. The 8-bp deletion in exon 7 is an aromatic allele that is present in most aromatic accessions, including the most popular aromatic rice varieties, Jasmine and Basmati. However, other mutations associated with aroma have been detected, but the other mutations are less frequent. In this study, we report an aromatic allele, a 3-bp insertion in exon 13 of Os2AP, as a major allele found in aromatic rice varieties from Myanmar. The insertion is in frame and causes an additional tyrosine (Y) in the amino acid sequence. However, the mutation does not affect the expression of the Os2AP gene. A functional marker for detecting this allele was developed and tested in an aroma-segregating F2 population. The aroma phenotypes and genotypes showed perfect co-segregation of this population. The marker was also used for screening a collection of aromatic rice varieties collected from different geographical sites of Myanmar. Twice as many aromatic Myanmar rice varieties containing the 3-bp insertion allele were found as the varieties containing the 8-bp deletion allele, which suggested that the 3-bp insertion allele originated in regions of Myanmar.
This is a preview of subscription content, log in to check access.
Access options
Buy single article
Instant access to the full article PDF.
US$ 39.95
Price includes VAT for USA
Subscribe to journal
Immediate online access to all issues from 2019. Subscription will auto renew annually.
US$ 199
This is the net price. Taxes to be calculated in checkout.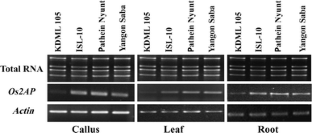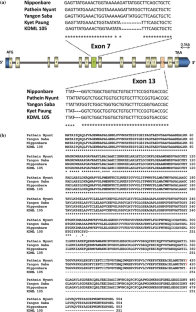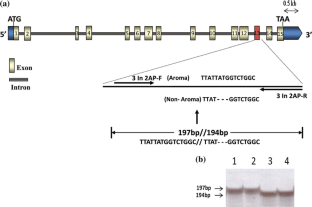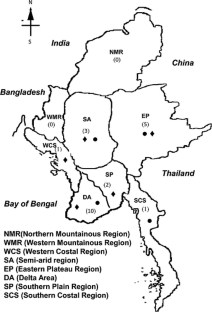 References
Bourgis F, Guyot R, Gherbi H, Amabile I, Tailliez, Salse J, Lorieux M, Ghesquière A, Delseny (2008) Characterization of the major fragrance gene from an aromatic japonica rice and analysis of its diversity in Asian cultivated rice. Theor Appl Genet 117:353–368

Bradbury LMT, Fitzgerald TL, Henry RJ, Jin Q, Waters DLE (2005a) The gene for fragrance in rice. Plant Biotech J 3:363–370

Bradbury LMT, Henry RJ, Jin QS, Reinke RF, Waters DLE (2005b) A perfect marker for fragrance genotyping in rice. Mol Breed 16:279–283

Bradbury LMT, Gillies SA, Brushett DJ, Waters DLE, Henry RJ (2008) Inactivation of an aminoaldehyde dehydrogenase is responsible for fragrance in rice. Plant Mol Biol 68:439–449

Buttery RG, Ling LC, Juliano BO (1982) 2-Acetyl-1-pyrroline: an important aroma component of cooked rice. Chem Ind (Lond) 12:958–959

Chen SH, Wu J, Yang Y, Shi WW, Xu ML (2006) The fgr gene responsible for rice fragrance was restricted within 69 kb. Plant Sci 171:505–514

Dhulappanavar CV (1976) Inheritance of scent in rice. Euphytica 25:659–662

Fitzgerald MA, Sackville Hamilton NR, Calingacion MN, Verhoeven HA, Butardo VM (2008) Is there a second fragrance gene in rice? Plant Biotech J 6:416–423

Ghose RLM, Butany WT (1952) Studies on the inheritance of some characters in rice (Oryza sativa L.). Indian J Genet Plant Breed 12:26–30

Hien NL, Yoshihashi T, Sarhadi WA, Hirata Y (2006) Sensory test for aroma and quantitative analysis of 2-acetyl-1-pyrroline in Asian aromatic rice varieties. Plant Prod Sci 9:294–297

Huang X, Madan A (1999) CAP3: a DNA sequence assembly program. Genome Res 9:868–877

Khush GS, Brar DS, Virk PS, Tang SX, Malik SS, Busto GA, Lee YT, McNally R, Trinh LN, Jiang Y, Shata MAM (2003) Classifying rice germplasm by isozyme polymorphism and origin of cultivated rice. IRRI Discussion Paper Series No.46. International Rice Research Institute, Los Banos, p 279

Kovach MJ, Calingacion MN, Fitzgerald MA, McCouch SR (2009) The origin and evolution of fragrance in rice (Oryza sativa L.). Proc Natl Acad Sci USA 106(34):14444–14449

Lorieux M, Petrov M, Hunag N, guiderdoni E, Ghesquière A (1996) Aroma in rice: genetic analysis of quantitative trait. Theor Appl Genet 93:1145–1151

Mahatheeranont S, Keawsa-Ard S, Dumri K (2001) Quantification of the rice aroma compound, 2-acetyl-1-pyrroline, in uncooked Khao Dawk Mali 105 brown rice. J Agric Food Chem 49:773–779

Murashige T, Skoog F (1962) A revised medium for rapid growth and bioassays with tobacco tissue cultures. Physiol Plant 15:473–497

Nakagahra M (1978) The differentiation, classification and center of genetic diversity of cultivated rice by isozyme analyses. Trop Agr Res Ser 11:77–82

Niu X, Tang W, Huang W, Ren G, Wang Q, Luo D, Xiao Y, Yang S, Wang F, Lu BR, Gao F, Lu T, Liu Y (2008) RNAi-directed downregulation of OsBADH2 results in aroma (2-acetyl-1-pyrroline) production in rice (Oryza sativa L.) B. BMC Plant Biol 8:100

Petrov M, Danzart M, Giampaoli P, Fayre J, Richard H (1996) Rice aroma analysis: discrimination between a scented and non-scented rice. Sci Aliments 16:347–360

Shi W, Yang Y, Chen S, Xu M (2008) Discovery of a new fragrance allele and the development of functional markers for the breeding of fragrant rice varieties. Mol Breed 22:185–192

Sood BC, Siddiq EA (1978) A rapid technique for scent determination in rice. Indian J Genet Plant Breed 38:268–271

Thompson JD, Higgins DG, Gibson TJ (1994) CLUSTAL W: improving the sensitivity of progressive multiple sequence alignment through sequence weighting, position-specific gap penalties and weight matrix choice. Nucleic Acids Res 22:4673–4680

Vanavichit A, Tragoonrung S, Toojinda T, Wanchana S, Kamolsukyunyong W (2008) Transgenic rice plants with reduced expression of Os2AP and elevated levels of 2-acetyl-1-pyrroline. US patent No. 7,319,181

Wanchana S, Kamolsukyunyong W, Ruengphayak S, Toojinda T, Tragoonrung S, Vanavichit A (2005) A rapid construction of a physical contig across a 4.5 cM region for rice grain aroma facilitates marker enrichment for positional cloning. Sci Asia 31:299–306

Wongpanya R, Boonyalai N, Thammachuchourat N, Horata N, Arikit S, Myint KM, Vanavichit A, Choowongkomon K (2011) Biochemical and enzymatic study of rice BADH wild-type and mutants: an insight into fragrance in rice. Protein J 30:529–538

Wongpornchai S, Dumri K, Jongkaewwattana S, Siri B (2004) Effects of drying methods and storage time on the aroma and milling quality of rice (Oryza sativa L.) cv. Khao Dawk Mali 105. Food Chem 87:407–414

Yoshihashi T (2002) Quantitative analysis on 2-acetyl-1-pyrroline of an aromatic rice by stable isotope dilution method and model studies on its formation during cooking. J Food Sci 67:619–622
Acknowledgments
We gratefully acknowledge the financial support of the Thai-French Trilateral Development Cooperation and Joint Fellowship Program for Doctoral Students under the Royal Golden Jubilee Program (Grant No. PHD/0123/2550), from the Thailand Research Fund (TRF) to K.M. Myint, and the Agricultural Research Development Agency (public organization), Thailand. The authors would also like to thank the Plant Biotechnology Center at the Myanma Agriculture Service (Yangon, Myanmar) and the Department of Agricultural Research at Yezin (Nay Pyi Taw, Myanmar) for kindly providing the rice materials used in this study. All experiments in this study complied with the current Biosafety Guidelines of Thailand.
Additional information
Communicated by E. Guiderdoni.
About this article
Cite this article
Myint, K.M., Arikit, S., Wanchana, S. et al. A PCR-based marker for a locus conferring the aroma in Myanmar rice (Oryza sativa L.). Theor Appl Genet 125, 887–896 (2012). https://doi.org/10.1007/s00122-012-1880-0
Received:

Accepted:

Published:

Issue Date:
Keywords
Reverse Transcription Polymerase Chain Reaction

Rice Variety

Functional Marker

Single Recessive Gene

Aromatic Rice