Abstract
Traits conferring brewing quality are important objectives in malting barley breeding. Beer foam stability is one of the more difficult traits to evaluate due to the requirement for a relatively large amount of grain to be malted and then the experimental costs for subsequent brewing trials. Consequently, foam stability tends to be evaluated with only advanced lines in the final stages of the breeding process. To simplify the evaluation and selection for this trait, efficient DNA makers were developed in this study. Previous studies have suggested that the level of both of the foam-associated proteins Z4 and Z7 were possible factors that influenced beer foam stability. To confirm the relationship between levels of these proteins in beer and foam stability, 24 beer samples prepared from malt made from 10 barley cultivars, were examined. Regression analyses suggested that beer proteins Z4 and Z7 could be positive and negative markers for beer foam stability, respectively. To develop DNA markers associated with contents of proteins Z4 and Z7 in barley grain, nucleotide sequence polymorphisms in barley cultivars in the upstream region of the translation initiation codon, where the promoter region might be located were compared. As a result, 5 and 23 nucleotide sequence polymorphisms were detected in protein Z4 and protein Z7, respectively. By using these polymorphisms, cleaved amplified polymorphic sequence (CAPS) markers were developed. The CAPS markers for proteins Z4 and Z7 were applied to classify the barley grain content of 23 barley cultivars into two protein Z4 (pZ4-H and pZ4-L) and three protein Z7 (the pZ7-H, pZ7-L and pZ7-L2) haplotypes, respectively. Barley cultivars with pZ4-H showed significantly higher levels of protein Z4 in grain, and those with pZ7-L and pZ7-L2 showed significantly lower levels of protein Z7 in grain. Beer foam stability in the cultivars with pZ4-H and pZ7-L was significantly higher than that with pZ4-L and pZ7-H, respectively. Our results indicate that these CAPS markers provide an efficient selection tool for beer foam stability in barley breeding programs.
This is a preview of subscription content, log in to check access.
Access options
Buy single article
Instant access to the full article PDF.
US$ 39.95
Price includes VAT for USA
Subscribe to journal
Immediate online access to all issues from 2019. Subscription will auto renew annually.
US$ 199
This is the net price. Taxes to be calculated in checkout.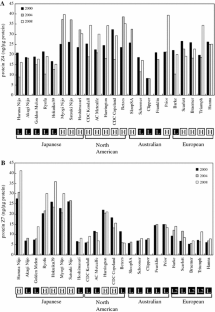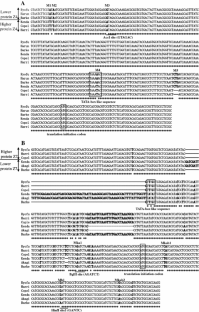 References
Bamforth CW (1985) The foaming properties of beer. J Inst Brew 91:370–383

Bishop L, Whitear AL, Inman WR (1975) The quantitative measurement of foam stability. J Inst Brew 81:131–135

Bradford MM (1976) A rapid and sensitive method for the quantization of microgram quantities of protein utilizing the principle of protein-dye binding. Anal Biochem 72:248–254

Brandt A, Svendsen I, Hejgaard J (1990) A plant serpin gene. Structure, organization and expression of the gene encoding barley protein Z4. Eur J Biochem 194:499–505

Dahl SW, Rasmussen SK, Hejgaard J (1996) Heterologous expression of three plant serpins with distinct inhibitory specificities. J Biol Chem 271:25083–25088

Dale CJ, Young TW (1987) Rapid methods for determining the high molecular weight polypeptide components of beer. J Inst Brew 93:465–467

Douma AC, Mocking-Bode M, Kooijman M, Stolzenbach E, Orsel R, Bekkers ACAPA, Angelino SAGF (1997) Identification of foam-stabilizing proteins under conditions of normal beer dispense and their biochemical and physicochemical properties. In: Proceedings of the 26th Congress, European Brewery Convention, Maastricht, IRL Press, Oxford, pp 671–679

European Brewery Convention, Analytica (1987) European brewery convention, 4th edn. Brauerei und Getraenke Rundschau, Zurich

Evans DE, Bamforth CW (2009) Beer foam: achieving a suitable head. In: Bamforth CW, Russell I, Stewart GG (eds) Handbook of alcoholic beverages: beer a quality perspective. Elsevier, Burlington, MA, pp 1–60

Evans DE, Hajgaard J (1999) The impact of malt derived proteins on beer foam quality. Part I. The effect of germination and kilning on the level of protein Z4, protein Z7 and LTP1. J Inst Brew 105:159–169

Evans DE, Sheehan MC (2002) Don't be fobbed off: the substance of beer foam—a review. J Am Soc Brew Chem 60:47–57

Evans DE, Sheehan MC, Stewart DC (1999a) The impact of malt derived proteins on beer foam quality Part II: the influence of malt foam-positive proteins and non-starch polysaccharides on beer foam quality. J Inst Brew 105:171–177

Evans DE, Ratcliffe M, Jones BL, Barr AR (1999b) Variation and genetic control of foam-positive proteins in Australian barley varieties. In: Proceedings of the 9th Australian Barley Technical Symposium, Melbourne, Victoria, pp 3.6.1–3.6.6

Evans DE, Robinson LH, Sheehan MC, Tolhurst RL, Hill A, Skerritt JS, Barr AR (2003) Application of immunological methods to differentiate between foam-positive and haze-active proteins originating from malt. J Am Soc Brew Chem 61:55–62

Evans DE, Surrel A, Sheehy M, Stewart DC, Robinson LH (2008) Comparison of foam quality and the influence of hop α-acids and proteins using five foam analysis methods. J Am Soc Brew Chem 66:1–10

Francia E, Tacconi G, Crosatti C, Barabaschi D, Bulgarelli D, Aglio ED, Valè G (2005) Marker assisted selection in crop plants. Plant Cell, Tissue Organ Cult 82:317–342

Gibson CE, Evans DE, Proudlove MO (1996) Protein Z4 and beer foam. Ferment 9:81–84

Hollemans M, Tonies ARJM (1989) The role of specific proteins in beer foam. In: Proceedings of the 22nd Congress, European Brewery Convention, Maastricht, IRL Press, Oxford, pp 561–568

Iimure T, Takoi K, Kaneko T, Kihara M, Hayashi K, Ito K, Sato K, Takeda K (2008) Novel prediction method of beer foam stability using protein Z, barley dimeric alpha-amylase inhibitor-1 (BDAI-1) and yeast thioredoxin. J Agric Food Chem 56:8664–8671

Iimure T, Nankaku N, Hirota N, Tiansu Z, Hoki T, Kihara M, Hayashi K, Ito K, Sato K (2010) Construction of a novel beer proteome map and its use in beer quality control. Food Chem 118:566–574

Kaneko T, Hirota N, Yokoi S, Kanatani R, Ito K (1999) Molecular marker for protein Z content in barley (Hordeum vulgare L.). Breed Sci 49:69–74

Liu YG, Whittier RF (1995) Thermal asymmetric interlaced PCR: automatable amplification and sequencing of insert end fragments from P1 and YAC clones for chromosome walking. Genomics 25:674–681

Maeda K, Yokoi S, Kamada K, Kamimura M (1991) Foam stability and physicochemical properties of beer. J Am Soc Brew Chem 49:14–18

Okada Y, Iimure T, Takoi K, Kaneko T, Kihara M, Hayashi K, Ito K, Sato K, Takeda K (2008) The influence of barley malt protein modification on beer foam stability and their relationship to the barley dimeric alpha-amylase inhibitor-1 (BDAI-1) as a possible foam-promoting protein. J Agric Food Chem 56:1458–1464

Paris M, Jones MGK, Eglinton JK (2002) Genotyping single nucleotide polymorphisms for selection of barley β-amylase alleles. Plant Mol Biol Rep 20:149–159

Perrocheau L, Rogniaux H, Boivin P, Marion D (2005) Probing heat-stable water-soluble proteins from barley to malt and beer. Proteomics 5:2849–2858

Perrocheau L, Bakan B, Boivin P, Marion D (2006) Stability of barley and malt lipid transfer protein 1 (LTP1) toward heating and reducing agents: relationships with brewing process. J Agric Food Chem 54:3108–3113

Potokina E, Prasad M, Malysheva L, Röder MS, Graner A (2006) Expression genetics and haplotype analysis reveal cis regulation of serine carboxypeptidase I (CxpI). a candidate gene for malting quality in barley (Hordeum vulgare L.). Function Integr Genom 6:25–35

Rasmussen SK (1993) A gene coding for a new plant serpin. Biochim Biophys Acta 1172:151–154

Roberts TH, Marttila S, Rasmussen SK, Hejgaard J (2003) Differential gene expression for suicide-substrate serine proteinase inhibitors (serpins) in vegetative and grain tissues of barley. J Exp Bot 54:2251–2263

Siebert KJ, Knudson EJ (1989) The relationship of beer high molecular weight protein and foam. Tech Q Master Brew Assoc Am 26:139–146

Simpson WJ, Hughes PS (1994) Stabilization of foams by hop-derived bitter acids: chemical interactions in beer foam. Cerevisia Biotechnol 19:39–44

Sorensen SB, Bech LM, Muldbjerg M, Beenfeldt T, Breddam K (1993) Barley lipid transfer protein 1 is involved in beer foam formation. Tech Q Master Brew Assoc Am 30:136–145

Stowell KC (1985) The effect of various cereal adjustments on the head retention properties of beer. In: Proceedings of the 20th Congress, European Brewery Convention, Maastricht, IRL Press, Oxford, pp 507–513

van Nierop SNE, Evans DE, Axcell BC, Cantrell IC, Rautenbach M (2004) Impact of different wort boiling temperatures on the beer foam stabilizing properties of lipid transfer protein 1. J Agric Food Chem 52:3120–3129
Acknowledgments
We express our deep appreciation to D.E. Evans, University of Tasmania, Australia, for supplying the protein Z7 antibody. We are also grateful to Y. Yamaguchi, N. Yatabe and K. Ito, Bioresources Research and Development Department, Sapporo Breweries, Ltd., for their technical assistance.
Additional information
Communicated by R. Waugh.
About this article
Cite this article
Iimure, T., Kihara, M., Ichikawa, S. et al. Development of DNA markers associated with beer foam stability for barley breeding. Theor Appl Genet 122, 199–210 (2011). https://doi.org/10.1007/s00122-010-1436-0
Received:

Accepted:

Published:

Issue Date:
Keywords
Foam Stability

Cleave Amplify Polymorphic Sequence

Barley Cultivar

Cleave Amplify Polymorphic Sequence Marker

Translation Initiation Codon