Abstract
The locus Lr34/Yr18/Pm38 confers partial and durable resistance against the devastating fungal pathogens leaf rust, stripe rust, and powdery mildew. In previous studies, this broad-spectrum resistance was shown to be controlled by a single gene which encodes a putative ATP-binding cassette transporter. Alleles of resistant and susceptible cultivars differed by only three sequence polymorphisms and the same resistance haplotype was found in the three independent breeding lineages of Lr34/Yr18/Pm38. Hence, we used these conserved sequence polymorphisms as templates to develop diagnostic molecular markers that will assist selection for durable multi-pathogen resistance in breeding programs. Five allele-specific markers (cssfr1–cssfr5) were developed based on a 3 bp deletion in exon 11 of the Lr34-gene, and one marker (cssfr6) was derived from a single nucleotide polymorphism in exon 12. Validation of reference genotypes, well characterized for the presence or absence of the Lr34/Yr18/Pm38 resistance locus, demonstrated perfect diagnostic values for the newly developed markers. By testing the new markers on a larger set of wheat cultivars, a third Lr34 haplotype, not described so far, was discovered in some European winter wheat and spelt material. Some cultivars with uncertain Lr34 status were re-assessed using the newly derived markers. Unambiguous identification of the Lr34 gene aided by the new markers has revealed that some wheat cultivars incorrectly postulated as having Lr34 may possess as yet uncharacterised loci for adult plant leaf and stripe rust resistance.
This is a preview of subscription content, log in to check access.
Access options
Buy single article
Instant access to the full article PDF.
US$ 39.95
Price includes VAT for USA
Subscribe to journal
Immediate online access to all issues from 2019. Subscription will auto renew annually.
US$ 199
This is the net price. Taxes to be calculated in checkout.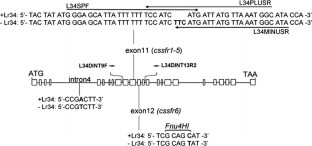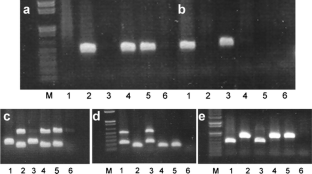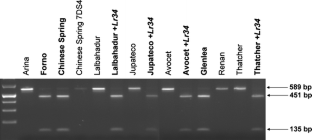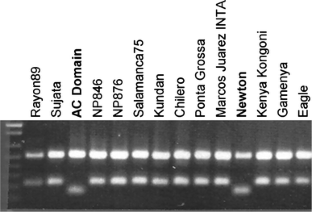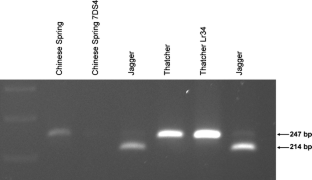 References
Borghi B (2001) Italian wheat pool. In: Bonjean AP, Angus WJ (eds) The world wheat book: a history of wheat breeding. Intercept, London, pp 289–309

Bossolini E, Krattinger SG, Keller B (2006) Development of SSR markers specific for the Lr34 resistance region of wheat using sequence information from rice and Aegilops tauschii. Theor Appl Genet 113:1049–1062

Dyck PL (1977) Genetics of leaf rust reaction in three introductions of common wheat. Can J Genet Cytol 19:711–716

Dyck PL (1987) The association of a gene for leaf rust resistance with the chromosome 7D suppressor of stem rust resistance in common wheat. Genome 29:467–469

Dyck PL (1991) Genetics of adult-plant leaf rust resistance in 'Chinese Spring' and 'Sturdy' wheats. Crop Sci 31:309–311

Dyck PL (1992) Inheritance of leaf rust and stem rust resistance in 'Roblin' wheat. Genome 36:289–293

Dyck PL, Samborski DJ (1979) Adult-plant leaf rust resistance in PI-250413, an introduction of common wheat. Can J Plant Sci 59:329–332

Dyck PL, Kerber ER, Aung T (1994) An interchromosomal reciprocal translocation in wheat involving leaf rust resistance gene Lr34. Genome 37:556–559

Endo TR, Gill BS (1996) The deletion stocks of common wheat. J Hered 87:295–307

Kolmer JA (1996) Genetics of resistance to wheat leaf rust. Annu Rev Phytopathol 34:435–455

Kolmer JA, Singh RP, Garvin DF, Viccars L, William HM, Huerta-Espino J, Ogbonnaya FC, Raman H, Orford S, Bariana HS, Lagudah ES (2008) Analysis of the Lr34/Yr18 rust resistance region in wheat germplasm. Crop Sci 48:1841–1852

Krattinger SG, Lagudah ES, Spielmeyer W, Singh RP, Huerta-Espino J, McFadden H, Bossolini E, Selter LL, Keller B (2009) A putative ABC transporter confers durable resistance to multiple fungal pathogens in wheat. Science 323:1360–1363

Lagudah ES, Appels R, McNeil D (1991) The Nor-D3 locus of Triticum tauschii: natural variation and linkage to chromosome 5 markers. Genome 34:387–395

Lagudah ES, McFadden H, Singh RP, Huerta-Espino J, Bariana HS, Spielmeyer W (2006) Molecular genetic characterisation of the Lr34/Yr18 slow rusting resistance gene region in wheat. Theor Appl Genet 114:21–30

McCallum BD, Somers DJ, Humphreys DG, Cloutier S (2008) Molecular marker analysis of Lr34 in Canada Western Red spring wheat cultivars. In: Appels R et al (eds) Proceedings of the 11th international wheat genetics symposium. Sydney University Press, Sydney

McIntosh RA (1992) Close genetic linkage of genes conferring adult-plant resistance to leaf rust and stripe rust in wheat. Plant Pathol 41:523–527

Rosewarne GM, Singh RP, Huerta-Espino J, William HM, Bouchet S, Cloutier S, McFadden H, Lagudah ES (2006) Leaf tip necrosis, molecular markers and β1-proteasome subunits associated with the slow rusting resistance genes Lr46/Yr29. Theor Appl Genet 112:500–508

Seah S, Sivasithamparam K, Karakousis A, Lagudah ES (1998) Cloning and characterization of a family of disease resistance gene analogs from wheat and barley. Theor Appl Genet 97:937–945

Singh RP (1992a) Genetic association of leaf rust resistance gene Lr34 with adult plant resistance to stripe rust in bread wheat. Phytopathology 82:835–838

Singh RP (1992b) Association between gene Lr34 for leaf rust resistance and leaf tip necrosis in wheat. Crop Sci 32:874–878

Singh RP (1993) Genetic association of gene Bdv1 for tolerance to barley yellow dwarf virus with genes Lr34 and Yr18 for adult plant resistance to rusts in bread wheat. Plant Dis 77:1103–1106

Singh RP, Trethowan R (2007) Breeding spring bread wheat for irrigated and rainfed production systems of developing world. In: Kang M, Priyadarshan PM (eds) Breeding major food staples. Blackwell, Ames, pp 109–140

Spielmeyer W, McIntosh RA, Kolmer J, Lagudah ES (2005) Powdery mildew resistance and Lr34/Yr18 genes for durable resistance to leaf and stripe rust cosegregate at a locus on the short arm of chromosome 7D of wheat. Theor Appl Genet 111:731–735

Spielmeyer W, Singh RP, McFadden H, Wellings CR, Huerta-Espino J, Kong X, Appels R, Lagudah ES (2008) Fine scale genetic and physical mapping using interstitial deletion mutants of Lr34/Yr18: a disease resistance locus effective against multiple pathogens in wheat. Theor Appl Genet 116:481–490

Stein N, Herren G, Keller B (2001) A new DNA extraction method for high-throughput marker analysis in large-genome species such as Triticum aestivum. Plant Breed 120:354–356
Acknowledgments
We are indebted to the skilled technical support provided by Libby Viccars. This work was funded by the Grains Research and Development Corporation: grant #CSP00063 to CSIRO and project CIM13 to CIMMYT. Further funding was obtained from the Indo-Swiss Collaboration in Biotechnology to BK.
Conflict of interest statement
The authors declare that they have no conflict of interest.
Additional information
E. S. Lagudah and S. G. Krattinger contributed equally to the work.
Communicated by A. Graner.
About this article
Cite this article
Lagudah, E.S., Krattinger, S.G., Herrera-Foessel, S. et al. Gene-specific markers for the wheat gene Lr34/Yr18/Pm38 which confers resistance to multiple fungal pathogens. Theor Appl Genet 119, 889–898 (2009). https://doi.org/10.1007/s00122-009-1097-z
Received:

Accepted:

Published:

Issue Date:
Keywords
Wheat Cultivar

Stripe Rust

Adult Plant Resistance

Stripe Rust Resistance

Cleave Amplify Polymorphic Sequence Marker